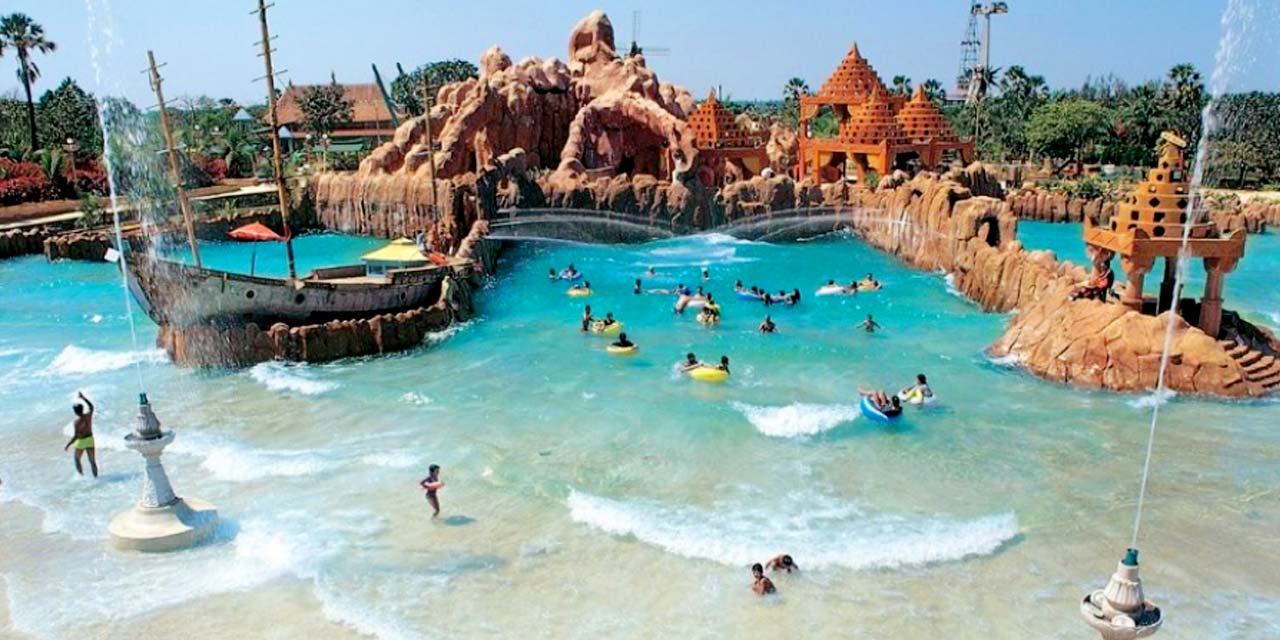 Water Kingdom Mumbai Entry Fee
1035 per person for Adults
660 per person for Children and Senior Citizens
1270 per person for Adults (Fast Track)
990 per person for Children (Fast Track)
1405 per person for Adults (Combined Ticket - Water Kingdom & Essel World)
945 per person for Children (Combined Ticket - Water Kingdom & Essel World)
1640 per person for Annual Entry Pass
---
Water Kingdom Mumbai Phone
Water Kingdom Mumbai Timings
| Day | Timing |
| --- | --- |
| Monday | 10:00 am – 6:30 pm |
| Tuesday | 10:00 am – 6:30 pm |
| Wednesday | 10:00 am – 6:30 pm |
| Thursday | 10:00 am – 6:30 pm |
| Friday | 10:00 am – 6:30 pm |
| Saturday | 10:00 am – 6:30 pm |
| Sunday | 10:00 am – 6:30 pm |
Rating:

| 4/5 stars
Based on total 42 reviews
Water Kingdom Mumbai Address: Global Pagoda Road, Essel world Amusement Park, Borivali West, Maharashtra, 400091, India
Admission Criteria
Adult

height above 4'6"

Child

height between 3'3" & 4'6"

Sr. Citizen

Water Kingdom
1035
660
660
Combine Ticket
1405
945
-
Fast Track Entry
1270
990
-
Annual Pass
Passport Next
1640
1640
-
---
The Water Kingdom is one of the most popular tourist spots in Mumbai. It is spread over 22 acres and together with Essel World nearby, this water-themed amusement park is the choicest destination for fun and relaxation during Mumbai tour.
Water Kingdom of Mumbai has over 30 water activities including slides, fish spa and the largest wave pool in the world – Wetlantic. The water park also boasts of Lagoon – India's largest aqua play pool. And the green patches all around, make your tour to Water Kingdom a scenic affair.
Apart from the fun rides and other water activities, this water park has got restaurants and snacks parlours to serve lip-smacking dishes. If you have a combo ticket of Water Kingdom and Essel World Mumbai, you can hop into that amusement park next door and indulge into more fun and food.
Both the parks have different thrilling rides suitable for kids, adults and families.
Located on the outskirts of Mumbai, Water Kingdom helps you disconnect from the hustle-bustle of the city and enjoy a day out with friends and family. And therefore, it is popular among the tourists as well as local people.
On some special occasions like New Year's Eve, you can also be a part of the ongoing celebrations here.
Things to do at Water Kingdom Mumbai
1. Playing with water at the Lagoon – The Lagoon is said to be the largest aqua pool in the country, and it has rides suitable for all age groups. For adults, Lagoon has Hydroburst, Aquaconda and Typhoon Tube. Kids and family groups can have fun at the other 7 slides and water games including WaterFall, Umbrellas and Elephant Bucket.
2. Rolling down the Missphisly Hill – Missphisly Hill has 12 adventure rides popular among the adults as well as kids. While the grown-ups can enjoy the thrill at Black Demon, Rushing Gushin or Hamunga Kowabunga, kids can take on Juicy Jammer, Lemon Drops or Tangy Wangy. Gang-a-Fall is a family-friendly venue.
3. Enjoying safari at Adventures Amazonia – Adventures Amazonia is another point, where you will find 3 rides from Water Kingdom Mumbai rides list – Rock-n-Roll Safari, Elephant Safari and Serpent Safari. These are suitable only for the adults. Another slide nearby is What-a-Coaster, a seven-storey high steep vertical drop slide.
4. Checking the waves at Wetlantic – Wetlantic is known to be the largest wave pool in the world. In Wetlantic, you can enjoy sea waves ranging from gentle to fierce. This Water Kingdom wave pool has fountains, caves and beaches at different places where you can enjoy water games and click memorable photographs.
5. Shaking worries off at Aquadrome – Aquadrome is a rain dance floor in the Brat Zone area of Water Kingdom. While you shake and groove to the music, sprinklers will spray water on you. It is suitable for kids and adults alike and so is the entire Brat Zone. Other places of entertainment include Coco Beach, Mama Miya and Drifting River.
6. Soaking in at Goofers Lagoon – Goofers Lagoon is a family-friendly area of Water Kingdom, and it is safe for toddlers. Here you can enjoy getting wet by the tilting bucket, rotating wheels and water guns.
7. Picking up some dry thrills – Next to Mumbai Water Kingdom, Essel World has over 50 slides and fun games. Here, you can go on different adventure rides and activities. At Essel World, you also have a bowling alley, an ice-skating rink and a discotheque.
8. Feasting on the food – Water Kingdom isn't only about fun. The park has food outlets and snack parlours too, scattered around the venue. You can enjoy local dishes at Ohh Mumbai, Chinese delicacies at Tai Pan and sizzling appetisers at the Kabab Corner. Pizzas, ice-creams and fizzy beverages are also available within the premises.
9. Having fish pedicure sessions – Water Kingdom in Mumbai also provides an opportunity for you to enjoy a soothing fish spa. Have your feet in the water and see tiny fishes suck away the dead skin cells.
10. Relaxing beside the pools – If you aren't interested in being part of more adventure, you can walk around the park or sit and spend time with a book. Get some juices and cold drinks and blow the heat away from you. Recharge yourself for another fun ride.
Water Kingdom Mumbai Entry Fees and Timings
The Water Kingdom near Mumbai is one of those spots where people love to spend a day out, whatever be the occasion. It is in full liveliness during the weekends or special occasions like New Year celebrations. It is accessible 365 days a year.
But before you plan a trip, note Water Kingdom Mumbai rates and the time table.
The place is open from 10 AM to 6:30 PM every day. And the charges vary for different groups. For adults, those above 4'6", Water Kingdom entry fee is ₹1035. For kids, between 3'3" and 4'6", and the senior citizens, the charge is ₹660.
Water Kingdom also has the provision for priority entry. The ticket charges for the fast-track entry are ₹1270 and ₹990 for adults and kids, respectively.
And if you're interested, you can combine your visit to Water Kingdom and Essel World. The combined tickets are available at ₹1405 for adults and ₹945 for children. You can also buy an annual entry pass at ₹1640. It will allow you to enter either of the parks, three times in a year.
Best time to visit Water Kingdom
The Water Kingdom is open all year round and you can be here any time. However, during summer, the place becomes too crowded. So, come here during the cooler months, from November to February. The temperature is pleasant and the humidity levels are low. Also, if you're here in the last week of December, you can be a part of the colourful celebrations of Christmas and New Year.
Time to explore Water Kingdom Mumbai
To enjoy all the Water Kingdom slides, you'll need about 3-4 hours. But you should plan an entire day at Water Kingdom, to roam around, enjoy the rides and relax. You can also shop for souvenirs and satiate your taste buds at numerous eateries open there.
Image Gallery of Water Kingdom Mumbai
Things to keep in mind while visiting Water Kingdom
Arrive early to explore all the rides and make the most out of your visit.
Children must be accompanied and supervised by a parent or guardian at all times.
Nylon/Lycra costumes are compulsory to take part in the rides and water activities.
Use waterproof pouches to keep your money safe from water.
Food and beverages from outside aren't allowed.
Places to visit near Water Kingdom in Mumbai
1. Essel World – Essel World is an amusement park, next door from Water Kingdom. It has more than 50 adventure slides and other thrilling activities. At Essel World, you will find rides for adults, for kids, and also for families and groups to enjoy together. This amusement park also has a bowling alley, an ice-skating rink and a discotheque within the complex.
2. Global Vipassana Pagoda – It is a meditation dome, only a few hundred metres away from Water Kingdom. Global Vipassana Pagoda is built as a tribute to Sayagyi U Ba Khin, a Vipassana teacher from Myanmar, and the dome resembles Myanmar's Shwedagon Pagoda. It spreads the teachings of Gautam Buddha and Vipassana meditation techniques taught by Shree S N Goenka. You can also undertake Vipassana courses at Global Vipassana Pagoda. It has a museum and a library too.
3. Sanjay Gandhi National Park – Sanjay Gandhi National Park is a popular tourist spot in Mumbai. You can find a variety of birds and animals here. From macaques and deers to birds and butterflies, you will witness a lot during your safari. Lions and leopards too are there. Along with the safari, you can also enjoy cycling, trekking and boating at the park. The Kanheri Caves complex is another place of interest here. It consists of 109 rock-cut caves. Sanjay Gandhi National Park is 8 km away from Water Kingdom.
4. Chhota Kashmir Park – It is a small park, about 15 km away from Water Kingdom. Chhota Kashmir Park is a peaceful green space away from the chaos of the city. It is full of evergreen lawns and colourful flowers. You can walk around, sit in the shade or head over to the lake for boating. It is a popular picnic spot and local people also come to the park with kids and family to spend time with them after work.
5. Mumbai Film City – Mumbai Film City is one of the prominent places where much of the reel life action takes place in Bollywood – the Hindi film industry. It is only 17km away from the Water Kingdom. Here, you can view the magnificent outdoor sets of the movie, indoor studios and also, take a glimpse of the day-to-day life behind the scenes. And if you're lucky, you might catch a live shoot and meet the movie and TV stars.
How to Reach Water Kingdom Mumbai?
Water Kingdom is in the outskirts of Mumbai, on Gorai Island. And you have multiple ways to reach here. You can either take a cab, bus or ferry to Water Kingdom.
Mumbai also has a robust network of local trains. Borivali is the nearest railway station. From there, you can hire a taxi or auto to reach Water Kingdom. The most time-efficient way, however, would be to board a ferry from Gorai creek after you get off at Borivali. Ferries to Water Kingdom are available from Marve jetty too.
For a hassle-free tour to Water Kingdom at Mumbai, book a cab from top car rental companies in Mumbai to reach the place via the Western Express Highway. It's a long route but will save you from inconveniences. Cabs are available from everywhere in the city and around.
And here are the different options you have to reach Mumbai.
By Road – Mumbai is connected to major cities of India by road. So, you can take your own car and enjoy a road trip to Mumbai. Also, daily buses are available from the nearby towns like Pune, Aurangabad and Nagpur and many other distant cities. Most buses stop at Mumbai Central Bus Depot, about 60 km away from Water Kingdom.
By Rail – Apart from the strong road connectivity, Mumbai also has a reliable network of trains from every corner of India. Chhatrapati Shivaji Maharaj Terminus and Mumbai Central are the two railway stations where most trains stop. Both are at a distance of about 60 km from the amusement park.
By Air – Chhatrapati Shivaji International Airport connects Mumbai to other parts of the world. Daily flights from major Indian cities and foreign destinations are available. It is about 40 km away.
FAQs and Interesting Facts about Water Kingdom
---
Q. What is Water Kingdom Mumbai dress code?
A. Water Kingdom doesn't have a dress code. People who do not wish to enter water can wear any comfortable clothes they want. But to take part in the water activities, a swimming costume of nylon/lycra is compulsory.
---
Q. Is swimwear available for hire at Water Kingdom?
A. Swimwear is available at the merchandise outlet for hire as well as purchase.
---
Q. Is knowledge of swimming required to enjoy Water Kingdom?
A. The pools in Water Kingdom are designed for fun activities. And therefore, knowledge of swimming isn't required to enjoy at Water Kingdom. Also, trained lifeguards are here to prevent any mishaps.
---
Q. How to book tickets for Water Kingdom?
A. You can get tickets in advance from the Water Kingdom official website or buy them on the spot at the ticket counter. But it's better to book online to avoid any inconveniences.
---
Q. How can I enter Water Kingdom?
A. There are three ways to enter Water Kingdom. The first option is to board ferries from Gorai or Marve jetty. And if you prefer to go by road, you can go to Water Kingdom via Bhayander. The third entrance is through the Rainbow Gate, from Essel World.
---
Q. What is the frequency of ferries to Water Kingdom?
A. There are 9 ferries available for the visitors of Water Kingdom. The ferries for/from Gorai are available every 20 mins. And those which are for/from Marve, are available every 30 mins. The ferry service is operated until all guests leave the park.
---
Q. Can we use the Essel World ferries to go to Water Kingdom?
A. Yes, both the amusement parks are built side by side and are accessible through a common jetty.
---
Q. How many rides are there in Water Kingdom?
A. At Water Kingdom, you can enjoy over 30 rides and fun water activities. While many Water Kingdom Mumbai rides are family-friendly, some are suitable only for adults. The amusement park also has some slides only for the kids.
---
Q. Are first-aid kits available in Water Kingdom?
A. The first-aid centre is near the Thunder ride in Essel World. You will be treated by the in-house medical team there. And in case of emergencies, an ambulance and transfer to a hospital will be arranged too.
---
Q. Is outside food allowed in Water Kingdom?
A. Food and beverage from outside aren't allowed in Water Kingdom. The park has restaurants and cafes at various places, from where you can buy food. You can carry infant's food though.
---
Mumbai is a unique city that everyone should explore at least once. Whether you're traveling alone or with a group, you'll love getting around the city and the best way to explore the city is by booking a Mumbai tour package with us. We at Mumbai Tourism, a division of Holidays DNA make sure you will be travelling in total comfort and enjoy this beautiful destination to the fullest. Please fill the Contact Us form to know further.
Location Map for Water Kingdom Mumbai