Aptly known as 'City of Dreams', Mumbai is the capital city of Maharashtra located on the west coast of the Indian peninsula. Named after Goddess Mumba Devi, Mumbai is a diverse city that offers a variety of choices to spend some quality time with your loved ones. From beaches to theme parks, from historical sites to religious spots, from shopping centres to wide array of eateries, Mumbai offers something for everyone. Mumbai Tourism is ideal for all kinds of holiday, be it a long break or a weekend getaway or a one day trip to the happening city.
Here is a list of Top places to visit in Mumbai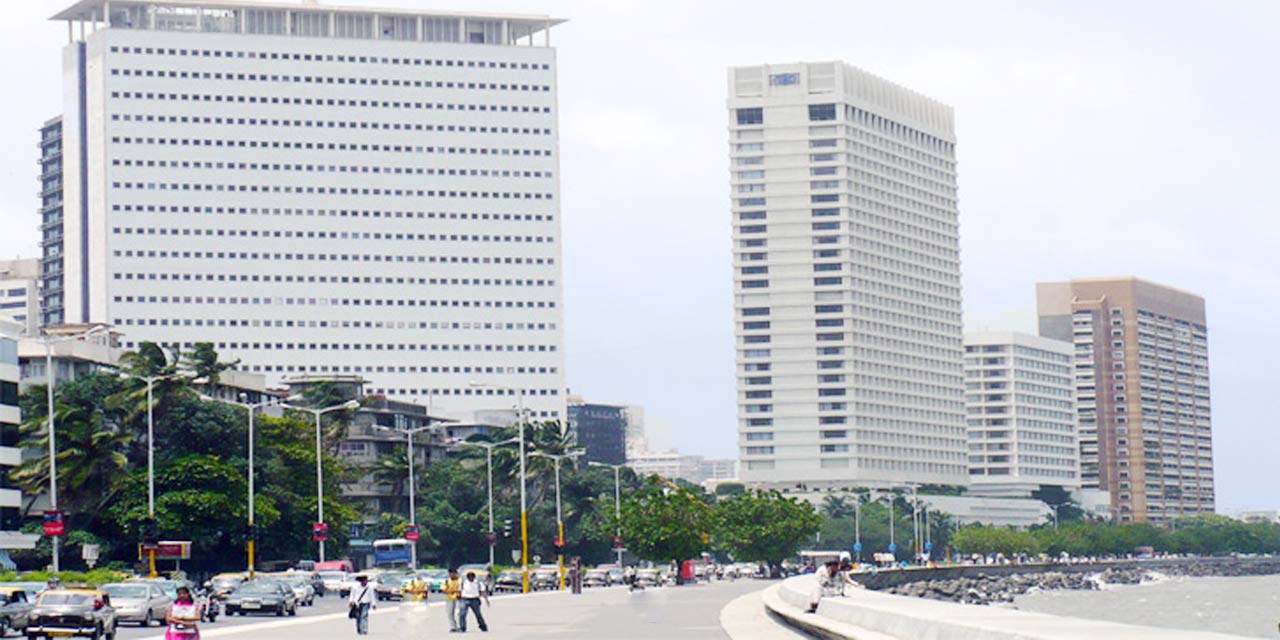 Nariman Point is known as the Manhattan of Mumbai. It is near the southern end of Marine Drive, and it forms a part of the majestic skyline of Mumbai. This place is the business hub of Mumbai, and here you'll find corporate offices of many renowned multinational companies.
At Nariman Point, you'll also come across grand hotels, lavish restaurants and classy pubs. The area is known for its branded showrooms and shopping malls too.
Nariman Point has been developed on land reclaimed from the sea. And from here, you can enjoy a panoramic view of Marine Drive and the endless sea. Many Bollywood movies, like Munnabhai MBBS and Wake Up Sid, have scenes from that sea-facing promenade.
This area also has a lively nightlife, and it's among the best places to visit in Mumbai at night.
Churchgate is the business district of Mumbai. It has offices of many banks and business organisations. And it also has the High Court of Bombay and many reputed educational institutions.
The area is known as Churchgate because the Church Gate of the old, walled-city Mumbai used to be here. It was demolished in 1860.
The neighbourhood has the historical Churchgate station and many prominent tourist spots of Mumbai. Some well-known places to visit like Gateway of India, Marine Drive and Elephanta Caves lie close to Churchgate area. Nariman Point is a part of the Churchgate area too.
And here, you can also enjoy shopping. From low-priced street-side stalls to luxury showrooms, and retail stores to wholesale counters, you have got plenty to choose from.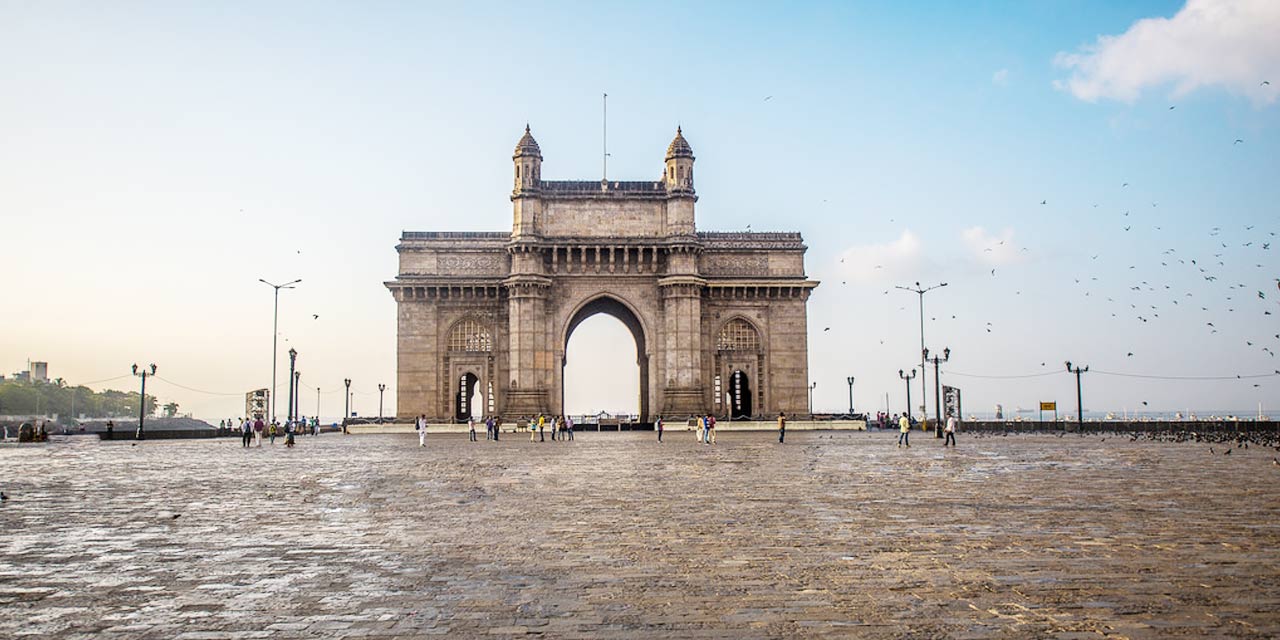 About Gateway of India
One of the most popular places to see in Mumbai is the Gateway of India which was built during the colonial era. Built to commemorate the visit of King George V in 1911, it was the first structure that a visitor would see while arriving to Mumbai via sea. Its magnificent architecture still allures everyone. Overlooking the Arabian Sea, Gateway of India presents an impressive sight that is impossible to miss when in Mumbai. Gateway of India not only presents historical significance but also a captivating architecture which was designed by George Wittet.
Now a popular place to hangout, Gateway of India buzzes with hordes of visitors every day. Various local vendors selling snacks, balloons and other items, stalls and photographers make this place vibrant with activities.
History of Gateway of India
Gateway of India was built to mark the royal visit of King George V and Queen Mary to Mumbai (Bombay) in 1911. Foundation of the monument was laid out by the then Governor of Bombay, Sir George Sydenham Clarke in March 1911. The construction of this monument was completed in 1924.
Once representing the grandeur of British era, it was also the place from where the last troop of British regiment marched at the time of independence. A ceremony on the passing of the 'First Battalion of the Somerset Light Infantry' was conducted here for the same in 1948.
Architecture of Gateway of India
The monument, Gateway of India stands majestic with an arch of height of 26 meter. It is designed by the then renowned architect George Wittet. It has been built in the architectural style of Indo-Saracenic and has a touch of Islamic architectural styles too. Constructed in yellow basalt and binding concrete, it consists of exquisite lattice work. Its central dome with a height of 83 feet with a diameter of 48 feet makes the monument even more imposing. The four pillars are another prominent feature of Gateway of India. Behind its arch, steps have been built that lead visitors to the Arabian Sea.
Nearby Attractions
Gateway of India is located quite close to Elephanta caves and Taj Mahal Palace Hotel, which are two other prominent tourist attractions of Mumbai. Hence, you can club together visit to all these three places on the same day.
Timings of Gateway of India
Gateway of India is open throughout the day and night and on all days of the week.
How to reach Gateway of India
As it is a popular landmark of the city, you will not find any difficulty in reaching here. One can hire an autorickshaw or a private taxi from any part of the city to Gateway of India. If you are travelling by local trains, then you can get down at the nearest stations which are Chhatrapati Shivaji Terminus station (2.5 km away) and Churchgate station (2.4 km away). From here you can hire a locally run auto-rickshaw.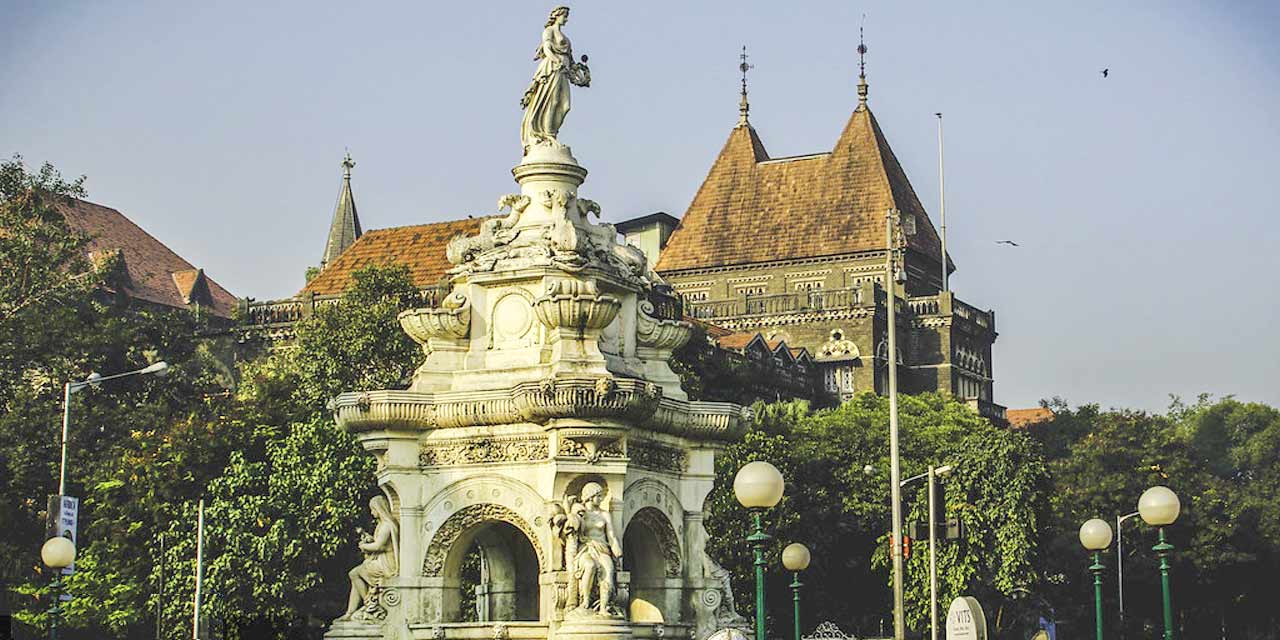 Flora Fountain is one of the tourist places within Churchgate. It stands at the same place where the destroyed ChurchGate of Mumbai used to be.
The fountain was designed by R. Norman Shaw, and it has a mix of Neo-Gothic and Indo-Saracenic styles. It was built in 1864, by Engineer James Forsythe.
This Portland stone structure has fine carvings and sculptures. Its four corners are decorated with different statues. And the water basin below has stone fish figures and lion heads.
A magnificent 7 feet high statue of Roman Goddess Flora adorns the fountain top. And you can enjoy a spectacular view of Flora Fountain in the evening; when it's illuminated by lights.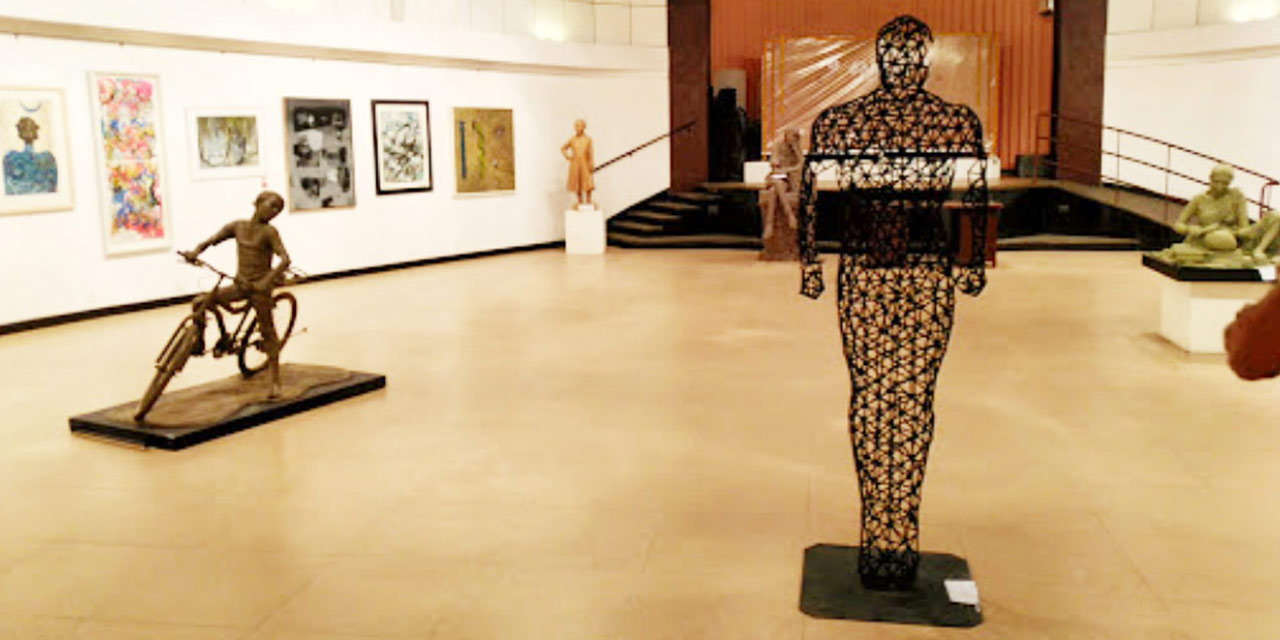 Jehangir Art Gallery has played a prominent role in the evolution of contemporary Indian art. It was established in 1952 with the help of Sir Cowasji Jehangir's donations. And since then, this art gallery has hosted numerous exhibitions for painters, sculptors, and other artists.
But it's more than a venue for art exhibitions. Jehangir Art Gallery conducts workshops and other art programmes. And it's a must-visit place for aspiring artists and art connoisseurs.
You can also buy a range of antique items and artefacts from the shop here.
Jehangir Art Gallery is in the Kala Ghoda area, the art district of Mumbai. And this area has several other art galleries and designer boutiques with some of the finest arts in the city.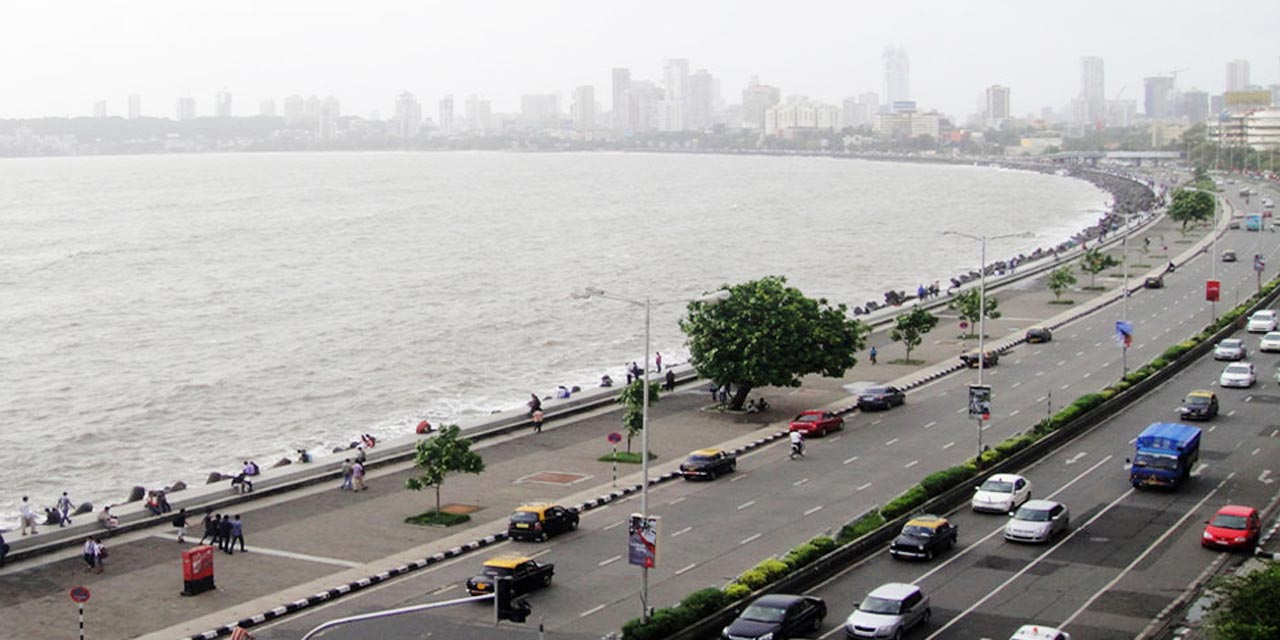 Another place to visit in Mumbai is the Marine Drive. Officially named as Netaji Subhash Chandra Bose Road, this is a 3 km long stretch with six lanes that runs by the coastline. It is located in the southern Mumbai while it runs towards the north of the city. Marine Drive forms a natural bay, which hypnotizes every visitor with its serene scenic beauty.
Marine Drive is a C- shaped road which is a place to must visit when in Mumbai. The palm trees lined on the side make the pathway even more alluring. Its beauty is enhanced in night when wide stretch of street lights is lit up, giving it a look of necklace. The view is especially breath-taking when seen from an elevated point. Owing to this, it is often referred with the name of Queen's Necklace. Marine Drive also links Nariman Point, which is also a popular place to visit in Mumbai to Babulnath.
Things to do at Marine Drive
Evening Walk - One of the best places for a walk, Marine Drive is visited by hordes of tourists as well as residents in evenings and mornings. The view of vast spread of Arabian Sea which is accompanied by refreshing breeze creates calming atmosphere. At the same time, umpteen number of stalls and restaurants give the place a lively touch. With best of both, Marine Drive promises a unique experience. It is a place for all age groups offering a soothing break from day to day monotony.
Events - Marine Drive is a popular venue for various events such as Bombay Marathon, French Festival, IAF Airshow, International Fleet Review, etc. So when in Mumbai, if lucky you might be able to be a part of one of these events. An open air gallery is also located close by.
Chowpatty Beach - On the northern end of Marine Drive is the Chowpatty beach, which is another popular place to visit in Mumbai. This place is an ideal place to experience the best of Mumbai's night life. The place takes a form of a lively fair in night with food stalls and hawkers, restaurants and various other entertaining choices like merry-go-round, ferris wheels, etc. From Marine Drive, it is a must to visit Chowpatty beach.
Timings of Marine Drive
Marine Drive is open 24 hours a day. You can visit it at any time of the day. However, the best time to visit Marine drive is in evening. It is enthralling sight to watch the sunset over the shimmering waters of the Arabian Sea and then stroll with the cool refreshing air caressing you.
There is no entry fee at Marine Drive.
How to reach Marine Drive
As Marine Drive is centrally located, it is easily accessible. It is situated at the bottom of Malabar hills. Tourists can reach by all means of local transportation. As it is a popular landmark of Mumbai, tourists will not face any difficulty in finding it.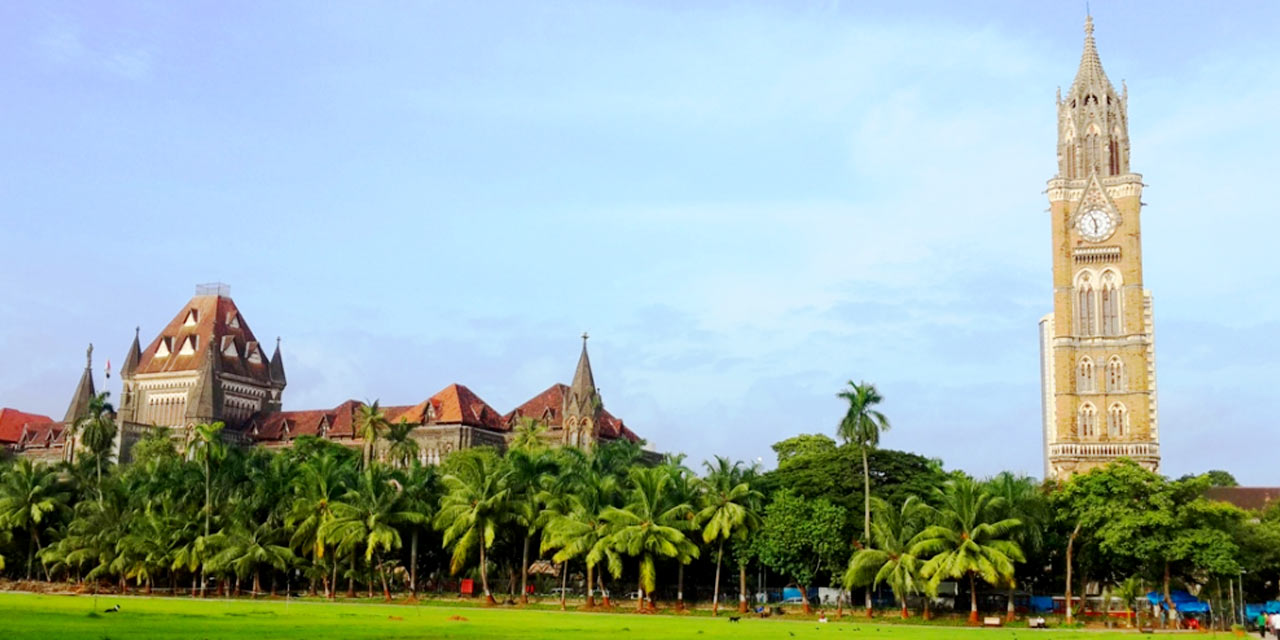 Rajabai Clock Tower is an 85-metre tall tower in the Fort Campus of the University of Mumbai. Premchand Roychand, a businessman and a stockbroker, financed its construction. And Sir George Gilbert Scott designed it.
The tower resembles London's Big Ben, and it is among the tallest structures in the area. It chimes every fifteen minutes. The construction began in 1869, and it was completed by 1878.
The access to the inside of the tower is closed to visitors, but you can admire the architecture and detailed stonework from outside. The tower has one of the best stained-glass works in the city. And the architecture is a blend of Venetian-Gothic style. The tower also has 24 small statues, portraying the life of common people during the British rule.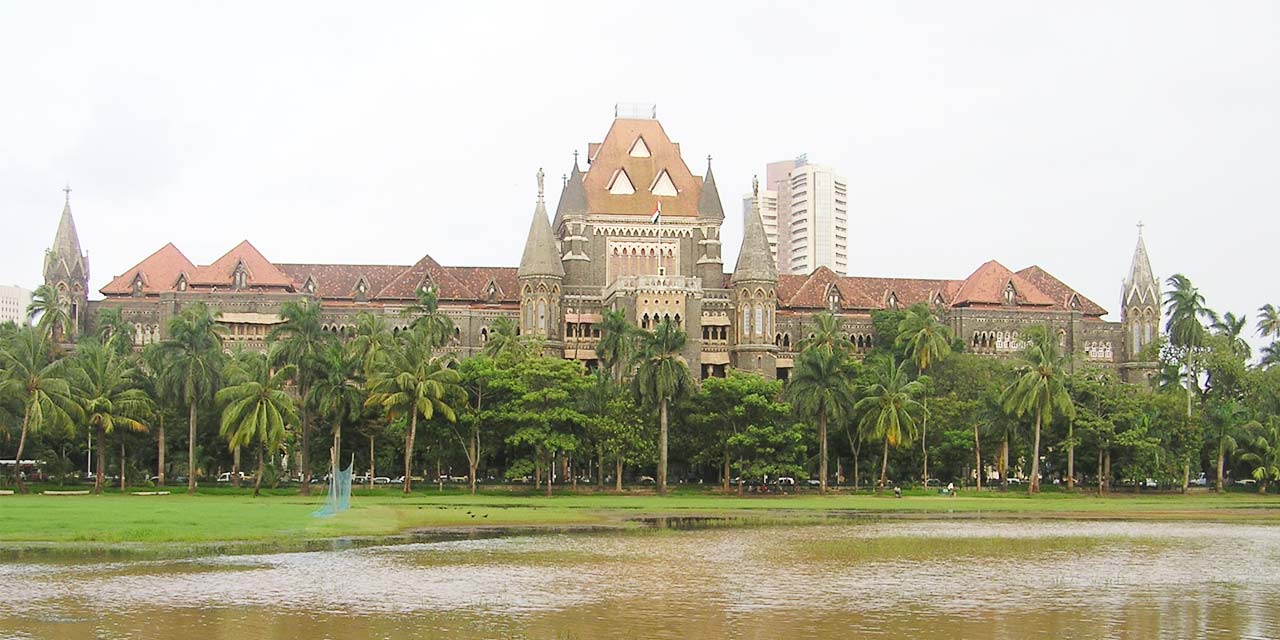 Bombay High Court is one of the oldest High Courts in India, and it's a UNESCO-recognised site. It was built in the 19th century, in the grand Gothic Revival architectural style. And you'll find traces of Victorian style too.
Here, you can click photographs of this heritage building and visit the museum within the premises. The museum of Bombay High Court provides plenty of information about the Indian judicial system and Indo-British legal history. It has preserved many historical documents too.
And while you're here, you can also be a part of the ongoing hearings. The court looks after the events in Maharashtra and Goa. And two Union Territories – Daman and Diu, and Dadra and Nagar Haveli, also fall under the jurisdiction of this court.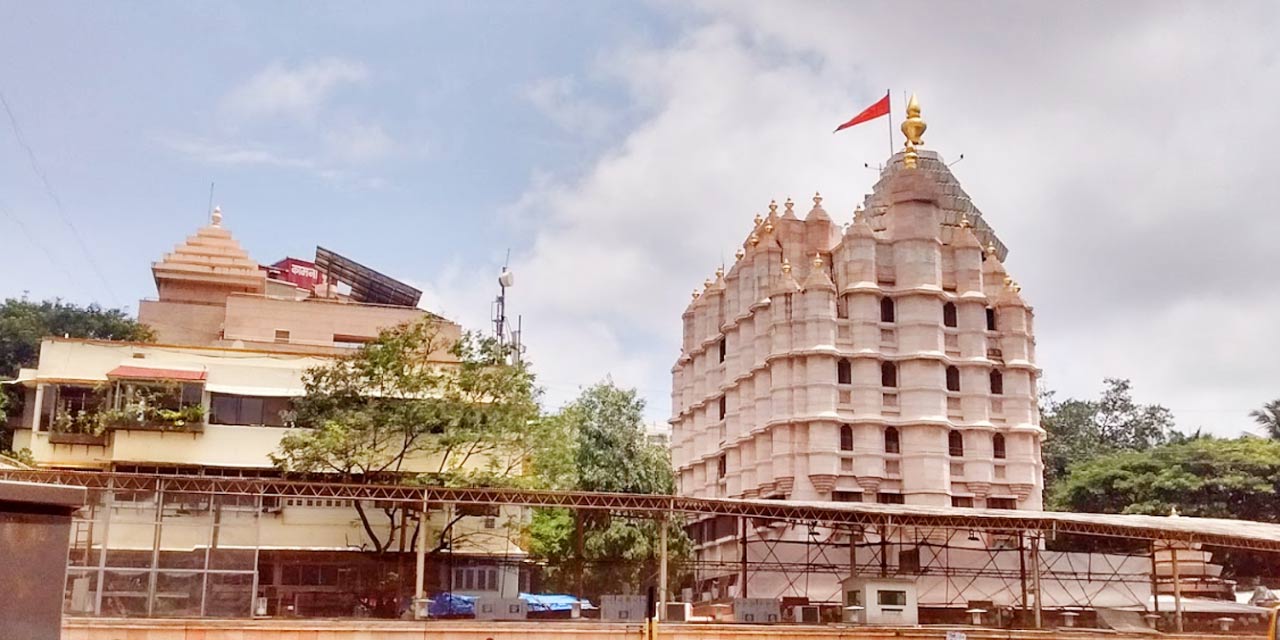 Shree Siddhivinayak temple is undeniably one of the most popular temples not only in Mumbai but also in India. With lakhs of devotees visiting every day, it is also one of the richest temples in Mumbai. Dedicated to Lord Ganesha, Shree Siddhivinayak Temple was built in the year 1801. Since then it has been attracting devotees from all over the country. Tuesday is one of the most important days of the temple. Celebrities and lay person both flock to the temple alike to seek blessings. Its architectural excellence and divine statue of Lord Ganesha adds to the splendor of the temple. More than two centuries old, Shree Siddhivinayak Ganapati Temple is believed to fulfil wishes and desires of everyone who pray with utmost devotion to the lord.
Story of Shree Siddhivinayak temple
There is a story behind the temple as per which its construction was funded by rich woman named Deubai Patil. As she was childless, she wished to create a temple where childless couples can come and worship the lord for children. Later an ardent disciple of Saint Akkalkot Swami Samarth, Ramakrishna Jambhekar Maharaj, on instruction of his guru, buried two divine idols in front of the temple. Later, after 21 years, as prophesied by the saint, a tree grew on the same spot bearing a svayambhu Ganesha.
Architecture of Shree Siddhivinayak temple
Shree Siddhivinayak temple was first built in the year 1801. Laxman Vithu and Deubai Patil are the brains behind its construction. Later the temple was rebuilt so as to accommodate more number of devotees.
Although small, the initial architecture of the temple was equally captivating. It consisted of a hall, a sanctum sanctorum and water tank. An administrative office of the temple was also built on its right side.
Lord Ganesha idol at the temple is as alluring as its excellent architecture. The idol of Lord Ganesha is carved out of a single black stone. It has a height of 2.5 feet and width of 2 feet. The unique feature of this idol is that the trunk of the Lord Ganesha is tilted towards right side. The idol of Lord Ganesha is Chaturbhuj, meaning it has four hands. The upper right hand of the deity holds a lotus flower while the lower right hand holds a rosary. The upper left hand holds an axe and the lower left hand of the Lord holds a modaka, which is considered to be lord's favourite sweet. There is a snake that hangs like threat on the deity's neck. On to the sides of the main deity, idols of Goddess Riddhi and Siddhi are placed.
The current structure of Shree Siddhivinayak temple is a result of the determinations of Shri Sharad Athale from SK Athale & Associates. Apart from the idol of the main deity that was kept intact, the temple was reconstructed into its present architecture.
The sanctum sanctorum has wooden doors that are intricately carved with images of eight forms of Lord Ganesha, called as Ashtavinayaka and the interior roof is plated in gold. Shree Siddhivinayak temple Mumbai has three entrances. Its current structure is nothing less than a palace, giving it an unparalleled grandeur.
How to reach Shree Siddhivinayak Temple
Shree Siddhivinayak Temple is located at Prabhadevi, which is easily accessible from all parts of Mumbai. Tourists can hire a taxi or an auto-rickshaw and reach this temple. If travelling by train, then you can get down at Dadar, which is the nearest railway station to the temple. Local trains can be boarded from Lower Parel, Mahalaxmi and Elphinstone Road.
After darshan at the temple, tourists can also visit other popular tourist attractions that are located close by such as Worli Sea-Link and the Shivaji Park Beach. Visit to all these places can be clubbed together.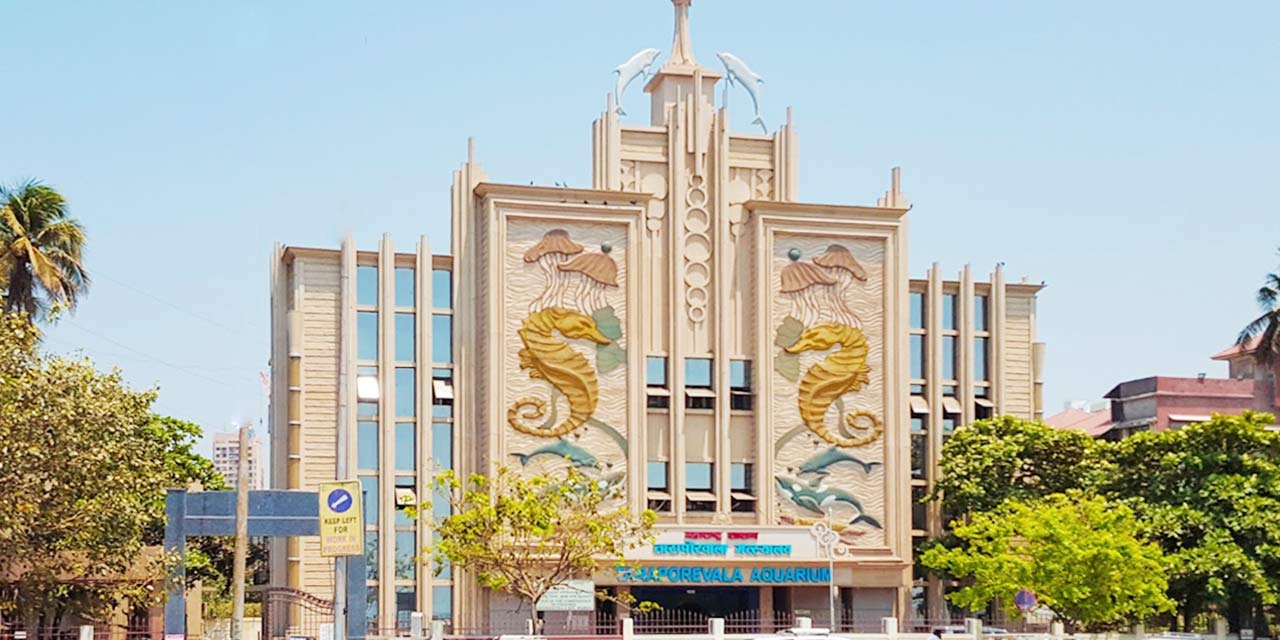 Taraporewala Aquarium is the oldest aquarium of India and it has over 100 species of fish and other aquatic animals.
At the entrance, there's a glass tunnel around which various fishes and water plants are on display. Then, in the main gallery, you'll see the water tanks where other fishes are.
Among the fish species, the aquarium has Alligator fishes, Puffer fishes and Moray eels among others. Angelfishes, Groupers and a variety of Tangs too are here. And you will also see a Jellyfish. The aquarium has 16 tanks for marine fishes and 9 tanks for the freshwater species.
It has a small museum too, where you'll find preserved corals, seashells and other marine life species.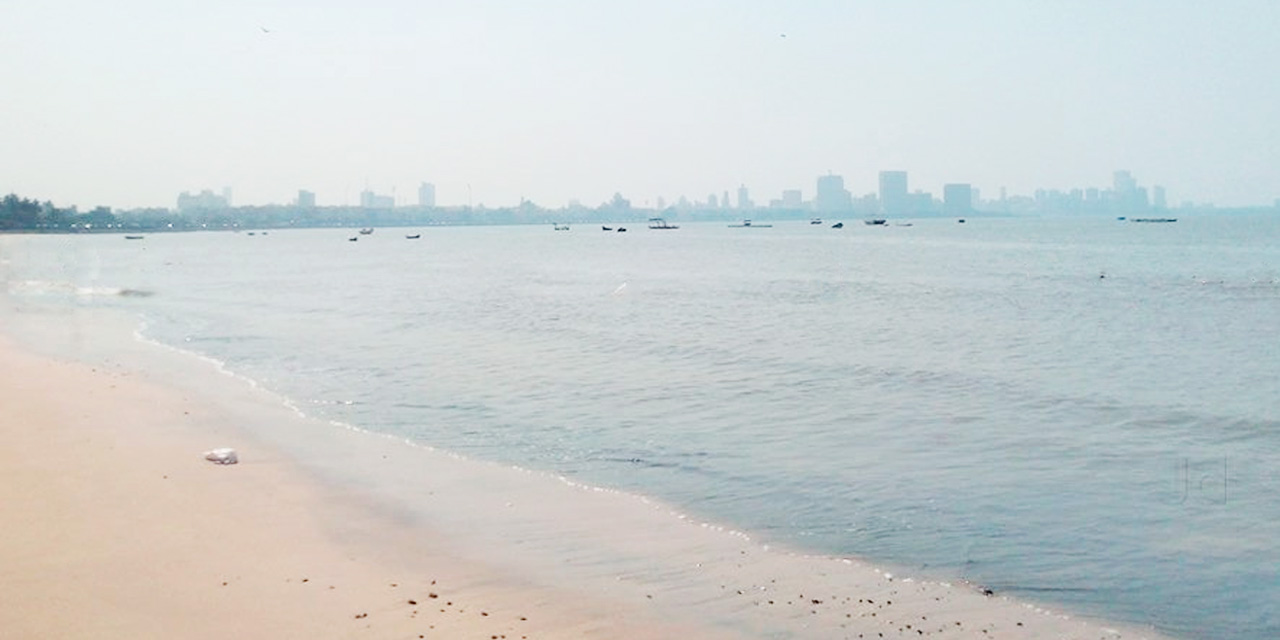 Girgaon Chowpatty is among the most popular beaches of Mumbai. And it is also one of the most crowded places to visit in Mumbai. But it's a lively tourist spot.
In the morning, you'll find various people coming for a walk along the shore, carrying out their daily exercises or doing yoga. And during the day, people come here with friends and family to relax and get entertained. Numerous magicians and street artists put up their show throughout the day.
Girgaon Chowpatty is not known for sunbathing and other water activities. Instead, it's visited for the street food varieties. From spicy bhel puri to piping hot pav-bhaji, the food vendors offer a plethora of options.
And this beach is also a renowned shooting spot.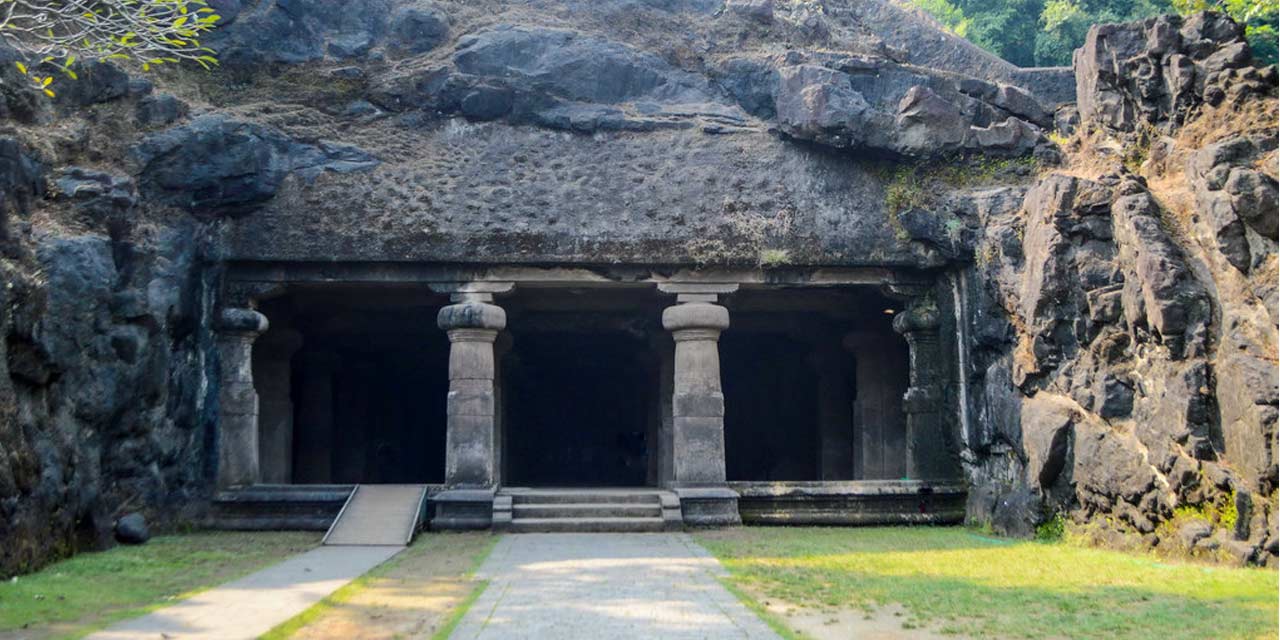 A Mumbai tour is incomplete without a visit to the majestic Elephanta Caves. These are located on the islands in the Arabian Sea, which are named after the gigantic elephant that was found here. It is also called as Gharapuri. Elephanta caves are one of the finest examples of rock-cut architecture and offer a glimpse into the lives of pre-medieval India. Although it suffered during colonial era, it still presents a stunning sight with enviably sturdy and intricate structure.
The island is consisted of two set of caves; the first set is of five caves that are related to Hindu religion, dedicated to Lord Shiva and the second set is of two Buddhist caves. These caves are a place to visit not only for their historical importance but also for the natural beauty that they present.
History of Elephanta Caves
According to the most popular theories, Elephanta Caves date back to 5th – 8th century, however the exact period when these were built and its creators are still a mystery. As per some theories, these caves were excavated during 450 to 750 AD, while later it came under various dynasties. From Chalukyas of Badami Dynasty, Mauryas of Konkan, Trikutakas, Silaharas, Rashtrakutas, Yadavas of Deogiri, Kalyani Chalukyas, Shahi dynasty of Gujarat, Marathas to Portuguese and British, Elephanta Island and the caves saw many reigns.
The main cave of the Elephanta caves was a religious shrine for Hindus which later suffered huge damages during the rule of Portuguese since 1953. In 1970s, the cave was renovated. In 1987, it was recognized as the UNESCO World Heritage Site. It is now maintained by the ASI (Archaeological Survey of India).
Architecture of Elephanta Caves
Elephanta Caves were built by carving the rocks. Its rock-cut architecture presents an alluring sight. Spread over an area of 6000 sq. feet, the entire cave complex is consisted of a main chamber, two side chambers, various small shrines and courtyards. The columns, spaces and images have been carved out aesthetically in the caves.
The cave 1, which has been built in Brahmanical rock-cut architecture, is the most captivating cave, with brilliant sculptures. There are three entrances to the cave temple- the main entrance on the north while one opening on the west and another on the east. A huge hall in the centre consisting of six rows of pillared columns adds on to the impressive structure of the caves. Each row consists of six pillars except the row on the western corner where a lingam of Lord Shiva is located.
There are three indentations on the walls, each with a massive image of dvarapala. On the east side, there is an Ardhanarishvara figure, which is a form of Lord Shiva where energies of male and female amalgamated while to the west, there are figures of Lord Shiva and Goddess Parvati. While the central part showcases an impressive figure of Mahesa-murti. There are many other sections in the cave, each presenting beautiful carvings. Andhakasura Vada murti, Kalyanasundara murti; Lord Shiva as Lakulisa, Gangadhara murti and Ravana shaking Kailasa are few other worth noticing figures here.
Elephanta Cave Timings and Entry Fee
Timings of Elephanta Caves are from 9:30 AM to 5:30 PM. It is open on all days of the week except on Mondays.
The entry fee of Elephanta caves is Rs.40 per person for Indian citizens as well as visitors from countries like Bangladesh, Bhutan, Myanmar, Maldives, Pakistan, Nepal, Sri Lanka, Thailand and Afghanistan while it is Rs.600 for tourists from other countries.
There is a minimal charge for videography at the caves while photography is free of cost. A toy train also runs on the Elephanta pier, between the ferry point and the caves. The ticket cost for the toy train is Rs.10 per person.
Boat Timings to Elephanta Caves: The ferry boat to Elephanta caves starts at 9 AM from Gateway of India while the first boat to return from elephanta caves starts at 12 in noon. The last boat that leaves the Elephanta caves is at 5.30 PM.
Location of Elephanta Caves
Elephanta Caves are located on the island hills which are around 7 km away from the mainland and around 11 km from Apollo Bandar of Mumbai.
How to reach Elephanta Caves
Reaching Elephanta caves is not at all a difficult task. Tourists are required to reach Gateway of India, which is another prominent landmark in the city. From there you can take a ferry that takes around 1 hour to reach Elephanta caves.
One can hire a taxi or city bus to reach Gateway of India. If travelling by local trains, then you can get down at the Church gate station, which is located nearby. You can also get down at Chhatrapati Shivaji Terminus which is a UNESCO world heritage site and a popular place to see in Mumbai. CST (Chhatrapati Shivaji Terminus) is also located quite close to Gateway of India; it is at a distance of around 10 minutes by taxi and 30 minutes by walk.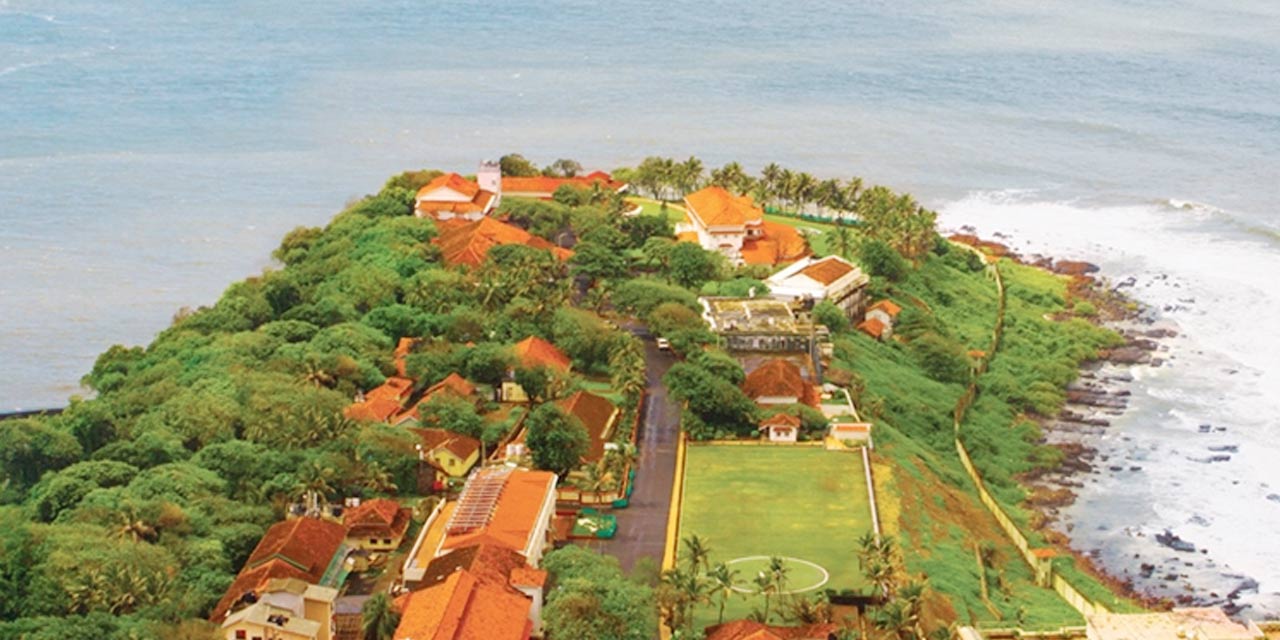 Raj Bhavan is the official residence of the Governor of Maharashtra. And you can visit it during your Mumbai tour.
It has lush green lawns, conserved forest areas and heritage buildings in the complex. The place is spread over an area of around 50 acres in the picturesque Malabar Hill, and the sea surrounds it on three sides.
The buildings are built in varied architectural styles: from British colonial style to Maratha style and modern Indian style of architecture. And the complex also has a British-era bunker, which has been turned into a museum.
During your tour, you can watch the sun rising over the sea. And you might also be able to enjoy a cup of tea with the Governor.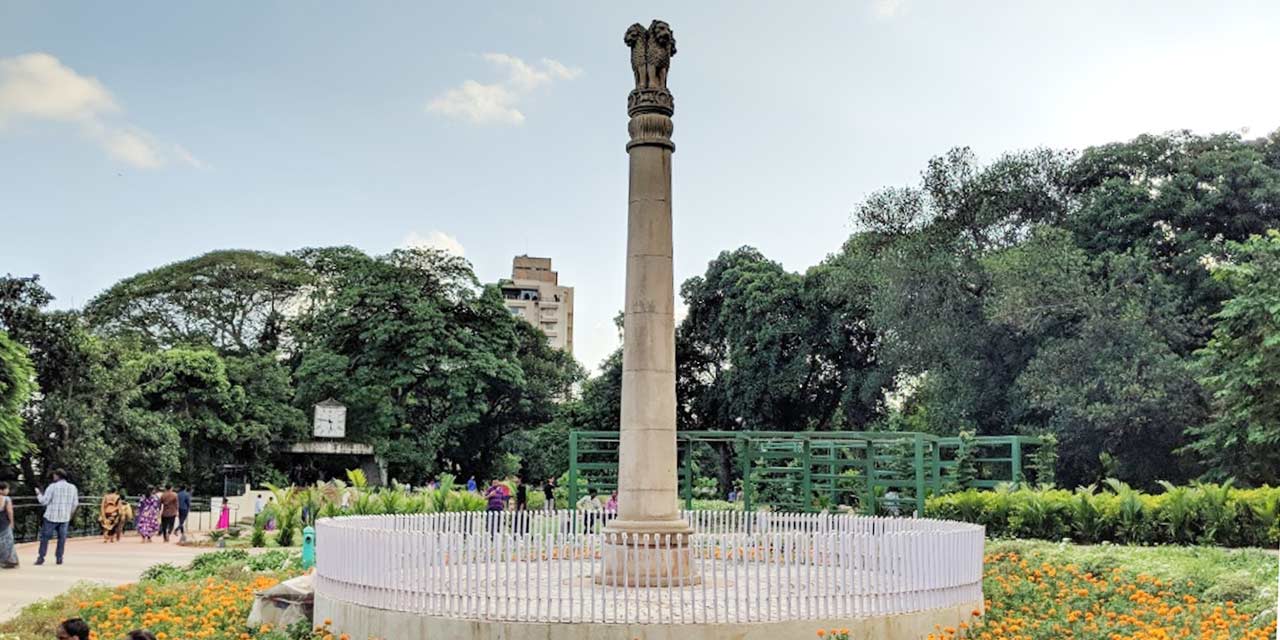 Kamala Nehru Park is a popular recreational spot, and among the best places to visit in Mumbai with toddlers. Many people come here to stroll around, to meditate and to hang out with friends.
People come here to get a scenic view of the famed Marine Drive too, looking over the Arabian Sea. Also, you can sit on the lawn or on the wooden cane benches, and munch at a variety of snacks being sold by vendors.
Kids love the colourful theme park here. And they can play in and around the Boot House.
Kamala Nehru Park also has a small open-air amphitheatre. And you'll also find selfie-points decorated with painted rhymes and other kid-themed designs.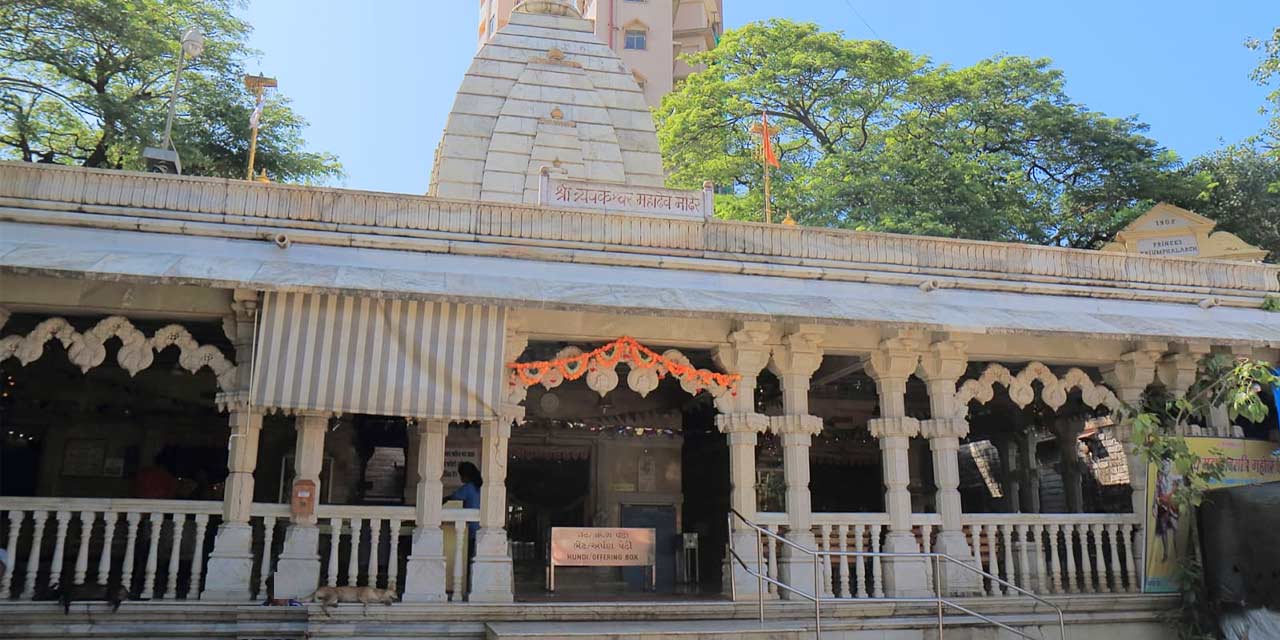 Mahalakshmi Temple is one of the oldest temples in Mumbai. The temple is dedicated to Goddess Mahalakshmi – the Goddess of Wealth, and it is built along the seashore.
The temple also has the idols of Goddess Mahakali and Mahasaraswati. And devotees come here, throughout the year, for blessings.
And the charm of Shree Mahalakshmi Temple increases manifold during festivals and other special occasions. The entire complex is decorated with lights and flowers. Arrangements are also made for the devotees to get a proper darshan and pass the offerings.
You'll find many shops within the temple complex to buy coconuts, sweets and fresh flowers among other required items.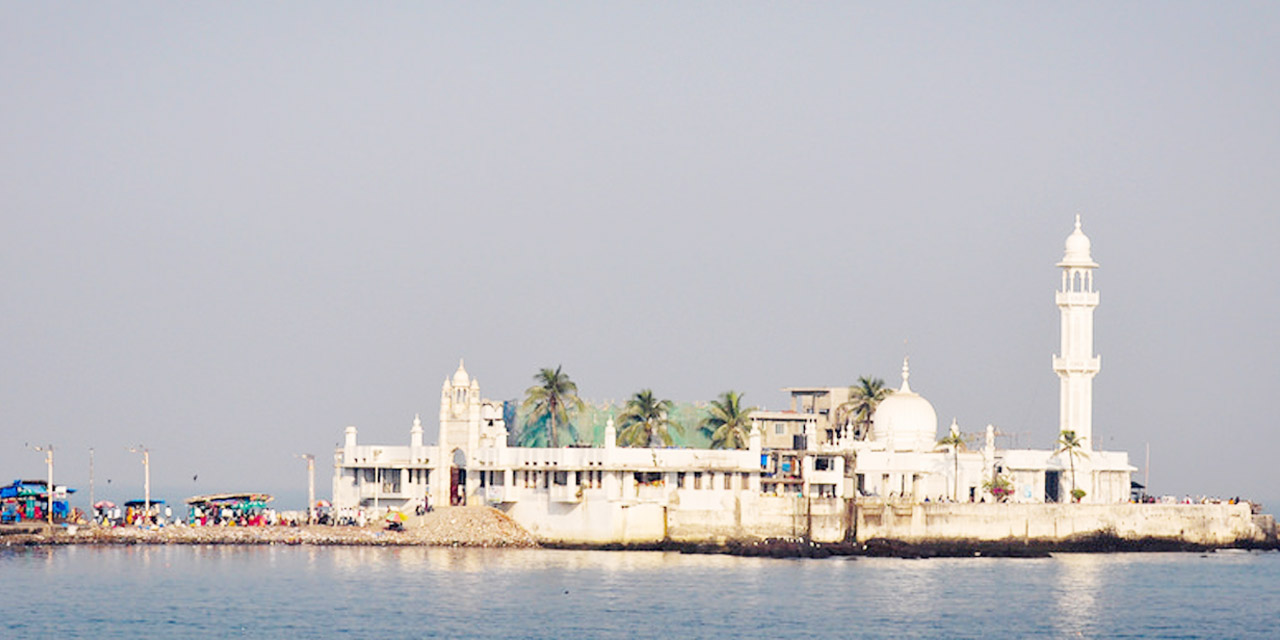 Haji Ali Dargah is a mosque built on an islet, only a few hundred metres away from Shree Mahalakshmi Temple. And a narrow, pebbled walkway connects it to the mainland. Haji Ali is also the shrine of a Sufi saint, Haji Ali Shah Bukhari.
This mosque was built in 1431, in the Indo-Islamic style. The central courtyard of the complex is made of marble. And the ceiling in the main hall is also of marble. It has been decorated with various coloured mirror patterns and Arabic inscriptions. You'll also notice Quran verses on the ceilings and the walls.
The tallest minaret of Haji Ali Dargah is 85 feet high. And from that minaret, namaz calls are made at the five designated times of the day.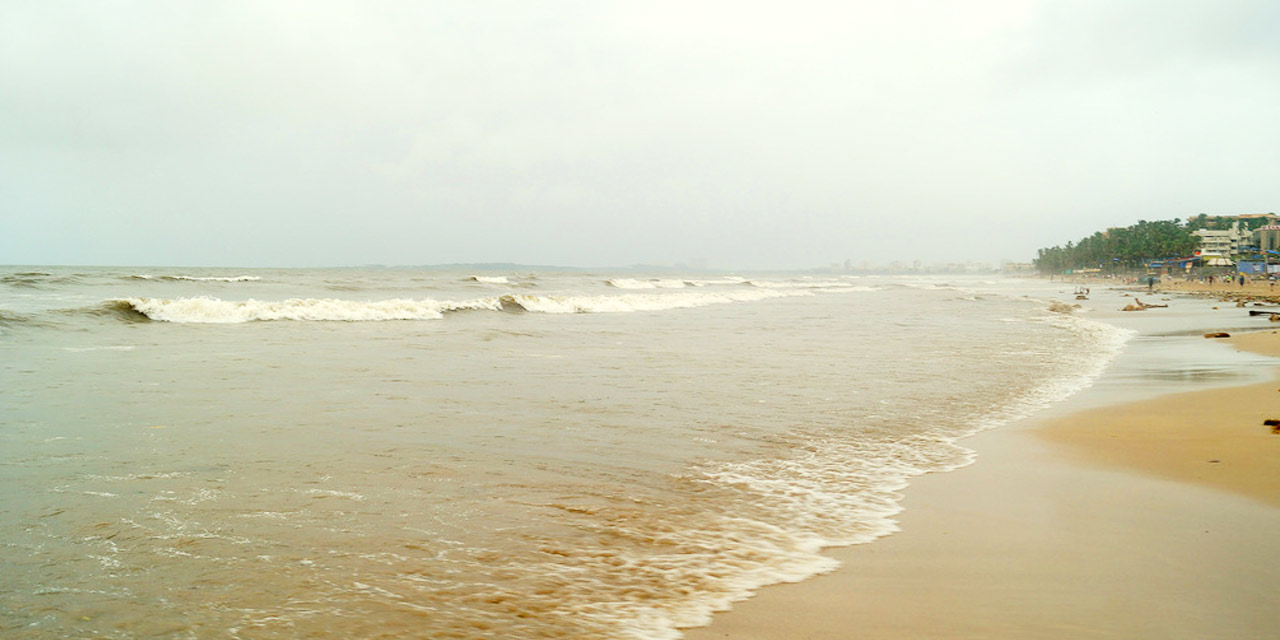 Juhu Beach is among the well-known beaches in India. It is popular for the mesmerising views of the sunset and the street food corners in the area.
Apart from enjoying the food, you can also check out activities like camel riding and horse riding on the beach. Many street artists like monkey trainers, snake charmers and tarot card readers also show off their skills at Juhu Beach. And on some days, you might also catch an artist carving out art from sand.
The beach is a favourite among the film-makers too. Celebrity photo sessions and movie shoots are regular events here. Also, many actors and actresses stay in the locality. And you might get to meet them during your visit.
The area is known for its nightlife too. You'll find many bars, pubs and nightclubs to spend your evenings.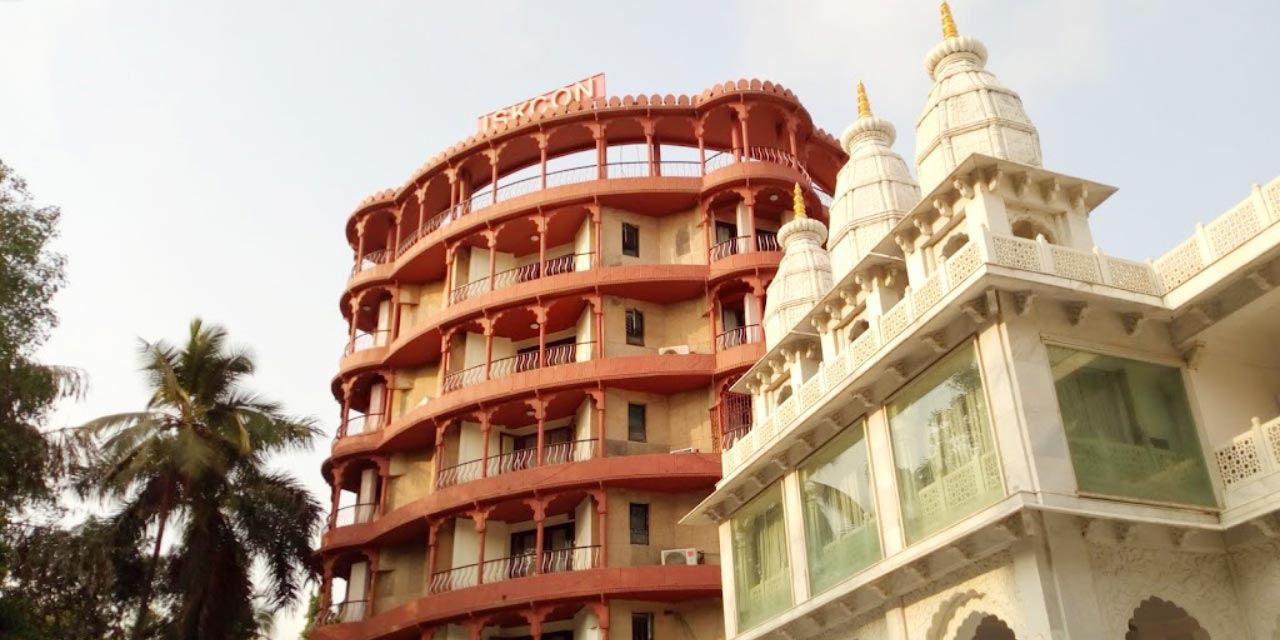 ISKCON Temple is a magnificent Hindu temple near Juhu Beach. It's a revered temple, especially among the devotees of Lord Krishna. But it also houses idols of Radha, Lord Rama, and Sita among others.
The temple is also known as Radha Rasabihari Temple and Hare Rama Hare Krishna Temple. And it's an ideal place to pray, meditate and gain knowledge. The temple offers various lessons ranging from Vedic education to meditation and spirituality.
Apart from the main temple, you'll also find a restaurant, a library and a guesthouse here.
Thousands of devotees visit ISKCON temple throughout the year. And the grand celebrations during Janmashtami, Jagannath Rath Yatra, Radhastami and many other festivals is worth the experience.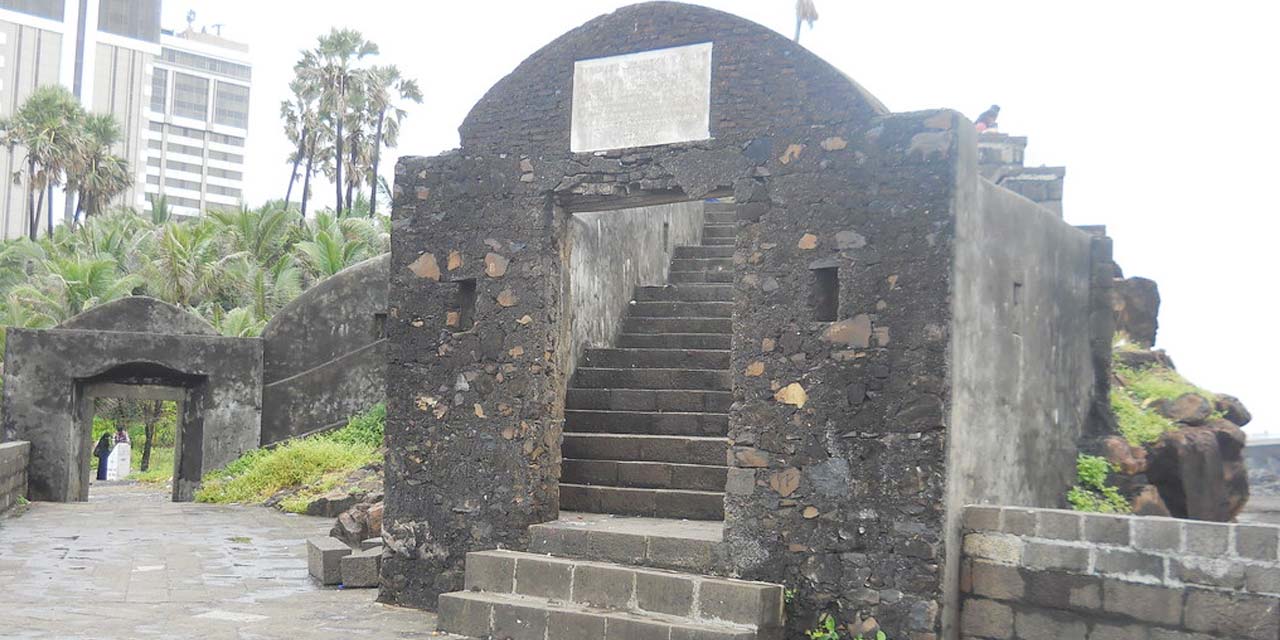 Castella de Aguada (or Bandra Fort) was built by the Portuguese to guard the sea route and fortify the area around. It is built in the European style, with granite blocks, and it offers a panoramic view of the Arabian Sea.
Much of the fort is in ruins today, but the view captivates many tourists. It is also a preferred hangout spot for the youths, and among the most popular places to visit in Mumbai for couples.
An evening walk on the walkway to the sea is de-stressing. And the fort also has a seating area for you to spend the evening.
Bandra Fort offers a majestic view of the Bandra Worli Sea Link too.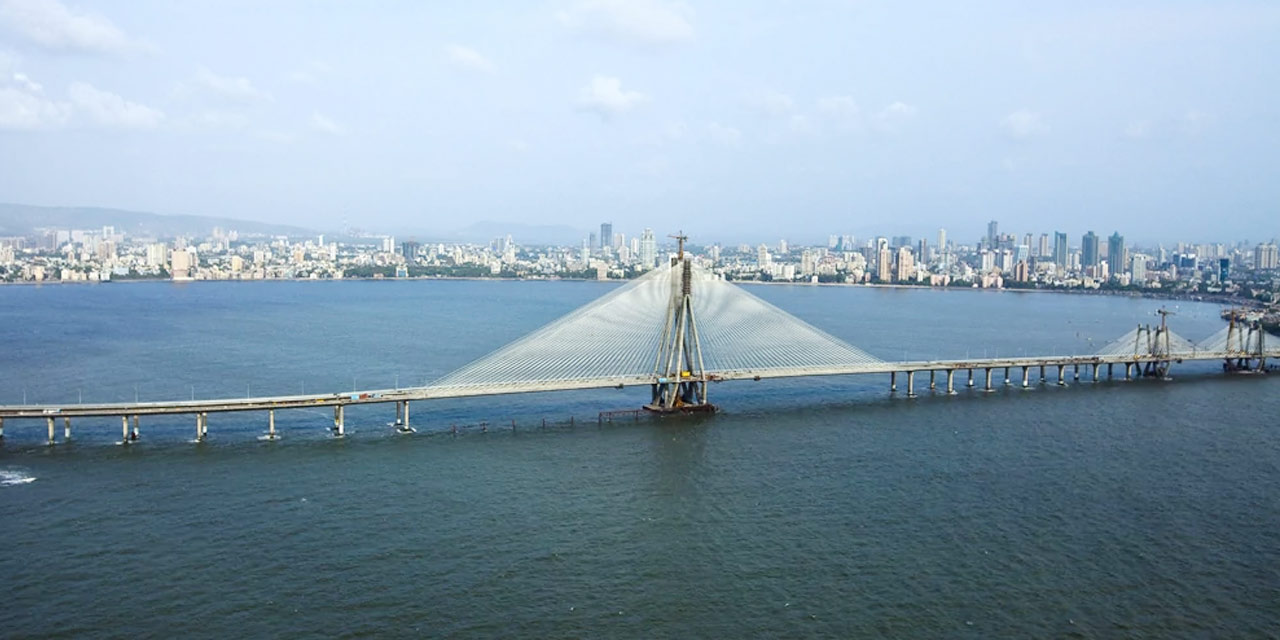 Bandra Worli Sea Link is a 5 km long bridge built on the Arabian Sea; it connects Bandra and Worli. The bridge is known for its architectural magnificence, and it is the first cable-stayed bridge built on the open sea in India. It is also one of the prominent landmarks of Mumbai.
This sea bridge saves considerable time for the daily commuters. But it has also turned out to be among the best places to visit in Mumbai for photography. The bridge looks even more glamorous when it comes alive with lights in the evening.
The adjacent Worli Sea Face is another popular spot. You can spend your evenings there, munching on local snacks.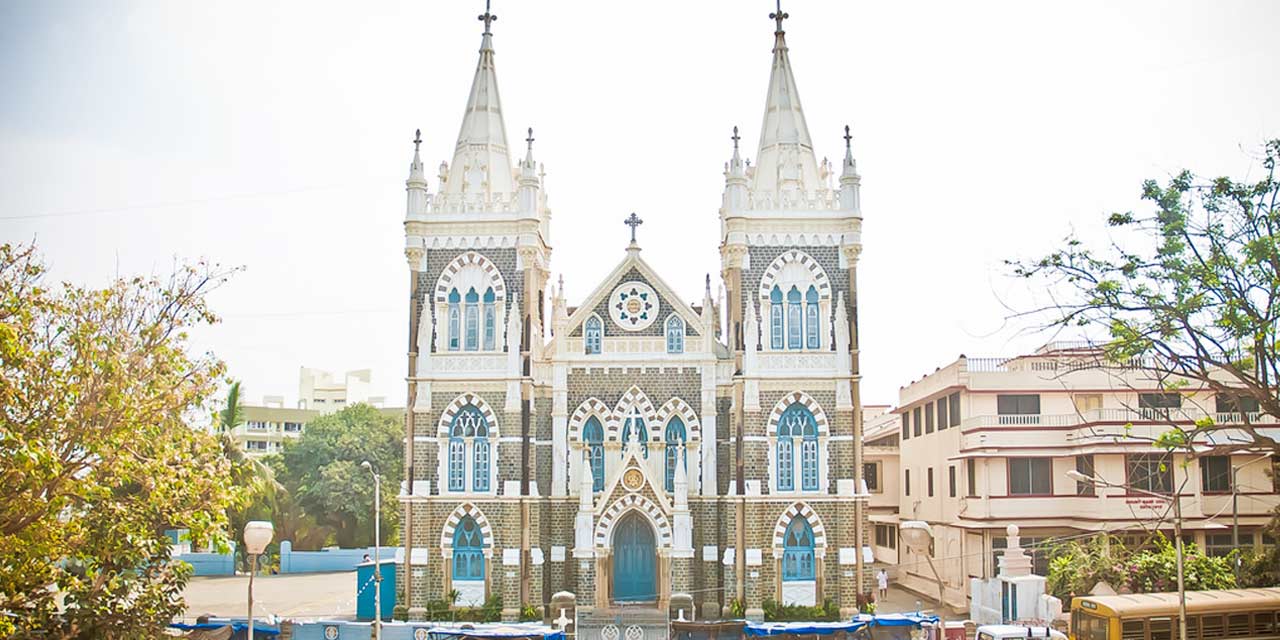 Mount Mary Church, or Basilica of Our Lady of the Mount, is among the beautiful churches in Mumbai. It is dedicated to Virgin Mary and it has been built in the Gothic architectural style. And the walls are covered with colourful fibreglass murals depicting stories from the life of Mother Mary.
The peaceful environment and the view from the church also attract many people to spend time here. The church stands on a hillock overlooking the Arabian Sea. And from the backyard, you get a view of the spectacular Mumbai skyline.
Mount Mary Church is also famous for the annual Bandra Fair. It is celebrated in September on the birthday of Mother Mary. The church holds a feast on the day, and the area surrounding it experiences a week-long carnival-like celebration.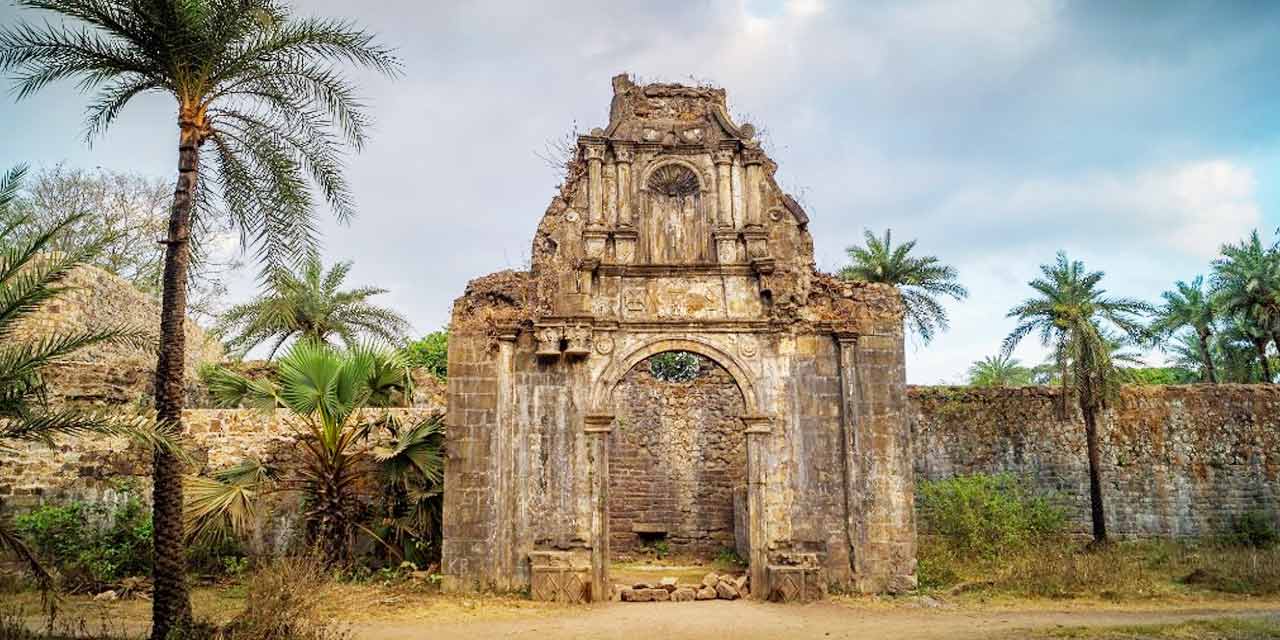 Fort Bassein (or Vasai Fort) is a 500-year old Portuguese fort near Vasai-Virar. And it is among the most popular places to visit in Mumbai outskirts.
At its prime, Fort Bassein was a complete city. It had administrative blocks, churches, hospitals, and the Portuguese used it as their base to control the region. The fort also used to be the official residence of the Portuguese governor when he was here.
Today, the fort is in ruins, but it is a part of the heritage tour of the area. The watchtowers allow you to observe the surrounding Vasai village and the extended skyline of Mumbai. And the fort is also a popular spot for movie shoots and pre-wedding photoshoots.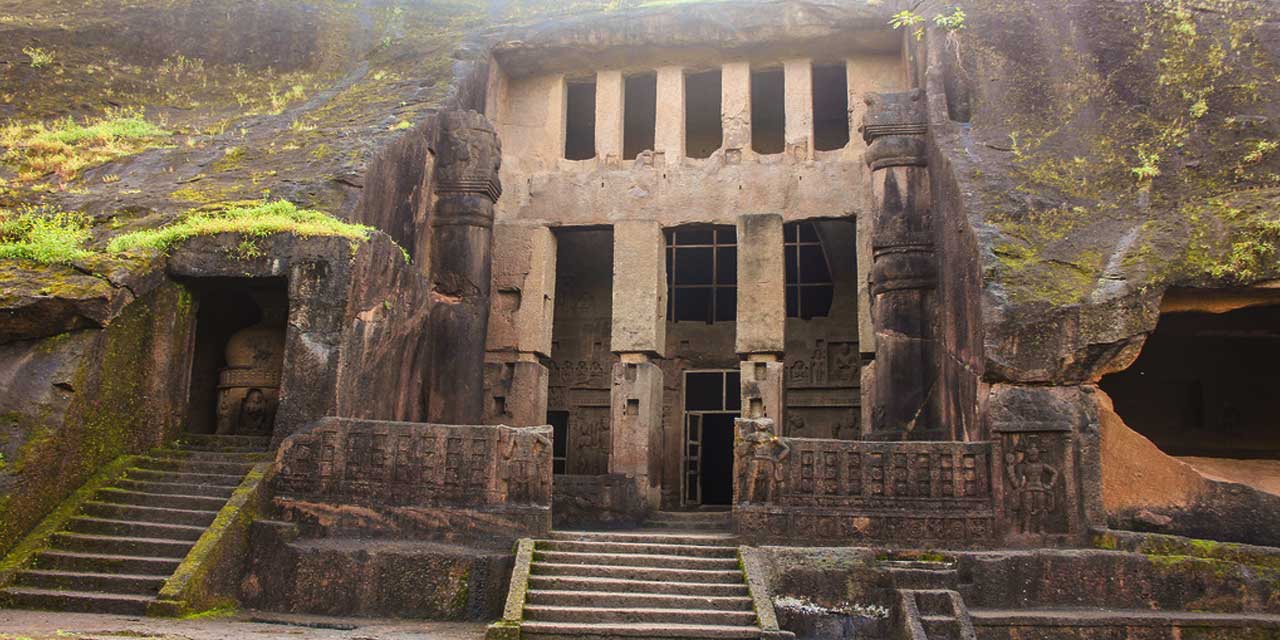 Kanheri Caves are a collection of 109 Buddhist caves. These caves used to be a Buddhist monastery, and they've been built over a long period. The earliest caves are from the 1st century BCE, while the most recent ones are from the 11th century CE.
Paintings and stone sculptures adorn the walls of the caves. Statues of Buddha in various postures and sizes are in the caves. And you'll also find numerous inscriptions in Brahmi and Devanagari, and some epigraphs in Pahlavi, on the walls.
These caves served as a place for worship, study and meditation. Cave 3 is the largest among the Kanheri Caves, and the most remarkable.
This serene cave complex is situated on a hillside, and it takes a long trek through lush green bushes and rocks to reach here. This site has numerous small streams and waterfalls too. And it also offers a view of the sprawling Mumbai city.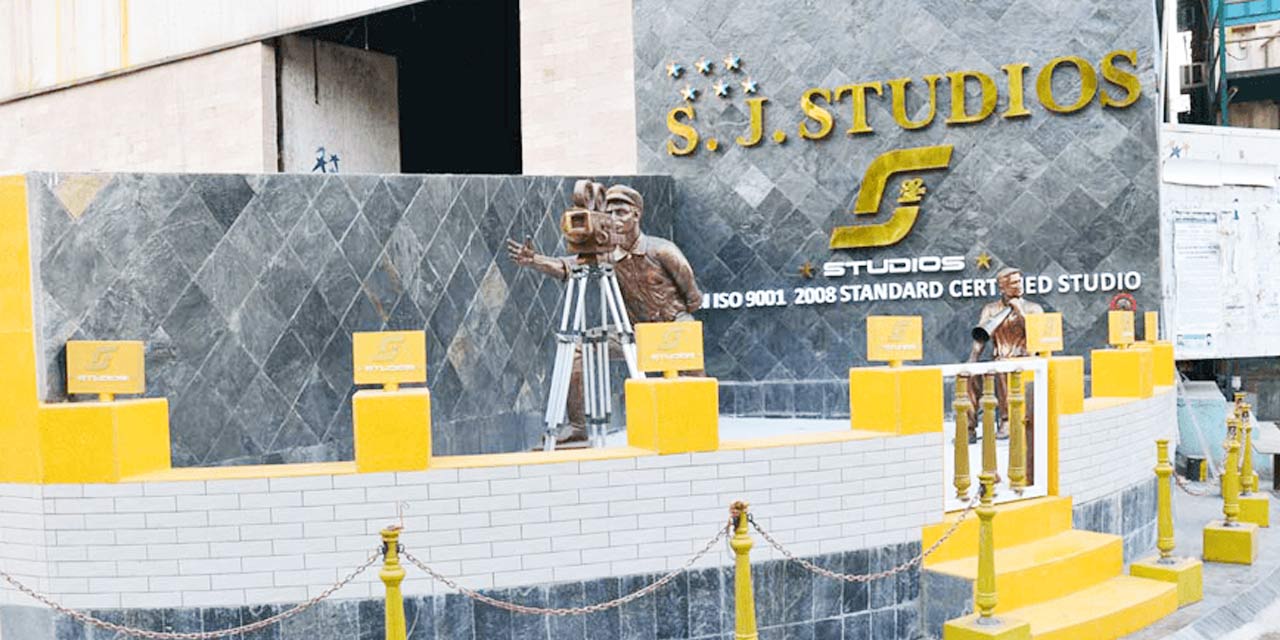 Film City of Mumbai is where much of the action of Indian movies and TV shows take place.
With 10+ indoor studios and around 50 outdoor shooting locations, you might also catch a live movie shoot. From temples to playgrounds and open roads to bungalows, various setups are available to help in shooting an entire movie.
It is an iconic landmark of the city and your Mumbai tour would remain incomplete without visiting it.
The official name of Film City is Dadasaheb Phalke Chitra Nagari, and here you get a chance to witness all the hard work that goes behind the scenes. Various TV commercials are also shot here.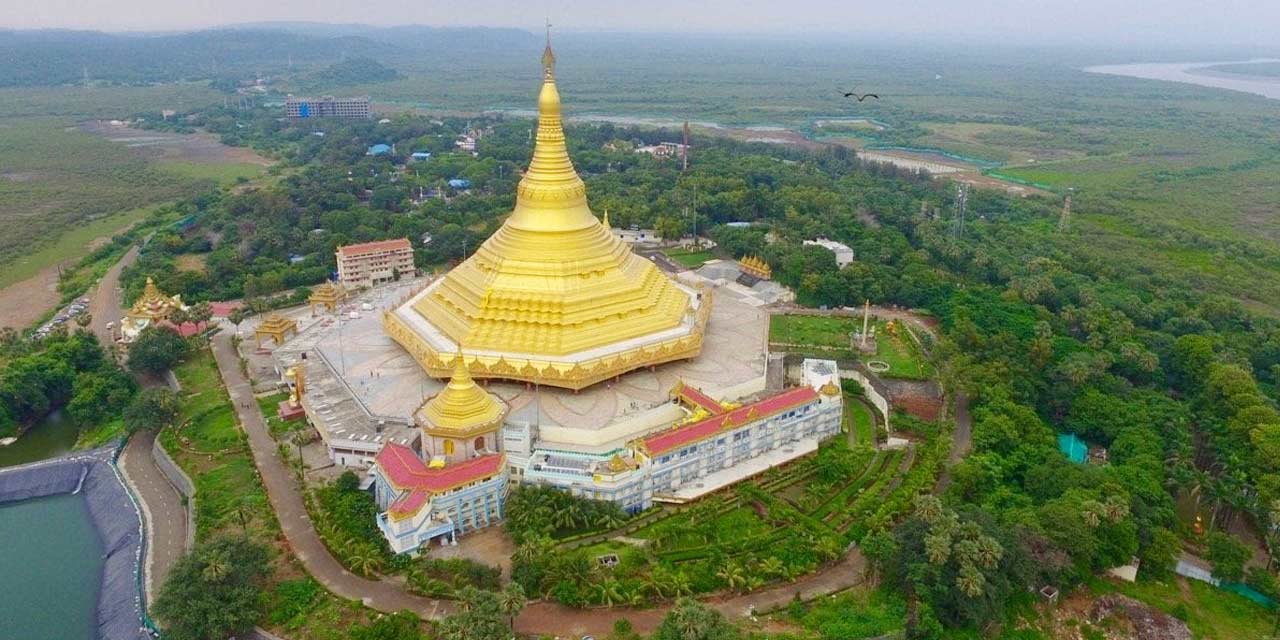 Global Vipassana Pagoda is a meditation dome on the outskirts of Mumbai. The dome is built as a tribute to a Vipassana teacher – Sayagyi U Ba Khin, and it resembles the Shwedagon Pagoda of Myanmar.
The dome of the pagoda is the world's largest stone dome standing without any supporting pillars. And 8000 people can meditate at a time here.
The architectural pagoda and the intricately carved gates are among the major points of tourist interests. But there also are other structures like the 21.5 feet high statue of Gautam Buddha, the Bell Tower and the Gong Tower. The pagoda complex also has a park, a small waterfall and a replica of the Ashoka Pillar of Sarnath.
Global Vipassana Pagoda spreads the values of Gautam Buddha through its meditation and relaxation sessions. And you can also take meditation courses. The campus has a library and a museum too.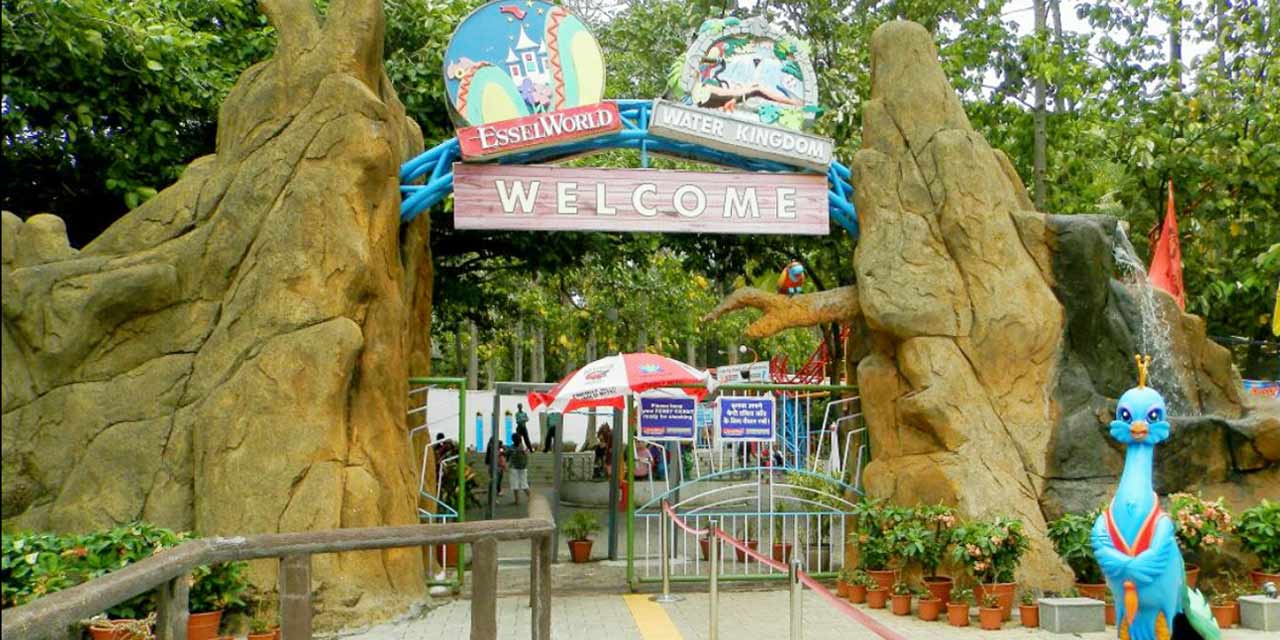 Essel World is an amusement park, only a few metres from Global Vipassana Pagoda. It's a popular getaway for relaxation for local people, and it is also among the famous amusement parks in India.
This amusement park has got over 50 amusement rides, adventure activities and fun points to check. There are different rides for adults and kids. And you'll find group rides too. Apart from the rides, you can enjoy in the bowling alley, ice-skating rink, discotheque and many other places.
Essel World has numerous food courts serving a variety of cuisines. And it also has a small merchandise shop. And while you're at Essel World, visit Water Kingdom too.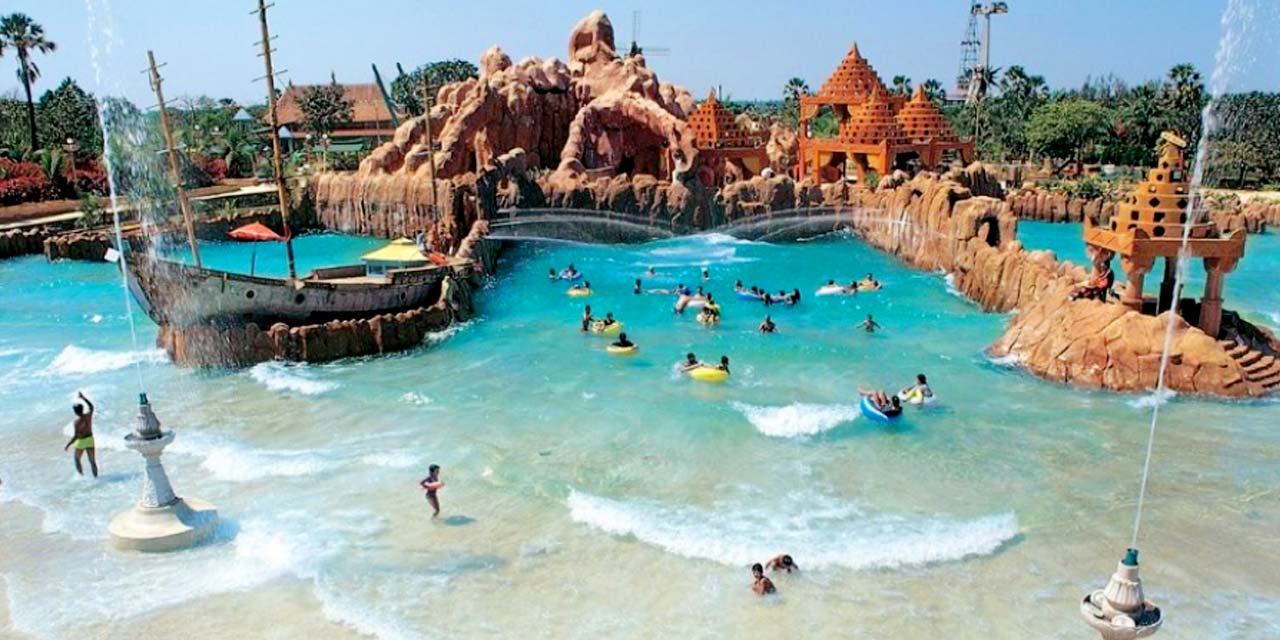 Water Kingdom is a water-themed amusement park right next to Essel World. It has various wet adventure rides, fun-filled water slides and numerous pools to play together. And many people visit Essel World and Water Kingdom together.
This park also has a large wave pool and over 30 water activities, including a rain dance floor.
And if you aren't interested in the water games, you can relax beside the pools with some cold drinks and snacks. Water Kingdom has a couple of restaurants and snacks parlours serving a variety of delicacies.
Apart from those fun rides and water slides, a fish spa and pedicure zone are also here.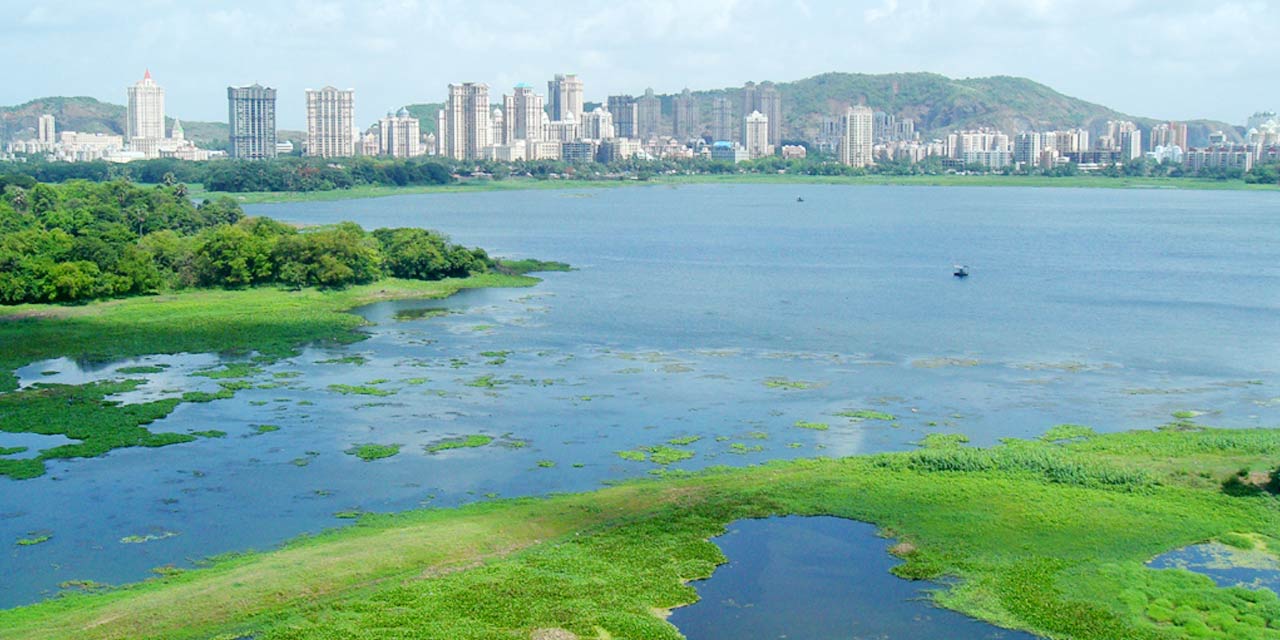 Powai Lake is an artificial lake known for its charming evenings. The lake is surrounded by trees and bushes, and you will find many birds like kingfishers, herons and falcons. Bees and various colourful butterflies can also be seen near Powai Lake.
And the lake also has many fishes and a few crocodiles.
People come to Powai Lake to spend their evenings after work. A small play area is also near the lake. You can buy some local snacks and munch at them while admiring the golden hues of the sky and the setting sun.
And while you're here, you can also check out the Nirvana Park across the road in the Hiranandani complex. It is a beautiful garden furnished with wooden walkways, kids' slides and benches. You'll also find grass lawns, ponds and tiny flowers around this park.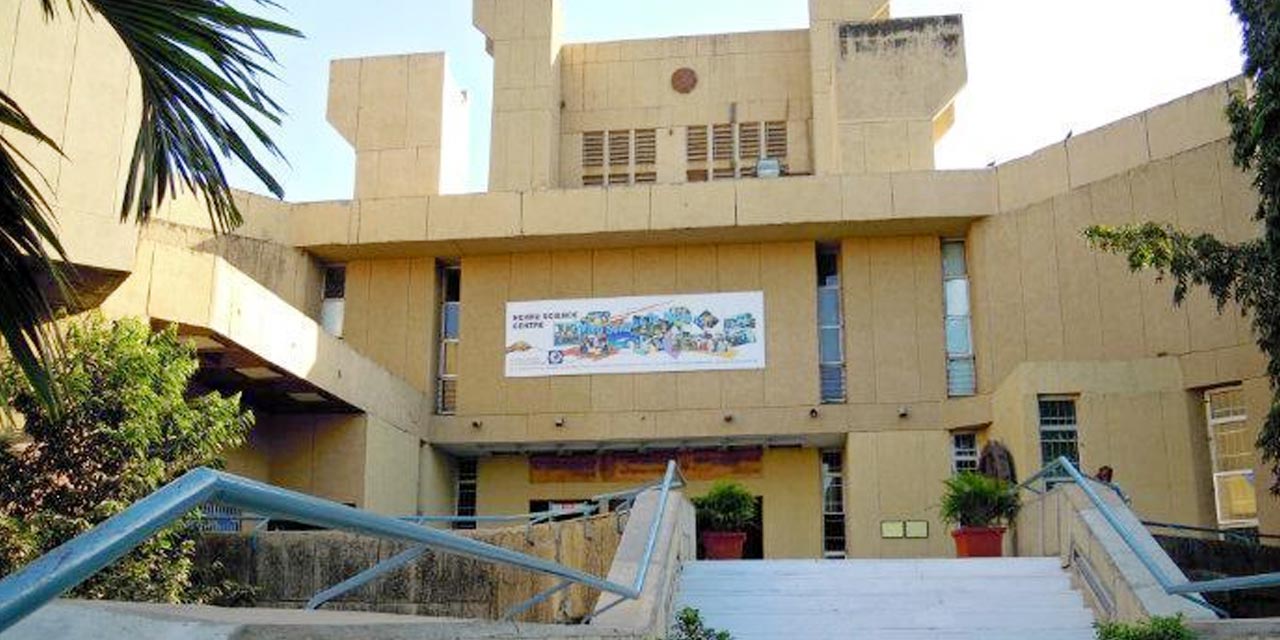 Nehru Science Centre is the largest interactive science centre in India.
It was opened to the public in 1985, and it has around 500 varieties of exhibits and interactive science games. This science centre also has a museum showcasing various models to tell you about the developments in science and technology. And it has a library too, with scientific books and movies.
The science centre offers practical experience with laws of physics, human anatomy, and many other facets of science. The available activities also include regular shows, films, and documentaries.
A sky observatory – Nehru Planetarium, is also within the complex. Multiple telescopes are available here for stargazing and studying planetary motions and Solar/Lunar eclipses.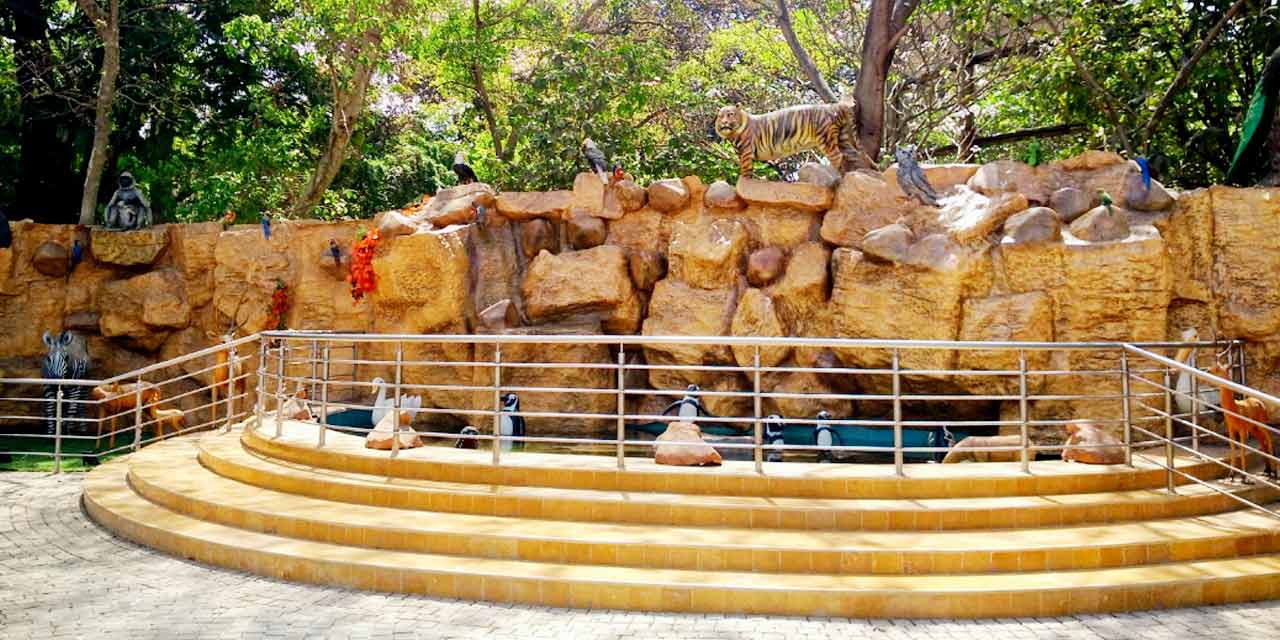 Mumbai Zoo, or Veermata Jijabai Bhosale Udyan, is one of the oldest zoos in India. It was established in 1861.
The zoo has many common animal species of India and other lesser-known animals. You'll find jackals, sloth bears and swamp deers here. Hyenas, tigers and crocodiles are also in the zoo. And you can meet with penguins too.
Mumbai zoo also has an aviary for aquatic birds. You can interact with birds like pelicans, flamingos and albino crows. And you can also have selfies with cranes, herons and storks among other birds.
The place is known for its range of fauna too. The botanical garden here has more than 3000 trees, herbs and flowering plants.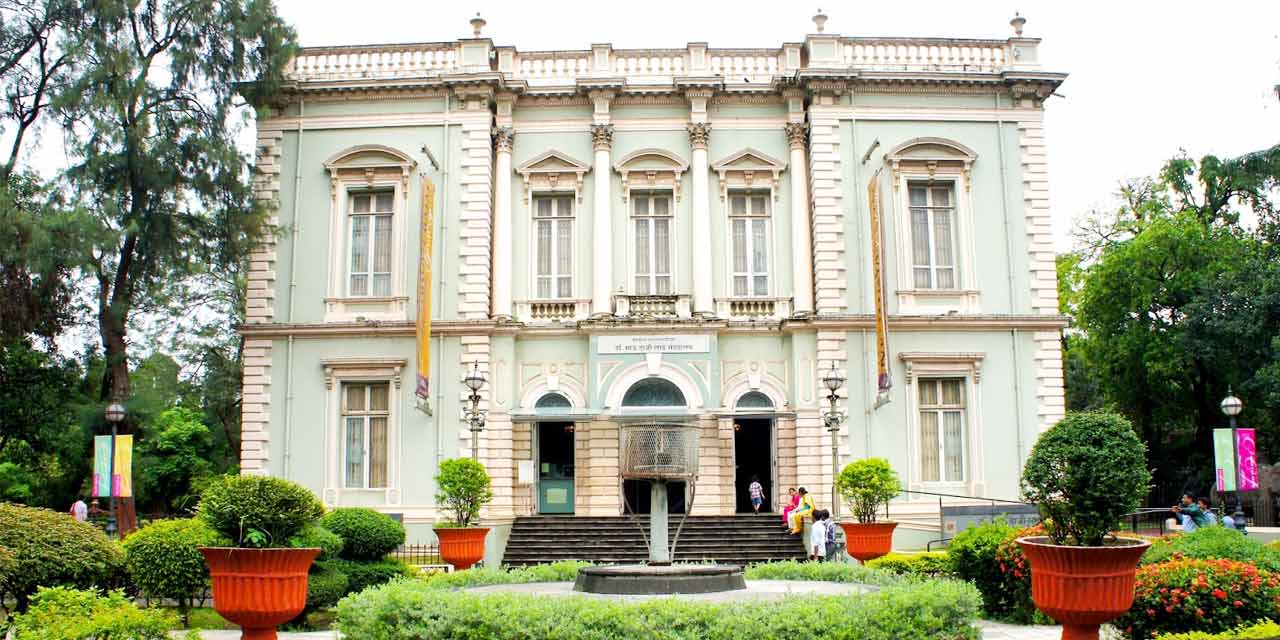 Dr Bhau Daji Lad Museum is a place for entertainment, knowledge and relaxation. It is near Mumbai Zoo, and it is the oldest museum in the city. In the museum, you'll find artefacts, maps and manuscripts showcasing the rich history and cultural heritage of Mumbai.
The museum also displays clay models and has a plethora of photographs and books narrating the story of the city. And it also organises art workshops, cultural performances and lectures from time to time.
Dr Bhau Daji Lad Museum was opened to the public in 1872. And the place has been known for its magnificence too. The grand metal palisades, staircase railings and the arched supports were all imported from England. And the etched glass designs are reminiscence of the glorious 19th-century architectural style.
It has been among the underrated places to visit in Mumbai for a long time. And history buffs or knowledge seekers must visit this museum.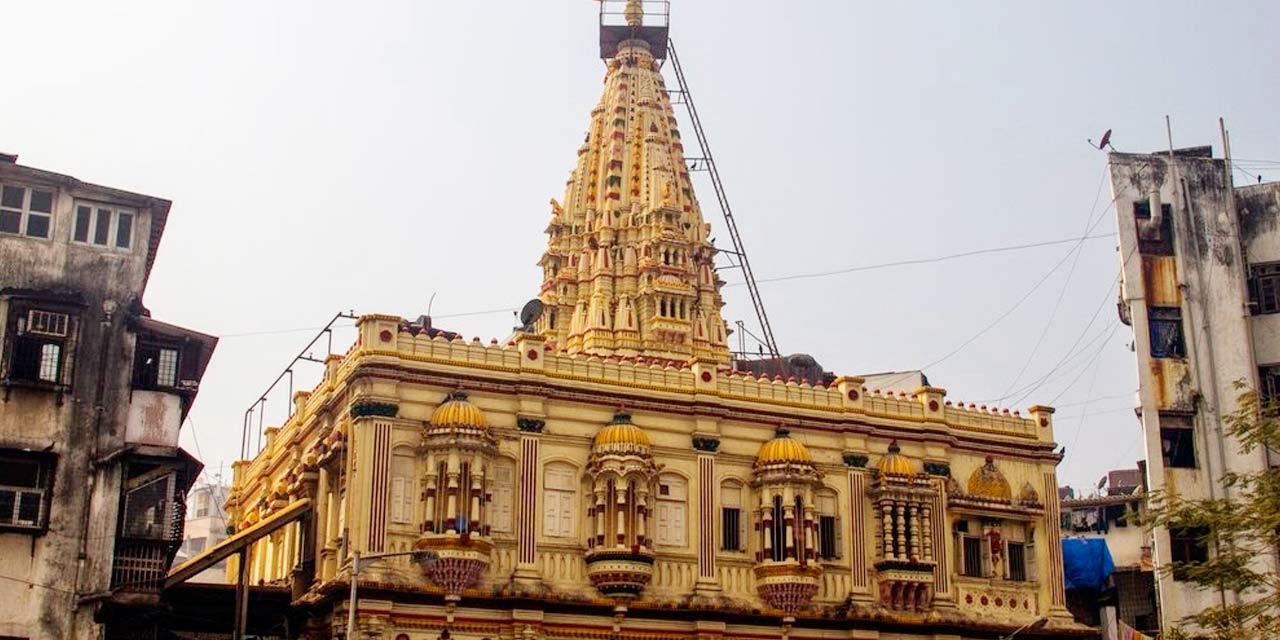 Mumba Devi Temple is among the oldest temples of Mumbai. It is dedicated to Goddess Mumba, after which Mumbai is named. She is considered the guardian goddess of the city.
Local people come to the temple for the daily aarti in the evening and morning. Devotees also come from nearby places to take blessings from Mumba Devi.
The temple is built in the classic ancient Hindu temple style. It has one high spire, with a red flag flying on its top. And the walls are etched with religious mantras and shlokas prominent in the Hindu temples.
During festivals like Navratri, it is decorated with flowers and lights, and the celebrations go on for 10 days. People come from many places to be a part of the religious ceremonies and enjoy the ongoing fair.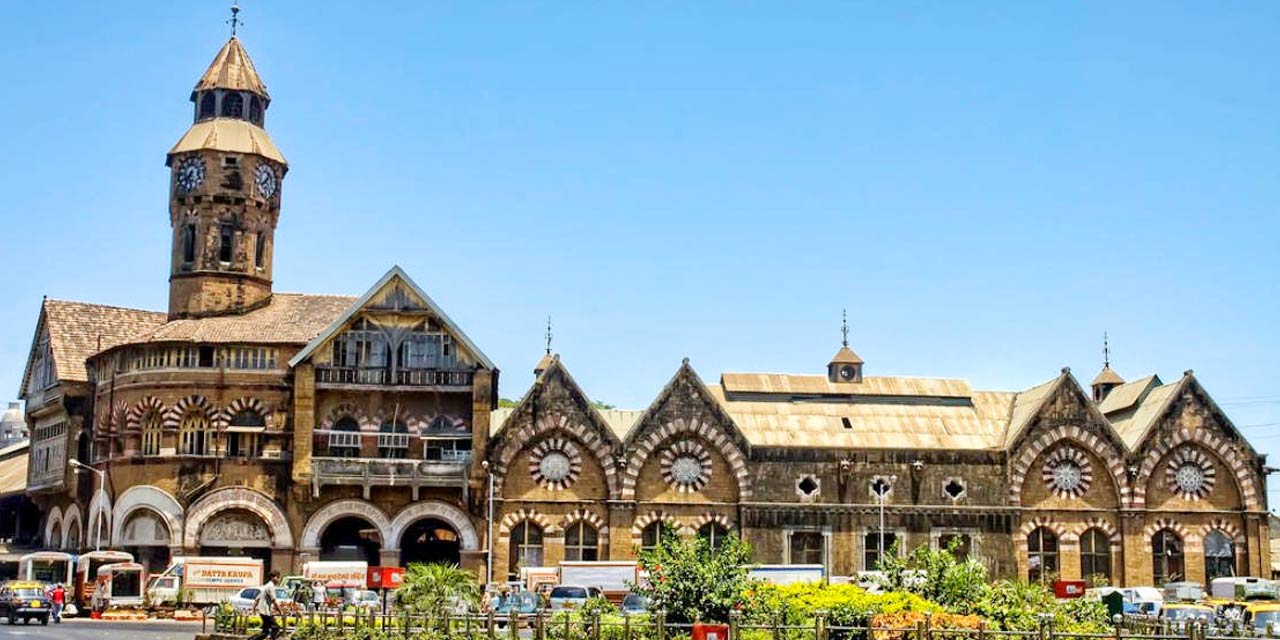 Crawford Market (officially named Mahatma Jyotiba Phule Mandai) is the largest market in the southern Mumbai. From gifts to groceries and from toys to pets, the market has everything. And it is the best place to visit in Mumbai for shopping.
During British rule, it was a source to buy daily fresh produce. And it's still a popular place to get good deals on various household goods and fresh fruits and vegetables.
Crawford Market is known for its striking architecture too.
It has a blend of Norman and Flemish architectural styles, and it is decorated with paintings and murals. The clock tower is adorned with carvings that resemble Victorian style. And in some parts of the building, you will find glimpses of the Gothic architecture style too.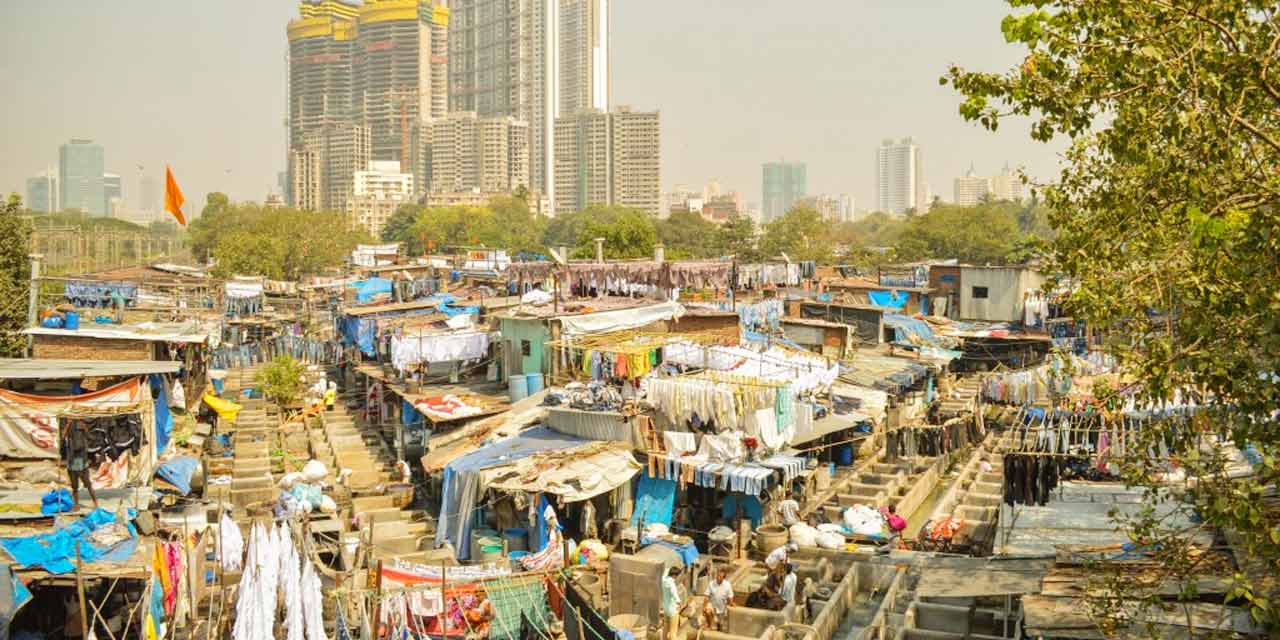 Dhobi Ghat is the world's largest open-air laundry. Here, hundreds of washermen and women – dhobis, work their shifts through the day to wash clothes. Porters bring dirty clothes from all over Mumbai and they take them back in their fresh, crisp and spotless state.
The system is well-optimised, and each cloth is coded to be traced back to the client.
This laundry was set up by an association of 50 washers in 1890. And today, around 700 washer families live here. And although some have installed washing and drying machines, most still carry on their work manually.
Dhobi Ghat has maintained much of its old charm and washing methods.
Other Popular Places to visit in Mumbai
Apart from the above 34 tourist spots, you've many other places to visit in Mumbai and around. You can visit beaches like Aksa Beach, Gorai Beach and Versova Beach here. These are known for their sunset views, horse rides and street food stalls. Gorai Beach is also popular among the local people for weekend getaways and parties.
Then, you can also enjoy various gardens spread throughout the city. Chhota Kashmir and Hanging Garden are among the most popular of them. And if you love trekking, animal-spotting or bird-watching, you must visit Sanjay Gandhi National Park.
Also, if you're looking for places to visit in Mumbai for fun, plenty of amusement parks are there in and around the city. Snow World, Tikuji-ni-Wadi and Yazoo Park are popular.
You can also enjoy in themed water parks like Anand Sagar Water Park, Royal Garden Water Park and The Great Escape Water Park. These water parks are away from the hustle-bustle of the city. And they provide accommodation facilities if you want to stay for a night or two.
If you're interested in cricket, you can buy a ticket for a game in Wankhede Stadium. And if you like theatres and plays, you can check out Prithvi Theatre. The theatre also hosts workshops, performing art programmes and other events.
And while you're in Mumbai, also visit Babulnath Temple. It has a special place among the devotees of Shiva, and the celebrations during Mahashivaratri festival are full of excitement.
---
Mumbai is a mix of art, culture and entertainment, and it should be in the bucket list of every traveller. Whether you're looking for places to visit in Mumbai with family and friends or you want quiet corners to spend time with yourself, you'll find them here.
The city will be a memorable holiday destination for adults and youngsters alike. From religious sites to beautiful beaches and historical caves to magnificent architectural monuments, you'll find a variety of places to visit in Mumbai.
Whether you want to go on a solo tour or want to book a honeymoon holiday, Mumbai won't disappoint you. Here you can be a part of the modern lifestyle, or enjoy a laid-back holiday in the lap of nature.