Aptly known as 'City of Dreams', Mumbai is the capital city of Maharashtra located on the west coast of the Indian peninsula. Named after Goddess Mumba Devi, Mumbai is a diverse city that offers a variety of choices to spend some quality time with your loved ones. From beaches to theme parks, from historical sites to religious spots, from shopping centres to wide array of eateries, Mumbai offers something for everyone. Mumbai Tourism is ideal for all kinds of holiday, be it a long break or a weekend getaway or a one day trip to the happening city.
Here is a list of Top places to visit in Mumbai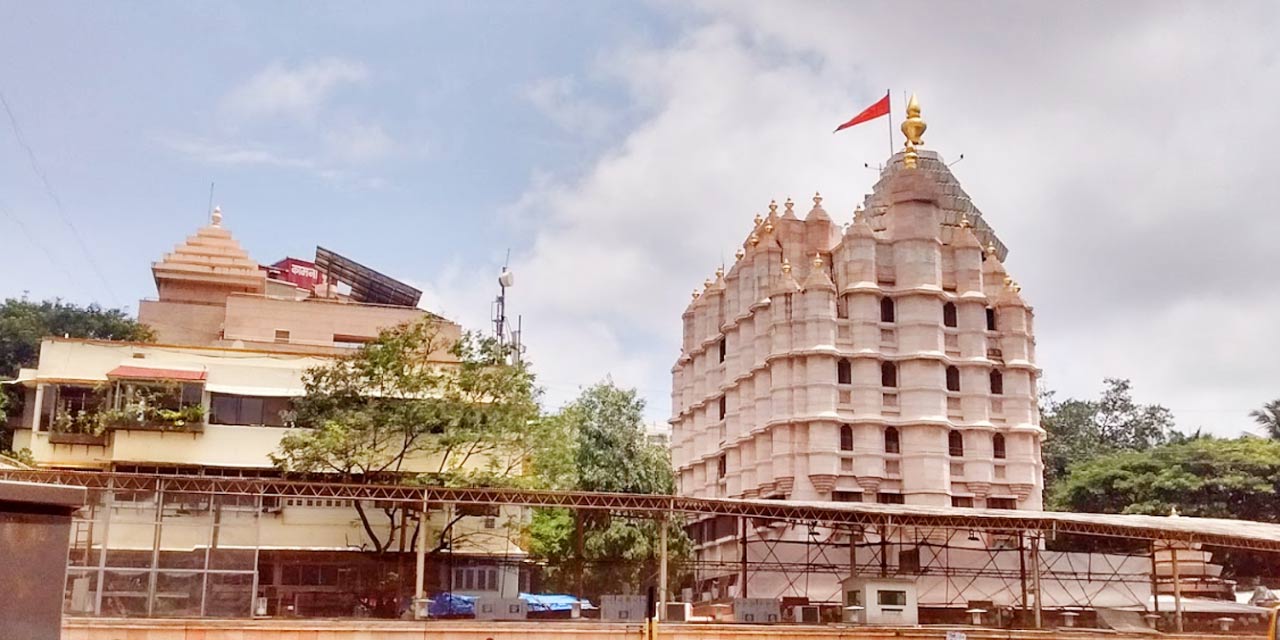 Shree Siddhivinayak temple is undeniably one of the most popular temples not only in Mumbai but also in India. With lakhs of devotees visiting every day, it is also one of the richest temples in Mumbai. Dedicated to Lord Ganesha, Shree Siddhivinayak Temple was built in the year 1801. Since then it has been attracting devotees from all over the country. Tuesday is one of the most important days of the temple. Celebrities and lay person both flock to the temple alike to seek blessings. Its architectural excellence and divine statue of Lord Ganesha adds to the splendor of the temple. More than two centuries old, Shree Siddhivinayak Ganapati Temple is believed to fulfil wishes and desires of everyone who pray with utmost devotion to the lord.
Story of Shree Siddhivinayak temple
There is a story behind the temple as per which its construction was funded by rich woman named Deubai Patil. As she was childless, she wished to create a temple where childless couples can come and worship the lord for children. Later an ardent disciple of Saint Akkalkot Swami Samarth, Ramakrishna Jambhekar Maharaj, on instruction of his guru, buried two divine idols in front of the temple. Later, after 21 years, as prophesied by the saint, a tree grew on the same spot bearing a svayambhu Ganesha.
Architecture of Shree Siddhivinayak temple
Shree Siddhivinayak temple was first built in the year 1801. Laxman Vithu and Deubai Patil are the brains behind its construction. Later the temple was rebuilt so as to accommodate more number of devotees.
Although small, the initial architecture of the temple was equally captivating. It consisted of a hall, a sanctum sanctorum and water tank. An administrative office of the temple was also built on its right side.
Lord Ganesha idol at the temple is as alluring as its excellent architecture. The idol of Lord Ganesha is carved out of a single black stone. It has a height of 2.5 feet and width of 2 feet. The unique feature of this idol is that the trunk of the Lord Ganesha is tilted towards right side. The idol of Lord Ganesha is Chaturbhuj, meaning it has four hands. The upper right hand of the deity holds a lotus flower while the lower right hand holds a rosary. The upper left hand holds an axe and the lower left hand of the Lord holds a modaka, which is considered to be lord's favourite sweet. There is a snake that hangs like threat on the deity's neck. On to the sides of the main deity, idols of Goddess Riddhi and Siddhi are placed.
The current structure of Shree Siddhivinayak temple is a result of the determinations of Shri Sharad Athale from SK Athale & Associates. Apart from the idol of the main deity that was kept intact, the temple was reconstructed into its present architecture.
The sanctum sanctorum has wooden doors that are intricately carved with images of eight forms of Lord Ganesha, called as Ashtavinayaka and the interior roof is plated in gold. Shree Siddhivinayak temple Mumbai has three entrances. Its current structure is nothing less than a palace, giving it an unparalleled grandeur.
How to reach Shree Siddhivinayak Temple
Shree Siddhivinayak Temple is located at Prabhadevi, which is easily accessible from all parts of Mumbai. Tourists can hire a taxi or an auto-rickshaw and reach this temple. If travelling by train, then you can get down at Dadar, which is the nearest railway station to the temple. Local trains can be boarded from Lower Parel, Mahalaxmi and Elphinstone Road.
After darshan at the temple, tourists can also visit other popular tourist attractions that are located close by such as Worli Sea-Link and the Shivaji Park Beach. Visit to all these places can be clubbed together.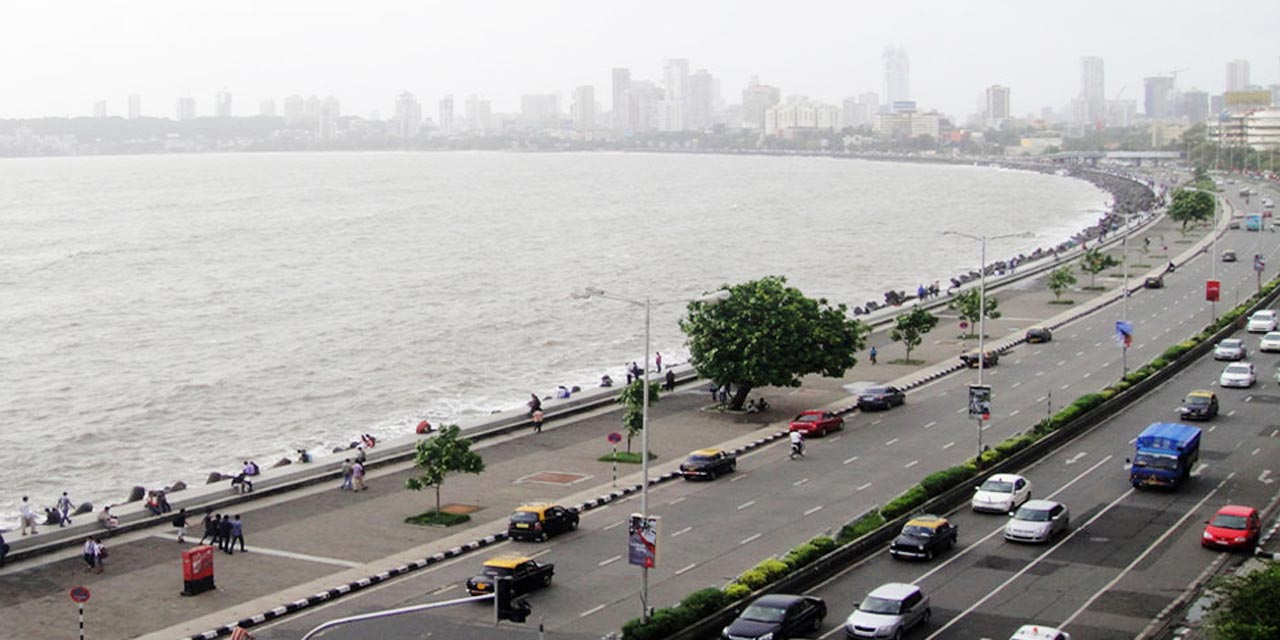 Another place to visit in Mumbai is the Marine Drive. Officially named as Netaji Subhash Chandra Bose Road, this is a 3 km long stretch with six lanes that runs by the coastline. It is located in the southern Mumbai while it runs towards the north of the city. Marine Drive forms a natural bay, which hypnotizes every visitor with its serene scenic beauty.
Marine Drive is a C- shaped road which is a place to must visit when in Mumbai. The palm trees lined on the side make the pathway even more alluring. Its beauty is enhanced in night when wide stretch of street lights is lit up, giving it a look of necklace. The view is especially breath-taking when seen from an elevated point. Owing to this, it is often referred with the name of Queen's Necklace. Marine Drive also links Nariman Point, which is also a popular place to visit in Mumbai to Babulnath.
Things to do at Marine Drive
Evening Walk - One of the best places for a walk, Marine Drive is visited by hordes of tourists as well as residents in evenings and mornings. The view of vast spread of Arabian Sea which is accompanied by refreshing breeze creates calming atmosphere. At the same time, umpteen number of stalls and restaurants give the place a lively touch. With best of both, Marine Drive promises a unique experience. It is a place for all age groups offering a soothing break from day to day monotony.
Events - Marine Drive is a popular venue for various events such as Bombay Marathon, French Festival, IAF Airshow, International Fleet Review, etc. So when in Mumbai, if lucky you might be able to be a part of one of these events. An open air gallery is also located close by.
Chowpatty Beach - On the northern end of Marine Drive is the Chowpatty beach, which is another popular place to visit in Mumbai. This place is an ideal place to experience the best of Mumbai's night life. The place takes a form of a lively fair in night with food stalls and hawkers, restaurants and various other entertaining choices like merry-go-round, ferris wheels, etc. From Marine Drive, it is a must to visit Chowpatty beach.
Timings of Marine Drive
Marine Drive is open 24 hours a day. You can visit it at any time of the day. However, the best time to visit Marine drive is in evening. It is enthralling sight to watch the sunset over the shimmering waters of the Arabian Sea and then stroll with the cool refreshing air caressing you.
There is no entry fee at Marine Drive.
How to reach Marine Drive
As Marine Drive is centrally located, it is easily accessible. It is situated at the bottom of Malabar hills. Tourists can reach by all means of local transportation. As it is a popular landmark of Mumbai, tourists will not face any difficulty in finding it.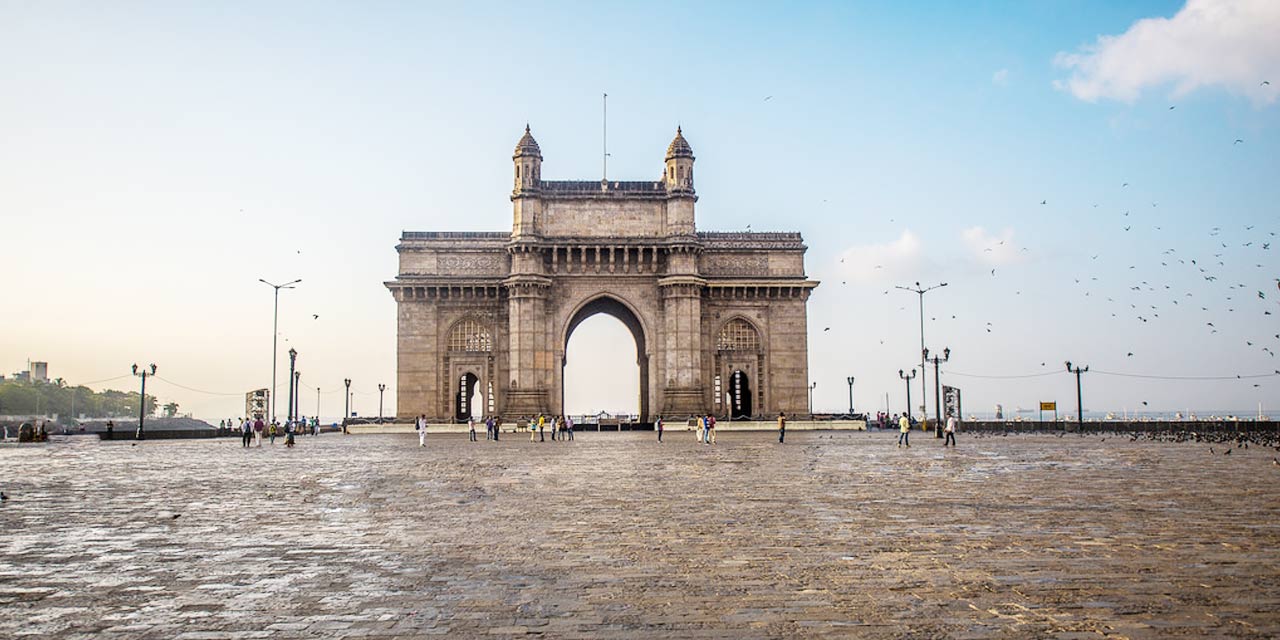 About Gateway of India
One of the most popular places to see in Mumbai is the Gateway of India which was built during the colonial era. Built to commemorate the visit of King George V in 1911, it was the first structure that a visitor would see while arriving to Mumbai via sea. Its magnificent architecture still allures everyone. Overlooking the Arabian Sea, Gateway of India presents an impressive sight that is impossible to miss when in Mumbai. Gateway of India not only presents historical significance but also a captivating architecture which was designed by George Wittet.
Now a popular place to hangout, Gateway of India buzzes with hordes of visitors every day. Various local vendors selling snacks, balloons and other items, stalls and photographers make this place vibrant with activities.
History of Gateway of India
Gateway of India was built to mark the royal visit of King George V and Queen Mary to Mumbai (Bombay) in 1911. Foundation of the monument was laid out by the then Governor of Bombay, Sir George Sydenham Clarke in March 1911. The construction of this monument was completed in 1924.
Once representing the grandeur of British era, it was also the place from where the last troop of British regiment marched at the time of independence. A ceremony on the passing of the 'First Battalion of the Somerset Light Infantry' was conducted here for the same in 1948.
Architecture of Gateway of India
The monument, Gateway of India stands majestic with an arch of height of 26 meter. It is designed by the then renowned architect George Wittet. It has been built in the architectural style of Indo-Saracenic and has a touch of Islamic architectural styles too. Constructed in yellow basalt and binding concrete, it consists of exquisite lattice work. Its central dome with a height of 83 feet with a diameter of 48 feet makes the monument even more imposing. The four pillars are another prominent feature of Gateway of India. Behind its arch, steps have been built that lead visitors to the Arabian Sea.
Nearby Attractions
Gateway of India is located quite close to Elephanta caves and Taj Mahal Palace Hotel, which are two other prominent tourist attractions of Mumbai. Hence, you can club together visit to all these three places on the same day.
Timings of Gateway of India
Gateway of India is open throughout the day and night and on all days of the week.
How to reach Gateway of India
As it is a popular landmark of the city, you will not find any difficulty in reaching here. One can hire an autorickshaw or a private taxi from any part of the city to Gateway of India. If you are travelling by local trains, then you can get down at the nearest stations which are Chhatrapati Shivaji Terminus station (2.5 km away) and Churchgate station (2.4 km away). From here you can hire a locally run auto-rickshaw.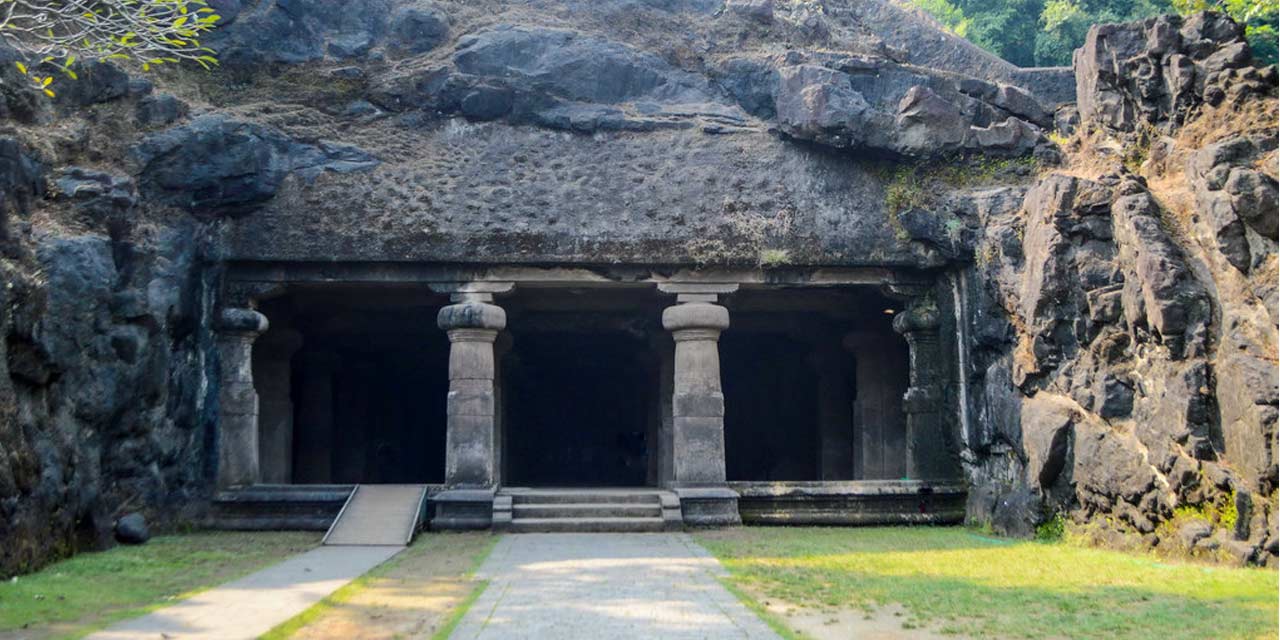 A Mumbai tour is incomplete without a visit to the majestic Elephanta Caves. These are located on the islands in the Arabian Sea, which are named after the gigantic elephant that was found here. It is also called as Gharapuri. Elephanta caves are one of the finest examples of rock-cut architecture and offer a glimpse into the lives of pre-medieval India. Although it suffered during colonial era, it still presents a stunning sight with enviably sturdy and intricate structure.
The island is consisted of two set of caves; the first set is of five caves that are related to Hindu religion, dedicated to Lord Shiva and the second set is of two Buddhist caves. These caves are a place to visit not only for their historical importance but also for the natural beauty that they present.
History of Elephanta Caves
According to the most popular theories, Elephanta Caves date back to 5th – 8th century, however the exact period when these were built and its creators are still a mystery. As per some theories, these caves were excavated during 450 to 750 AD, while later it came under various dynasties. From Chalukyas of Badami Dynasty, Mauryas of Konkan, Trikutakas, Silaharas, Rashtrakutas, Yadavas of Deogiri, Kalyani Chalukyas, Shahi dynasty of Gujarat, Marathas to Portuguese and British, Elephanta Island and the caves saw many reigns.
The main cave of the Elephanta caves was a religious shrine for Hindus which later suffered huge damages during the rule of Portuguese since 1953. In 1970s, the cave was renovated. In 1987, it was recognized as the UNESCO World Heritage Site. It is now maintained by the ASI (Archaeological Survey of India).
Architecture of Elephanta Caves
Elephanta Caves were built by carving the rocks. Its rock-cut architecture presents an alluring sight. Spread over an area of 6000 sq. feet, the entire cave complex is consisted of a main chamber, two side chambers, various small shrines and courtyards. The columns, spaces and images have been carved out aesthetically in the caves.
The cave 1, which has been built in Brahmanical rock-cut architecture, is the most captivating cave, with brilliant sculptures. There are three entrances to the cave temple- the main entrance on the north while one opening on the west and another on the east. A huge hall in the centre consisting of six rows of pillared columns adds on to the impressive structure of the caves. Each row consists of six pillars except the row on the western corner where a lingam of Lord Shiva is located.
There are three indentations on the walls, each with a massive image of dvarapala. On the east side, there is an Ardhanarishvara figure, which is a form of Lord Shiva where energies of male and female amalgamated while to the west, there are figures of Lord Shiva and Goddess Parvati. While the central part showcases an impressive figure of Mahesa-murti. There are many other sections in the cave, each presenting beautiful carvings. Andhakasura Vada murti, Kalyanasundara murti; Lord Shiva as Lakulisa, Gangadhara murti and Ravana shaking Kailasa are few other worth noticing figures here.
Elephanta Cave Timings and Entry Fee
Timings of Elephanta Caves are from 9:30 AM to 5:30 PM. It is open on all days of the week except on Mondays.
The entry fee of Elephanta caves is Rs.40 per person for Indian citizens as well as visitors from countries like Bangladesh, Bhutan, Myanmar, Maldives, Pakistan, Nepal, Sri Lanka, Thailand and Afghanistan while it is Rs.600 for tourists from other countries.
There is a minimal charge for videography at the caves while photography is free of cost. A toy train also runs on the Elephanta pier, between the ferry point and the caves. The ticket cost for the toy train is Rs.10 per person.
Boat Timings to Elephanta Caves: The ferry boat to Elephanta caves starts at 9 AM from Gateway of India while the first boat to return from elephanta caves starts at 12 in noon. The last boat that leaves the Elephanta caves is at 5.30 PM.
Location of Elephanta Caves
Elephanta Caves are located on the island hills which are around 7 km away from the mainland and around 11 km from Apollo Bandar of Mumbai.
How to reach Elephanta Caves
Reaching Elephanta caves is not at all a difficult task. Tourists are required to reach Gateway of India, which is another prominent landmark in the city. From there you can take a ferry that takes around 1 hour to reach Elephanta caves.
One can hire a taxi or city bus to reach Gateway of India. If travelling by local trains, then you can get down at the Church gate station, which is located nearby. You can also get down at Chhatrapati Shivaji Terminus which is a UNESCO world heritage site and a popular place to see in Mumbai. CST (Chhatrapati Shivaji Terminus) is also located quite close to Gateway of India; it is at a distance of around 10 minutes by taxi and 30 minutes by walk.