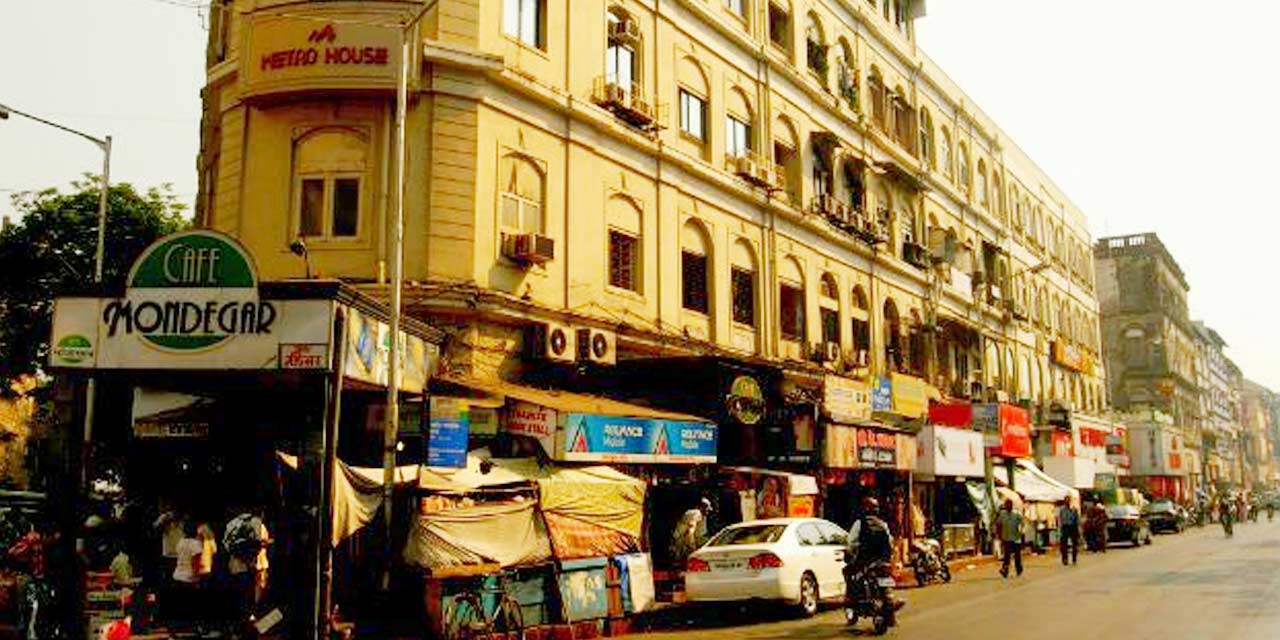 Colaba Causeway Mumbai Entry Fee
---
Colaba Causeway Mumbai Phone
N/A
Colaba Causeway Mumbai Timings
| Day | Timing |
| --- | --- |
| Monday | 10:00 am – 10:00 pm |
| Tuesday | 10:00 am – 10:00 pm |
| Wedesday | 10:00 am – 10:00 pm |
| Thursday | 10:00 am – 10:00 pm |
| Friday | 10:00 am – 10:00 pm |
| Saturday | 10:00 am – 10:00 pm |
| Sunday | 10:00 am – 10:00 pm |
Rating:

| 3/5 stars
Based on total 52 reviews
Colaba Causeway Mumbai Address: Mumbai, Maharashtra, 400005, India
---
Colaba Causeway is the iconic shopping street of Mumbai, majorly famous for fashion accessories, clothes, antiques and shoes. The street is a stone's throw away from Fort, which is the main business hub of Mumbai.
Another iconic landmark of Colaba causeway is café Leopold, first made famous by Gregory David Roberts in his bestseller novel, 'Shantaram' and later during the infamous terrorist attacks of 26/11 where the café was one of the places to be targeted by the terrorists.
The formal name of Colaba Causeway is Shaheed Bhagat Singh Road and it is the conjunction between Colaba and Old Woman's Island. The entire street is lined with old buildings from the colonial era and has a charm of its own.
The causeway is best explored on foot.
History of Colaba Causeway Mumbai
The southernmost tip of Bombay city, was a small island called Colaba. It was declared a cantonment in 1796 and this led to more people flooding the Fort area of the city for better prospects of job and earnings.
After numerous boat accidents and the new Governor house built on Malabar hill for the then Governor of Bombay, Lord Mountstuart Elphinstone (1819- 1827), it became a dire need for a causeway to be built to connect the island to the mainland of Bombay. The construction of the causeway was completed by British East India Company in 1838 however, by then it was Sir Robert Grant who was the Governor of Bombay.
Although the causeway was built for easy access to Colaba, the island was only accessible during low tide until 1839. The causeway was rapidly developed after the construction of Cotton Exchange in 1844. It was further modified and widened twice, once in 1861 and second time in 1863. It was in 1873 that the island saw horse driven trams being introduced and ferrying people around. The trams were built by Stearns and Kittredge.
Entry Fee and Timings of Colaba Causeway Mumbai
There is no entry fee to visit Colaba Causeway. The pavement shops open from 10:00 AM and function till 9:30 to 10:00 PM.
Image Gallery of Colaba Causeway Mumbai
Shopping at Colaba Causeway Mumbai
If one thinks that Colaba Causeway is meant for street shopping only, one must be mistaken since the street has everything for all kinds of shoppers ranging from budget shoppers to high- street to shoppers who prefer either designer wear or getting stuff from high fashion boutiques.
The stalls on the pavement have everything under the sun from accessories to shoes to sunglasses to apparel to books. You name it and they have it. One may find home décor antiques at bargain prices. There is no dearth of items for home décor and it takes a good amount of browsing through the stalls to grab things at steal- worthy prices.
Some boutiques that offer great collections are Aquamarine, AAA, Khubsons, Fuschia and Orange, Bunglow 8, Attic, Silver House and Bombay Electric.
Among high street fashion and designer shopping outlets, the below mentioned are worth a visit:
1. Curio Cottage: This pretty little store is located behind Regal Cinema and is worth a visit for their costume jewellery pieces. Apart from the ones that are readymade, one can also get jewellery custom made as per their taste. They also have stocks of diamond and gold pieces that fit perfectly for occasions of all types.
2. Le Mill: This designer store is located in the same building (Pheroze Building) as Indigo Deli and is a treasure house for a lover of designer wear. The store is spread over a total area of over 4000 square feet and their collection ranges from international brands like Valentino to Chloe to Saint Laurent to Balmain and Jacquemus as well as Indian contemporaries like Bodice to DeMuro Das to Design Temple.
The store has quite a history of its own as it is transformed and designed from being an ancient rice mill that was turned into a shipping warehouse before partition of India and Pakistan. The store was started by its French founders, Cecilia Morelli and Julie Leymarie, who chose to settle in Mumbai for the love of fashion.
3. Parvati Villa: As the name suggests, the store is all things Goddess Parvati. It offers both designer jewellery and ethnic Indian wear. The jewellery designs are mostly fusion pieces that are very thoughtfully put, and they come in gold, silver and bronze. The 'trishula' dominates the scene mostly followed by 'devi' and 'shakti' when it comes to the designs of accessories.
The store is located right opposite the Bata store on the Colaba Causeway. A visit to this store is highly recommended.
Restaurants at Colaba Causeway Mumbai
In addition to shopping, one can also devour the city's multicultural food in this area as it houses several restaurants that offer to spoil you with choices. Apart from the regular McDonald's and Café Coffee Day, Colaba Causeway is home to the city's some of the iconic hangouts like Café Mondegar and Café Leopold.
1. Café Mondegar: The iconic landmark of Colaba Causeway is most famous for its wall mural cartoons designed by the well- known cartoonist and painter, Late Mario Miranda. Mario had filled the walls and the ceiling of its entrance with his designs that depict the everyday life of Mumbai.
Located on the ground floor of Mumbai's famous Metro House, the café was first started in 1932 as an Irani Café, which also happened to be the reception area of erstwhile Apollo Hotel.
2. Leopold Café and Bar: Café Leopold of Mumbai needs no introduction. Having already been famous among foreign tourists and expats, the café became all the more popular after the 2008 terrorist attacks that had caused extensive damages in addition to 10 customers being killed while several others were left injured.
The café was started in 1871 by Irani immigrants. The café also finds mention in the famous Gregory David Roberts novels, Shantaram and its sequel, The Mountain Shadow.
3. Bademiyan: Bademiyan was opened in 1946 by the 13-year-old butcher Mohammad Yaseen, who went on to be known as Bade Miyan later when he started his late-night snack store (seekh kebab centre) near the Bombay Naval Port. What started as a night food counter has now expanded and branched out as several takeaway joints around the city.
A visit to the original Bademiya is highly recommended when in Colaba Causeway.
Other popular restaurants in Colaba Causeway are Café Basilico Bistro & Deli, Bagdadi, Delhi Durbar. Theobroma and Le15 are particularly for those with sweet teeth. While Le15 has its palate of macarons, Theobroma serves some of the most delicious cakes and pastries in the town.
How to Reach Colaba Causeway Mumbai
Colaba Causeway is located in Southern Mumbai and is accessible via both private and public modes of transport from all parts of the city. One can commute by local trains, intercity buses or also hire taxis. One can also rent cabs (Ola, Uber, etc.) or hire a private cab from top car rental companies in Mumbai to reach here.
Nearest Railway Station: Chhatrapati Shivaji Maharaj Terminus (Central or Main Line) and Churchgate (Western Line)
Nearest Airport: Chhatrapati Shivaji Maharaj Airport. One can hire taxis or rent cabs (Ola, Uber, etc.) directly from the airport to reach Colaba Causeway.
Places to visit near Colaba Causeway Mumbai
Marine Drive, Gateway of India, Taraporewala Aquarium, Malabar Hill, Jehangir Art Gallery, CSMT Heritage Museum, Chhatrapati Shivaji Maharaj Vastu sangrahalaya (Museum), Asiatic Society of Mumbai Town Hall, National Gallery of Modern Art, RBI Monetary Museum, Bombay High Court Museum, Ballard Bunder Gatehouse, Cowasji Jehangir Hall and Institute of Contemporary Indian Arts are located nearby.
---
A trip to Mumbai is incomplete without a visit to the iconic Colaba Causeway. We at Mumbai Tourism, a division of Holidays DNA make your Mumbai Tour all the more enjoyable with affordable Mumbai Tour packages at your disposal. To know more about our offerings, please fill the Contact Us form.
Location Map for Colaba Causeway Mumbai