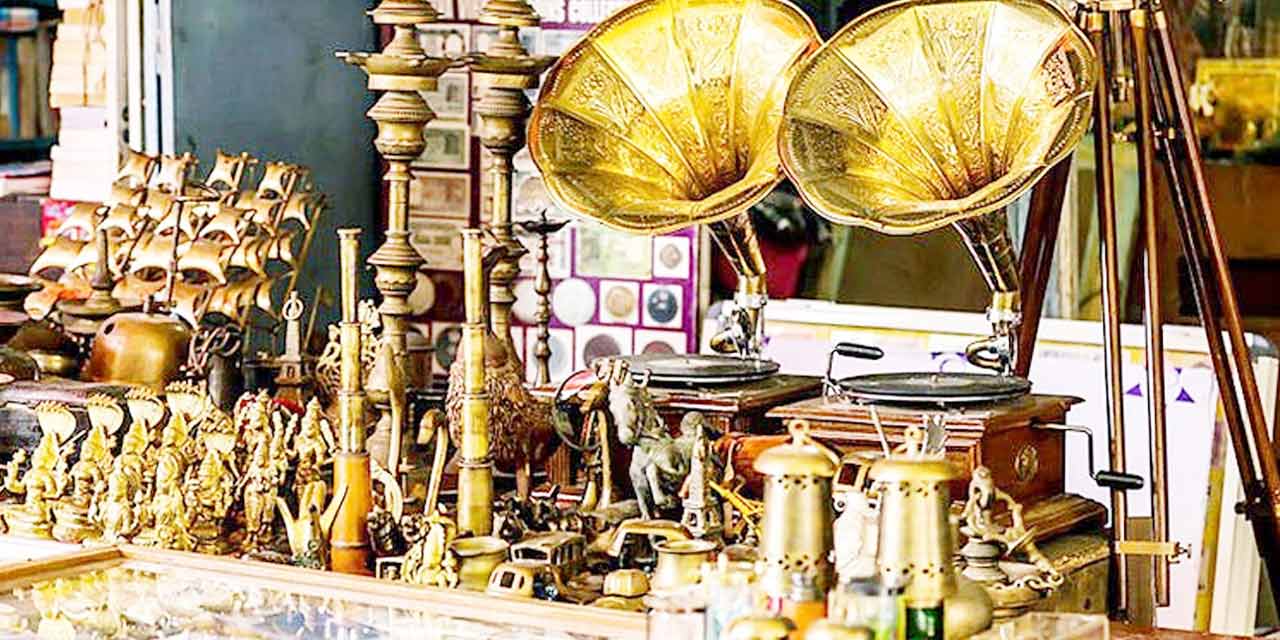 Chor Bazaar Mumbai Entry Fee
---
Chor Bazaar Mumbai Phone
Chor Bazaar Mumbai Timings
| Day | Timing |
| --- | --- |
| Monday | 11:00 am – 7:30 pm |
| Tuesday | 11:00 am – 7:30 pm |
| Wedesday | 11:00 am – 7:30 pm |
| Thursday | 11:00 am – 7:30 pm |
| Friday | Closed / Holiday |
| Saturday | 11:00 am – 7:30 pm |
| Sunday | 11:00 am – 7:30 pm |
Rating:

| 4/5 stars
Based on total 46 reviews
Chor Bazaar Mumbai Address: Mutton St, Ajmer, Kumbharwada, Mumbai, Maharashtra, 400003, India
---
Located near Bhendi Bazaar on the Mutton Street at Grant Road in Mumbai, just around the corner of Mohammad Ali Road, the 150- year old Chor Bazaar is the country's largest flea market that attracts a huge number of visitors, both locals as well as tourists alike. Legend has it that all stolen items turn up for sale at Chor Bazaar.
As of today, the market is best known for its largest collection of antiques and second hand items at extremely cheap rates provided one is skilled at hard bargaining since the prices here are very fluid. Chor Bazaar is just the right place for any shopaholic.
At Chor Bazaar, they sell everything under the sun. There is no such item that one may not find in Chor Bazaar. The collection includes antique home décor items to art pieces to old movie posters to electronics to musical instruments to grandfather clocks to auto parts and what not.
As of today, the market is more about second hand goods rather than stolen goods as it was famously known for during the pre- independence era. However, it is advised for visitors to beware of pickpockets when they are in the area.
The items from Chor Bazaar are also taken up on rent to be used for decorating Bollywood movie sets. Also, the market is no alien to a movie being shot here every now and then.
History of Chor Bazaar Mumbai
The history of Chor Bazaar dates back to 150 years ago when a local market, a very crowded, loud and noisy place, was set up at Duncan Road. The market itself gradually shifted to its current location which is adjacent to Grant Road Station.
The market used to be called 'Shor Bazaar' meaning, 'Noisy Market' in Hindi due to its loud vendors and noisy by lanes. It is said that the Europeans could not pronounce the name right and used to call it as 'Chor Bazaar' thereby changing the entire meaning of the name to 'Thieves Market'. As time passed by, the market eventually got its permanent name as 'Chor Bazaar'.
Another story associated with the name of the flea market is that a violin and a couple of other belongings from Queen Victoria's collection went missing while being shipped from England and were later found at Chor Bazaar. However, there is no witness to the incident.
Whatever be the story behind the name, and even if it is no longer a stolen goods market, Chor Bazaar used to be flooded with stolen goods at one point of time in history. All stolen items from around the city would end up appearing at Chor Bazaar for resale quite regularly.
Image Gallery of Chor Bazaar Mumbai
Shopping at Chor Bazaar Mumbai
For anyone who is a shopaholic, Choz Bazaar is a treasure and one would always end up shopping more than they might have intended. There are shops that date back to pre- independence days that are run by 2nd or 3rd generations. Listed below, are the cluster of goods visitors can shop from Chor Bazaar and this also includes the location of shops and shop numbers or names of owners.
Vintage Miniatures and Vintage Cameras
There is this shop named Camera House at 137 Mutton Street that boasts of one of the largest collections of vintage cameras and is a treasure trove for people who love everything vintage. The cameras here range from being box cameras to 8mm movie cameras.
Apart from stocking vintage cameras, the shop also is home to the most astonishing range of miniature transport vehicles like motorbikes, cars, trucks, planes, etc. One of the most bizarre or quirky things to keep as a collection is old biscuit tin cans.
Among others, Iqbal Camerawala's 40-year-old vintage camera shop also has a fair collection of cameras.
Lamps
They come in all colours, shapes, sizes and make and are the most sought- after items among all. There are antique lamps, replicates or first copies of the originals, original colonial era lamps, the old kerosene hurricane lamps, glass lamps and chandeliers. The most famous among all lamp shops is the 121 Mutton Street shop named The Anwar Lamp Shop.
One of the oldest lamp shops is that of Sayed Usman that has been there since 1941. Along with antiques, he also sells replicates and says unlike the name, no items of Chor Bazaar belong to stolen goods. All are either vintage, or replications of the original.
Bronze Statues
The shops lined at 95- 120 Mutton Street have some of the most authentic, old and antique as well as ornate bronze pieces. All one needs to do is look around for that perfect piece and not settle for what seems to be appearing on the front. The statues of Gods and Goddesses along with sculptures of all sizes can be found in these shops.
Gramophones
The mention of the word gramophone takes anyone on a nostalgic ride to the days when songs were played on the record with the help of a playback stylus that reproduced the recorded sound by tracing the groove and vibrating the record.
Chor Bazaar, being a hub of vintage has a gamut of collection of huge gramophones.
Bollywood Posters
A lover of all things vintage would most certainly love paying a visit to one of the shops that offer to provide vintage posters of any Bollywood movie made till date. You name it and the shop has it. The most commonly visited poster shop is A-One Corner at 99 Mutton Street.
Trinkets and Wrist Watches
The name of the shop at shop 107/A Mutton Street is Little Stuff Trinkets and it lives up to its name. Majority of the stuff is made of bronze that includes cow- bells, milk pails, vintage kettles, horns, etc.
The small shop that repairs and sells old wrist watches is owned by Sartaj Qureshi who boasts to have an impressive collection of antique wrist watches.
Clocks
From art deco clocks to grandfather clocks to antique Smith clocks, the shop at 133 Mutton Street houses clocks that belong to old times along with some first copies of expensive branded ones too.
Power Tools
Parda Tools Centre at 150 Mutton Street is filled with all things power tools and one would find their entire collection of power tools either hanging by the chords outside the shop or piled up at one of the tables outside the shop.
Though there are other shops too that offer power tools and are linked together in the same alley, the Parda Power Tools almost possess everything that a visitor might need.
Hardware
Chor Bazaar's hardware alley is located around 170 Mutton Street where the shopper would find every kind of hardware from chisels, to drills machines to drill bits to other cutting tools. The only downside of the hardware stores lined here are that they sell items at fixed rates (almost 90% of the times) and bargaining really doesn't help much.
Spare Parts for Cars and other Trash
What's trash for one might be a treasure for another and when in Chor Bazaar, the saying comes true all the time. There are quite a few shops around the area that sell trash along with spare parts from broken down or abandoned cars. The other trash might just be a broken wheel chair, a baby cot, a toilet seat and several spare parts of vehicles, machines or even old gramophones.
Handicrafts
31 Mutton Street houses the Mansoori Curio Shop filled with both antiques and handicrafts, and has some of the best collections of old handicrafts.
Friday Special Market (Jumma Market)
Friday being the prayer day for the Muslims and Chor Bazaar being located in a Muslim neighbourhood of Mumbai, there is a special early morning market on Friday that is held between 4:30 AM to 7:00 AM. This market is called 'Jumma Market' and is set up in a lane called 'Dedh Gully' which is in close proximity to Kamathipura.
The only thing that one can buy at this market are, branded shoes which are valued at INR 15,000 can be bought here at a dirt-cheap price of INR 2,000. To clear all doubts, the shoes are authentically branded and not first copies.
Timings of Chor Bazaar Mumbai
The market is open from 11:00 AM to 7:30 PM Saturday to Thursday. The market is closed on Fridays (only opens briefly early morning between 4:00 AM and 8:00 AM called Jumma Market).
Places to visit near Chor Bazaar Mumbai
Crawford Market, Colaba Causeway, Gateway of India, Marine Drive, Malabar Hill, Chhatrapati Shivaji Maharaj Terminus, Asiatic Society Of Mumbai Town Hall, Chhatrapati Shivaji Vastu Sangrahalaya, Jehangir Art Gallery, Institute of Contemporary Indian Arts, National Gallery of Modern Art, Bombay High Court and Taraporewala Aquarium are located nearby.
How to Reach Chor Bazaar Mumbai
The best way to reach Chor Bazaar is by local train. The nearest train station to reach Chor Bazaar is Grant Road Station on the Central line. The market is at a distance of 1.2 kilometres from the station. One may either walk from the station or hire a taxi.
One can also book a cab from top car rental companies in Mumbai to reach here directly.
---
Mumbai is one of the most visited tourist destinations in India and we at Mumbai Tourism, a division of Holidays DNA offer all-inclusive Mumbai tour packages for you to have a perfect time in the city. You can explore the sightseeing places of Mumbai in the comfort of a private cab in a hassle free manner. Please fill the Contact Us form to know more about the various packages.
Location Map for Chor Bazaar Mumbai