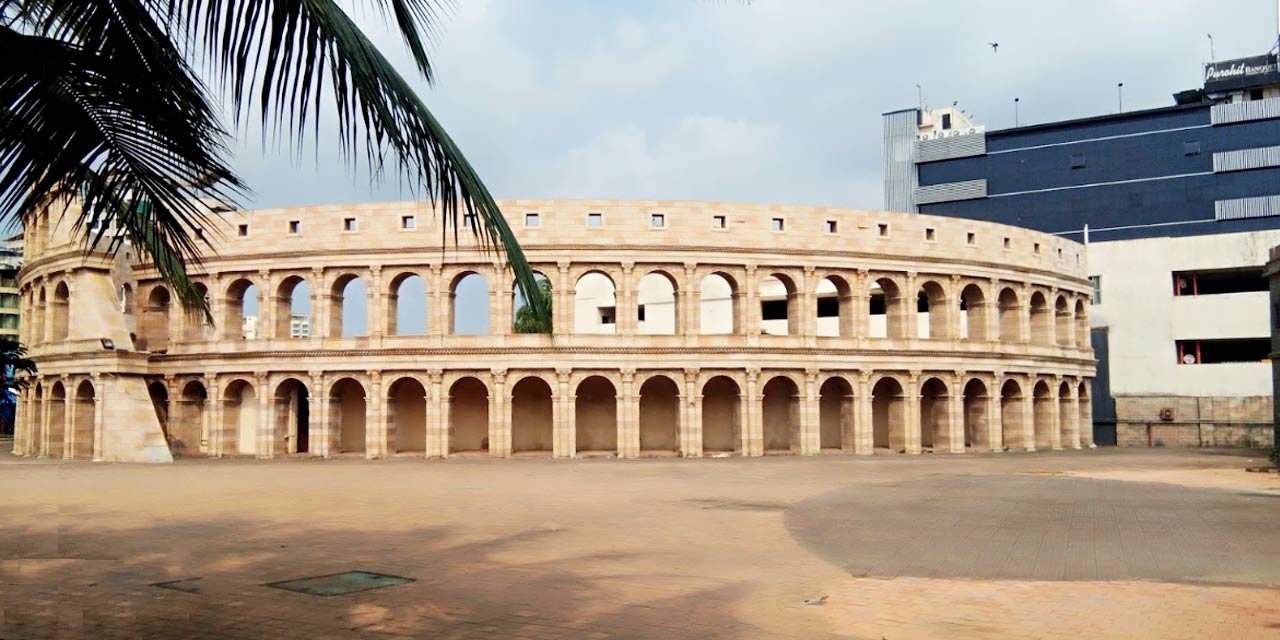 Vardhman Fantasy Amusement Park Mumbai Entry Fee
2 per person Entry fee
50 - 150 per person for Ride Charges
200 per person for Package (package of 15 rides)
---
Vardhman Fantasy Amusement Park Mumbai Phone
Vardhman Fantasy Amusement Park Mumbai Timings
| Day | Timing |
| --- | --- |
| Monday | 9:00 am – 9:00 pm |
| Tuesday | 9:00 am – 9:00 pm |
| Wedesday | 9:00 am – 9:00 pm |
| Thursday | 9:00 am – 9:00 pm |
| Friday | 9:00 am – 9:00 pm |
| Saturday | 9:00 am – 9:00 pm |
| Sunday | 9:00 am – 9:00 pm |
Note: Vardhaman Fantasy Amusement Park is open from 9:00 am to 9:00 pm throughout the week and the rides are open from 3:00 pm to 9:00 pm.
Rating:

| 4/5 stars
Based on total 54 reviews
Vardhman Fantasy Amusement Park Mumbai Address: Near Mc Donalds, Shivar Garden, Mira Road, Mumbai, Maharashtra, 401107, India
---
Vardhman Fantasy Amusement Park Mira Road is one of the recently developed amusement parks in Mumbai. The park, located in the northern outskirts of the city, is divided into several themed zones. Kids, as well as adults, can spend some time away in peace here.
This amusement park features miniature versions of the seven wonders of the world, and other themed setups like Texas Cowboy and Viva Las Vegas. Along with fun activities and various entertaining rides, Vardhman Fantasy Amusement Park has plenty of open spaces for events, and a food court serving a variety of snacks. And in a few hours, you can travel through many distinct cultures and cuisines.
Spend an evening here; kids will love it for sure.
Things to do at Vardhman Fantasy Amusement Park
1. Finding your way with the cowboys – Vardhman Fantasy Park entrance area has a Texas-based theme. With wooden patios around and horse-riding cowboys, you'll feel as if you're in Texas. Ask them for help, and they'll guide you to your next destination in the park.
2. Walking down the lanes of Greece – Next to Texas Cowboy zone, you'll find a Greek village setup. This Greek-styled zone has a fountain and an open area with tall lamp posts all around. You can take a walk along the paved road or sit at the cafe sipping tea/coffee. Many small stalls in this village sell handicraft products and souvenirs related to the park.
3. Testing the thrillers in Las Vegas – Vardhman Fantasy Viva Las Vegas is the thrill and gaming zone of the park. You can enjoy different rides like Crazy Frog, Free Fall, and Ferrous Wheel among others. You've got a gaming zone too, with a bunch of indoor games.
4. Exploring the Wonders of the World – Another section in the park has miniature replicas of the seven wonders of the world. Here, you can click photos with the Great Wall of China, Taj Mahal, Eiffel Tower, Statue of Liberty, Christ the Redeemer, and the Pyramids of Giza. You'll also find historical information about those monuments displayed alongside.
5. Boating in Lake Venetia – Lake Venetia is an artificial lake within Vardhman Fantasy Amusement Park. It offers various boat rides and fun activities, including bumper boat rides and paddleboat rides.
6. Enjoying shows in the amphitheatre – The amusement park also has an open-air amphitheatre – Colo Theatrum, designed like the Colosseum of Rome. It hosts concerts, parties, and various annual events from time to time. You might also catch a live show, a play or a movie during your visit.
7. Checking out snacks at the food court – The food court at the park offers delicious vegetarian cuisine from different parts of the world. It is situated by the lake and has indoor as well as outdoor seating space.
Vardhman Fantasy Amusement Park Timings and Entry Fees
The park is open throughout the year, every day of the week. The entry is allowed 9 AM onwards until 9 PM. The rides in the park, however, are available only after 3 PM. So, in the meantime, you can explore Texas with the cowboys, shop around in the Greek Village, or have food by the lake.
Vardhman Fantasy Amusement Park ticket price is ₹2 per person. The rides are charged separately, and they're priced between ₹50 and 150 per ride. The park also offers a ride package at ₹200 per person, which entitles you to enjoy 15 rides.
Image Gallery of Vardhman Fantasy Amusement Park Mumbai
Best time to visit Vardhman Fantasy Amusement Park
During the day, the heat makes it uncomfortable for anyone to stroll around. So, it's best to visit this amusement park in the evening. It gets lively in the evenings once the rides are open and the sun is on its way down.
For a trip during the day time, it's best to visit it during the winter months when the temperature is cooler. The winter season arrives in Mumbai in October and remains until March.
Time to explore Vardhman Fantasy Amusement Park
It would take you about 2 to 3 hours to enjoy your visit to Vardhman Fantasy Amusement Park. You can go for a boat ride at Lake Venetia, check the games at Viva Las Vegas and take pictures with the Wonders of the World.
And when you feel tired and hungry, have a delicious meal at the food court.
Places to visit near Vardhman Fantasy Amusement Park
1. Vasai Fort – Vasai Fort is a Portuguese Fort near Vasai-Virar, about 35 km away from Vardhman Fantasy Park. Unlike most other forts, it was a complete city during its prime. It had churches, hospitals, and administrative blocks. The Portuguese used it as their base to control the region. Today, the fort is a spot to spend a day away from Mumbai, and for the heritage walk in and around the area.
2. Sanjay Gandhi National Park – Sanjay Gandhi National Park is a serene location within the city of Mumbai. In fact, it is the only national park in the world to be present within a city's premises. It is a favourite spot among the local people for cycling, trekking and overnight camping. You'll also find plenty of mammals, birds, reptiles, and hundreds of plant varieties. It is only about 8 km away from Vardhman Fantasy Amusement Park.
3. Kanheri Caves – Kanheri Caves are a group of 109 rock-cut caves situated on a hillside within Sanjay Gandhi National Park. The caves were built by Buddhist monks over a period extending from 1st century BCE to 11th century CE. Those served as Buddhist viharas and have different paintings and statues of Buddha. Apart from a place for worshipping, studying, and meditating, Kanheri Caves also acted as a resting place for travellers.
4. Mumbai Film City – The Film City of Mumbai is about 7 km ahead of Sanjay Gandhi National Park and Kanheri Caves. It is one of the most popular movie shooting spots in India, and therefore, it is a must-visit place. Mumbai Film City has 16 pre-built indoor studios and 42 outdoor shooting locations. And if you're lucky, you can meet your favourite celebrity in the fictional railway station or the courtroom within the complex.
5. Gorai Beach – About 15 km from Vardhman Fantasy Park, Gorai Beach is one of the most serene beaches of Mumbai. Away from the chaos of the city, the beach is lined with resorts, holiday cottages and homestays. It is popular among the party lovers and adventure seekers, and you can enjoy some of the most enjoyable beach parties here. Apart from the parties, you can also get onto boat rides and horse rides at Gorai Beach.
6. Global Vipassana Pagoda – It is a meditation dome built as a tribute to a Burmese Vipassana teacher – Sayagyi U Ba Khin. The architecture is similar to the Shwedagon Pagoda of Myanmar, and it is the world's largest stone dome standing without any supporting pillars. And you can practice meditation and relaxation in the green and peaceful environment here. Global Vipassana Pagoda spreads the teachings and principles of Gautam Buddha. It is 17 km away from the amusement park.
7. Marve Beach – Marve Beach is located about 18 km away from Vardhman Fantasy Park, and it's a preferred choice among couples to spend time with their loved ones. Swimming and other water activities are prohibited at the beach because of strong currents, but you can enjoy beautiful views of the sea. Marve is also a transport hub for the fishing communities, who take boats to go to the nearby islands. Local people also come here to enjoy the sunset and have snacks at the food stalls.
How to reach Vardhman Fantasy Amusement Park?
You can reach Vardhman Fantasy Park by taxi and auto. Mumbai also has a robust network of state-run buses and local trains. Mira Road is the nearest railway station to this amusement park. You can also book a cab from top car rental companies in Mumbai to reach the park, from anywhere in Mumbai. And following are the various ways to reach Mumbai –
By Road – Mumbai is connected to nearby places by road. Daily buses are available from cities like Pune, Aurangabad, and others. Mumbai Central Bus Depot is approx. 40 km away from Vardhman Fantasy Amusement Park. Buses from distant cities like Ahmedabad and Panaji are also there, and you can always rent a cab for Mumbai.
By Rail – Regular trains are available to Mumbai from the metropolitan cities and other towns in India. Chhatrapati Shivaji Terminus and Mumbai Central are two railway stations where most trains stop. Both are about 40 km away from this amusement park. Some trains also stop at the suburban railway stations.
By Air – Mumbai has flights from around the world. Whether you want to come from the western parts of the globe or south-east Asian countries, daily flights are available at your convenience. Chhatrapati Shivaji International Airport, 24 km away from the park, also has flights from major airports in India.
---
The ever bustling city of Mumbai welcomes its visitors with open arms. One can never get enough of the city during their Mumbai tour and to help you plan your tour in the best and relaxing manner, we at Mumbai Tourism offer Mumbai Tour packages. A part of Holidays DNA, Mumbai Tourism has carefully designed these packages to suit your budget requirements without compromising on quality. We also help you with the tour of popular places to visit in Mumbai in the comfort of a private cab. To know more about our offerings, please fill the Contact Us form.
Location Map for Vardhman Fantasy Amusement Park Mumbai