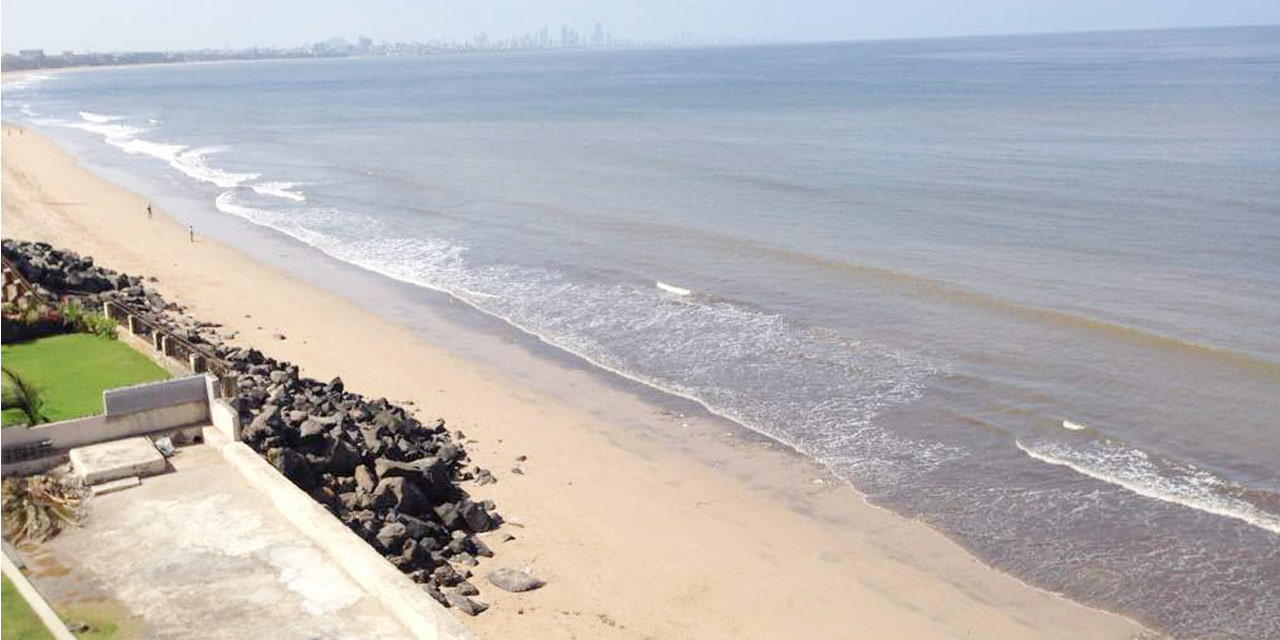 Versova beach Mumbai Entry Fee
---
Versova beach Mumbai Phone
N/A
Versova beach Mumbai Timings
| Day | Timing |
| --- | --- |
| Monday | 12:00 am – 12:00 am |
| Tuesday | 12:00 am – 12:00 am |
| Wedesday | 12:00 am – 12:00 am |
| Thursday | 12:00 am – 12:00 am |
| Friday | 12:00 am – 12:00 am |
| Saturday | 12:00 am – 12:00 am |
| Sunday | 12:00 am – 12:00 am |
Rating:

| 4/5 stars
Based on total 41 reviews
Versova beach Mumbai Address: Bharat Nagar, Versova, Andheri West, Mumbai, Maharashtra, 400047, India
---
Kids trying to calm the waves, friends taking selfies on the rocks and vendors selling bhelpuri, that's how lively Versova Beach is. It is a small beach, more like an extension to Juhu, but less populated.
Versova Beach is in the Andheri suburb, and it is the cleanest and among the least visited beaches in Mumbai. Because of occasional strong currents and high tides, swimming in the water is prohibited. However, nothing can stop you from admiring the sunset from the shore on a rather slumber evening.
The 3 km long rocky Versova Beach faces the Arabian Sea, and people also visit the place in the hope to capture some Olive Ridley turtles in their lens. Horse-riding and cycling are the other activities available at Versova, apart from satisfying the urges of beach photography.
Versova is also known for its fish market. It is the home to Koli people – the oldest fishing community of Mumbai.
Things to do at Versova Beach
1. Watching the sunset – Versova Beach provides an unobstructed panoramic view of the Arabian Sea and the golden sun setting in it. Unlike the nearby Juhu Beach, in Versova, the train of your thoughts won't be disturbed by hordes of food vendors. And you can enjoy aloofness sitting on the rocks.
2. Riding a horse – Horses are available for hire near Versova Beach. And horse-riding is a must-try activity. You can race along the length of the beach while the horse scoops out the sand or ride it on the waves, splashing water on the onlookers.
3. Shopping for fish – The Koli fishing community inhabits one end of the beach, and they go into the sea every morning with their lines and nets. Fishing is their main occupation and the fish market here is among the biggest fish markets. It offers a variety of fishes and sea creatures.
4. Taking photographs – The scenic view and the solitude at Versova Beach attracts many photographers. Some arrive at dusk to capture the golden hues of the sky while others are at dawn to frame the fishers. Snacks vendor by the Versova Rock Beach, giant sailfish in the fish market and the horses gliding across the shore are all the different views, which people click.
5. Checking out Madh island – Madh Island is the home to many fishing villages and you can go there by a short ferry ride from Versova jetty. If you're there in the evening, you can also enjoy the buzzing nightlife. The island also has the Madh Fort (aka Versova Fort), which is surrounded by the fishing communities today. Many movies and TV shows have been shot at this place.
Versova Beach Timings and Entry Fee
Visitors don't have to pay a fee to enjoy Versova Beach. You can spend hours painting the views, capturing the rocky boundary or watching the waves rise and fall. But, be aware of the high tide timings. This beach in Versova can be fully under the sea at times.
Best Time to Visit Versova Beach
You can visit the beach any time during the day. Evening hours, however, are the most crowded. And if you're keen about seeing fresh catch from the sea, visit Versova Beach in the early morning. The returning boats have loads of fishes and other seawater creatures, which the fishing community auctions by the afternoon at the Versova Beach Fish Market.
The best months to visit the beach are from October to March when the humidity in Mumbai is lower. If you are a fan of seafood, you should plan your visit around the 3-day Koli Seafood Festival. The Koli community organises it in January, every year.
Time to Explore Versova Beach
Versova Beach in Mumbai doesn't provide you with a variety of water sports opportunities. So, one hour will be enough to check out Versova Beach if you don't plan to visit the fish market. But if you want to pay a visit to Madh Fort across the creek, you must have a half day reserved for your tour.
Image Gallery of Versova beach Mumbai
Interesting facts about Versova Beach
Versova acted as a port for sea-related transactions
The giant rocks at the beach guard the buildings from the strong sea waves
The beach was used as a dumping ground for trash from all over the city
Versova Beach clean-up project began in October 2015 and it continued for 3 years
Afroz Shah is the man who cleaned Versova Beach along with other volunteers
Places to visit near Versova Beach
1. Juhu Beach – Juhu Beach is among the most popular beaches of India, and a creek separates it from Versova. Tourists and locals visit the beach to relax and enjoy the local snacks and fast food of Mumbai. It is about 3-4 km from Versova Beach, by road.
Apart from the street food corners, Juhu Beach is known for chance encounters with celebrities too. Many actors and sportspersons live in this area and they come to Juhu Beach for jogging or yoga sessions. You can also witness occasional movie shoots at the beach.
2. ISKCON Temple – The ISKCON Temple is a Hindu temple dedicated to Lord Krishna. Devotees come here to take blessings from Radha Rasabihari, Gaura-Nitai and Sita Rama Laxman Hanuman. It is about 3 km from Versova Beach and only a few hundred meters away from Juhu Beach.
Apart from the spacious temple made of marble, the complex has an auditorium, a library and a restaurant. It also has a guest house where people can stay to take part in various spiritual programs in the temple.
3. Sanjay Gandhi National Park – This national park is a popular picnic spot, about 17 km away from Versova Beach. People come here to enjoy boating, cycling and trekking on the trails. On the weekends, many families also come for the jungle safari. A large variety of flora and fauna attracts visitors from around the world. Birds like kingfishers are common and so are butterflies. You can also spot many migratory birds in the park. Macaques, deers and lions are other animals you can see during the safari.
4. Kanheri Caves – The Kanheri Caves complex is a part of Sanjay Gandhi National Park. It is on a hillside, which is accessible through a trekking trail and a series of rock-cut steps. These caves served as Buddhist monasteries and were built over many centuries. The first ones of the 109 caves date back to 1st century BCE. But the most recent and more elaborate ones were built around the 11th century CE.
The caves used to be a place for worship, study and meditation and have many statues and paintings of Buddha, some of which remain unfinished.
5. Chhota Kashmir Park – This is a small colourful garden in Mumbai's Aarey colony. The beauty of the park reminds people of Kashmir and that's why they named the park so. The evergreen lawns, colourful flowers and the lake, all contribute to its beauty. It is a popular picnic spot for the local people and many also come with kids to enjoy their evening after their work hours. Whether you're with friends, family or your partner, you'll enjoy the peace this garden offers. It is about 13 km from the beach.
6. Powai Lake – Powai Lake, about 14 km from Versova, is an artificial lake, built near Sanjay Gandhi National Park. British built it during their rule, and it used to be a part of the Powai Valley. Hotels, residential complexes and educational institutions have taken the place of the villages, but the serenity of the lake is intact. You can see different types of birds like ducks, kingfishers and falcons. Crocodiles are also there in the lake.
7. Mumbai Film City – A visit to Mumbai won't be complete without visiting the Film City. It is about 13 km from Versova Beach and you can get a peek into Bollywood here. With 10+ studios and multiple ready-to-shoot setups, you might catch a live movie shoot during your visit. Temples, playgrounds, open roads, huts, bungalows and arrangements for train sequence are all available here.
At Mumbai Film City, you'll get a chance to observe the day-to-day life in the Hindi film industry and the hard work that goes behind the scenes.
8. Bandstand Promenade – Also known as Bandra Bandstand, this is a sea-facing promenade about 11 km from Versova Beach. It is a little over one km long and has a park, which serves as a spot for hangout and jogging. You will find many stalls of street food and other reputed food joints too in this area. The amphitheatre nearby also acts as a venue for concerts and cultural performances. You can also enjoy performances of musicians and different street artists around Bandstand Promenade.
9. Mount Mary Church – Basilica of Our Lady of the Mount, popularly called Mount Mary Church, is a Roman Catholic church near Bandstand Promenade. It is dedicated to the Virgin Mary and the peaceful and relaxing surroundings intrigue locals and tourists to spend time here. This impressive Gothic style building overlooks the Arabian Sea at a distance and it is about 11 km away from Versova.
The church also hosts the Bandra Fair in September, a week-long celebration and feast on the occasion of Mother Mary's birthday.
10. Bandra Worli Sea Link – Spanning across the Bandra-Worli coastline arc, this bridge on the sea connects both the suburbs. People save a considerable amount of time by driving through this bridge instead of crawling through the city centre.
But apart from its usefulness, Bandra Worli Sea Link is known for its architectural grandeur too. You can capture candid pictures of this bridge at night when it's gleaming with twinkling lights. And while you're here, don't miss driving across the bridge. Watch Mumbai passing by afar, in its full glory. The bridge is about 15 km from Versova Beach.
How to reach Versova Beach Mumbai?
You can reach Versova Beach from anywhere in Mumbai, and you've got multiple options. You can take a bus to Andheri, and then another one from there to Versova. And if you prefer a more comfortable ride, get an auto or book a private cab from top car rental companies in Mumbai to reach the beach directly.
Many local trains also connect Andheri, which is the nearest local railway station, to other parts of Mumbai. And you can enjoy a Mumbai Metro ride too, to reach Versova. It takes only 10 minutes of walking from Versova metro station to Versova Beach.
Now that you know how to reach Versova and what to do in Versova Beach, here are the various ways to reach Mumbai –
By Road – Mumbai is the financial capital of India, and thus, it's connected well to the nearby towns and cities. A network of luxury private coaches and state-run buses run regularly from Pune (148 km), Nashik (168 km), Nagpur (780 km) and Aurangabad (370 km) among other cities. Most buses arrive at Mumbai Central Depot, which is about 20 km away from the beach.
And if you want a fun-filled road trip, you can get your car or hire a cab to Mumbai from other places in India.
By Rail – Railways are the lifeline of Mumbai and regular trains run between Mumbai and other towns of India. Frequent trains are available from the metropolitan cities and many others connect Mumbai to far-off places in the East, the North and the Southern India. Chhatrapati Shivaji Terminus and Mumbai Central are the two main railway terminals where the majority of trains stop. And both are at a comfortable distance of around 20 km from Versova Beach.
Trains from different parts of India also come to suburban railway stations like Bandra Terminus and Lokmanya Tilak Terminus.
By Air – Mumbai is the gateway to India and Chhatrapati Shivaji International Airport is the main airport of Mumbai. Flights from popular tourist destinations around the world including Bangkok, Dubai and Singapore are available. The airport also has frequent flights from Indian cities like Chandigarh, Guwahati and Kochi among others. It is about 8 km from the beach and it takes only half an hour drive to reach here.
---
Catering to everyone's holiday budget and other requirements, we at Mumbai Tourism, a division of Holidays DNA, carefully design the Mumbai tour packages that help you make the most of your visit at competitive prices. You can also customize your itinerary to explore the popular sightseeing places in Mumbai at your convenience. To know more about our offerings, we request you to fill in the Contact Us form.
Location Map for Versova beach Mumbai