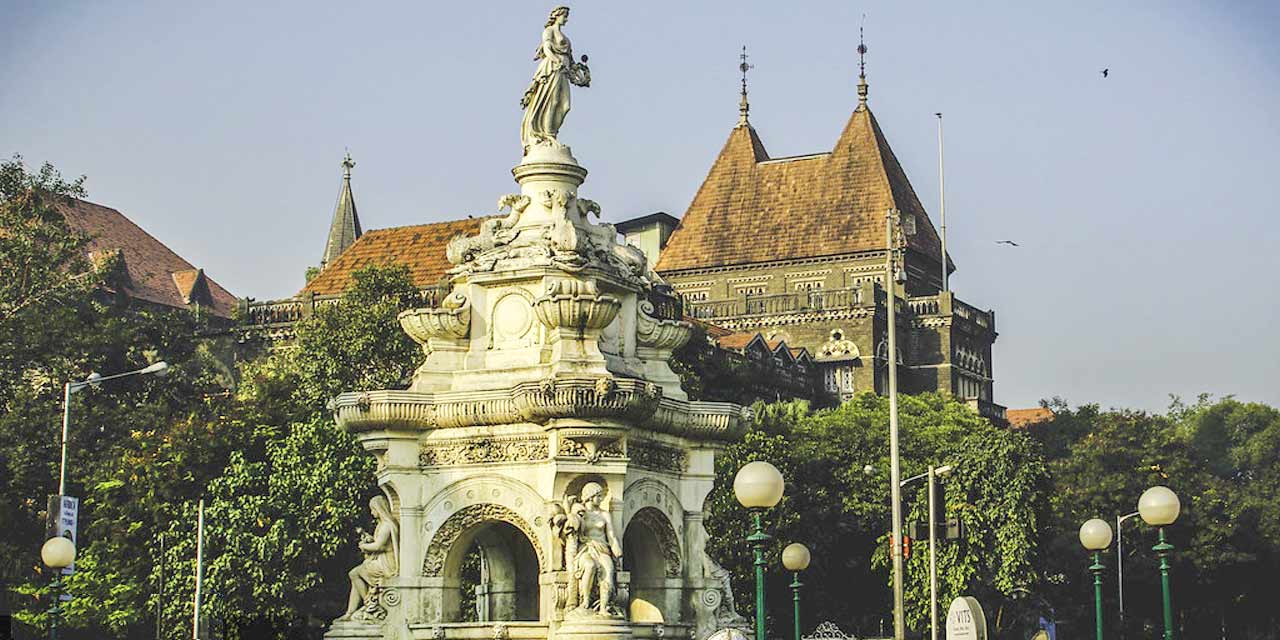 Flora Fountain Mumbai Entry Fee
---
Flora Fountain Mumbai Phone
N/A
Flora Fountain Mumbai Timings
| Day | Timing |
| --- | --- |
| Monday | 12:00 am – 12:00 am |
| Tuesday | 12:00 am – 12:00 am |
| Wedesday | 12:00 am – 12:00 am |
| Thursday | 12:00 am – 12:00 am |
| Friday | 12:00 am – 12:00 am |
| Saturday | 12:00 am – 12:00 am |
| Sunday | 12:00 am – 12:00 am |
Rating:

| 4/5 stars
Based on total 47 reviews
Flora Fountain Mumbai Address: Veer Nariman Road, Mahatma Gandhi Road, Kala Ghoda, Fort, Maharashtra, 400001, India
---
Located within the business hub of Mumbai, the Flora Fountain is an exquisite piece of architecture and among the Heritage structures of India.
It consists of fine carvings and is a collection of sculptures, which reminds you of the architecture of the colonial period. Flora Fountain has different statues in each of its four corners, and a basin below surrounded by figures of fishes and lion heads.
A statue of Roman Goddess Flora crowns the fountain. And the view of Flora Fountain gets spectacular in the night when it's illuminated by lights.
Flora Fountain area in Mumbai is known for its book market too.
Architecture of Flora Fountain
Designer R. Norman Shaw outlined Flora Fountain Mumbai architecture, which is a mix of Neo-Gothic and Indo-Saracenic styles.
The fountain is sculpted out of imported Portland stone and is coated with a layer of white oil paint. The corners too are decorated with statues, a different one on each. Towards the feet of the fountain, near the water basin, you will see four fishes and twenty lion heads. Engineer James Forsythe was given the responsibility to sculpt this beautiful water fountain.
A magnificent 7 feet high statue of Roman Goddess Flora adorns the fountain top, enhancing its beauty.
History of Flora Fountain Mumbai
Until 1860, Mumbai (then, Bombay) was a walled city with three gates – Apollo Gate, Church Gate and Bazaar Gate.
Then, on the orders of Sir Bartle Frere, the Governor of Bombay, the walls were taken down to extend the city. And the Flora Water Fountain, built in 1864, stands at the place where the Church Gate used to be.
Flora Fountain was dedicated to Bartle Frere and was to be named as Frere Fountain. But it was changed to Flora Fountain before its inauguration. And the area became popular as the Flora Fountain area.
In 1960, another stone structure, with torch-holding patriots, was built near the fountain, to commemorate the loss of 105 people, who died fighting for the separate state Maharashtra, which exists today. To honour the dead people, the area was renamed to Hutatma Chowk (Martyrs' Square).
Image Gallery of Flora Fountain Mumbai
Things to do at Mumbai Flora Fountain
1. Admire the beauty of the fountain – Flora Fountain was built as a decorative water fountain. It's beautiful architecture, and the detailed sculpture catches the eyes of a lot of tourists. The statue of Flora – the Roman goddess of flowers also adds to its beauty. Every evening, the fountain becomes lively with colourful lights.
2. Explore Flora Fountain book street – At one side of the fountain, you will see books lined along the street. Heaps, stacks and walls of books cover the pavement. Whether you're looking for fiction, academic or poetry books, you'll find them here. From rare classics to modern bestsellers, the book stalls have a lot of gems for you to explore.
3. Check out other historic spots in the vicinity – While you're here, you must not miss the popular tourist spots and places of historical importance in the area. The Asiatic Society of Mumbai, Jehangir Art Gallery, St. Thomas Cathedral, Gateway of India and Marine Drive are among the must-visit tourist places of Mumbai lying close to Flora Fountain.
Entry Fee and Timings of Flora Fountain
Flora Fountain is open 24 hours a day, every day. The entry is free for everyone. You can visit it any time during the day and have selfies clicked while enjoying colourful and tangy barf-gola (crushed ice lollies).
Best Time to Visit Flora Fountain
The best time to visit Flora Fountain statue would be during the winters when the weather is cool and pleasant. Also, it is a lot less humid during the winter months which start around November and depart by early February.
Schedule your Mumbai Flora Fountain tour during the evening hours, if you want to enjoy the view of fountain gleaming with lights.
Time to Explore Flora Fountain
You can spend about an hour at this heritage architecture site. However, you will need a few more hours if you plan to explore other places nearby and enjoy some eating and shopping at Flora Fountain Mumbai.
Interesting Facts about Flora Fountain Churchgate Mumbai
The Flora Fountain in Mumbai is over 150 years old.
It was constructed by the Agri–Horticultural Society of Western India in 1864.
At the time of its construction ₹47,000/- were spent, of which ₹20,000 were donated by Seth Cursetjee Fardoonji Parekh.
Flora Fountain was unveiled to visitors in 1869.
It underwent restoration work in 2016, which was completed in 2019.
How to Reach Flora Fountain Mumbai?
Flora Fountain of Mumbai is near the business hub of the city and thus, you can reach it easily. You can hop on the state-run BEST buses or take a ride on Mumbai local trains to reach the fountain. You can also book a cab from top car rental companies in Mumbai or get an auto to Flora Fountain from any part of Mumbai.
And now, here are the different routes to Mumbai –
By Road – National Highways connect the city to all parts of the country. Daily buses run from the nearby cities like Pune, Nagpur and others. Mumbai Central Bus Depot is only 5 km away from Flora Fountain.
By Rail – Regular express trains connect Mumbai to the rest of India. Chhatrapati Shivaji Maharaj Terminus (about a km away) and Mumbai Central (5 km away) are the two main railway stations of Mumbai.
By Air – Chhatrapati Shivaji International Airport has regular flights from many destinations around the world, including domestic airports. It is at a distance of 20 km from the Flora Fountain.
---
To make the most of your Mumbai tour, we at Mumbai Tourism, a division of Holidays DNA offer pocket friendly and customizable Mumbai Tour packages. Choose the package that suits you best and have a memorable holiday experience in this city. For more details on the various packages, please fill the Contact Us form.
Location Map for Flora Fountain Mumbai