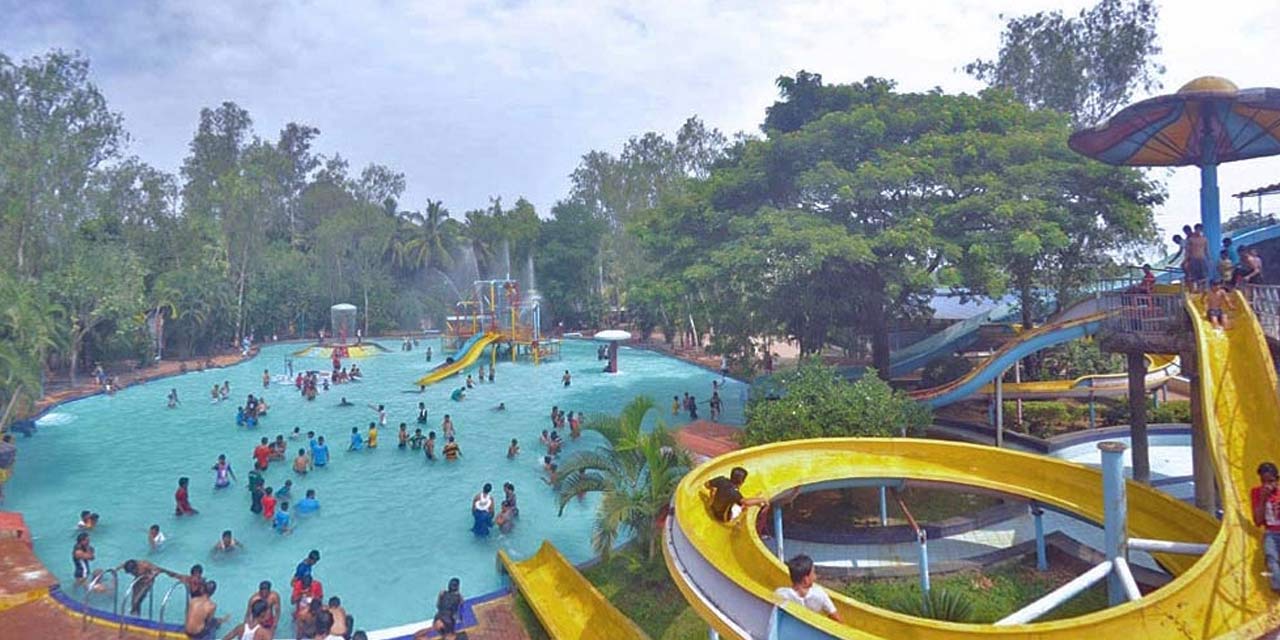 Shanti Sagar Resort & Water Park Mumbai Entry Fee
---
Shanti Sagar Resort & Water Park Mumbai Phone
Shanti Sagar Resort & Water Park Mumbai Timings
| Day | Timing |
| --- | --- |
| Monday | 10:30 am – 6:00 pm |
| Tuesday | 10:30 am – 6:00 pm |
| Wedesday | 10:30 am – 6:00 pm |
| Thursday | 10:30 am – 6:00 pm |
| Friday | 10:30 am – 6:00 pm |
| Saturday | 10:30 am – 6:00 pm |
| Sunday | 10:30 am – 6:00 pm |
Rating:

| 4/5 stars
Based on total 52 reviews
Shanti Sagar Resort & Water Park Mumbai Address: Vasant Village, near MIDC, Pump house Ambernath West, Mumbai, Maharashtra, 421503, India
---
Away from the pandemonium of the city life, Shanti Sagar Resort is on the bank of Ulhas River, in Ambernath. It provides amusement rides, fun activities and relaxing accommodation in the lap of nature. Surrounded by green vegetation and palm groves, this resort entertains you in a serene and scenic setup.
So, when you're looking for a place for full family fun, Shanti Sagar Resort and Water Park is the place to be. Whether you want to relax with your partner, spend some great time with your family, or enjoy a weekend with your friends, Shanti Sagar Resort will take care of it.
The resort has rooms, lake houses and community halls for everyone to enjoy and celebrate. It also has a water park with a large swimming pool and a bunch of water rides to roll down.
And when you feel hungry, you can slide into the open-air restaurant overlooking the river.
Things to do at Shanti Sagar Resort and Water Park
1. Having fun at the water park – Shanti Sagar Resort Water Park in Ambernath has several fun water activities for everyone to enjoy. It has Mushroom Slide, Tube Slide and Octagonal Slide among others. Laughing Joker and Play Pan Water Showering are other spots within the water park to cool down and enjoy. Shanti Sagar Water Park also has a family slide.
2. Enjoying in the pool – Apart from the water slides, you can enjoy in the large swimming pool. Get in the Fun Floats and balance yourself on water. Water Film Fall and Mushroom Waterfall are other places in Shanti Sagar Resort to get drenched and relax in the water. The water park also has a Wave Pool for you to enjoy some quality time with your group.
3. Playing in the amusement park – Kids also have a separate play area with a bunch of rides for the tiny tots. They can also play many coin-operated games there. The kids' play area has a mini-train too, with fascinating animal shapes.
4. Walking around the landscape – Shanti Sagar Resort and Water Park is set amidst a scenic landscape with greenery all around. You can walk among the trees, check the vegetation or sit by the lakeside enjoying some cool breeze.
5. Eating out at the restaurant – The resort has an open-air restaurant set up by the riverside. You can sit under the shade or in the lawn and enjoy the mouth-watering dishes with your friends and family. They serve a range of dishes in Indian, Chinese and Mughlai cuisine.
6. Staying in the resort – You can even stay in the resort for a day or two. You can opt for rooms or dormitories, or even book a bungalow for your group. Shanti Sagar Water Resort Ambernath also has a small lake house for you to relax and enjoy a leisurely stay in a natural setting.
Shanti Sagar Resort Water Park Entry Fees and Timings
Shanti Sagar Water Park fee is ₹250 per person. And it applies to everyone over 2 years old. The entry fees don't include any meals or beverages, but you can enjoy the water park and amusement park, as much as you want. For toddlers, below 2 years of age, the entry to Shanti Sagar Resort and Water Park is free.
And if you're visiting with a large group, you can opt for the entry packages.
These packages include Shanti Sagar Water Park entry fees with food. While the regular veg package costs ₹475 per person, the regular non-veg package is available at ₹525. Then, the special veg and non-veg package are, each priced at ₹600 per person.
With the entry packages, you get the morning tea and breakfast, lunch and evening tea/coffee. Complimentary unlimited cotton candy, gola or popcorn is included in the package too. And, of course, you also get to enjoy a full day at the water park.
The water park is open from 10.30 AM to 6 PM every day.
Image Gallery of Shanti Sagar Resort & Water Park Mumbai
Best Time to visit Shanti Sagar Resort and Water Park
You can visit Shanti Sagar Resort anytime during the year. It is open even on the weekends. However, it's best to avoid the place during summer and monsoon seasons. So, plan your visit during winter to enjoy it to the fullest.
Winter in Mumbai comes in November and remains until February. The temperature is not high, and even the sun's rays are cooler than the rest of the year. So, you can check all the activities available in this resort.
Also, try to visit it during the weekdays to avoid any rush.
Time to explore Shanti Sagar Resort and Water Park
You can spend around 1-2 hours at Shanti Sagar Water Park in Ambernath. However, a visit to this water park from Mumbai will take a full day as it is on the outskirts of the city. You can also book a Shanti Sagar Resort night stay if you want a day away from Mumbai city life.
Things to keep in mind while visiting Shanti Sagar Water Park
Carry your hat and sunglasses.
Apply waterproof sunscreen.
Stay out of the water if you have water-borne allergies.
Senior citizens or people with health problems should avoid the slides.
Not all snacks, meals and drinks are included in the package.
Swimming costumes are available for hire in the water park.
Outside food is strictly not permitted.
How to reach Shanti Sagar Resort & Water Park?
Shanti Sagar Resort in Ambernath is about 55 km from Mumbai city centre. Ambernath railway station is the nearest railway station, and you can get a train from Mumbai to go there. From the station, you can hire an auto or a taxi to the resort. The resort also provides bus pickup and drop from the railway station.
Ambernath to Shanti Sagar Resort and Water Park distance is about 9 km.
However, for a comfortable trip, it would be best to hire a car from top car rental companies in Mumbai. You can then reach the resort without worrying about changing multiple buses or trains.
And now, here are the different ways you can take to reach Mumbai –
By Road – Many public and private buses connect Mumbai to the nearby towns and other cities in the country. Mumbai Central Bus Depot is about 60 km away from this resort and water park. You can even hire a cab or drive your car to Mumbai.
By Rail – An array of express trains connect Mumbai to all the corners of India. Chhatrapati Shivaji Maharaj Terminus and Mumbai Central are the major railway stations in the city. Both are about 60 km away from Shanti Sagar Resort.
By Air – Chhatrapati Shivaji International Airport connects Mumbai to all parts of the world. Domestic and international flights from all around the world stop here. Whether you're in a gulf country, South-east Asian country or within India, you'll find a flight to Mumbai from a nearby airport. The Mumbai airport is about 55 km away from the resort.
---
Mumbai is a fun city where you have endless options to appease the travel bug in you. With Mumbai Tourism, a division of Holidays DNA your holiday will be a much more fun filled experience with our inclusive Mumbai Tour packages. We also make sure you do not miss the famous places to visit in Mumbai during your Mumbai tour. To know more about our packages and deals, please fill the Contact Us form.
Location Map for Shanti Sagar Resort & Water Park Mumbai