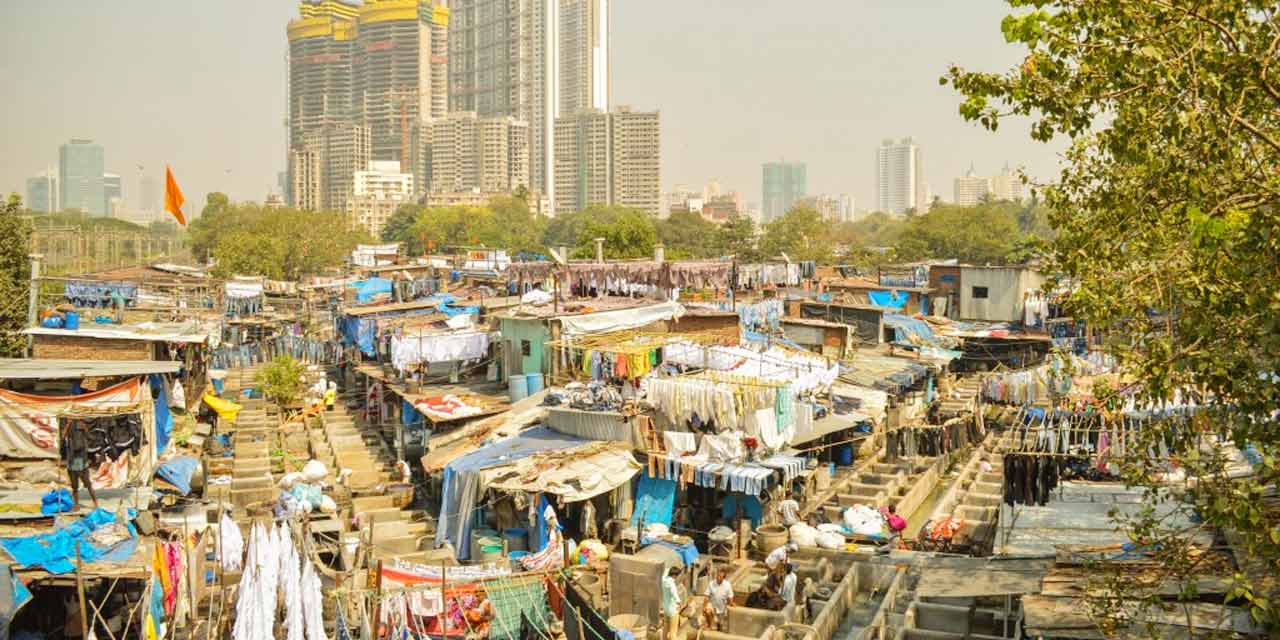 Dhobi Ghat Mumbai Entry Fee
---
Dhobi Ghat Mumbai Phone
N/A
Dhobi Ghat Mumbai Timings
| Day | Timing |
| --- | --- |
| Monday | 7:00 am – 10:00 pm |
| Tuesday | 7:00 am – 10:00 pm |
| Wedesday | 7:00 am – 10:00 pm |
| Thursday | 7:00 am – 10:00 pm |
| Friday | 7:00 am – 10:00 pm |
| Saturday | 7:00 am – 10:00 pm |
| Sunday | 7:00 am – 10:00 pm |
Rating:

| 4/5 stars
Based on total 43 reviews
Dhobi Ghat Mumbai Address: 1, Anandilal P Marg, Dhobi Ghat, Shanti Nagar, Lower Parel, Dr. E. Moses Rd. near Mahalakshmi Station, Maharashtra, 400011, India
---
Mahalaxmi Dhobi Ghat Mumbai is the world's largest open-air laundry. People bring dirty clothes from all over Mumbai. And hundreds of washermen and women – dhobis, work their shifts through the day to get the clothes back to their fresh, crisp and spotless state.
While some dhobi families take help from machines too, much of the activities at this Dhobi Ghat of Mumbai is taken care of by hands. Every family member takes care of their part. One person flogs the clothes in the washing trough, while others hang them out to dry. Then someone will mint the clothes using bulky charcoal irons.
Once the clothes are cleaned, dried and pressed, the porters take them back to the owners. The system is well-optimised, and each garment and sheet are coded to be traced back to the respective client.
Visit Dhobi Ghat in Mumbai and witness the effective management of strenuous laundry activities traditionally.
History of Dhobi Ghat in Mumbai
The place was set up by an association of 50 washers in 1890, during the British rule. And except for a few modifications, Dhobi Ghat has maintained its old look and way of working.
Today, around 700 washer families live together in the area and thrash clothes on their respective stones every day. Some dhobis have installed mechanical washing and drying machines, but most still survive by washing the clothes in their designated troughs and washing platforms, which were built during the British era.
Things to do at Mumbai Dhobi Ghat
1. Watching the organised chaos at the laundry – Dhobi Ghat laundry Mumbai is one of the top tourist destinations of the city. It buzzes with washers and the smell of washing soda and other chemicals all day long. You can watch the well-managed manual laundry system here. While one dhobi sorts the clothes as per their colours and types, another one will beat the stains out of clothes; and yet another member of the family hangs them on the lines to dry.
Mumbai Dhobi Ghat also has separate sections to boil water and wash infected clothes from hospitals. And while the washed clothes are being ironed before delivery, more porters come in with fresh piles of dirty clothes.
2. Knowing about the life of washermen and women – This Dhobi Ghat in Mumbai is managed by the people who work there, and they're more than eager to share their stories with the travellers. Learn about the entire process, hear about their daily struggles at work and play a game or two of marbles with the kids there. You might also grab some helpful washing tips to take back home.
3. Clicking colourful photographs of clotheslines – Dhobi Ghat Mumbai sightseeing is also popular among the photographers. Rows of colourful clothes drying in the sun, streamlined display of monochrome linens from hospitals and hotels, and happy faces behind the water splashes are all different frames you can capture. The patient photographers can also click piles of clothes loaded on porters' backs, their cycles and handcarts wheeled in and out.
Image Gallery of Dhobi Ghat Mumbai
Dhobi Ghat Mumbai Timings and Entry Fees
The place is functional for almost 18-20 hours a day.
Around 5,000 washers play their part, every day, in cleaning the clothes of the residents of Mumbai. Some dhobi families start as early as 4 AM, and many others work until 10 PM.
However, for the best experience, your Dhobi Ghat Mumbai visit should only be during the day. And that would be between 8 AM and 6 PM.
Also, you don't have to pay a fee either to enter this open-air laundry or click photographs. But you can pay a local guide to help you unleash the hidden gems of Dhobi Ghat.
Best Time to Visit Dhobi Ghat
The best time to plan a Dhobi Ghat Mumbai tour is from October to March. The temperature remains pleasant and the chances of rainfall ruining your schedule are at the lowest.
Visit the place in the morning hours to see the dhobis in action; flogging the clothes in their respective cubicles. By noon and early afternoon, the hanging wires in Dhobi Ghat get loaded with clothes hanged out to dry in the sun.
Time to Explore Dhobi Ghat Mumbai
It would take only about an hour to explore the dark alleys of Dhobi Ghat. You can witness the British era water troughs used for washing, get through miles of cloth hanging lines and also get a glimpse of the ironing sheds.
Interesting facts about Dhobi Ghat
Around 5000 dhobis work here round the clock, cleaning and crisping dirty clothes.
Dhobi Ghat has more than 700 washing stations where washing is done by hands.
Once 496 dhobis washed clothes together, thus getting Dhobi Ghat a place in Guinness Book of World Records for "most people hand-washing clothes at a single location".
Nearby hotels, hospitals and decorators are the regular clients of the washers. Garment manufacturers also send clothes to this laundry.
Many Hindi and Marathi movies like Munnabhai MBBS, Shootout at Wadala and Dhobi Ghat (aka Mumbai Diaries) have been shot at this place.
Things to keep in mind while visiting Dhobi Ghat
Get in there early in the morning to avoid rush working hours of the dhobis.
Make your camera waterproof as most of the areas are wet.
Be aware of the pickpockets in this area.
Places to visit near Mumbai Dhobi Ghat
1. Mahalakshmi Temple – Mahalakshmi Temple Mumbai is a beautiful temple overlooking the seashore of Mumbai. It is about 3 km away from Dhobi Ghat and devotees come here to take blessings from Goddess Mahalakshmi, Mahakali and Mahasaraswati. You can understand the religious importance of this place from the fact that it is full of pilgrims when the Navratri celebrations are ongoing. The devotees wait for hours in the queue for their turn to offer flowers, sweets and coconuts to the deities.
2. Haji Ali Dargah – Haji Ali Mosque is an Islamic pilgrimage site, only a few hundred metres away from Mahalakshmi Temple. It is built in the honour of saint Haji Ali Shah Bukhari and has been decorated in the Indo-Islamic architectural style. It stands on a small island in the Arabian Sea and is connected to the mainland through a narrow pathway. Visiting Haji Ali during high tides is not advisable but at other times of the day, tourists and pilgrims from around the world come here to take blessings.
3. Nehru Planetarium – Nehru Planetarium is a notable centre for scientific studies and astronomical activities. It is a part of the Nehru Science Centre, about 4 km away from Dhobi Ghat. At the planetarium, one can observe planets and other celestial objects in the sky. Local people come here to witness events like Lunar eclipses and Solar eclipses through one of the numerous telescopes installed at the site. The place is also the venue for many educational programmes, cultural shows and scientific discussions.
4. Mumbai Zoo – Officially called Veermata Jijabai Bhosale Udyan, Mumbai Zoo is one of the oldest zoos and botanical gardens in India. This zoo has a variety of birds and animals, including penguins. Many other animals like hyenas and swamp deers are kept in their respective habitats too. Local people visit the place with friends and family during weekends. Mumbai Zoo is about 2 km away from Dhobi Ghat.
5. Marine Drive – Marine Drive, about 7 km away, is a sea-facing promenade popular among the local people and tourists alike. Mumbaikars visit this place to jog and hang out with friends. The place is also known for the range of street food stalls and restaurants. Marine Drive is nicknamed the Queen's Necklace because of the glistening display of lights at night.
How to Reach Dhobi Ghat Mumbai?
Dhobi Ghat is in proximity to many other tourist spots in Mumbai. To reach Dhobi Ghat, Mahalaxmi Mumbai station is the nearest local railway station. You will find regular trains from all over Mumbai. You can also board a public bus to get to the place.
You can also avail cab service from top car rental companies in Mumbai to take you to this world record holder laundry. And here are the various ways to reach Mumbai –
By Road – Mumbai has regular buses to various parts of India. Whether you want to get a bus from the nearby towns Pune and Nagpur or distant tourist destinations like Ahmedabad and Panaji, you'll find a suitable conveyance. The Mumbai Central bus stop is only about 2 km away from Dhobi Ghat.
By Rail – Railways are the lifeline of Mumbai, and regular trains connect it to different corners of India. While Chhatrapati Shivaji Maharaj Terminus is 6 km away from Dhobi Ghat, Mumbai Central is at a distance of 3 km. Suburban railway stations like Bandra Terminus, Lokmanya Tilak Terminus and others also have many trains coming from different towns.
By Air – Mumbai is the gateway to India and has reliable connectivity to other parts of the world via air. Flights from popular national and international cities land at regular intervals at Chhatrapati Shivaji International Airport. It is at a distance of 16 km from Dhobi Ghat.
---
Make the most of your Mumbai tour by booking a Mumbai tour package with us. We at Mumbai Tourism, a division of Holidays DNA offer packages at pocket friendly prices. Book your tour with us and we are sure you will have a great time filled with many memorable moments. To know more details about the various packages, please fill the Contact Us form and we will get back to you.
Location Map for Dhobi Ghat Mumbai