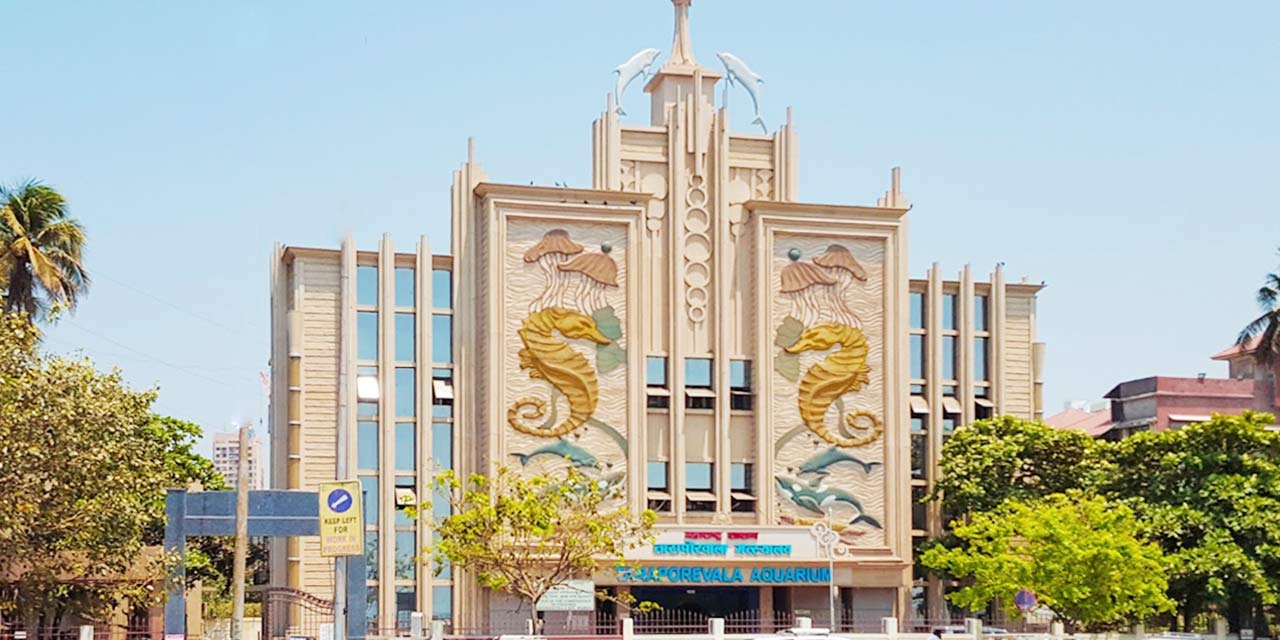 Taraporewala Aquarium Mumbai Entry Fee
60 per person for Indian Adults (Age above 12 years)
30 per person for Indian Children (Age between 3 to 12 years)
30 per person for Concessional Rates For Educational Institutes
40 per person for Retired Government Employees
30 per person for Government Employees
200 per person for Foreign Tourist Adults (Age above 12 years)
100 per person for Foreign Tourist Children (Age between 3 to 12 years)
30 per person for Disabled or Physically Challanged person
Taraporewala Aquarium Mumbai Photography and Video Charges
500 for Photography / Videos via mobile Cameras
1000 for Pictures and Clips Via Video and Digital Cameras
5000 for Professional Still Cameras
10,000 for Professional Video Shoots
---
Taraporewala Aquarium Mumbai Phone
Taraporewala Aquarium Mumbai Timings
Day
Timing
Monday
Closed / Holiday
Tuesday
10:00 am – 8:00 pm
Wedesday
10:00 am – 8:00 pm
Thursday
10:00 am – 8:00 pm
Friday
10:00 am – 8:00 pm
Saturday
10:00 am – 8:00 pm (1st, 3rd and 5th)
10:00 am – 9:00 pm (2nd & 4th)
Sunday
10:00 am – 9:00 pm
Note: The aquarium is temporarily closed due to ongoing construction work
Rating:

| 4/5 stars
Based on total 46 reviews
Taraporewala Aquarium Mumbai Address: Netaji Subhash Chandra Bose Road, Marine Drive, Near Charni Road Railway Station, Girgaon, Mumbai, Maharashtra, 400002, India
---
Taraporewala Aquarium in Mumbai is the oldest aquarium of India and among the most visited attractions of Mumbai. Local people come to this place along with their family, and many kids also visit this aquarium during school excursions.
It has over 100 species of fish and other aquatic animals like sharks, seahorses and turtles. The collection consists of freshwater, marine and tropical fishes brought from around the world. Visitors enter the gallery through a glass tunnel around which fishes and water plants are on display.
Apart from the fish exhibition tunnel, Taraporewala Aquarium also has fishes in tanks. It has a small museum too, which has preserved corals, seashells and fish skeletons.
History of Taraporewala Aquarium
Dr Rajendra Prasad, the first President of India, inaugurated Taraporewala Aquarium Mumbai in 1951. The cost of building this aquatic exhibition was about ₹8,00,000, of which ₹2,00,000 came from a Parsi philanthropist D. B. Taraporewala. So, the officials named this aquarium after him.
They added the 12-feet-long glass tunnel display recently, in 2013, when the aquarium was being renovated.
Things to do at Taraporewala Aquarium
At Taraporewala Aquarium, visitors can enjoy watching fishes and other sea creatures in their natural ecosystem. The Department of Fisheries itself maintains the place. At the entrance, you will pass the glass tunnel. Pause and look at the fishes swimming overhead.
Then you'll find different tanks where a variety of fishes are displayed. The aquarium has 16 seawater tanks and 9 tanks for freshwater species. Among the Taraporewala Aquarium fish species are Alligator fishes, Puffer fishes and Moray eels among others. Jellyfish is also here, in a small circular tank.
Angelfishes, Groupers and a variety of Tangs are the other residents of Taraporewala Aquarium in Mumbai. The tropical section has different types of ecosystems including moss aquarium, plantation aquarium and island aquarium.
Taraporewala Aquarium also has a room where fossils and preserved sea animals are present.
Image Gallery of Taraporewala Aquarium Mumbai
Taraporewala Aquarium Timings and Entry Fee
Taraporewala Aquarium weekly off is on Monday. But on the rest of the days, the place is open from 10 AM to 8 PM. On Sundays, 2nd & 4th Saturdays and during holidays, Taraporewala Aquarium visiting time is between 10 AM and 9 PM.
As for the entry fees, people above 12 years of age have to pay ₹60. The tickets for kids (above 3 years old, and up to 12 years) cost ₹30. The fee for students, government employees and disabled visitors also is ₹30. And the retired government employees are charged ₹40.
International visitors, above 12 years, are charged ₹200, and the tickets for those aged between 3 and 12 years cost ₹100. Video recording and photography are chargeable too. For mobile photography, one has to shell out ₹500. The fee is ₹1000 for cameras. Then, the charges for professional photography and video shoots are ₹5,000 and ₹10,000 respectively.
Best time to visit Taraporewala Aquarium
The summer months in Mumbai can be unbearable. The monsoon season too isn't suitable for tourism. Therefore, the best time to visit Mumbai and Taraporewala Aquarium is between October and March. The weather is comparatively cooler and more comfortable for the tour. Also, try to schedule your visit during the weekdays to avoid rush hours.
Time to explore Taraporewala Aquarium
Normally, it will take you about 1 hour to explore this fish aquarium in Mumbai. For the curious kids or the adults who want to get a thorough tour of fishes and their habitat, time taken will be longer.
Places to visit near Taraporewala Aquarium
1. Marine Drive – Taraporewala Fish Aquarium in Mumbai is situated along this renowned sea-facing promenade – Marine Drive. It is a 3 km long walkway that is a local favourite to hang out with friends or have a solitary walk. Many people visit the Marine Drive promenade for their daily morning jogs or to spend an evening with the sunset, while listening to the crashing waves.
Local people and tourists also know Marine Drive for its restaurants and food vendors who sell local snacks.
2. Girgaon Chowpatty – Girgaon Chowpatty Beach is another nearby place to visit near the aquarium. It is across the road, only a few hundred metres ahead of Marine Drive. The beach is a popular spot among health enthusiasts. People visit this place for yoga sessions, massages and leisurely strolls. It is also a favourite place for those who want to spend time with friends and family after work.
You can sit at the beach tasting spicy bhelpuri and panipuri, while admiring the sun setting in the Arabian Sea.
3. Hanging Gardens – The Hanging Gardens park is a place where you can breathe an air of freshness in the chaotic city life of Mumbai. It is 3 km away from Taraporewala Aquarium, and it is a green space with sitting spaces all around. People who love photography will like this place too. It provides visitors with a mesmerizing view of the sea. And the view gets better if you can climb up the top of the tall Boot House.
4. Chhatrapati Shivaji Terminus – Chhatrapati Shivaji Maharaja Terminus is one of the main railway stations that connect Mumbai to other parts of the country. But apart from its commercial importance, it's an iconic structure built in Victorian-Gothic style. It was earlier called Victoria Terminus. British architects and Indian artisans worked together for 10 years to build this building.
Chhatrapati Shivaji Terminus still retains most of its architectural charm and also received the honour of being a UNESCO World Heritage Site. It is at a distance of around 4 km from the aquarium.
5. Gateway of India – This magnificent stone arch facing the Arabian Sea was built to remember the first official visit of King George V and Queen Mary. It is one of the popular places to visit in Mumbai among the residents of Mumbai who come here to take a stroll or spend hours watching the ferries entering and exiting the harbour. The Gateway of India is the hub for many luxury boat tours too. It is about 5 km away from Taraporewala Aquarium.
How to reach Taraporewala Aquarium Mumbai?
Taraporewala Aquarium is in the business hub of Mumbai, and you can reach this place by autos, cabs and also public buses. It is also accessible through Mumbai local trains. Charni Road is the nearest railway station for Taraporewala Aquarium.
Now that you have all the Taraporewala Aquarium details, following are the various ways to reach Mumbai –
By Road – Mumbai, being the commercial capital of India, enjoys strong road connectivity. Regular buses are available from Nagpur, Nasik, Pune and other neighbouring cities. You can also drive your car or hire a cab from top car rental companies in Mumbai for a hassle free Mumbai tour.
By Rail – Chhatrapati Shivaji Terminus and Mumbai Central are the main railway stations of Mumbai. Mumbai has trains coming from all the parts of India – faraway north, remote east and the southern towns.
By Air – Chhatrapati Shivaji International Airport connects Mumbai to all over the world. You can find flights from all the business capitals and tourist destinations including Bangkok, Dubai and the US. Frequent flights from Indian airports like Chandigarh, Hyderabad and Kolkata are also available.
---
Book a package with Mumbai Tourism, a division of Holidays DNA to experience the best time of your life. We offer Mumbai tour packages that are also customizable according to your preferences. Reach out to us by filling the Contact Us form to know further.
Location Map for Taraporewala Aquarium Mumbai