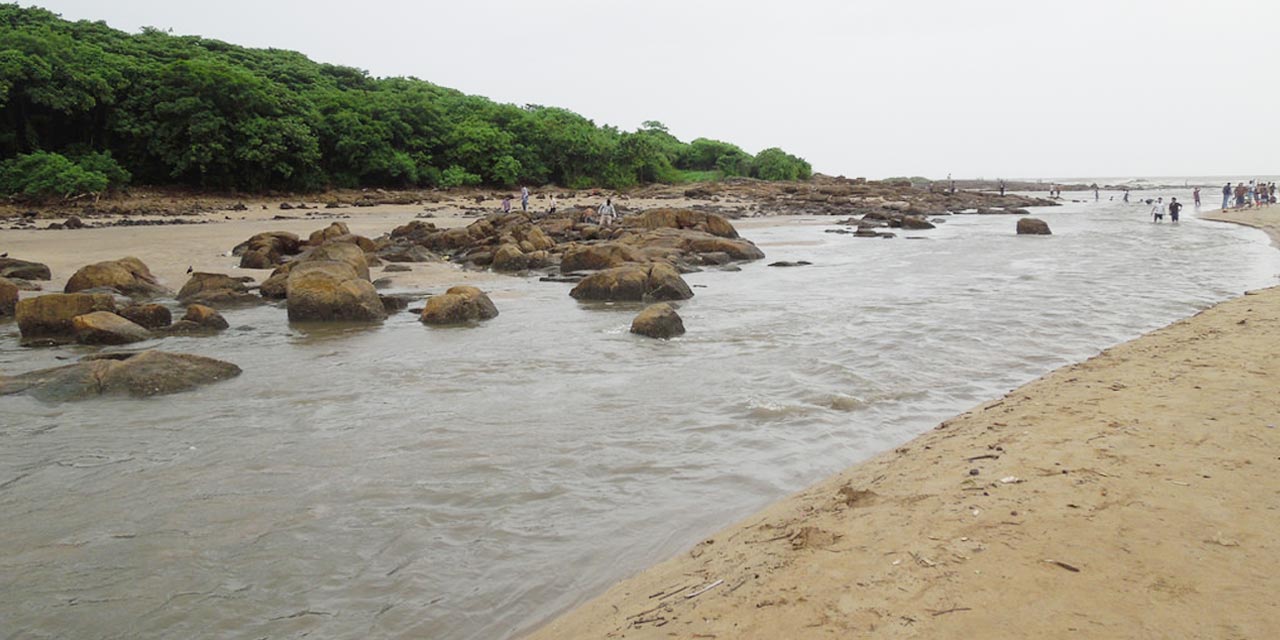 Aksa beach Mumbai Entry Fee
---
Aksa beach Mumbai Phone
N/A
Aksa beach Mumbai Timings
| Day | Timing |
| --- | --- |
| Monday | 12:00 am – 12:00 am |
| Tuesday | 12:00 am – 12:00 am |
| Wedesday | 12:00 am – 12:00 am |
| Thursday | 12:00 am – 12:00 am |
| Friday | 12:00 am – 12:00 am |
| Saturday | 12:00 am – 12:00 am |
| Sunday | 12:00 am – 12:00 am |
Rating:

| 4/5 stars
Based on total 45 reviews
Aksa beach Mumbai Address: Aksa Village, Malad West, Mumbai, Maharashtra, 400095, India
---
Dotted with cottages, resorts and coconut trees on one side and INS Hamla on another, Aksa Beach is a sandy beach off the beaten path. Residents of Mumbai, mostly youngsters, come to this beach for a weekend getaway.But for the rest of the time, only a few people visit it. You might also come across street food vendors selling roasted peanuts and other local snacks here.
Aksa Beach is a serene location away from the buzzing city of Mumbai. All you will hear here is the music of waves. The remoteness of Aksa Beach makes it a perfect place to spend some time alone or with your group. You can walk on the shore, listen to the waves and take a sunbath at Aksa Beach. Swimming though is prohibited.
Things to do at Aksa Beach
1. Soaking in the warmth – Being remote, Aksa Beach in Mumbai provides you plenty of time to spend with the waves. You can sit one winter afternoon bathing in the sun's warmth with only sea-shells to give you company. The greenery around and the view of the sunset is also unmissable.
2. Taking photographs – The isolated presence and unspoilt beauty of Aksa Beach in Malad Mumbai also attracts many photographers. Distant coconut groves, the golden sky during sunset and the rocks scattered all around provides plenty of flexibility for portraits or landscape photography. Stroll around for the perfect vantage point. And the sunrise and sunset views at Aksa Beach will wake up the photographer in you too.
3. Discovering new dishes – Aksa Beach food has got ample variety. Whether you want Gujarati desserts, local Mumbai snacks or Continental dishes, you can find them in one of the restaurants. You can even have appetizers prepared by the Koli fishing community.
Aksa Beach Timings and Entry Fee
Aksa Beach is accessible 24 hours a day. And you don't have to pay any entry fee to enjoy the views or take a walk across the shore. Grab your sunglasses and spend your day at Aksa Beach, basking in the sun.
Image Gallery of Aksa beach Mumbai
Best Time to Visit Aksa Beach
You can't spend much time at the beach during summer because of high humidity and temperature. And visiting Aksa Beach in the rainy season can be a dangerous affair too. The beach is ill-famed for quicksand and strong currents, especially during the monsoon. Therefore, the best months to visit the beach are from October to March. Also, it becomes full of locals during the weekends, so plan a visit during one of the weekdays. A calm evening would be best to explore the beach.
Time to Explore Aksa Beach
About 1-2 hours would be fair enough to stroll around Aksa Beach and the nearby area. You can stay longer if you wish to click more photographs or taste local dishes at the restaurants in the neighbourhood.
Places to visit near Aksa Beach
1. Essel World – Essel World is among the popular amusement parks, which is on the outskirts of Mumbai. It has been designed as per the international standards and has more than 50 rides and activities for your entertainment. The place has adventure rides for adults, fun rides for kids and other rides which you can enjoy with family. Essel World also has many restaurants and food stalls. This amusement park is across the creek, and ferries are available from Marve nearby. The distance by road is about 40 km.
2. Water Kingdom – It is a water park next door to Essel World amusement park. The theme park has many water slides, pools and other activities. A fish pedicure session is also available in Water Kingdom. You can combine your visit along with Essel World and enjoy the adventure rides at both the parks. This place is just beside the Essel World.
3. Global Vipassana Pagoda – Global Vipassana Pagoda is a huge dome, constructed as a tribute to a Vipassana teacher from Myanmar – Sayagyi U Ba Khin. It is a place where you can meditate, find peace and learn about Gautam Buddha and Vipassana meditation. The massive dome acts as the meditation hall where 8,000 people can sit at once. This pagoda has a museum and a library too where you can read about Vipassana and the teachings of Gautam Buddha. It is at a walking distance from Essel World.
4. Kanheri Caves – One of the popular sightseeing places of Mumbai, Kanheri Caves are a collection of 109 Buddhist caves. The most recent of them were built by monks during 11th century CE, while the earliest ones date to before 1st century BCE. These caves were used as monasteries where monks came to live, study and meditate. The remains today consist of sculpted walls, statues and paintings of Buddha. The caves are located on a hillside within the premises of Sanjay Gandhi National Park, around 13 km away from Aksa Beach.
5. Chhota Kashmir Park – Chhota Kashmir Park is a quiet and beautiful garden near Sanjay Gandhi National Park. Chhota means small or mini, in Hindi, and this park has a boat club, vibrant flowers and lush green lawns, which remind people of Kashmir. That's why the park is called so. You can enjoy your evening hours strolling around the gardens, boating or sitting by the lake. This green park is about 13 km away from Aksa Beach.
How to reach Aksa Beach Mumbai?
You can go to Aksa Beach by train. You can also take a public bus to Aksa Beach, but you might need to change a few before you get the one that drops you at the Beach. So, instead, board a local train. Malad station is the nearest station to Aksa Beach and you can then take a taxi to go to the beach.
The best way to go to Aksa Beach would be to hire a cab from top car rental companies in Mumbai for a comfortable ride. You can take them from anywhere in Mumbai or around. And now that you have all the Aksa Beach details, here's how to reach Mumbai –
By Road – Mumbai is the financial capital of India, and thus, you can hire a cab to Mumbai from other cities in India. National Highway 48 connects it to the national capital Delhi, 1400 km away, and other metropolitan cities. Regular public and private buses are available too, from nearby cities of Pune, Nashik and Nagpur.
By Rail – Daily trains are available from towns and cities of India. Whether you're coming to Mumbai from North India or a remote area in the East, you can find a train to one of the railway stations in Mumbai or its suburbs. Chhatrapati Shivaji Terminus and Mumbai Central are the two main railway stations which serve Mumbai. Some trains also arrive at the suburban stations like Bandra Terminus or Lokmanya Tilak Terminus.
By Air – Chhatrapati Shivaji International Airport connects Mumbai to other parts of India and the world via air routes. Regular flights from many prominent places around the world are available to Mumbai. Aksa Beach to international airport distance is about 21 km. And you will get a plane from many Indian airports too, including Chandigarh, Guwahati and Kochi, which arrive at the domestic terminal.
---
For a great holiday experience in Mumbai, book a Mumbai tour package with us. We at Mumbai Tourism, a division of Holidays DNA offer packages at pocket friendly prices that can also be customised according to your needs. To know more details about the various packages, please fill the Contact Us form and we will get back to you.
Location Map for Aksa beach Mumbai