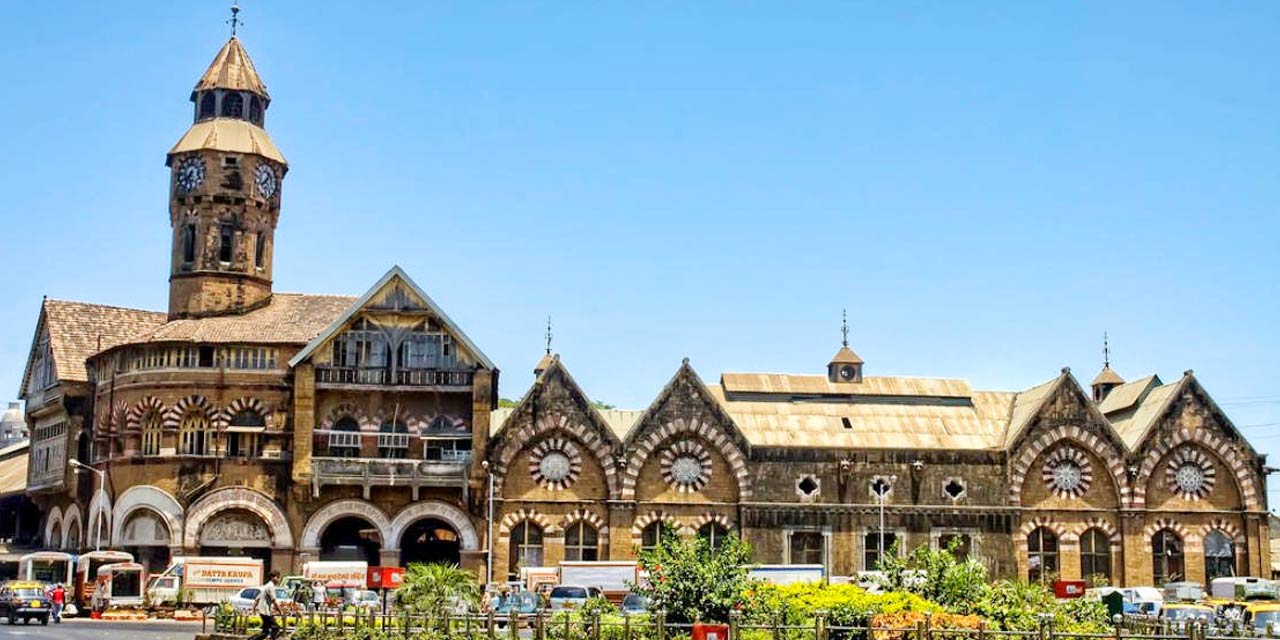 Mahatma Jyotiba Phule Mandai / Crawford Market Mumbai Entry Fee
---
Mahatma Jyotiba Phule Mandai / Crawford Market Mumbai Phone
N/A
Mahatma Jyotiba Phule Mandai / Crawford Market Mumbai Timings
| Day | Timing |
| --- | --- |
| Monday | 9:00 am – 8:00 pm |
| Tuesday | 9:00 am – 8:00 pm |
| Wedesday | 9:00 am – 8:00 pm |
| Thursday | 9:00 am – 8:00 pm |
| Friday | 9:00 am – 8:00 pm |
| Saturday | 9:00 am – 8:00 pm |
| Sunday | Closed / Holiday |
Rating:

| 4/5 stars
Based on total 58 reviews
Mahatma Jyotiba Phule Mandai / Crawford Market Mumbai Address: Dhobi Talao, Chhatrapati Shivaji Terminus Area, Fort, D. Naoroji Road at L. Tilak Road, Maharashtra, 400001, India
---
Mumbai is dotted with huge and flashy malls. However, much of the southern part is devoid of it. Crawford Market fills the gap.
Crawford Market, renamed as Mahatma Jyotiba Phule Mandai, is the largest market in the area and it has stores selling everything from groceries to meat and from toys to pets. It is one of the best places to shop in Mumbai.
At the time of its establishment, it was a source of fresh produce for the British. And the place soon turned into a hub for food items.
It used to be the choicest wholesale market in Mumbai long after Independence. And even today, Crawford Market is a popular place to get good deals on household goods and fresh fruits and vegetables.
The place is also known for its beautiful architecture.
Architecture of Crawford Market
Crawford Market building was conceptualized by William Emerson, and it is designed in a way that it receives sunlight throughout the day. A blend of Norman and Flemish architectural styles has been used to construct the structure out of Kurla stone and Red stone.
The exterior of the building is covered with paintings and murals, and the entrance gate friezes depict Indian farmers with their crops. In some parts, you can find glimpses of the Gothic style of architecture too. The clock tower is adorned with carvings that resemble Victorian style.
A colourful fountain is also a part of the Crawford Market architecture.
History of Crawford Market
Crawford Market was named after Arthur Crawford, the first municipal commissioner of Mumbai. Its construction was completed in 1869 with the help of donations from Cowasji Jehangir, and the shops started operating 1871 onwards.
In 1882, Crawford Market building was the first in India to get electricity.
After India got Independence, this market was renamed to Mahatma Jyotiba Phule Market in the honour of a prominent social reformer of Maharashtra.
Image Gallery of Mahatma Jyotiba Phule Mandai / Crawford Market Mumbai
What is Crawford Market famous for?
Crawford Market in Mumbai isn't restricted to the historical building any more. It has extended beyond that. Today, the area in and around Crawford Market is like an open-air mall alluring you to buy whatever you see in front.
Toys, travel accessories, fashion accessories, gifts and imported goods are among the innumerable things available at the Crawford Market stores. However, Crawford Market is famous for wholesale shopping of ladies' and kids' garments, dry fruits and home decor items. The market buzzes with the sellers of fresh fruits and vegetables in the morning. Lots of commotion also continues in the meat and poultry section during the early hours, until midday.
Apart from those, you can find good steals in chocolates and bakery products in Crawford Market wholesale stores. The place is also known for selling pets like dogs, cats and birds.
Whatever you want, name it, and Crawford Market will have it.
Timings of Crawford Market
Crawford Market opens early in the morning with the arrival of fresh produce from the farms in the countryside. By 9 AM, the fruits and vegetable stores start setting up for the day.
But for most of the shops in the Crawford Market, opening time is around 11 AM. And they remain open until 8 PM. On Sundays, however, the market is open only during the morning hours. Also, some shops are closed on Tuesday. So, it would be better to avoid your visit to Crawford Market on Sunday and Tuesday.
Best Time to Visit Crawford Market
Visiting Mumbai as well as Crawford Market is best during the winter months when the temperature is pleasant. But whenever you come here, you'll find fresh seasonal fruits and vegetables for sale along with other homemade products.
Also, visit this market during the morning hours for the freshest goods. People come to Crawford Market for wholesale shopping too, so the crowd rises through the day. And the market gets jam-packed during the evenings.
Time to Explore Mahatma Jyotiba Phule Mandai/Crawford Market
You can spend around 2 hours casually browsing the shelves of various stores set up within the premises. However, if you plan to visit Crawford Market for shopping, you'll need 4-5 hours in hand to find all the things you intend to buy.
Things to keep in mind while visiting Crawford Market
Although the place has been renamed to Mahatma Jyotiba Phule Mandai, many drivers still know it by its old name.
Try shopping during the morning hours when the prices of many products are low.
Not all shops are open to bargaining, but there's no harm in trying.
Instead of looking for a certain item you want, walk around the market to find what it offers. You'll have an amazing time.
Be cautious while shopping for your favourite item. Some shops sell illegal goods, and you may also find endangered animal species on sale.
How to Reach Crawford Market?
Crawford Market is near the business district of the city and thus, you can reach it from anywhere in Mumbai. Local buses connect it to other prominent spots of the city, and you can always hire an auto-rickshaw or private cab from top car rental companies in Mumbai to reach Crawford Market.
You can also take a local train to reach this place. Chhatrapati Shivaji Maharaj Terminus is the nearest Crawford Market railway station. That station also connects Mumbai to other parts of the country.
Now, here are the different options you've to reach Mumbai –
By Road – Mumbai, the city of dreams, is connected to other towns and cities through a network of national highways. You can either drive a car, hire a cab, or board a bus to reach Mumbai. Many public and private buses run from the nearby cities like Aurangabad, Nagpur and Pune among others. Most buses stop at the Mumbai Central Depot, which is only 3 km away from Crawford Market.
By Rail – Chhatrapati Shivaji Maharaj Terminus is one of the key railway stations of Mumbai, and it is only a few hundred metres away from this heritage shopping arcade. Many long-distance trains stop there. Once you reach there, Crawford Market/Mahatma Jyotiba Phule Mandai is a brief walk away. Mumbai Central, 3 km away, is the other major railway terminal.
By Air – Chhatrapati Shivaji International Airport, about 23 km away, connects Mumbai to cities abroad. It has frequent flights from many countries of the world. You can find regular flights from Australia, the UK and Thailand among other countries. Also, daily flights to Mumbai ply from all the prominent airports of the country.
---
Mumbai is a unique city that everyone should explore at least once. Whether you're traveling alone or with a group, you'll love exploring the popular places to visit in Mumbai by booking a Mumbai tour package with us. We at Mumbai Tourism, a division of Holidays DNA make sure you enjoy this wonderful destination to the fullest and create long lasting memories.
Location Map for Mahatma Jyotiba Phule Mandai / Crawford Market Mumbai