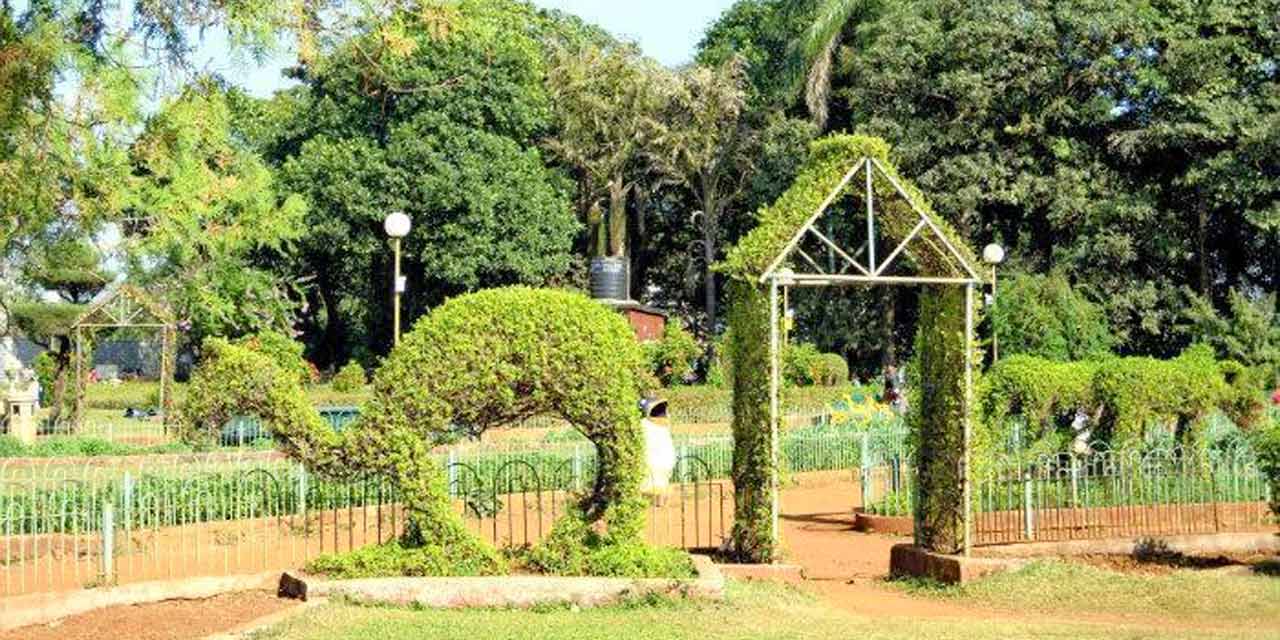 Hanging Garden Mumbai Entry Fee
---
Hanging Garden Mumbai Phone
Hanging Garden Mumbai Timings
| Day | Timing |
| --- | --- |
| Monday | 5:00 am – 9:00 pm |
| Tuesday | 5:00 am – 9:00 pm |
| Wedesday | 5:00 am – 9:00 pm |
| Thursday | 5:00 am – 9:00 pm |
| Friday | 5:00 am – 9:00 pm |
| Saturday | 5:00 am – 9:00 pm |
| Sunday | 5:00 am – 9:00 pm |
Rating:

| 4/5 stars
Based on total 45 reviews
Hanging Garden Mumbai Address: Simla Nagar, Malabar Hill, Mumbai, Maharashtra, 400006, India
---
When the bustle of the metro gets too much to hold, there is a flicker of light at the end of the tunnel. Such is the buzzing aura of one of the most beautiful places to visit in Mumbai- Hanging Garden.
The Hanging Garden in Mumbai are terraced gardens perched at the top of Malabar Hill. It provides one of the most spectacular sunset views over the Arabian Sea. The captivating park is an iconic landmark in Mumbai Tourism and has plenty of visitors every day to keep the park and its surrounding abuzz with activity.
#Trivia: It is also known as Pherozeshah Mehta Garden (PMG).
The park was laid out in the year 1881 by Ulhas Ghapokar over the main Bombay reservoir line. The park is located right opposite Kamala Nehru Park, which is very popular with the children because of the huge shoe or boot house built within the garden premises.
The park is full of beautiful trees, plants and flowers and is an ideal place for a picnic with family and friends.
The garden provides respite from the hustle-bustle of the busy metro and is a haven for everyone walking in here.
Key attractions of the Hanging Garden in Mumbai
When you just want to unwind and escape a busy schedule, the Hanging Garden gives you an opportunity to do just that.
One of the major tourist attractions in Mumbai, the garden is strewn with colourful shrubbery and gorgeous flower beds that are really well-maintained.
· Visitors can see interesting animal-shaped hedges that are a favourite with children.
· An ideal location at the edge of the garden provides a heavenly view of the sunset over the sea. A majestic site that should definitely not be missed.
· The garden also consists of beautiful fountains that look mesmerizing in the evening because of the lights within the water fountains. It adds an ethereal charm to your visit to the Hanging Gardens.
· If you are looking for a great view of Marine Drive and Chowpatty, this is where you are bound to get one from. Keep your camera handy to capture the alluring sights.
· It is also a great place to photograph some beautiful butterflies flying over colourful flowers.
· Since it is located nearly at the edge of Malabar Hill, it is a perfect place for some exciting portfolio shoots or pre-wedding photography as well.
· It has a small play area for kids with swings, slides, see-saw, short rope climbing activity, etc.
Best places to eat around the Hanging garden
While the entire park may not take too much time to visit (add an hour or two to your schedule), you will be interested to explore the places to eat around Hanging Garden to satiate your taste buds.
· Soam: An authentic pure-veg Gujarati food joint, Soam offers some scrumptious delicacies to satisfy those food cravings. From traditional sabudana vadas (fried sago balls) to palak cheese patties, corn vada (corn fry), Dhokla (steamed chickpea dish), methi thepla (fenugreek flat breads) to traditional Gujarati thali, there is something for every foodie here.
It is located just about 15 mins away from the garden.
· Govinda's: A quaint food joint offering pure-veg delicacies is best known for its different comfort food that is a favourite with the locals and tourists. From Chole Bhature (rich chickpea gravy) to pizza and Indianized Italian delicacies, there is a little something for every age group to choose from.
It is located around half a kilometre from the hanging garden, near the Girgaum Chowpatty.
· Country of Origin (Nepean Sea Road): If you have a sweet or dessert craving, this is the place to explore. It offers a variety of desserts, pastries and cakes to choose from. An ideal sweet café that will be an instant hit with the children. Some of the items that can be relished include mousse, truffle pastry, brownies, red velvet cake and much more.
It is about 4 kms away from marine drive and is fairly close to the Hanging Gardens.
· Cream Center Girgaum: Another popular pure-veg food joint located near Hanging Garden is Cream Center. With a variety of comfort food to keep you salivating for more, you are sure to enjoy a visit to this quaint place. From Cheese Nachos to pasta, Kung pao potato bao to potli Bhalla chaat, laksa soup to Chana bhatura, there is a little something for every foodie right here.
It is located just about a kilometre from the Hanging garden.
Image Gallery of Hanging Garden Mumbai
Places to visit around Hanging Garden
Hanging Garden is located atop the iconic Malabar Hill, which is home to many influential people of Mumbai. While strolling through the garden, there are a few places that you can visit around it to make your trip more memorable.
Sri Sri Radha Gopinath Temple, Babulnath temple, All Saints Church, Mani Bhavan Gandhi museum, Jain Temple, Kamala Nehru Park, Nariman Point and the iconic Gateway of India are all located around 20 minutes from the park.
Each tourist attraction projects the best this city has to offer with some stunning views. If you wish to plan a trip to the Hanging garden, consult with the in-house team of Holidays DNA to make this trip an absolutely memorable one.
Best time to visit the Hanging Garden in Mumbai
Mumbai is known for its sweltering summers and pouring monsoons, hence the best time to visit Hanging Garden is during Winters.
Although the city does not experience heavy winters but the weather is quite pleasant from November to March to enjoy the beauty of the garden and other places around it.
How to reach the Hanging Garden in Mumbai
Mumbai is well-connected by rail, road and air to every metro and non-metro city in the world. Since the city has a number of tourist attractions to offer, it is best to travel by a cab or taxi with the help of top car rental companies in Mumbai to enjoy the city's tourist attractions to the fullest.
From the glittering city lights to the starry nights, there is something for every wanderlust visiting Mumbai- the city of dreams.
---
Mumbai Tourism, a division of Holidays DNA can assist you in planning your trip to the Hanging Gardens along with other star attractions. All you need to do is select one of the Mumbai Tour packages that suits you best. For further details, please fill the Contact Us form and we will get back to you.
Location Map for Hanging Garden Mumbai