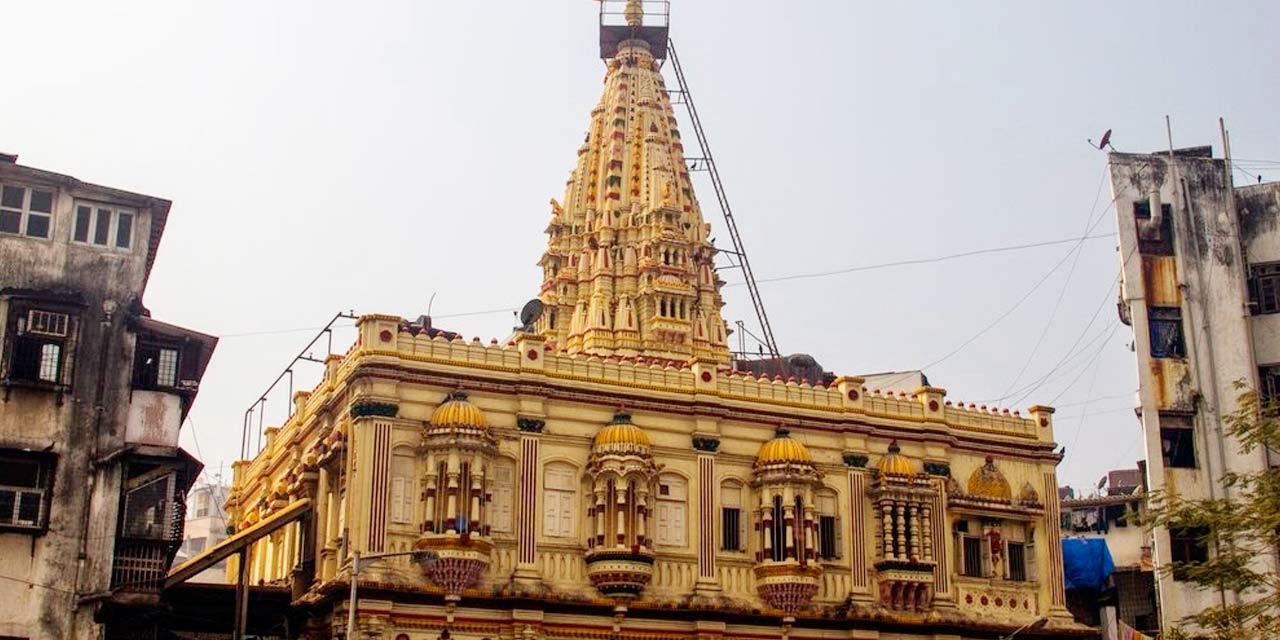 Mumba Devi Temple Mumbai Entry Fee
---
Mumba Devi Temple Mumbai Phone
Mumba Devi Temple Mumbai Timings
| Day | Timing |
| --- | --- |
| Monday | Closed / Holiday |
| Tuesday | 6:00 am – 9:00 pm |
| Wedesday | 6:00 am – 9:00 pm |
| Thursday | 6:00 am – 9:00 pm |
| Friday | 6:00 am – 9:00 pm |
| Saturday | 6:00 am – 9:00 pm |
| Sunday | 6:00 am – 9:00 pm |
Note: Mumba Devi Temple Mumbai aarti timngs are Morning 7:00 am and Evening 7:00 pm
Rating:

| 4/5 stars
Based on total 55 reviews
Mumba Devi Temple Mumbai Address: Mumba Devi Marg, Mumbadevi Area, Zaveri Bazar, Maharashtra, 400002, India
---
Mumba Devi Temple in Bhuleshwar is among the oldest temples of Mumbai. It is dedicated to Mumbadevi, whom the Koli fishermen community consider the guardian goddess of the city.
In fact, Mumbai is named after Goddess Mumba. That's how revered is the presiding deity of Mumbadevi Temple. This elegant ancient temple of Mumba Devi lies amidst the crowded alleys of Zaveri Bazar, but people come here regularly to have a darshan of the goddess.
Local people come to the temple daily for the evening and morning aarti sessions. And during festivals like Navratri, devotees flock in to admire the temple, enjoy the celebrations and take blessings from Mumba Devi.
Mumba Devi Temple in Mumbai, therefore, is a must-visit place.
Architecture of Mumba Devi Temple
Shri Mumba Devi Temple is built in the classic ancient Hindu temple style. The building has one high spire and a red flag flying on its top. And the exterior walls are decorated with beautiful carvings prominent in the Hindu temples.
Temple shrine has the idol of Goddess Mumba, with a golden necklace, a nose stud and a silver crown. Mumbadevi represents Mother Earth and doesn't have a mouth. Apart from her, you'll see the statues of Goddess Annapurna, Lord Ganesh and Hanuman. The temple also has a sculpture of a fierce tiger in front of the shrine.
History of Mumba Devi Temple Mumbai
As per the legends, a demon Mumbaraka used to terrorise the locals. They, thus, prayed to Lord Brahma, who then, sent an eight-armed Goddess to kill Mumbaraka. After being defeated, Mumbaraka asked for forgiveness and promised that he would build a beautiful temple dedicated to her.
But the present temple isn't the original one.
The first temple was near the present-day Victoria Terminus (or Chhatrapati Shivaji Maharaj Terminus), which was destroyed around the 1740s. But the Koli community and other local people worshipped Goddess Mumba and believed in her. Therefore, they built another temple, which we see today.
This is how the famous Mumba Devi Temple came into existence.
Image Gallery of Mumba Devi Temple Mumbai
Things to do at Mumba Devi Temple
Worshipping Goddess Mumba – the guardian deity of Mumbai, is the primary activity at Mumbadevi Temple. People believe she answers all your prayers if you're sincere. And therefore, devotees come here to please Mumba Devi by offering flowers and sweets. You'll find many stalls on the way to Mumba Devi Temple, where you can buy jasmines, marigolds and lotuses among other offerings.
You should also go to Mumba Devi Temple to see the daily aarti ceremonies. They are held every morning and evening. Priests chant mantras and wave lighted incense sticks to worship the goddess. Also, special arrangements are made during the Navratri festival, when celebrations continue for 10 days.
Apart from the temple, you can also explore the shops nearby. While the nearby stalls sell fresh flowers and sweets, other shops also sell things associated with Hinduism – copper bracelets, photographs and small statues of the deities. You'll also find many jewellery shops close to the temple.
Mumba Devi Temple Timings and Entry Fee
Mumba Devi Temple visiting time is between 6 AM and 9 PM. It is open throughout the year except for Mondays. However, on special occasions and festivals, you can visit the temple on Monday too. During the Navratri festival, the temple is decorated with flowers and lights all around. And devotees come to get blessings from the goddess.
Mumba Devi Temple aarti timings are 7 AM and 7 PM.
There is no entry fee to visit Mumbai Devi Temple. Mumba Devi Temple Trust maintains the temple through various donations it receives. And you are free to offer some too.
Best Time to Visit Mumba Devi Temple
As Summer season in the area is hot and humid and the Monsoon season comes with heavy showers, the best time to visit the temple is during Winter. It begins around October and ends by March. The temperature is at a comfortable level, and you can explore the temple with ease. And try to visit during the morning hours.
Also, Navratri falls during Winter, around October and November. During those days, you can witness the enthusiasm of the devotees and see the religious rituals and special ceremonies performed within the temple complex.
Time to Explore Mumba Devi Temple Mumbai
It should take you around 30 minutes to an hour at Mumba Devi Temple. And that time would be enough for you to offer flowers to the goddess and take her blessings. However, during festivals, you might have to struggle through the crowd for a longer time to reach the temple shrine.
How to reach Mumba Devi Temple?
Shri Mumbadevi Temple is in the heart of Mumbai and you can reach it from anywhere in the city, conveniently. You can hail a taxi or auto or board a public bus to reach there. Then, you also have the option to take a local train to the temple. Charni Road is the nearest station from Mumba Devi Temple. However, the most comfortable way to reach the temple is by hiring a private cab from top car rental companies in Mumbai.
Chhatrapati Shivaji Terminus and Churchgate railway station are also nearby. Both of them are the hub for Mumbai local trains and have good connectivity all over Mumbai.
And here are the different options you have for Mumbai –
By Road – You can get a cab from all the nearby cities and distant ones. Also several buses come to Mumbai from various destinations around the city, including Ahmedabad, Nagpur and Pune. Most of the buses stop at Mumbai Central Bus Depot, which is only 3 km away from Mumba Devi Temple.
By Rail – Mumbai is connected well to all the corners of India. And regular trains from various cities of India are available for Mumbai. Chhatrapati Shivaji Maharaj Terminus (2 km away) and Mumbai Central (4 km away) are the two railway stations where most trains stop.
By Air – Daily flights from many Indian cities as well as foreign destinations like Australia, Dubai and Singapore arrive at Mumbai's Chhatrapati Shivaji International Airport. It is about 28 km away from the temple.
---
Mumbai is one of the famous tourist destinations in India and we at Mumbai Tourism, a division of Holidays DNA make sure you have a perfect time holidaying in the city. With our all-inclusive Mumbai tour packages you can explore the popular sightseeing places of Mumbai in the comfort of a private cab in a hassle free manner. Please fill the Contact Us form to know more about the various packages.
Location Map for Mumba Devi Temple Mumbai