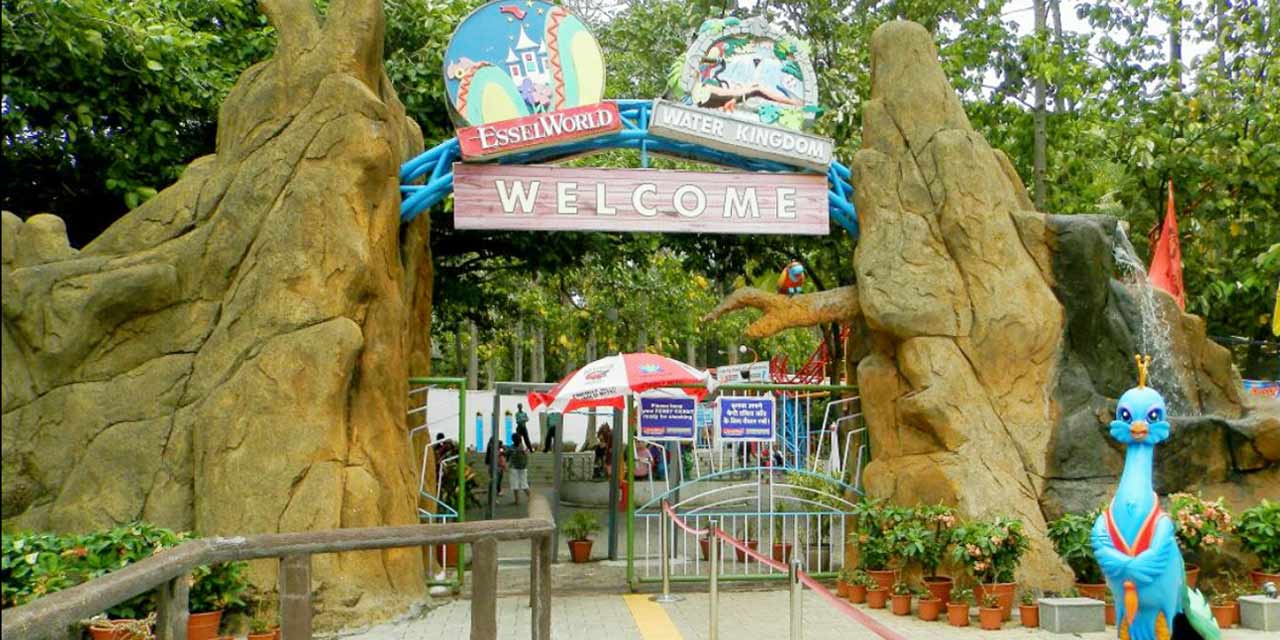 Essel World Mumbai Adults Entry Fee
290 per person for Basic
885 per person for Silver
1170 per person for Fast Track + Silver*
1405 per person for Combine^
1640 per person for Annual Pass - Passport Next (Entry to either of the parks three times a year)

*Privilege entry to park & no queue to rides. Access to all Adult & Family rides
^Entry to EsselWorld + Water Kingdom on same day of visit
Essel World Mumbai Children Entry Fee
290 per person for Basic
530 per person for Silver
900 per person for Fast Track + Silver*
945 per person for Combine^
1640 per person for Annual Pass - Passport Next (Entry to either of the parks three times a year)

*Privilege entry to park & no queue to rides. Access to all Kid & Family rides
^Entry to EsselWorld + Water Kingdom on same day of visit
Adult: height above 4'6"
Child: height between 3'3" & 4'6"
---
Essel World Mumbai Phone
Essel World Mumbai Timings
| Day | Timing |
| --- | --- |
| Monday | 10:00 am – 6:30 pm |
| Tuesday | 10:00 am – 6:30 pm |
| Wedesday | 10:00 am – 6:30 pm |
| Thursday | 10:00 am – 6:30 pm |
| Friday | 10:00 am – 6:30 pm |
| Saturday | 10:00 am – 6:30 pm |
| Sunday | 10:00 am – 6:30 pm |
Rating:

| 4/5 stars
Based on total 52 reviews
Essel World Mumbai Address: Global Pagoda Road, Gorai Island, Borivali West, Essel world Amusement Park, Gorai, Mumbai, Maharashtra, 400091, India
---
Essel World is an amusement park in Mumbai, which is loved by locals and tourists alike. It enjoys the position of being the most famous amusement park in India. It is on the outskirts of Mumbai, in Gorai Island.
Set among green patches, this amusement park has been designed as per the international standards. It is spread over an area of about 64 acres, of which 22-acres area is for a separate venue – Water Kingdom. People visit both the places when they are looking for a day off from their mundane schedule.
Essel World amusement park Mumbai has got more than 50 avenues for your entertainment. You'll find adventure rides and activities, which you can enjoy together with family. However, there are some, which are suitable only for adults. Essel World has some rides exclusively for kids too. Shot-n-Drop, Hoola Loop and Tunnel Twister are a few in the Essel World rides list.
Apart from the rides, the place has a bowling alley, an ice-skating rink and also a discotheque. There are many food courts scattered around and you can shop in Essel World too. People also come to celebrate the new year at Essel World Mumbai. It is a complete package for a fun time.
Essel World and the Water Kingdom in Mumbai never fail to amaze you. The memory of the visit will be etched in you for long.
Things to do at Essel World
1. Having fun with family – Essel World has 13 rides suitable for a fun family get-together. You can find your way around Alibaba Adventure Maze, hang together in the Copper Chopper or enjoy the wet Aqua Drive rollercoaster. Zipper Dipper is another rollercoaster ride made for families. Essel World has the Navy ship Prabal too, which is now a life science museum.
2. Getting into adventure with adults – This amusement park has 10 adult-only adventure rides including Shot-n-Drop, Top Spin and the thrilling Zyclone rollercoaster. And if you're looking for some scary weightlessness, check out the Rainbow or Thunder ride. These two rides will also allow you to get a bird's-eye view of the area, if only for a moment.
3. Keeping up with the kids – Kids are the happiest creatures in Essel World Mumbai theme park. They've got 12 rides to enjoy. They can have a fun-filled workout at the Play port or test their driving skills at the Junior Go Kart arena. The Rio Grande train ride is another reason why kids have a great time here.
4. Enjoying the water rides – The adjoining Water Kingdom too has got setups for having fun, but in the water. It includes the Lagoon water pool, What-a-Coaster slide and Wetlantic – the largest wave pool in the world.
5. Checking out the food – Several eateries and restaurants are within the premises of Essel World. You can choose to take a North Indian lunch at Happy Singh Da Dhaba or enjoy an early evening Italian snack time at La Mensa. Ohh Mumbai, Southern Treat and the Chinese restaurant Tai Pan are among the other food joints there.
6. Browsing the merchandise – Essel World has got its own merchandise store too. The shop has toys and Essel World branded accessories. You can also collect toy models of Fab5 – the mascots of this amusement park, and other souvenirs.
7. Skating in the ice – The park also has a large and freezing ice-skating rink – Arctic Circle. A space where you can be safe from the hot weather of Mumbai will be an experience for sure whether you're a pro-ice-skater or not.
8. Bowling in the arcade – Essel World also houses a 6-lane bowling alley in its complex. You can either get some bowling practice there or show off some of your rolling skills.
9. Dancing your worry out – The Essel World dance floor is available for you if you're looking for some peppy Bollywood dance numbers or Western fusion. You're sure to be blown away with the music and dance experience.
10. Relaxing your day off – If you don't want to take part in the Essel World adventure, you can spend your time walking around the park, sitting beneath a shade or reading beside a pool. A Karaoke booth is available there. And if you feel tired, you can have cold drinks, juices, ice creams and other snacks to replenish your lost energy.
Image Gallery of Essel World Mumbai
Essel World Mumbai Timings and Entry Fees
Essel World might just be the place where you would like to spend a few hours from your Mumbai tour schedule. During weekends and other special occasions like New Year, people swarm in with their friends and family members.
It is open 365 days a year.
But before you plan a whole day out with your group, have a look at Essel World Mumbai time table and the rates. The amusement park is open from 10 AM to 6:30 PM every day. And the charges vary as per the height limits set by the management. Anyone above 4'6" is an adult and those who are between 3'3" and 4'6" will be considered for the kids' rates.
The Basic Package of ₹290 is applicable to adults and kids, both. You get to try a few rides and then you pay if you want to check more. To enjoy unlimited rides, you can go for the Silver Package. For adult riders, it's priced at ₹885 and for kids', the cost is ₹530. You can also opt for the fast-track entry. At ₹1170, adults will enjoy a privileged entry along with the perks of the Silver Package. For children, the benefits are available at ₹900.
That was all about the tickets of Essel World Mumbai. You can even club the entry ticket to Essel World and the Water Kingdom. It's ₹1405 for adults and ₹945 for children. The annual pass is available at ₹1640. It entitles entry to either of the parks, three times in a year.
Best time to visit Essel World
Winter is the perfect season to visit Essel World in Mumbai if you want to enjoy all the rides. As the temperature doesn't drop much in this area, you can comfortably hop on the wet rides too. Christmas, as well as New Year, falls during those cooler days, from October to March. And during holidays, more people visit Essel World to enjoy. The celebrations are on and you get the vibes of being part of a huge carnival.
Time to explore Essel World
If all that you want is to get on the rides, have one round on each and come home, you'll need about 4-5 hours. However, ideally, have a whole day reserved to have fun at Essel World. You can enjoy the rides, relax and also taste the lip-smacking dishes available at the eateries there. Let the Essel World experience seep into your soul.
Places to visit near Essel World
1. Water Kingdom – Water Kingdom is a water park next to Essel World. And most people combine their visit to Essel World with Water Kingdom. And you too should check out the adventure water rides at this park. It houses various water slides, pools and the Wetlantic – a 100 sq. metre large wave pool. Water Kingdom also has a few eateries and other fun spots around.
2. Global Vipassana Pagoda – Global Vipassana Pagoda is a dome where people go for meditating and attaining peace. It has been constructed as a tribute to a Vipassana teacher from Myanmar – Sayagyi U Ba Khin. It is only a few hundred metres away from Essel World and has a museum and a library too. You can read all about the life of Gautam Buddha, his teachings and of course, Vipassana. Regular classes are also organised for those who seek in-depth information.
3. Sanjay Gandhi National Park – This national park, about 8 km away from Essel World, is a buzzing picnic spot and one of the popular places to visit in Mumbai. It's home to a variety of flora and fauna. Birds like Kingfisher and other migratory birds also frequent Sanjay Gandhi National Park. Animals like macaques and antelopes are a common sight there.
Locals visit this place during the weekends and many also cycle or trek on the various trails inside the park. The rock-cut Kanheri Caves complex is another place of tourist interest here.
4. Kanheri Caves – It is a Buddhist cave complex on a hill within the premises of Sanjay Gandhi National Park. Kanheri Caves served as a Buddhist monastery and a point for worship, study and meditation. The construction was done over a long period. And the early ones date back to 1st century BCE while the recent caves were done in 11th century CE. All that remains today are sculpted walls, statues and paintings of Buddha.
5. Mumbai Film City – Your Mumbai visit will be incomplete without taking a peek into the Hindi film industry – Bollywood. The Film city complex in Mumbai gives you the chance to get a tour of Bollywood. You can observe the sets, day-to-day life behind the scenes and everything else that's camouflaged within the glamorous lifestyle. You might even catch a live shoot. Mumbai Film City is about 17 km away from Essel World.
6. ISKCON Temple – About 19 km from the amusement park, this Hindu temple in Mumbai is a part of the international non-profit ISKCON organisation. The temple is made of white marble and the beautiful paintings cover the walls. The devotees here worship Radha Rasabihari, Gaura-Nitai, Sita-Ram and various other idols. Priests also preach religious lessons from Bhagwad Gita.
7. Mount Mary Church – Mount Mary Church, officially known as Basilica of Our Lady of the Mount, is another must-visit place in Mumbai. It is a Roman Catholic Church, 27 km away from Essel World, and is dedicated to the Virgin Mary. People praise this church for its architecture too, which resembles the Gothic style.
How to reach Essel World Mumbai?
Essel World is on Gorai Island. And you can reach the place through ferries, by road and also railway. Mumbai is known for its network of local trains spread all over the city, and the nearest local station to Essel World is Borivali. From there, you can take a bus, taxi or auto to reach Gorai creek, and then, take the ferry to Essel World. Ferries from Marve to Essel World are also available.
If you don't want to board a ferry, you can take the long route through the Western Express Highway and reach Essel World via Mira-Bhayander road. Essel world from Mumbai airport distance by road is around 40 km. But if you opt for one of the ferry-boats, the total distance will only be a little over 20 km.
And now, here's how you can reach Mumbai:
By Road – Mumbai is connected to the rest of India through a network of highways. Public and private buses run regularly from Pune, Aurangabad, Nashik and other towns nearby. You can also take cabs from distant towns like Ahmedabad and Panaji. Mumbai Central Bus Depot is approx. 60 km away from Essel World. From there you can travel via a cab from top car rental companies in Mumbai.
By Rail – Chhatrapati Shivaji Terminus and Mumbai Central are two railway stations that serve Mumbai. Both the stations are at a distance of around 60 km from this amusement park and have trains from all corners of India.
By Air – Chhatrapati Shivaji International Airport connects Mumbai to the world, and it is about 40 km away from Essel World. Flights from different Indian cities and major tourist destinations of the world land here.
FAQs & Interesting Facts about Essel World
---
Q. When did Essel World start its operations?
A. Essel World started its fun adventure on 24th December 1989.
---
Q. Who is the owner of Essel World?
A. Essel Group of companies owns and operates Essel World, as well as the Water Kingdom.
---
Q. How to book tickets for Essel World?
A. You can do Essel World Mumbai ticket booking online in advance or through the ticket counter on the spot. But get them online to avoid any inconvenience during the peak season.
---
Q. How can I enter Essel World?
A. There are three entry points to Essel World. You can arrive via ferries from Gorai or Marve. The second option is to take the road via Bhayander. And the third entrance is through the Rainbow Gate, from Water Kingdom.
---
Q. What is the frequency of ferries to Essel World?
A. There are 9 ferries and you can get one for/from Gorai every 20 mins. Ferry for/from Marve is available every 30 mins. They are available until all guests leave Essel World.
---
Q. How many rides are there in Essel World?
A. Essel World has more than 30 adventure rides around. Some are suitable only for adults, while others only for kids. Family-friendly rides are also available. Essel World also has many places, other than the rides, where you can have fun.
---
Q. Why children are not allowed on adult rides?
A. Safety first! Adult rides are suitable for guests above the height of 4'6". The safety gears like shoulder bars, belts or hand bars won't fit anyone who has a height less than that.
---
Q. Are first-aid kits available in Essel World?
A. In the case of a health emergency, you can approach the first-aid centre. It lies between the Thunder and the Arctic Circle. You'll get support from the in-house medical team. Ambulance and transfer to a hospital can also be arranged if the need arises.
---
Q. Is outside food allowed in Essel world?
A. To maintain cleanliness and proper hygiene, food and beverage from outside aren't allowed in Essel World. If need be, you can buy food from different restaurants and cafes on the premises. However, there's no restriction on carrying an infant's food.
---
Q. What is the significance of Prabal ship?
A. Prabal, the Killer, is an Indian Navy ship, which was commissioned in 1976, and retired in 1999. It was made in Russia and had a maximum speed of around 37 knots. The ship now serves as a life science museum at Essel World, for edutainment purposes.
Things to keep in mind while visiting Essel World
Try to arrive early to explore all the rides and make the most out of your visit.
Swimwear is needed if you want to visit Water Kingdom.
You are not allowed to bring food and beverages from outside.
---
Mumbai Tourism, a division of Holidays DNA makes your trip to the ever bustling Mumbai city an unforgettable one with its Mumbai Tour packages designed specifically keeping in mind the preferences and budget of its customers. You can choose the package accordingly and make your Mumbai trip a memorable holiday experience. Please fill the Contact Us form for further details.
Location Map for Essel World Mumbai