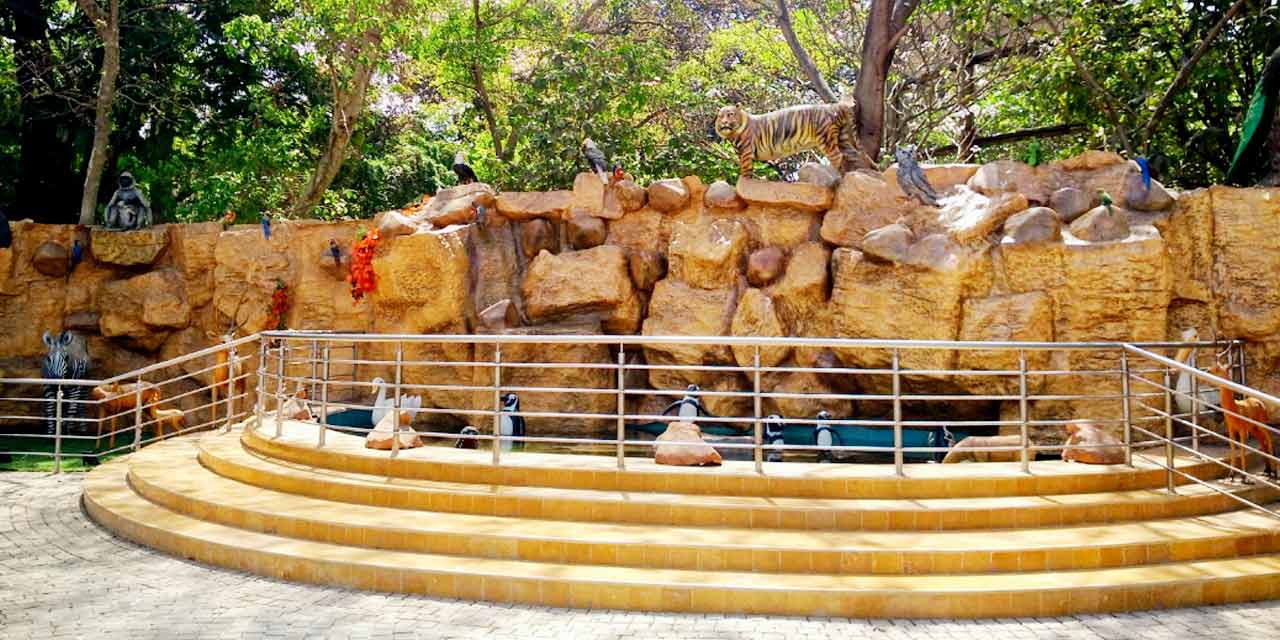 Mumbai Zoo / Veer Mata Jijabai Bhonsale Park / Byculla Mumbai Entry Fee
100 per person for Adults (Includes the visit to Hembolt Penguins Room)
25 per person for Children (3-12 years)
100 for Camera
---
Mumbai Zoo / Veer Mata Jijabai Bhonsale Park / Byculla Mumbai Phone
Mumbai Zoo / Veer Mata Jijabai Bhonsale Park / Byculla Mumbai Timings
| Day | Timing |
| --- | --- |
| Monday | 9:00 am – 6:00 pm |
| Tuesday | 9:00 am – 6:00 pm |
| Wednesday | Closed / Holiday |
| Thursday | 9:00 am – 6:00 pm |
| Friday | 9:00 am – 6:00 pm |
| Saturday | 9:00 am – 6:00 pm |
| Sunday | 9:00 am – 6:00 pm |
Note: Mumbai Zoo / Veer Mata Jijabai Bhonsale Park / Byculla Mumbai is Closed on Wednesdays
Rating:

| 4/5 stars
Based on total 48 reviews
Mumbai Zoo / Veer Mata Jijabai Bhonsale Park / Byculla Mumbai Address: 91A, Lalbaug Flyover, Near Railway Station, Byculla East, Mazgaon, Maharashtra, 400027, India
---
Officially known as Veermata Jijabai Bhosale Udyan, Mumbai Zoo is in the Byculla area. It is the only zoo in Mumbai and one of the oldest in India. It was established in 1861 and today, this zoo has a variety of birds and animals, including the recently introduced penguins.
Hyenas, swamp deers, and tigers have also been brought to the park in recent years. Along with the animals, Byculla Zoo, also known as Rani Baug Zoo Mumbai, is popular for its fauna too. The place is an impressive botanical garden spread in an area of about 50 acres, and there also is a museum in the complex.
Local people visit it with friends and family during weekends. And kids enjoy watching the animals in their habitat.
History of Byculla Zoo Mumbai
Mumbai Zoo began as a botanical garden in 1861. Back then, it was called Victoria Gardens. Later, the residents started calling it Ranichi Bagh (Queen's Gardens). It extended into a zoo 30 years later. David Sassoon, a Jewish businessman, handed over his private zoo to the government, and after multiple developments and revamping, Mumbai Zoo is in its present form.
Even after it has been renamed to Veermata Jijabai Bhosale Udyan, people refer to it as Rani Baugh (or Bagh) or Byculla Zoo.
Things to do at Mumbai Zoo
1. The Zoo Campus – Mumbai Zoo Rani Bagh has many common animal species of India and other lesser known breeds. In the designated cages, you will find jackals, sloth beers and swamp deers among others. Crocodiles, elephants and hippos are also in the zoo. Some animals like hyenas and leopards are kept in separate sections.
2. The Penguins' Room – Seven Humboldt penguins from Seoul are among the recent additions to the Mumbai Zoo animals list. They are kept in a building within the premises, which has cooled chambers to recreate their natural habitat in South America.
3. Aquatic birds' aviary – The newly constructed Mumbai Zoo aviary offers you a walkthrough among the noisy birds in the campus. You can take a walk on the wooden bridge, interact with the birds, and also click pictures of these flying beauties. Pelicans, flamingos and albino crows are there. Cranes, herons and storks are among the other species in this aviary made for aquatic birds.
4. The Botanical garden – The Mumbai Zoo park has more than 3000 trees, herbs and flowering plants. In a recent study, the researchers found the Indian banyan, Tree of Heaven (native to Myanmar) and Crescentia Cujete, also known as Beggar's Bowl, among other 800+ species. Flowering trees like Rose of Venezuela, Cannon Ball and Flame of the Forest (Palash, in Hindi) too are in this garden.
5. Dr. Bhau Daji Lad Museum – It is one of the oldest museums in the city, which was earlier called Victoria and Albert Museum. Dr. Bhau Daji Lad contributed for museum renovation, and thus, the museum was renamed to Dr. Bhau Daji Lad Museum, in 1975.
The museum contains many archaeological artefacts, statues and historical photographs of Mumbai. It also has the Kala Ghoda statue and the original rock-cut elephant statue from the Elephanta Island Caves. Separate entry fees are applicable for the museum.
Apart from those points of interest, this zoo at Mumbai also has the 75 ft high David Sassoon Clock Tower at the entrance. The structure is built in the Italian architectural style with stones and ornamental tiles from England. A statue of Shivaji and his mother, Jijabai, is a centre of attraction in the garden.
The architecture of the entrance gate also makes it worth saving for your memory.
Image Gallery of Mumbai Zoo / Veer Mata Jijabai Bhonsale Park / Byculla Mumbai
Byculla Zoo Mumbai Timings and Entry Fees
Mumbai Zoo is open from 9 AM to 6 PM. It is closed on Wednesdays for maintenance. And except for minor variations during weekends or public holidays, Mumbai Zoo Park timings remain consistent throughout the year.
Regarding Mumbai Zoo ticket price, you don't have to buy tickets for infants. But kids between 3-12 years of age are charged ₹25 for entry. And for adults, anyone above 12 years, the cost of a ticket is ₹50. To visit the Humboldt penguins building, you will have to pay an additional ₹50. The senior citizens can skip the Mumbai Zoo entry fees if they show a valid ID card.
Group discounts and special charges for family visits are available. You should check with the counter itself. And for taking your digital camera inside, the fee is ₹100. Mobile photography is free of charge.
Best Time to Visit Mumbai Zoo Byculla
It is best to visit the place during the winter months, from November to February. The temperature is favourable enough for the hours of walking you need to do to explore the huge area of this zoo and the botanical garden.
Also, it would be comfortable to come here in the evening. But keep in mind that this zoo near Mumbai is a popular picnic spot for the locals. And the line to get tickets can be long in the evening. Therefore, visit the place during the day to save time and escape heavy crowds. Also, schedule your visit on a weekday. During the weekends, the zoo is full with enthusiastic kids, running around the place to get a glimpse of the animals they read about.
Time to Explore Mumbai Zoo
It will take about 2-3 hours to walk around and see the animals in Veermata Jijabai Bhosale Udyan and Zoo. Apart from the garden and animals, you have got Dr. Bhau Daji Lad Museum too, within the premises, to explore. So, nature lovers and history buffs should have around 3-4 hours for Mumbai Zoo Byculla visit.
Watch the animals and birds thriving in their environment, checkout the history of Mumbai and click as many photographs as you want. You can also buy books and merchandise at the museum shop and get refreshments in the cafe.
Things to keep in mind while visiting Mumbai Zoo
No eatables are permissible inside the zoo
Have plenty of water with you
Be prepared to walk a lot
Feeding animals isn't allowed
Do not upset the animals
Places to visit near Byculla Zoo in Mumbai
1. Mahalakshmi Temple – Mahalakshmi Temple Mumbai is about 5 km away from Mumbai Zoo. It is located near Mumbai seashore and is dedicated to Goddess Mahalakshmi. The ornamented idols of Mahakali and Mahasaraswati are also there for the devotees to take blessings from. The place is full of pilgrims, especially when the Navratri celebrations are ongoing. People wait for hours in the queue for their turn to worship and offer flowers, sweets and coconuts.
2. Haji Ali Dargah – Haji Ali Dargah is a mosque, and a tomb built in the honour of a saint Haji Ali Shah Bukhari. It is located amidst the sea, only a few hundred metres away from Mahalakshmi Temple. This mosque is a revered pilgrimage spot and is accessible through a narrow walkway that gets submerged during high tides sometimes. Haji Ali Dargah was built in the Indo-Islamic architectural style, around 500 years ago, and tourists and pilgrims from all over the world visit this place daily to seek blessings.
3. Nehru Planetarium – The Nehru Planetarium is within the Nehru Science Centre complex, about 6 km from the zoo. It is a place for various scientific studies and astronomical observations. Telescopes are installed in the premises to observe the celestial objects in the sky and events like Lunar eclipses and Solar eclipses. The planetarium also hosts different shows and cultural events and promotes education along with entertainment. It organizes many lectures and discussions too by eminent scientists.
4. Worli Sea Face – It is a 2 km long walkway facing the Arabian Sea. Local people come here to spend their time watching the sea, hang out with friends and also taste the snacks. Many food vendors are in the locality selling fast food and spicy street food of Mumbai. It is about 5 km from Mumbai Zoo and leads you to another tourist attraction – Bandra Worli Sea Link. The statue known as The Common Man is another piece of attraction at Worli Sea Face.
5. Bandra Worli Sea Link – It is a bridge built on the Arabian Sea, which connects the suburbs of Bandra and Worli. The construction of this bridge has led to saving a lot of commute time between the two destinations. The bridge, however, is also known for its architectural magnificence. It is only a few hundred metres away from Worli Sea Face promenade, and it's a photo-worthy structure. You can also cross the bridge on a vehicle and have a peek into Mumbai from the sea.
6. Gateway of India – It is a magnificent stone arch built to commemorate the official visit of King George V and Queen Mary to India. Gateway of India is about 7 km away from the zoo, and it is a must-visit tourist attraction. It is also the boarding point for ferries that take you around Mumbai and the islands nearby.
How to reach Mumbai Zoo?
Mumbai Zoo in Byculla is just across the road from the Byculla railway station. Local trains are available from most places in Mumbai. Another option you have is to get a train to Mumbai Central station and then take a taxi to Mumbai Zoo. You can also ride local BEST buses of Mumbai to get to the zoo.
Cabs are available to take you to Veermata Jijabai Bhosale Udyan and Zoo from anywhere in Mumbai. And following are the various ways to reach Mumbai –
By Road – Mumbai enjoys strong road connectivity with other nearby cities of India. Public and private bus services connect it to all the major cities and towns in Maharashtra and neighbouring states. And you can also drive or rent a cab from Pune, Aurangabad, Nashik or other places in the neighbourhood. Luxury buses from distant cities like Panaji (571 km away) and Ahmedabad (525 km away) are also available.
By Rail – Railways are the lifeline of Mumbai. And apart from a robust network of local trains, Mumbai has regular trains to connect the city to all parts of India, including the metropolitan cities. Chhatrapati Shivaji Terminus and Mumbai Central are the main railway terminals where many trains stop. Some long-distance trains, though, arrive at the suburban stations instead.
By Air – Chhatrapati Shivaji International Airport connects Mumbai to all the major airports of the world. You can find regular flights from many cities within India and abroad.
---
To make it the best trip of your life, we at Mumbai Tourism, a division of Holidays DNA, have designed various all-inclusive Mumbai tour packages that allow you to explore the popular sightseeing places of Mumbai in a relaxed and comfortable manner. Our travel experts have also curated a list of top car rental companies in Mumbai from where you can book a private taxi to commute within the city. Please fill in the Contact Us form to know more about our offerings!
Location Map for Mumbai Zoo / Veer Mata Jijabai Bhonsale Park / Byculla Mumbai