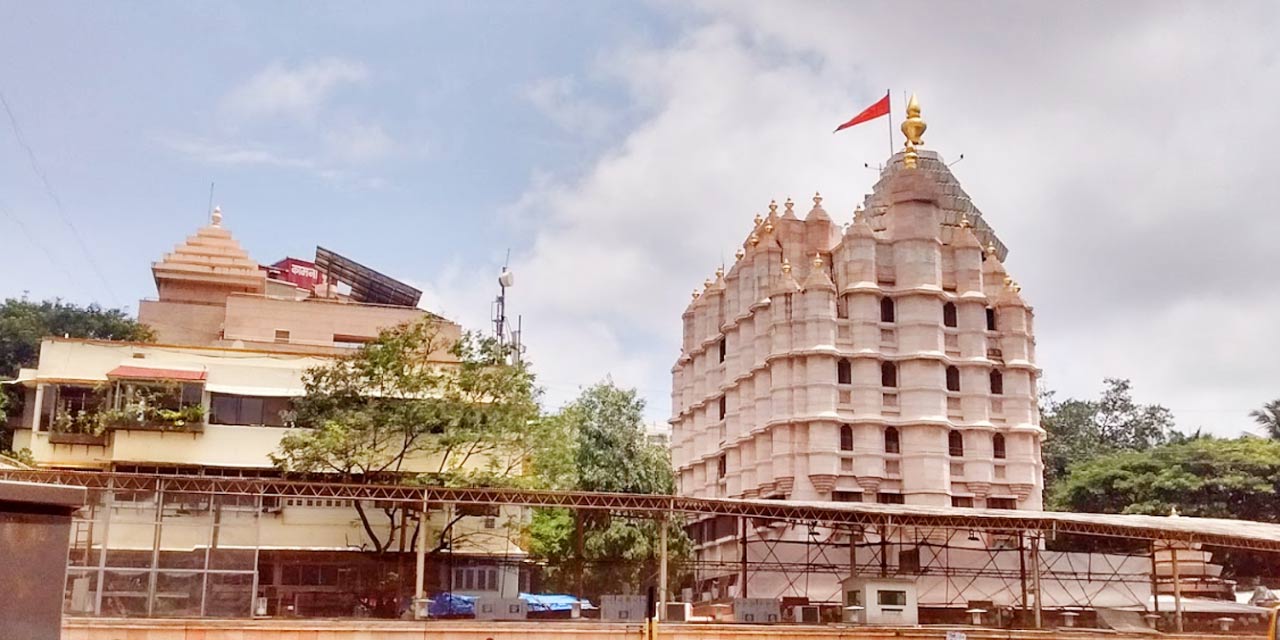 Shree Siddhivinayak Temple Mumbai Entry Fee
---
Shree Siddhivinayak Temple Mumbai Phone
Shree Siddhivinayak Temple Mumbai Timings
| Day | Timing |
| --- | --- |
| Monday | 5:30 am – 9:50 pm |
| Tuesday | 3:15 am – 12:30 am |
| Wedesday | 5:30 am – 9:50 pm |
| Thursday | 5:30 am – 9:50 pm |
| Friday | 5:30 am – 9:50 pm |
| Saturday | 5:30 am – 9:50 pm |
| Sunday | 5:30 am – 9:50 pm |
Rating:

| 4/5 stars
Based on total 65 reviews
Shree Siddhivinayak Temple Mumbai Address: S.K.Bole Marg, Prabhadevi, Prabhadevi, Mumbai, Maharashtra, 400028, India
---
One of the most famous Hindu shrines in Mumbai, Siddhivinayak Temple is where the deity of Ganesha is worshipped. Originally built in 1801, the present-day building complex is a result of the renovations which were completed in 1993. While this temple gains most of its popularity from the vast amount of gold which covers the throne of the idol, there are several other facets of this building that attract visitors.
On some days, there are as many as two lakh people queuing up to get a glimpse of the stone sculpture of Ganapati. Don't be surprised if you spot celebrities going into the temple to give their offerings! (The Siddhivinayak Temple is a popular haunt for Bollywood actors seeking to be blessed before taking on a new project.) Even though this house of worship is more than two hundred years old, renovations and active management have kept the premise gleaming.
Mumbai Tourism, a division of Holidays DNA offer all-inclusive Mumbai tour packages at pocket-friendly prices to visit the most popular tourist places in Mumbai.
Siddhivinayak Temple Timings, Aarti Schedule & Entry Fee
The Siddhivinayak Temple is open on all days. Entry begins at 5:30 AM on all days except Tuesdays and special days such as Vinayaki Chaturthi, Sankashti Chaturthi, Maghi Shree Ganesh Jayanti and Bhadrapad shree Ganesh Chaturthi. The temple closes after the last aarti of the day at 9:50 PM from Wednesday to Monday. On Tuesdays, the doors to the temple open early at 3:15 AM and close after midnight.
Entry to the Siddhivinayak Temple is free for regular visitors. However, if you wish to skip the long queues that are a common site on Tuesdays, weekends and bank holidays, you can pay INR 50 to stand in a special queue for "paid darshan". If you opt for this, your waiting time is cut down from several hours to 20 - 45 minutes.
Foreigners and NRIs can pre-book their darshan at http://www.siddhivinayak.org/bookyourdarshan.asp for a seamless experience and some gifts (a "vastra" which is thought to become holy after it is draped on the Ganesha idol at this temple, a photo frame and laddoos which form the prasad) at the end of the visit.
There are separate entry gates to the shrine, depending on whether you wish to enter the inner sanctum (the gabhara) or exit with a quick view of the deity from afar. Differently abled devotees, mothers carrying infants and senior citizens have a smaller queue inside.
Cameras are not permitted inside the temple, nor are laptops. If you happen to carry either of these with you, you can book a security locker at the premise for only INR 10 for cameras and INR 50 for laptops. You can carry your mobile phone with you, but ensure you keep it on silent and do not take pictures.
Shoes must be removed before entering the shrine. There are deposit stands for footwear where you can collect a token against your shoe. This is a free service, but some visitors choose to donate a nominal amount of INR 5 or INR 10 to the temple servants. The Siddhivinayak Temple is under CCTV surveillance and large screens display the footage, so security is taken care of.
Image Gallery of Shree Siddhivinayak Temple Mumbai
Who is Siddhivinayak?
The Siddhivinayak Temple is dedicated to the deity of Siddhivinayak. This is one of the many names of the commonly known Hindu god – Ganesha or Ganapati. 'Siddhivinayak' literally means 'lord over obstacles'.
The idol of Ganesha is distinctly identifiable by its elephant head over a human body. He is known to have four hands. He holds a small axe in his upper right hand, a lotus in his upper left one, blesses with his lower right hand and holds modaks (a type of Indian sweet) in his lower left one. Also easily recognizable is Ganapati's large belly which marks him as a voracious eater.
There is an interesting story behind the elephant-head of Siddhivinayak. According to Hindu mythology, Ganesha was once obeying his mother Parvati's command of guarding her house as she took a bath. Meanwhile, her husband Shiva tried to force his way in. However, Ganesha fought against his father who chopped off his human head in the process.
When Parvati discovered this, she was angered and ordered Shiva to fetch the head of the first animal he found on his way out. It so happened that Shiva found an elephant, whose head he brought back for Ganesha to have as a replacement.
Lord Ganesha has an annual festival dedicated to him – Ganesh Chaturthi. This is celebrated for a period ranging from 1 day to 11 days, usually in the month of August or September. Worshippers usually bring in Ganesha idols into their homes and invite their friends and family to look at the decorated sculpture.
A typical sweet called 'modak' is made and distributed to everyone during all the days of Ganesh Chaturthi. At the end of the festivities, the idols are submerged in water bodies as devotees pray for the deity to return next year.
History Behind the Siddhivinayak Temple
This temple was first established in 1801 at the behest of a wealthy lady named Deubai Patil, and consecrated for worship on the 19th of November that year. The structure was significantly smaller than the one which stands in its place today. The idol, however, is the same monolithic statue carved from a black stone. Although today, it is painted in a bright shade of orange, with gold plating some of its elements.
The Siddhivinayak Temple received a vast transformation after the Government of Maharashtra decided to renovate it in 1990 and regulate the flow of tourists to ease congestion. The refurbishment works were completed in 1993.
Architecture of Siddhivinayak Temple
Siddhivinayak Temple is a 6-storey building with a dome at its apex. This prominent dome is plated with gold and adds to the attraction of the temple. The edifice is mainly built of marble and pink granite while the multiple domes in the premise are made of either gold or a combination of five metals.
There are three entrances to the inner shrine on the ground level. It is this floor that visitors throng for pooja and darshan. The idol of Ganesha sits in the inner sanctum on an opulent throne of gold. He is flanked on either side by the idols of Hindu goddesses Riddhi and Siddhi.
The second floor is home to the kitchen where food is prepared to be offered to the idol. There are also some administrative offices on this floor. The third floor is the main office and the computer room. The fourth floor is a library and study hall with a collection of more than 8000 books on various genres. Access to this hall and all the books is free for all.
The fifth floor is another kitchen – a larger one for cooking food during the festivals and special fire offerings. The sixth (and also the top) floor of the temple is the group of 47 gold-plated crowns which make up the roof.
Things to do at Siddhivinayak Temple
There are a lot of activities to keep you occupied at the Siddhivinayak Temple, whether you are a devotee of Lord Ganesha or not:
Marvel at the intricate architecture of the temple exterior, especially if you are waiting in a queue.
Indulge in some people-watching as you wait your turn to enter the shrine. You will find worshippers, tourists, students and even celebrities who hope to receive some blessing or have their problems solved by Lord Ganesha.
You can buy some sweets or fruits from the sellers inside, which can later be eaten as prasad.
Observe the elaborate decoration of the golden throne of the central idol and study the features of Lord Ganesha and Goddesses Riddhi and Siddhi.
Look at the giant statue of a mouse who is believed to be the mythological vehicle of Ganesha. A lot of devotees whisper their wishes into its ear, anticipating those to be granted.
Experience the rush as crowds gather to watch the priests perform the ritualistic aarti every few hours.
Head up to the fourth floor to the free library that houses books not only on mythology and religion but also economics and engineering, among several other genres.
Interesting Facts About Siddhivinayak Temple
Here's some trivia about the temple that will awe you:
The Ganesha idol is only 2 feet wide and 2 feet 6 inches tall, even though the temple is 6-floors high.
This is a rare Ganesha which has its trunk on the right, unlike most other idols which have the trunk to the left.
The pinnacle of the temple weighs 1500 kg.
The present-day temple cost 3 crore rupees to be built.
The library inside the temple can accommodate a maximum of 500 students, although the general seating capacity is 150.
If you can't physically visit the temple, you can do an online darshan through the live telecast on their official website.
There is also a Hanuman temple near this Ganesha temple.
Things to Keep in Mind While Visiting Siddhivinayak Temple
To ensure you have a smooth visit, don't forget the following:
Dress conservatively. You are not required to cover your head, but avoid excessively revealing clothing.
If you have opted for the special darshan package, meant only for NRIs and foreigners, remember to carry a proof that establishes your status as a foreign national or a foreign resident.
There are free and paid toilets in the premise, but if you are in a long queue, plan your bio-breaks carefully.
There are guards manning the entire walk from the entrances to the main idol to the exit gate. They regulate the flow of visitors to avoid excessive crowding at a place. Make sure you do not stop too long in front of the main idol, especially on Tuesdays and holidays.
Wheelchairs are available upon request for the physically challenged or elderly people facing difficulty in walking.
Places to Visit Near Siddhivinayak Temple
After you are done exploring the Siddhivinayak Temple, you can make your way to a number of sightseeing spots nearby:
1. Worli Sea Face: Spanning approximately 3.5 km, this stretch of paved walkway is great for a walk in the mornings and evenings, with the sea breeze blowing in your hair. There is also a public garden on the other side of the road with a water tank at its centre.
2. Worli Fort: If you are a history buff and enjoy exploring ruins, take a walk inside this British Fort which stands on the Worli Hill. Only a fraction of the original construction stands today, but it is still a place that will enchant you.
3. Prabhadevi Beach: With gorgeous views of the Arabian Sea and an unobstructed view of the Bandra-Worli Sea Link, Prabhadevi Beach is a great place to watch the sunset. You may not find food stalls like you normally would at most other Mumbai beaches, but that only means you will avoid unnecessary crowds.
4. Ravindra Natya Mandir: This famous performing arts theatre stages various theatrical performances, plays and classical music concerts. If you plan ahead and get yourself a ticket, you can enjoy a cultural show on your visit here.
5. Sewri Fort: This 17th century watchtower was built by the British to keep an eye on the Bombay harbour. Since this heritage site is not manned, you can enter it at any time. From the upper parts of this fort, you can look at the mangroves in the vicinity.
6. Portuguese Church: One of the oldest churches in Mumbai, this house of worship is also called 'The Church of Our Lady of Salvation'. If you are on a religious tour, you can include this stop on your itinerary.
How to Reach Siddhivinayak Temple
The central location of Siddhivinayak Temple in Prabhadevi makes it convenient to reach via different modes of transport:
Local Trains: If you are travelling on the Central Line, you can get off at Dadar or Parel and then hail a taxi. On the Western Line, Prabhadevi or Lower Parel are the nearest railway stations. For those arriving on the Harbour Line, change into Central Line at Kurla. All the local train stations are 1.5 km to 3.5 km away from the temple.
City Buses: The closest bus stops for the State-run BEST buses are Shri Siddhivinayak Mandir and Ravindra Natya Mandir. Both the bus stops are at a walking distance from the temple and buses ply every few minutes.
Private Transport: For a comfortable ride, you can hire a private cab (kaali-peeli or black-and-yellow taxi) or a radio taxi run by Uber, Ola, Meru, etc. Parking is scarce near the temple, and cars are often towed, so avoid driving by yourself.
You can also book a private cab from the list of top car rental companies in Mumbai to make your visit to Mumbai a memorable one. To know more about the various package details, kindly reach us by filling our Contact Us form.
Reference Links
Official website: http://www.siddhivinayak.org
For detailed timings, daily schedule of the different types of aarti, and timetable for the special days, refer http://www.siddhivinayak.org/daily_aarti.asp.
For more details on darshan arrangements, visit http://www.siddhivinayak.org/darshanarrangements.asp.
Location Map for Shree Siddhivinayak Temple Mumbai