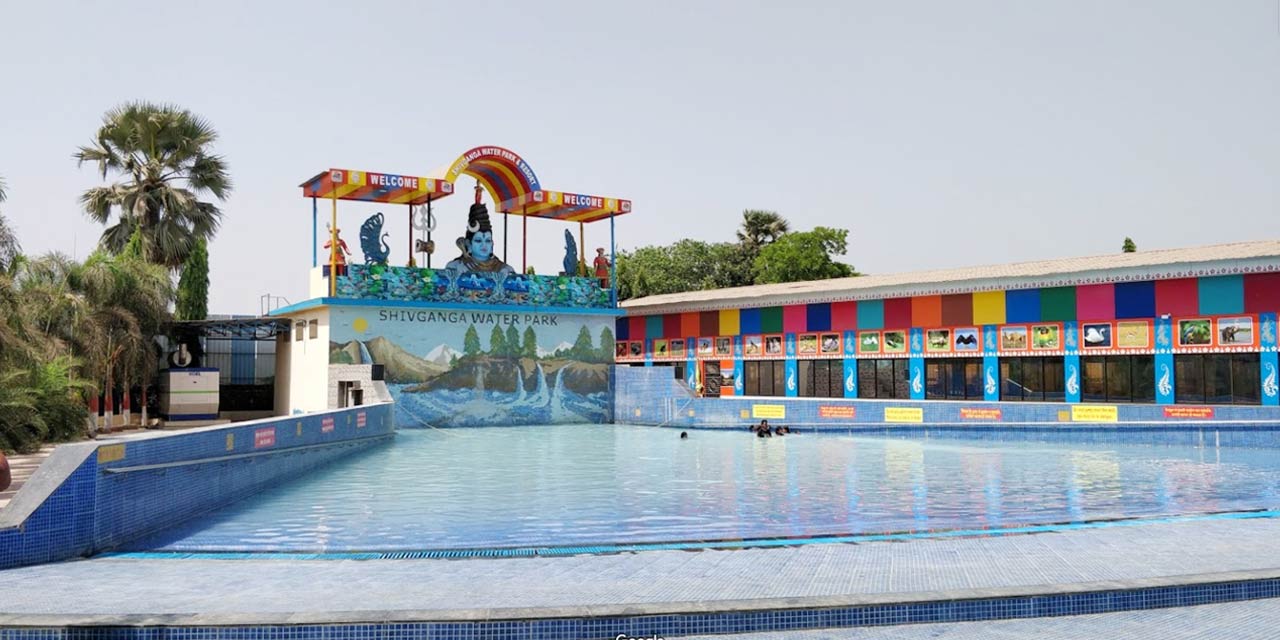 Shivganga Water Park Mumbai Entry Fee
1180 (1000+18%GST) per person for Adults
1062 (900+18%GST) per person for Child



For School

400 for Pre- Primary
475 for Std 1st To 10th
650 for Extra Teachers
---
Shivganga Water Park Mumbai Phone
Shivganga Water Park Mumbai Timings
| Day | Timing |
| --- | --- |
| Monday | 9:00 am – 6:00 pm |
| Tuesday | 9:00 am – 6:00 pm |
| Wedesday | 9:00 am – 6:00 pm |
| Thursday | 9:00 am – 6:00 pm |
| Friday | 9:00 am – 6:00 pm |
| Saturday | 9:00 am – 6:00 pm |
| Sunday | 9:00 am – 6:00 pm |
Rating:

| 4/5 stars
Based on total 60 reviews
Shivganga Water Park Mumbai Address: Shiv Mandir, Somatne, Panvel, Mumbai, Maharashtra, 421310, India
---
Shivganga Water Park and Resort is a family-friendly water park in the suburbs of Mumbai. It has various entertaining water activities like tube slides, family slides and rain dance among others. The water park also has a wave pool, indoor arcade games and some video games among other activities.
The park has a kids' play area too, with mini-train, horse ride and other rides.
Within Shiv Ganga Water Park Mumbai, you'll even find a beautiful garden, where you can spend your leisure time. The water park also has a canteen, which provides a variety of meals.
And if you want to stay for some time away from Mumbai, you can book rooms at Shivganga Waterpark and Resort.
Where is Shiv Ganga Water Park?
Shiv Ganga Water Park is in Somatane, Panvel. It is 45 km away from Mumbai city centre and offers a fun-filled day to all age groups. Children like this waterpark the most, and you're welcome here to be a kid again.
Enjoy all the water activities, relish the dishes prepared for you, and go for a leisurely walk in the garden. Whether you want to sit and enjoy the moment or click selfies with your loved ones, it's up to you to decide.
Things to do at Shivganga Water Park
1. Enjoying the water rides – The Shivganga Waterpark Panvel has many common water rides like Tube Slide, Mat Slide and Funnel Shape where you can enjoy. The park also has wide family slides where you can slide into the pool with everyone.
2. Relaxing in the swimming pool – If you're in the mood of relaxing instead of going for fun and adventure, you can settle yourself in a pool. The water park has a bunch of pools, including a wave pool where the entire family can spend some memorable moments.
3. Rain dancing – The park also provides facilities for a lively rain dance. Feel the music and let your body loose with the rhythm.
4. Having fun at the amusement rides – Shiv Ganga Water Park has a dedicated play area with various kid-friendly rides. Your tiny tots can enjoy an exciting ride on the mini-train – Shiv Ganga Express. The park also has rides like Helicopter ride, Horse ride and Swing Chair among others. Kids can click photos with the animal statues too.
5. Taking a stroll around – While kids are having their time, you can check out the different indoor games available within the water park. You can also go for a video game session with your friends or a walk in the garden. The water park is set up amongst the green surroundings of Panvel, and the garden boasts of beautiful scenery too.
6. Checking out the food – The canteen in Shiv Ganga Amusement and Water Park Panvel provides fresh food. Here, you can go for the unlimited buffet breakfast and buffet lunch during your visit. The canteen also provides tea and snacks in the evening.
Shiv Ganga Water Park Entry Fees and Timings
Entry to Shivganga Water Park Panvel costs you ₹1180 for adults ₹1062 for kids. The ticket gets you access to the water park, kids' rides and other indoor games in the park. And you also get to taste the meals provided in the canteen.
School groups, however, can get discounted entry to Shivganga Water Park. Pre-primary kids are charged ₹400 per person, and the kids in Std 1st-10th have to pay ₹475 for entry. Teachers with the school group are charged ₹650.
The waterpark remains open every day of the week, from 9 AM to 6 PM.
Image Gallery of Shivganga Water Park Mumbai
Best Time to visit Shivganga Water Park
Shivganga Water Park is open throughout the year. And you can visit it on any day or during any season you want.
However, also note that Mumbai is a hot and humid place. And you might not enjoy all the activities comfortably when the sun is shining brightly. So, visit this water park in winter, between November and February. During winter, the temperature is lower than the rest of the year, and you'll be able to explore the place with more enthusiasm.
Also, remember Shivganga Water Park can be crowded during weekends or on holidays. So, try scheduling your visit during the weekdays and check out the entertainment and adventure it offers.
Time to explore Shivganga Water Park
This water park provides enjoyment, food and relaxation from the hectic schedule. And you can spend anywhere between 1-2 hours here, as per your preference. But to plan a visit, consider the time to commute too. This place is set up on the outskirts of Mumbai.
Things to keep in mind while visiting Shivganga Water Park
Carry your hat and sunglasses.
Apply waterproof sunscreen.
Stay out of the water if you have water-borne allergies.
Senior citizens or people with health problems should avoid the slides.
A group of only males isn't allowed.
How to reach Shiv Ganga Water Park Mumbai?
Shivganga Water Park is in Somatane, Panvel, about 45 km away from Mumbai. You can get a bus or train to reach Panvel, and from there, you will get autos or taxis for the water park. The distance from Panvel station to Shivganga Water Park is about 8 km.
But a better and more comfortable way would be hiring a car from top car rental companies in Mumbai to Shivganga Water Park in Panvel. Then, you can enjoy your time at the park and return to Mumbai, whenever you prefer.
And now, here are the different ways to go to Mumbai –
By Road – Mumbai has strong road connectivity with all parts of the country. Public and private buses run from cities and towns around like Pune, Aurangabad and others. Long-distance buses from Ahmedabad, Bangalore and Panaji are also available. And you can hire a cab too. The Mumbai Central Bus Depot is about 60 km away from Shivganga Water Park Panvel.
By Rail – Mumbai is a prominent tourist destination in India. Many express trains connect it to the rest of the country. Chhatrapati Shivaji Maharaj Terminus and Mumbai Central are the major railway stations. And both are about 60 km away from the water park.
By Air – Chhatrapati Shivaji International Airport is about 50 km away from Shivganga Water Park. It connects Mumbai to locations all around the globe. You will get flights from many countries, including those in Europe, the middle-east or South-east Asia. And flights from Indian cities also arrive here.
---
Looking for a fun-filled vacation with your family or friends without worrying about all the planning, accommodation and vehicle needs. Mumbai Tourism, a division of Holidays DNA is your go to place for all your holiday needs. We offer all-inclusive Mumbai tour packages at affordable prices which includes a visit to top tourist places of Mumbai. What else do you need? Reach us out by filling the Contact Us form and we will get back to you.
Location Map for Shivganga Water Park Mumbai