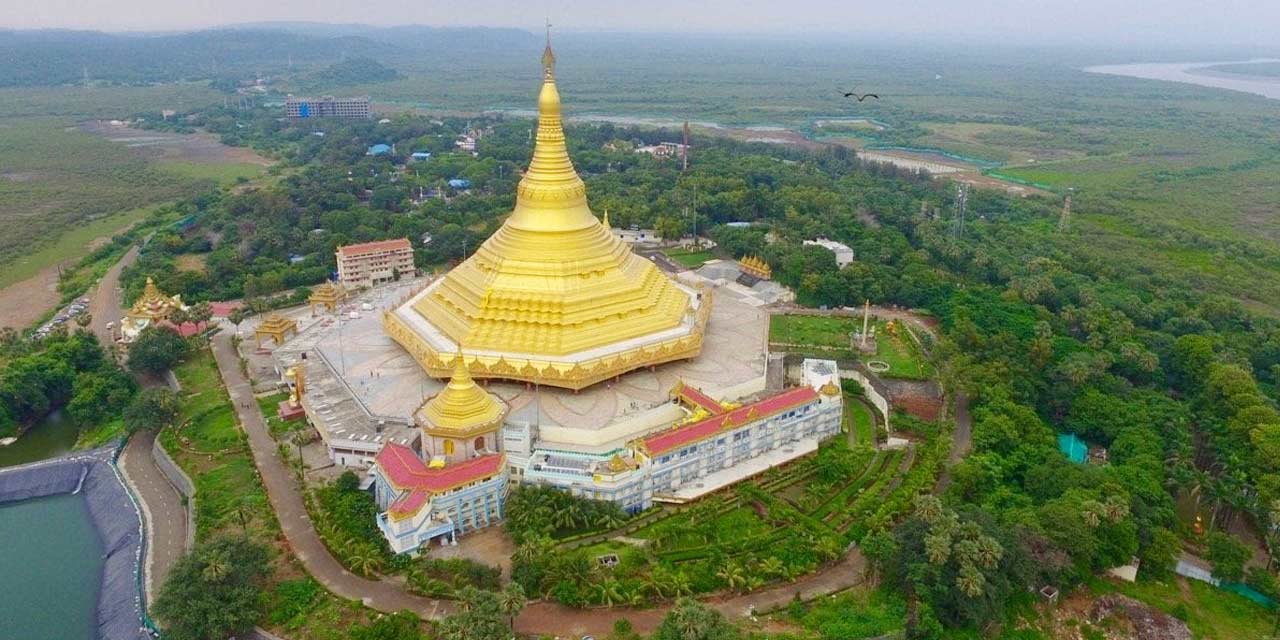 Global Vipassana Pagoda Mumbai Entry Fee
---
Global Vipassana Pagoda Mumbai Phone
N/A
Global Vipassana Pagoda Mumbai Timings
| Day | Timing |
| --- | --- |
| Monday | 9:00 am – 7:00 pm |
| Tuesday | 9:00 am – 7:00 pm |
| Wedesday | 9:00 am – 7:00 pm |
| Thursday | 9:00 am – 7:00 pm |
| Friday | 9:00 am – 7:00 pm |
| Saturday | 9:00 am – 7:00 pm |
| Sunday | 9:00 am – 7:00 pm |
Note: Global Vipassana Pagoda Mumbai Entry timing will be till 6.30 pm only.
Rating:

| 4/5 stars
Based on total 47 reviews
Global Vipassana Pagoda Mumbai Address: Near Essel World | Next to Esselworld, Gorai Village, Maharashtra, 400091, India
---
What is Global Vipassana Pagoda?
It is a meditation dome in the outskirts of Mumbai, which is built as a tribute to Sayagyi U Ba Khin, a Vipassana teacher from Myanmar.
Situated among the green and peaceful environment of Gorai Island, Global Vipassana Meditation Pagoda Mumbai is one of the Seven Wonders of Maharashtra. It is also one of the must-visit tourist spots in Mumbai.
The dome resembles the Shwedagon Pagoda of Myanmar. It is the world's largest stone dome standing without any supporting pillars and here, 8000 people can meditate at a time. Global Vipassana Pagoda follows the values of Gautam Buddha and spreads his teachings.
The monks here practice meditation and relaxation as taught by Vipassana guruji Shree S N Goenka. And they have devoted their entire life to this purpose.
The pagoda also organizes regular Vipassana meditation courses.
Apart from the large main dome, Global Vipassana Pagoda complex has two smaller domes, namely North Pagoda and South Pagoda. Then, there is a seated Buddha statue, carved out of a single marble rock.
The Gong Tower and the Bell Tower are the other significant structures that contribute to the beauty of Global Vipassana Pagoda.
History of Global Vipassana Pagoda
Shree S N Goenka, a renowned Vipassana meditation teacher, proposed the idea of the Global Vipassana Pagoda in Mumbai to spread awareness about Dhamma – the teachings of Buddha. The idea was to instil those true teachings in people's minds and improve their way of living.
He felt it was necessary for restoring peace and harmony in the world.
The planning began in 1997, but the construction of this Global Pagoda Vipassana centre started only in 2000. And the first of the three domes, which is also the largest one, was completed in 2006. The bone relics of Gautam Buddha have been kept here since then.
The construction of the two smaller domes was completed by 2008, and this Global Pagoda temple was opened for visitors and devotees in 2009.
Shree Goenka believed that the pagoda will be helpful in spreading the meanings of Dhamma, while also making people aware of Vipassana meditation technique. He received Padma Bhushan award for his works later, in 2012.
Architecture of Global Vipassana Pagoda
Global Vipassana Pagoda dome is about 29 metres high. The inside of the pagoda is hollow, and it acts as a meditation hall, where 8000 people can sit and practice Vipassana meditation, as taught by Shree S N Goenka. Building's overall height is 96.12 meters.
Global Vipassana Pagoda construction is spread over 13 acres and it is a mix of Buddhist architecture and Burmese designs. The shape of the pagoda resembles that of Shwedagon Pagoda in Myanmar, and it's coloured in a similar gold coloured paint. The spire is covered with real gold, donated by the Burmese. And the top is adorned with a large crystal.
The foundation of Global Pagoda is of basalt. The dome is made with sandstone blocks and each block weighs around 600-700 kgs, secured in place with interlocking bricks.
Apart from the impressive Global Vipassana Pagoda architecture, the designs on the wooden entrance doors will catch your eyes too. They were hand-carved in Myanmar.
Things to do at Global Vipassana Pagoda
1. Meditating in the complex – The main dome in the Global Pagoda complex serves as a meditation hall. However, only those who have signed up for a course can enter it. If you want to experience meditation during your Global Vipassana Pagoda tour, you can take up the 20-minutes Aanapana sessions in the North Pagoda.
2. Taking Vipassana courses – You can sign up for the 10-day Vipassana meditation course at Dhamma Pattana, free of cost. Comfortable accommodation is available within the centre. Advanced courses are available for those who want to practice Vipassana for longer durations. Also, old students have the option to take up Global Pagoda one day course to stay updated with the technique. The South Pagoda, next to Dhamma Pattana Vipassana centre, has individual cells to help you practice meditation without distractions.
3. Admiring the architecture – The pillarless structure of the large hollow dome leaves many art enthusiasts and photographers awestruck. And equally magnificent is the Myanmar Gate. The intricate Burmese designs are inspired from the gates of Shwedagon Pagoda in Myanmar, and they look spectacular. This entrance arch stands on twelve pillars and has seven tiers from the roof of the arch to the top. You will also see lions on both sides of the gate. Then there is Gate 1, which is one of the largest sliding doors. It is carved in teak wood from Myanmar.
4. Checking out the Buddha statue – Global Vipassana Pagoda Mumbai also has a Buddha statue in its complex. The 21.5 feet high statue shows Gautam Buddha in a meditative posture. It is carved from a single block of marble. At the front, there are depictions of four stages from the life of Buddha – Birth, Enlightenment, Setting the Dhamma Wheel in motion and Death.
5. Learning about Gautam Buddha and Vipassana – The pagoda serves as a prominent centre for spreading the teachings of Buddha and information about Vipassana. Apart from the regular classes, the campus has a library and a museum to offer in-depth information on-demand. The Global Vipassana Pagoda art gallery, too, has pictures and paintings depicting various stories.
6. Exploring other structures in the complex – The campus has a few other places of interest alongside the meditation domes and the Vipassana centre. The Bell Tower is decorated in traditional Burmese style and has a huge bell. Then, there is the Gong Tower, constructed in a similar style, but with a large circular gong instead. Next, you will see a small waterfall, a fountain surrounded by the water deities and a 52.4 feet high replica of the Ashoka Pillar of Sarnath.
7. Having lunch at the food court – The mini food court on the campus serves hygienic vegetarian food and refreshments to the visitors. You can also enjoy tea, coffee and other beverages there.
8. Buying souvenirs at the shop – Visit the souvenir shop within the complex to buy memorabilia and get more info about Global Vipassana Pagoda. You will find a variety of books, CDs and photographs. The shop also has key chains, t-shirts, caps and other souvenirs for you to take back home.
Image Gallery of Global Vipassana Pagoda Mumbai
Global Vipassana Pagoda Mumbai Timings and Entry Fee
Global Vipassana Pagoda visiting time is between 9 AM and 7 PM, and the place is open to visitors every day. However, remember that no new visitors are admitted after 6.30 PM. The entry fee for the pagoda is nil, but you're free to donate whatever sum you want.
You can avail the tour guides at Global Vipassana Pagoda for free, too.
Best Time to Visit Global Vipassana Pagoda
Although Global Pagoda is open throughout the year, it would be best to visit it during the winter months – from November to February. The temperature is pleasant enough for you to comfortably explore the premises. You can also visit Global Vipassana Pagoda in between July and September, when the monsoon season is on and the temperature is low. But intermittent rains can disrupt your plans.
Also, try to visit it during the morning hours or the evening hours. The heat during the day can discomfort many.
Time to Explore Global Vipassana Pagoda
For a memorable experience at Global Vipassana Pagoda Mumbai, you'll need around 2-3 hours. Not only the meditation domes, but the entire complex is a work of art, which needs to be explored and admired.
When you feel tired, you can rest and recharge yourself in the park or near the waterfall. And if you get hungry, you can get a delicious vegetarian meal at the food court within the complex.
Things to keep in mind while visiting Global Vipassana Pagoda
Only Vipassana meditators may enter the main dome and meditate.
Be seated for the entire duration when you're taking the Aanapana sessions.
Listen to the instructions carefully and follow them.
Remain silent during meditation; don't chant.
Switch off your mobiles or keep them on Silent mode.
Global Vipassana Pagoda doesn't have any dress code; but dress respectably.
Consumption of alcohol and tobacco in any form is prohibited.
Carry your ID proof.
Interesting Facts about Global Vipassana Pagoda
Global Vipassana Pagoda spreads awareness about the non-sectarian Vipassana meditation technique, which was popularised by Shree S N Goenka.
Shree Goenka attended the inaugural one-day meditation course on December 21, 2008, as a teacher.
The technique is taught and practiced in over 160 centres spread across 60+ countries.
The bone relics of Gautam Buddha were enshrined in the dome on October 29, 2006.
The relics were originally found in Guntur (Andhra Pradesh), a place in the Southern part of India.
Mahabodhi Society of India and the Prime Minister of Sri Lanka donated the relics to the Global Vipassana Pagoda.
How to Reach Global Vipassana Pagoda?
You can reach Global Vipassana Pagoda at Gorai Beach Mumbai with the help of ferries and also by road transport or railway. Mumbai has an extensive network of local trains to connect the entire city. And the nearest railway station to Global Vipassana Pagoda is Borivali.
Once you get off the train, you can board a bus or hail a taxi/auto for Gorai creek. From there, you can take a ferry to Global Vipassana Pagoda. The Essel World jetty is the nearest to the pagoda, so board a ferry which takes you there. Frequent ferries from Marve to Essel World jetty too are available.
If you don't want to go by a ferry, you have the option to go to Global Vipassana Pagoda by road. You can hire a cab from top car rental companies in Mumbai through the Western Express Highway, via Mira-Bhayander road. The route, though, is longer and it would consume more time.
By Road – Mumbai is connected to major cities of India through national highways. And daily buses run between Mumbai and the nearby cities like Pune, Aurangabad and Nagpur. Luxury coaches from other destinations are also available. Most buses arrive at Mumbai Central Bus Depot, which is about 60 km away.
By Rail – Being a business hub of India, Mumbai has regular trains from all the corners of India. Most of the trains stop either at Chhatrapati Shivaji Maharaj Terminus or Mumbai Central, which are at a distance of about 60 km from Global Pagoda. Some long-distance trains also stop at the suburban railway stations of Mumbai.
By Air – Chhatrapati Shivaji International Airport is about 40 km away from Global Vipassana Pagoda. And it connects Mumbai to the world. Flights from major cities of India and around the world are available.
---
Mumbai offers many fun and exciting tourist attractions and Mumbai Tourism, a division of Holidays DNA is more than happy to plan your tour just the way you want. We offer Mumbai Tour packages to make sure you experience everything that Mumbai offers in the best possible manner. Fill the Contact Us for further details.
Location Map for Global Vipassana Pagoda Mumbai