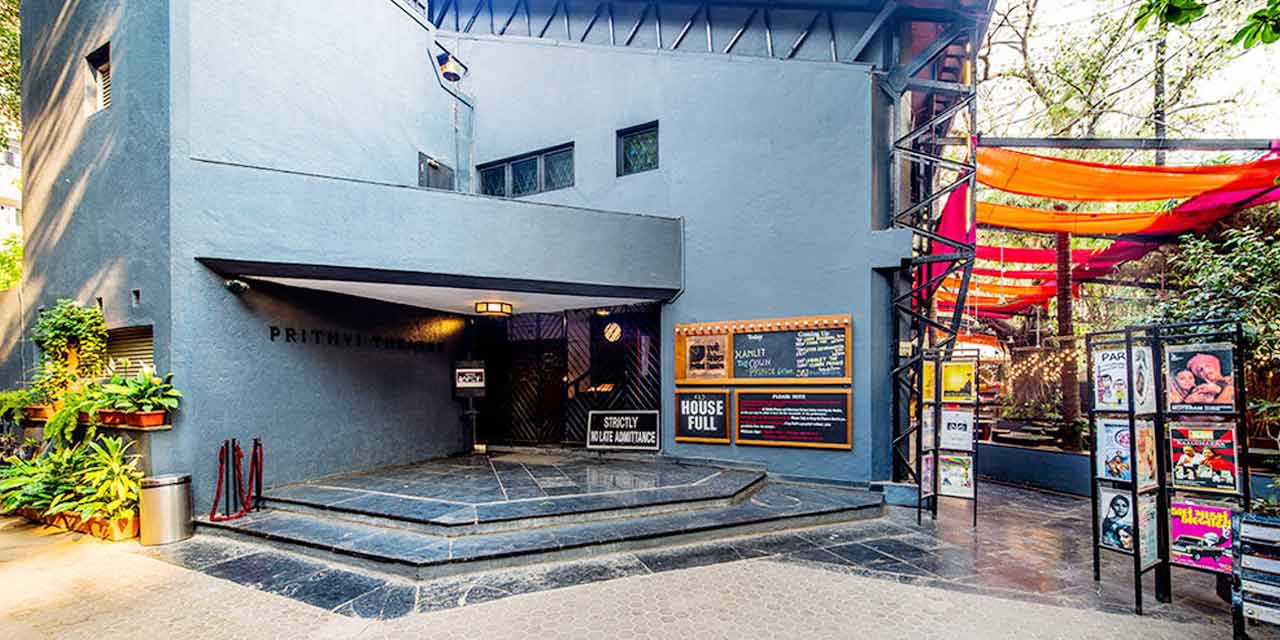 Prithvi Theatre Mumbai Entry Fee
---
Prithvi Theatre Mumbai Phone
Prithvi Theatre Mumbai Timings
| Day | Timing |
| --- | --- |
| Monday | Closed / Holiday |
| Tuesday | 1:00 pm – 9:00 pm |
| Wedesday | 1:00 pm – 9:00 pm |
| Thursday | 1:00 pm – 9:00 pm |
| Friday | 1:00 pm – 9:00 pm |
| Saturday | 1:00 pm – 9:00 pm |
| Sunday | 1:00 pm – 9:00 pm |
Rating:

| 4/5 stars
Based on total 53 reviews
Prithvi Theatre Mumbai Address: 20, Juhu Church Road, Janki Kutir, Janki Kutir, Juhu, Mumbai, Maharashtra, 400049, India
---
Mumbai has been the melting pot of different artforms, and theatre is one among them, thereby making Prithvi Theatre an iconic destination that must be visited by everyone visiting Mumbai. The brainchild of yesteryear's superstar Prithviraj Kapoor, the Prithvi Theatre is run as a subsidiary of the Shri Prithviraj Kapoor Memorial Trust & Research Foundation which belongs to the famous Kapoor family of Bollywood.
The Prithvi Theatre is the best place for experiencing diversity of performing arts, extending formats from monologues to serious plays to sketch comedy to stand ups which encourages audiences with diverse tastes to attend the shows.
The permanent building of the theatre was built in 1978 by Prithviraj's youngest son, Shashi Kapoor, who himself was a well-known actor of Indian Cinema as well as a producer and his wife, Jennifer (Kendal) Kapoor, an English actress.
They built the theatre under the underlying philosophy of promoting and inspiring professionalism in theatre. There is an open-door policy followed by the theatre trust which allows anyone and everyone who loves the artform to step in and experience it and hence, there is no main gate in the theatre compound. The performing artists come in groups and are welcome to stay here for the entire duration of their scheduled performances.
While Shashi Kapoor was the Managing Trustee, Jennifer was the Trustee who managed running of the theatre until her death in 1984. After Jennifer's death, their son, Kunal Kapoor took up her role as the Trustee and has been managing everyday affairs with the help of a small team of his own till date.
Between 1993 and 2012, the theatre was managed and run by Sanjana Kapoor, daughter of Shashi and Jennifer Kapoor along with her brother Kunal Kapoor. She had been instrumental in bringing contemporary art into the picture and also has extended support to both upcoming artists and child artists by conducting theatre workshops namely, 'Prithvi Players' and 'Little Prithvi Players' (Theatre for Children) . Sanjana decided to quit Prithvi in 2012.
Apart from shows being held each day of the year except for Mondays, there are a few annual festivals and workshops held at the theatre which include the Summertime programme of workshops and plays for children from April through June, Memorial Concert on 28 February, the annual Theatre Festival in November, and other partnership programmes promoting language, poetry, international cinema & documentaries, as well as performing arts. All partnership programmes are free for people to attend.
History of Prithvi Theatre Mumbai
Though the permanent building of Prithvi Theatre was built by Shashi Kapoor in 1978, the origin of Prithvi Theatres goes back to 1944, when his father and Bollywood's then superstar Shri Prithviraj Kapoor established Prithvi Theatres and started performing plays in Hindustani (Hindi & Urdu). Prithviraj was said to have been at the peak of his acting career in Hindi Cinema at the time when he started performing in plays. The theatre was his dream to establish a successful space for Indian theatre.
The theatre company had been a travelling theatre since its inception. Prithviraj Kapoor had a crew of 150 members and travelled to 112 cities and towns all over India in the next few years and staged more than 2600 plays. The first ever play to be staged at Prithvi Theatres was 'Shakuntala', the classic tale written by Kalidasa.
The group performed in various cities, and the venues would include cheaper options like theatres and cinema halls. Prithviraj played the lead role in all plays. The venues at which they performed would be without electric fans hence, hand fans would be distributed among the audience. At the time, Prithviraj travelled third class along with his crew members even though he was a nominated Member of the Parliament (1952- 1960) and was entitled to either air travel or a first-class travel.
All plays that the company staged were based on spreading messages on social and national issues. Since the 1940s was a time when nationalist sentiments ran across the country due to the freedom from the Raj era fervor, theatre was seen as the perfect way to convey the right message across masses.
The second play of the theatre named 'Deewar' which was written by Prithviraj and Inder Raj Anand, a screenwriter, was screened at the Royal Opera House Bombay in 1945. The play was about two brothers up against each other due to a misunderstanding created by a third person depicting the situation of the country at that time due to the rumors of partition of India and Pakistan.
'Deewar' went on to become the most successful play of Prithvi Theatre that even Sardar Vallabh Bhai Patel, who was the Home Minister in the interim government, had come to watch the play. It is believed that Sardar Patel did not intend to watch the entire play but he was so impressed by the performances, he stayed back till the end of the show.
The years that followed after 'Deewar', the plays that were staged were 'Pathan' in 1947, 'Ghaddar' in 1948 and 'Ahooti' in 1949 and all turned out to be great successes. Both 'Ghaddar' and 'Ahooti' were based on the partition of India and Pakistan, and the Pakistan refugee situation in India after partition respectively.
Prithviraj stopped performing in plays due to his ill health, around 1960, that is 16 years after Prithvi theatre was started. Before retiring, he staged a couple of more amazing shows namely 'Kalaakar' in 1950 based on the destructive urban development against simple rural life, 'Paisa' in 1953 based on commercialization and 'Kisaan' in 1956 based on feudalism in rural India that was very much prevalent even after independence. He passed away in 1972.
Rebirth of Prithvi Theatre Mumbai
After the death of Prithviraj Kapoor, the traveling theatre group dismantled and ceased staging shows. It was his youngest son, Shashi Kapoor and Shashi's wife, Jennifer Kendal Kapoor, who went ahead with the plan to construct a theatre building. This was planned to be built on a land that Prithviraj had leased long before his death with the hope of owning a permanent theatre. The family eventually bought the land after his death and set up the 'Shri Prithviraj Kapoor Memorial Trust & Research Foundation' in his memory. The principle intention of Shashi and Jennifer was to promote Hindi theatre and performing arts.
The present theatre building was designed by architect Ved Segan, who travelled to Europe to study the architectural styles of theatres all across. The construction of Prithvi Theatre in Juhu was completed in 1978 and inaugurated on 5th November 1978.
The first play to be staged after the opening of theatre was a play named 'Udhwastha Dharamshala' written by G. P. Deshpande. The performing artists of the first play after the rebirth of Prithvi were Naseeruddin Shah, Benjamin Gilani and Om Puri.
Image Gallery of Prithvi Theatre Mumbai
Prithvi Cafe at Prithvi Theatre Mumbai
Right outside Prithvi theatre, within its compound, there is a small open-air cafeteria that is frequented by artists, performers, students and all art enthusiasts. The food here is average however, it is the people that visit the café which makes the place special.
Their Sulemani Chai is said to be among the favourites of Gulzar. The highly recommended food here is their Keema pav and one should most certainly give it a try. Apart from these, the mix parathas with kaali daal raita, chilli cheese toast and their hummus bowl are must try food items from their menu.
Prithvi Bookshop at Prithvi Theatre Mumbai
Apart from the theatre and café, the Prithvi bookshop has a unique collection of books, plays and other literature in Hindi, Urdu and English. All books here are significantly relevant to performing arts and everything related to theatre arts.
Pro-Tips
Visitors need to arrive early for the shows, at least around 15 minutes before the show starts, as the theatre has strict rules of providing admission to none once a show starts.
If a person goes out in the middle of a show, he/she is not allowed a re-entry.
Mobile phones have to be strictly switched off during the shows. Visitors are not even allowed to keep the phones on silent mode.
Entry Fees and Timings of Prithvi Theatre Mumbai
Timings:
Prithvi Theatre is open from 1:00 PM to 9:00 PM on all days of the week except on Mondays. The theatre remains closed on Mondays.
Entry Fee:
There isn't any entry fee except for the ticket prices for the plays. The cost of a play varies between INR 125- 400. One may book tickets online as well on the official website of Prithvi Theatre.
Places to visit near Prithvi Theatre Mumbai
Juhu Beach, Aksa Beach, Madh Island, Film City Mumbai, Chhota Kashmir, Sanjay Gandhi National Park, and Kanheri Caves are located nearby.
How to Reach Prithvi Theatre Mumbai
Due to its location in the suburb of Juhu, the theatre is pretty much easy to access from any part of the city via road, especially if one is travelling from the western suburbs. One may hire a cab from top car rental companies in Mumbai to reach here.
Nearest railway station to Prithvi theatre - If coming by train, Vile Parle station on the western line is the nearest railway station. One needs to come out from the west exit gate and hire an auto rickshaw or a taxi to reach the theatre.
Nearest Bus Stand or Bus Station – The nearest bus station is Juhu, a 7 minutes' walk to the theatre.
---
To make the best of your city tour we at Mumbai Tourism, a division of Holidays DNA offer Mumbai tour packages at pocket friendly prices. Book your tour with us and have a great time exploring all the must visit tourist attractions of Mumbai. To know more details about the various packages, please fill the Contact Us form and we will get back to you.
Location Map for Prithvi Theatre Mumbai