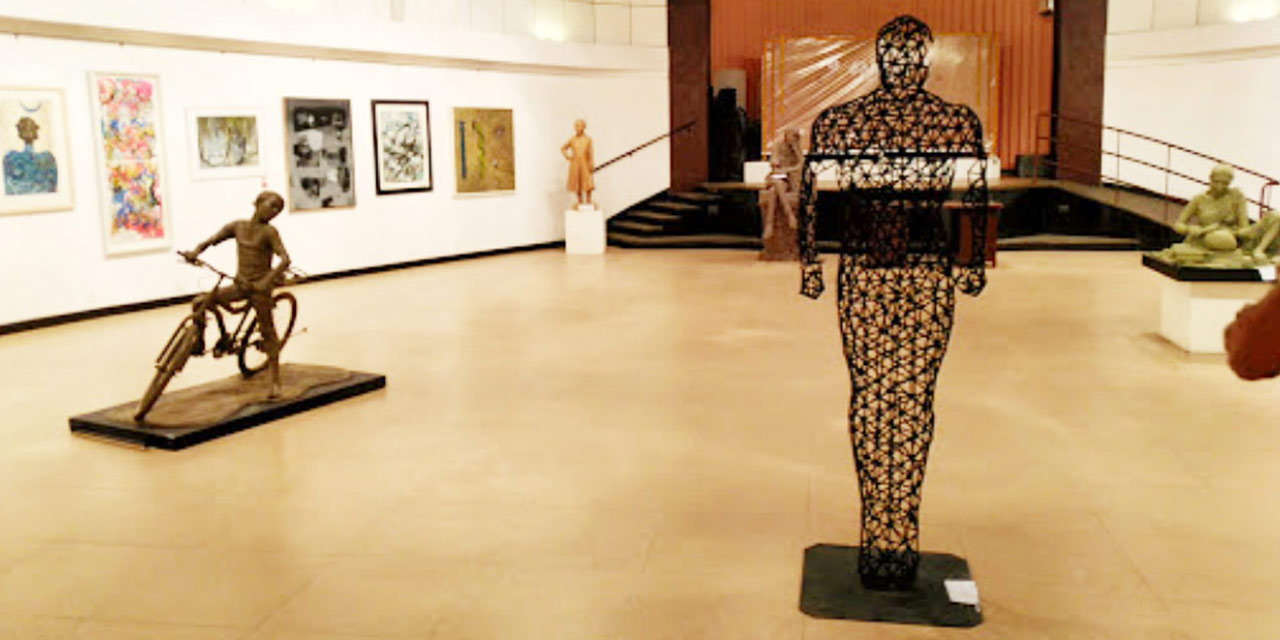 Jehangir Art Gallery Mumbai Entry Fee
---
Jehangir Art Gallery Mumbai Phone
Jehangir Art Gallery Mumbai Timings
| Day | Timing |
| --- | --- |
| Monday | 11:00 am – 7:00 pm |
| Tuesday | 11:00 am – 7:00 pm |
| Wedesday | 11:00 am – 7:00 pm |
| Thursday | 11:00 am – 7:00 pm |
| Friday | 11:00 am – 7:00 pm |
| Saturday | 11:00 am – 7:00 pm |
| Sunday | 11:00 am – 7:00 pm |
Rating:

| 4/5 stars
Based on total 48 reviews
Jehangir Art Gallery Mumbai Address: 161B, Mahatma Gandhi Road, Kala Ghoda, Kala Ghoda, Fort, Mumbai, Maharashtra, 400001, India
---
Jehangir Art Gallery in Mumbai is more than just an avenue for art exhibitions. It has been a prominent player in the evolution of contemporary Indian art and the development of the neighbourhood. Kala Ghoda, where the Jehangir Art Gallery is situated, is popular as the art district of Mumbai today. This area has several art galleries and designer boutiques in which you can see some of the finest arts in the city.
The gallery was established in 1952 with the help of donations from Sir Cowasji Jehangir. Since then, Jehangir Art Gallery has hosted countless exhibitions for painters, sculptors, photographers and others. The gallery also had the honour to exhibit the works of M. F. Husain and S.H. Raza.
Apart from exhibitions, Jehangir Art Gallery conducts workshops and various other art programmes. It's a must-visit place for aspiring artists, art connoisseurs and anyone who wants to contemplate the intricacies of the art world.
History of Jehangir Art Gallery
The contemporary art movement in Mumbai started with the inception of Bombay Art Society, back in 1888 and Sir Cowasji Jehangir had always been a supporter. He remained the first President of the Society for a long time.
Another appreciator of art during those times was Dr. Homi Bhabha, the renowned nuclear scientist. He, along with Walter Langhammer and the von Leyden brothers, pushed Sir Cowasji towards funding an art gallery. The purpose was to provide artists with a platform to exhibit their creations, while also hosting art-related activities.
B. G. Kher, the Chief Minister of Bombay laid the foundation stone on March 22, 1950, and then, inaugurated Jehangir Art Gallery on January 21, 1952.
Architecture of Jehangir Art Gallery
Plans to build Jehangir Art Gallery were laid by Durga Shankar Bajpai and G. M. Bhuta. It is a fusion of classical planning along with modern style. Use of diffused natural light, cantilevered portico, and a reinforced concrete structure that facilitated a column-free span was considered an architectural feat in those days.
Jehangir Art Gallery has an inward facing architecture. It is not open to the street, yet easily accessible. The Auditorium and the Exhibition Gallery has about 550 feet of hanging wall space. And the lighting and acoustics of the space has been so designed that the place can be used for concerts too.
Image Gallery of Jehangir Art Gallery Mumbai
Things to do at Jehangir Art Gallery
At Jehangir Art Gallery, you come to browse the displayed art pieces. Multiple exhibitions go on side by side in the four exhibition halls. The place has seven halls overall, spread across two floors. The Auditorium Hall, the Hirji Jehangir Gallery and the Terrace Art Gallery are the other three halls.
Jehangir Art Gallery has supported Indian art since eternity. Not only does it has space for veteran artists, but it also acts as a stage for budding artists. It hosts hundreds of shows every year including the annual Monsoon Art Show of emerging local artists.
Other than art exhibitions, you can also take a peek at Natesan's. It's the oldest antique dealer of India and has one of its branches in the basement of Jehangir Art Gallery. You can buy a range of antique items and artefacts including bronze arts, wood carvings and stone sculptures.
This art gallery complex also houses the cosy Samovar Café. It once witnessed the meetups of many renowned artists and their discussions over the famed mint tea and pakoda platter. This iconic cafe in Jehangir Art Gallery has been shut down though.
Jehangir Art Gallery Mumbai Entry Fee and Timings
You can marvel at Jehangir Art Gallery paintings from 11 AM to 7 PM every day. The place buzzes with artists and admirers of art. The entry fee of Jehangir Art Gallery is zero, and it is open to anyone who wants to pay a visit. You will find exhibitions running throughout the year.
But do check with the office if you want to plan your tour during some selected events at Jehangir Art Gallery.
Best time to visit Jehangir Art Gallery
The art gallery is open throughout the year and you can visit it anytime you want. The summer months in Mumbai, however, are unbearable. So, you can skip the visit during those days. The winter months from November to February and the monsoon season from July to September is the best time to visit Jehangir Art Gallery.
The place also hosts the 9-day long Kala Ghoda Arts Festival in February. During those days, the area turns into a wonderland. From delightful musical performances to spectacular dance shows, book launches and handicrafts, this colourful festival has everything that an art lover craves for.
Time to explore Jehangir Art Gallery
Normally, it will take you 1-2 hours to browse the showcased artworks.
But if you have time to spare, you can spend a full day looking at the art exhibits within the gallery and at the terrace. Interacting with artists, exploring the history of Jehangir Art Gallery and checking out the artefacts at Natesan's will keep you occupied for hours. You can even meet many local artists outside Jehangir Art Gallery.
Places to visit near Jehangir Art Gallery
1. Marine Drive – Marine Drive is a sea-facing promenade about 5 km away from Jehangir Art Gallery. People come here for their daily walks, friendly meetups and the views of the sunset. Marine Drive provides its visitors with an unobstructed view of the Arabian Sea. Along with the sea and sunset views, this 3 km long walkway also has several food-stops where you can enjoy delicious local dishes.
2. Nariman Point – Nariman Point, near the southern end of Marine Drive, is among the top tourist places to visit in Mumbai. It is a little over one kilometre away from the Jehangir Art gallery. Nariman Point is a business hub and it is a part of the majestic skyline of Mumbai. Apart from the skyscrapers, there are several restaurants and pubs, which contribute to the lively nightlife of Mumbai. Also, the view of Marine Drive at night is captivating. The area is a popular shopping destination too.
3. Colaba Causeway – While Nariman Point is known for its branded shopping centres, Colaba Causeway has a thing for street shops. From clothes and shoes to accessories and souvenirs, Colaba Market has everything available at affordable prices. Boutiques and art galleries also dot the area.
Other than shopping, food is another reason why you'll like to wander at these lanes. From international fast-food outlets to old-school cafes and restaurants, this market has a lot of options. It is at a distance of about 3 km from Jehangir Art Gallery.
4. Gateway of India – Gateway of India is the iconic stone arch of Mumbai. It is at a walking distance (only a few hundred metres away) from Jehangir Art Gallery. This magnificent archway faces the Arabian Sea and is one of the popular tourist spots in Mumbai. It is also the boarding point for boat rides around Mumbai. Gateway of India was built to mark the official visit of King George V and Queen Mary to India in December 1911.
5. Elephanta Caves – Elephanta Caves are a series of cave temples dedicated to Lord Shiva. These are on the Elephanta Island, which you can reach through ferries from Gateway of India. This tourist place is a UNESCO World Heritage Site.
How to reach Jehangir Art Gallery?
Jehangir Art Gallery is in a prime location in Mumbai and it is accessible from all the points in the city. Apart from private cabs, a solid network of BEST buses and Mumbai local trains ease the hustle of tourists. Chhatrapati Shivaji Terminus and Churchgate station are the nearby local stations.
Now that you have all the information about Jehangir Art Gallery in Mumbai, here are the various ways to reach Mumbai –
By Road – Being the commercial capital of India, Mumbai is connected to all the nearby towns and distant cities through a network of highways. Regular buses ply from Pune, Aurangabad, Nashik and other towns nearby. Coaches and cabs from far-off towns like Ahmedabad and Panaji are also available. Most of the buses stop at Mumbai Central Depot, about 6 km away from this place. You can also choose to book a cab from top car rental companies in Mumbai for a hassle free journey.
By Rail – Mumbai has a connection with every corner of India through a network of trains, and most of them stop either at Chhatrapati Shivaji Terminus (CSTM) or Mumbai Central (MMCT). While Mumbai Central station is 2 km away, Chhatrapati Shivaji Terminus is 7 km away from this art gallery.
By Air – Chhatrapati Shivaji International Airport, about 30 km away from the city centre, connects Mumbai to major tourist destinations within India and abroad. Whether you want a flight from Bangkok, Dubai or Europe, you have got many choices. Regular flights from Ahmedabad, Delhi, Kolkata and other cities are also available.
---
With umpteen sightseeing options and mouth watering cuisines, Mumbai is sure to make you fall in love with this place. To make your Mumbai tour all the more memorable, book a Mumbai tour package with us. We at Mumbai Tourism, a division of Holidays DNA offer the best packages at affordable rates. So, what are you waiting for? Please fill the Contact Us form to know more about our offerings.
Location Map for Jehangir Art Gallery Mumbai