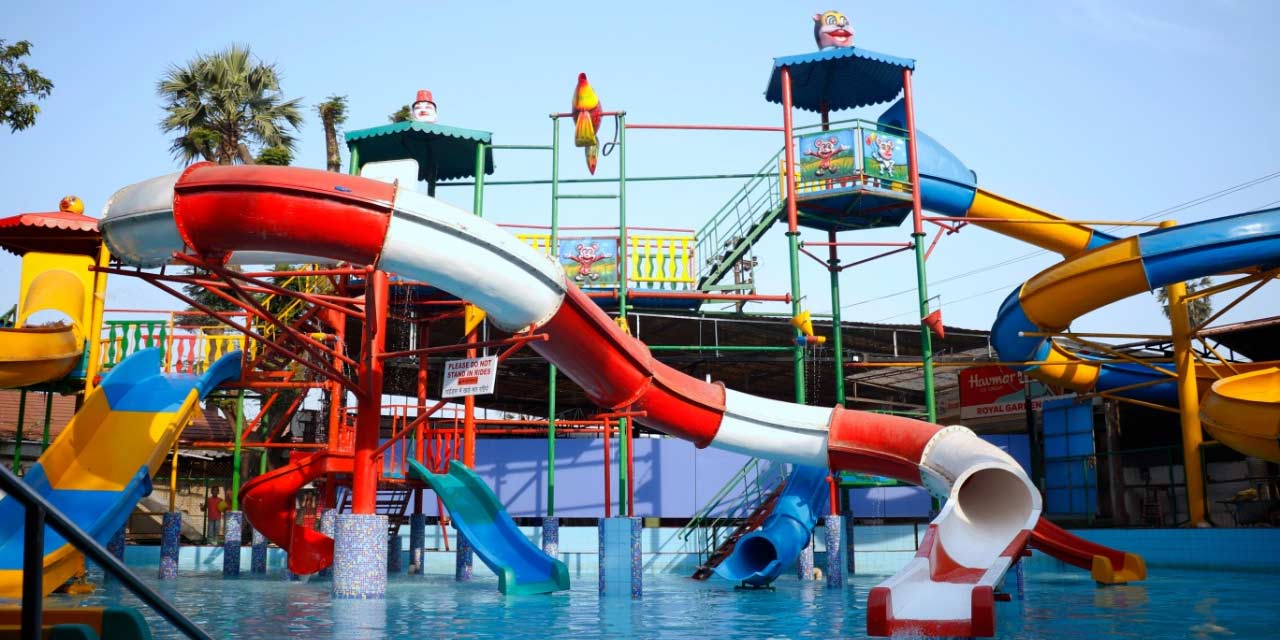 Royal Garden Resort & Water Park Mumbai Entry Fee
800 per person for Adults
700 per person for Child
---
Royal Garden Resort & Water Park Mumbai Phone
Royal Garden Resort & Water Park Mumbai Timings
| Day | Timing |
| --- | --- |
| Monday | 10:00 am – 5:00 pm |
| Tuesday | 10:00 am – 5:00 pm |
| Wedesday | 10:00 am – 5:00 pm |
| Thursday | 10:00 am – 5:00 pm |
| Friday | 10:00 am – 5:00 pm |
| Saturday | 10:00 am – 5:00 pm |
| Sunday | 10:00 am – 5:00 pm |
Rating:

| 4/5 stars
Based on total 57 reviews
Royal Garden Resort & Water Park Mumbai Address: Railway Station, 118, Goyal Shopping Centre, Opposite Borivali, Sundar Nagar, Borivali West, Mumbai, Maharashtra, 400092, India
---
Royal Garden Resort is a hub for relaxation, amusement and thrill in the suburbs of Mumbai. It has a water park complete with waterfalls, slides and pools where you can spend an entire day out with your family.
The Royal Garden Resort Water Park also has a kids' zone for the young ones to enjoy with others of the same age. In between all the excitement and enjoyment, you can take popcorn breaks or stop for ice creams, and get back in the games.
And if you feel hungry, the restaurant is waiting for you with its variety of vegetarian dishes. You also get complimentary meals at Royal Garden Resort Water Park Mumbai.
Where is Royal Garden Resort in Mumbai?
Royal Garden Resort Mumbai is off the Mumbai-Ahmedabad highway, in Sasunavghar, Vasai. It has a family-friendly water park with over dozen water slides, a wave pool and a section for rain dance. The resort also has Dashing Car and other activities to keep you engaged.
A full-day package includes access to the water park activities, complimentary snacks and other meals. But if you plan to stay for a night or two, you can book rooms in the resort and get all the facilities available in the day package.
Be it a picnic, a full-day trip or a weekend getaway, Royal Garden Resort Mumbai Vasai won't disappoint you.
Things to do at Royal Garden Resort and Water Park
1. Swiping down the slides – In Royal Garden Water Park Mumbai, you can enjoy the multi lane slides, family slides and the pendulum slide for the whole day. And this park also has numerous other single slides for adults and kids.
2. Relaxing in the pools – If you're looking for relaxation, instead of water adventures, you can do so in one of the swimming pools. The resort has a wave pool too, where you can have fun with friends and family members. And you'll also find a waterfall pool to spend your time.
3. Rain dancing with open-air music – In Royal Garden Resort & Water Park, you can also enjoy a fulfilling rain dance. Groove with the music and dance till you drop.
4. Letting kids have their time – Royal Garden Amusement Park Mumbai has a separate Dashing Car area for kids. The park also has a Kids' Zone where they can play and eat popcorn or lick ice lollies.
5. Getting a fish pedicure – Besides the water park and amusement park, Royal Garden Resort in Mumbai has a fish spa too. After a fun-filled day, you can relax while tiny fishes take care of your feet.
6. Tasting the dishes – Royal Garden Resort and Water Park tickets entitle you to complimentary meals too. You get breakfast, lunch and tea in the evening. And the restaurant is open too, for you to order dishes of your choice anytime during your visit. Other snacks counters are also available in the park. They provide pizza, pasta and other snacks.
7. Spending overnight in the resort – If you want to, you can book your stay in the resort, instead of getting the full-day water park package. Staying in the resort will allow complimentary access to the water park and other facilities available to the guests.
Royal Garden Resort Water Park Entry Fees and Timings
Royal Garden Resort and Water Park entry fees are ₹800 for adults (above 10 years of age) and ₹700 for kids between the age of 5 and 10 years. Kids below 5 years of age, get free entry. With the ticket, you get access to the water park activities and other games around the park.
The ticket also includes complimentary meals and snacks.
The park is open every day from 9 AM to 6 PM. However, the water park activities at Royal Garden Resort are available only between 10 AM and 5 PM.
Image Gallery of Royal Garden Resort & Water Park Mumbai
Best Time to visit Royal Garden Resort and Water Park
The Hotel Royal Garden Resort Mumbai and the water park is open throughout the year. You can visit in on any day you want. However, to enjoy the most, visit it in winter, between November and February.
Mumbai's temperature is known to be hot. So, you might not have the enthusiasm to spend time in the activities when the sun is shining bright. During winter, the temperature, as well as humidity, is low, and you'll be able to spend a full day out in the water park.
Visit Royal Garden Resort and Water Park during the weekdays to avoid any rush.
Time to explore Royal Garden Resort and Water Park
In Royal Garden Resort, you get a full-day package to enjoy a day-picnic with family members or have fun in the water park.
You can spend around 2-3 hours in the water park itself, drifting down the slides, or relaxing in the pools. Still, set aside a day for your visit as the place is on the outskirts of Mumbai.
Things to keep in mind while visiting Royal Garden Water Park
Carry your hat and sunglasses.
Apply waterproof sunscreen.
Stay out of the water if you have water-borne allergies.
Senior citizens or people with health problems should avoid the slides.
Nylon/lycra swimwear is mandatory for water park activities.
Kids should be under supervision always.
Not all snacks, meals and drinks are included in the package.
A group of only males isn't allowed.
How to reach Royal Garden Resort & Water Park?
Royal Garden Resort Water Park is in Vasai. And the distance between Mumbai and Royal Garden Resort is about 40 km. You can get on a train to Vasai railway station. And from there, you will get autos, buses or taxis to go to this water park.
However, the best way is to hire a cab from top car rental companies in Mumbai to reach Royal Garden Resort Vasai. This way, you can enjoy the day at leisure without worrying about how to return.
And now, here are the different ways to go to Mumbai –
By Road – Mumbai has a reliable network of public and private buses to connect it to the major cities and towns surrounding it. Most buses stop at Mumbai Central bus stop, about 50 km away from this resort and water park. From the bus stop, you can hire a taxi or a full-day cab for the destination.
By Rail – Mumbai is an important business and tourist hub of the country. Therefore, express trains connect it to all the corners of India. Chhatrapati Shivaji Maharaj Terminus and Mumbai Central are the primary railway stations, about 50 km away from Royal Garden Resort.
By Air – Domestic and international flights from many places around the world stop at Mumbai's Chhatrapati Shivaji International Airport. It is about 30 km away from Royal Garden Resort.
---
Plan a trip to the lively Mumbai city by booking a Mumbai Tour package with us. We at Mumbai Tourism, a division of Holidays DNA provide you with different kinds of packages that you can choose from according to your budget and preferences. You can visit all the popular sightseeing places of Mumbai in the comfort of a private cab without worrying about your mobility needs. To know more, please fill the Contact Us form and we will revert back to you.
Location Map for Royal Garden Resort & Water Park Mumbai