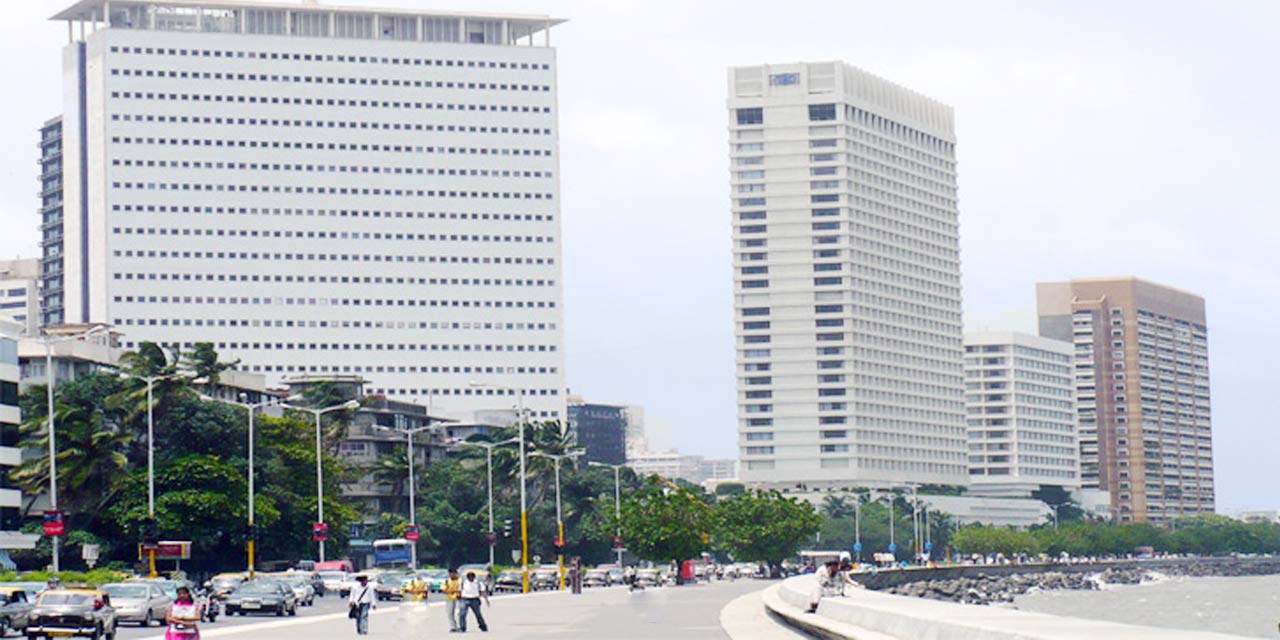 Nariman Point Mumbai Entry Fee
---
Nariman Point Mumbai Phone
N/A
Nariman Point Mumbai Timings
| Day | Timing |
| --- | --- |
| Monday | 12:00 am – 12:00 am |
| Tuesday | 12:00 am – 12:00 am |
| Wedesday | 12:00 am – 12:00 am |
| Thursday | 12:00 am – 12:00 am |
| Friday | 12:00 am – 12:00 am |
| Saturday | 12:00 am – 12:00 am |
| Sunday | 12:00 am – 12:00 am |
Rating:

| 4/5 stars
Based on total 42 reviews
Nariman Point Mumbai Address: Mumbai, Maharashtra, 400021, India
---
Nariman Point – Manhattan of Mumbai, is a business hub, and it forms a part of the majestic skyline of Mumbai. You will find some of the largest corporate offices there and also, grand hotels, restaurants and pubs.
Nariman Point is one of the must-visit tourist places in Mumbai too. It is near the southern end of Marine Drive and provides the best view of the Arabian Sea. It has a lively nightlife too. Also, Nariman Point night view of Marine Drive is so astounding that Marine Drive has earned the nickname Queen's Necklace.
Apart from the international offices and luxury hotels, the area is a popular shopping district too. You can eat, shop and click as many panoramic pictures in Nariman Point as you want.
History of Nariman Point
Until 1940, the present-day Nariman Point didn't exist; it was a part of the sea. Khursheed Nariman, a corporator in Bombay Municipal Corporation, proposed the idea to reclaim some land and turn this place into a business centre it is today.
To complete the task, parts of the land were filled with debris and garbage brought from all over the city and around. Afterwards, concrete cement and steel were used to reinforce the construction. The officials undertook more land reclamation in the 1970s.
Things to do at Nariman Point
1. Soaking in the views – From Nariman Point to Marine Drive and beyond, you get a panoramic view of the Arabian Sea along with the jetties and ferries hovering around. Whether you want to take long walks, jog or do yoga, Nariman Point is a serene location to be your health centre.
2. Enjoying Mumbai's nightlife – Nariman Point has some of the luxurious hotels and pubs of Mumbai. Either you can spend your night in a sea-view room in the Trident or check out Leopold Cafe; the choice is yours. Watching the Queen's Necklace in its full glory is another reason to visit Nariman Point at night.
3. Driving along the seafront – Renowned sea-facing promenade Marine Drive is only a few metres away from Nariman Point. And the drive along the sea with a cool breeze on your face is something you shouldn't miss. You can also spend hours sitting there, while Mumbai races past you.
4. Shopping in the arcades – The Manhattan of Mumbai also offers numerous options for shopping. This area has shopping outlets of popular Indian and international brands. You can also take a walk in the Colaba market nearby if you're fond of street shopping.
5. Eating at the restaurants – Nariman Point food has all the varieties you might be looking for to satiate your taste buds. You can take a buffet at The Bay View or have dinner with live music at The Sassy Spoon. International fast-food joints and restaurants serving local Mumbai food are also there.
Image Gallery of Nariman Point Mumbai
Nariman Point Entry Fee and Timings
Nariman Point is a business district in southern Mumbai and it is open to all. You can visit the area anytime during the day or night. You can spend endless hours at the seafront or browse the shops for souvenirs. Checking the restaurants for local delicacies or enjoying at one of the numerous pubs are the other options among the things you can do at Nariman Point.
Best time to visit Nariman Point
Although the place is good to visit any time of the day and any time of the year, it would be best to visit it between October and March. Weather is comfortable enough to allow you to enjoy Nariman Point as much as you want.
Also, schedule your trip to Nariman Point during the evening hours. Viewing the lights at Marine Drive at night from a high building in Nariman Point is something you shouldn't miss while you're in Mumbai. That spellbinding display of lights is how Marine Drive earned its nickname Queen's Necklace.
Time to explore Nariman Point
If you aren't interested in shopping or tasting food in all those restaurants, 1 or 2 hours would be enough to tour Nariman Point. However, you can choose to spend a few more hours looking at the infinite sea.
Places to visit near Nariman Point
1. Marine Drive – Marine Drive runs along the seafront and it consists of a 3 km long walkway. This promenade provides a panoramic view of the Arabian Sea, and people come here for their morning and evening walks. Marine Drive is also a place to hang around with friends and it gets livelier by the evening. Nariman Point and Marine Drive are only a few metres apart and you must visit both the places.
2. Jehangir Art Gallery – Jehangir Art Gallery is in Kala Ghoda, the art district of Mumbai, 2 km away from Nariman Point. It was established in 1952 and has hosted hundreds of exhibitions for painters, sculptors and photographers among others. This art gallery also displayed works of renowned artists like M. F. Husain. Jehangir Art Gallery conducts workshops and many other programmes, which makes it a must-visit for art connoisseurs.
3. Girgaon Chowpatty – Girgaon Chowpatty is a popular beach off the Marine Drive road, about 4 km away from Nariman Point. It doesn't qualify as a spot for water adventures, but you can spend countless hours admiring the life of Mumbai. Every morning, locals visit this beach for leisurely strolls, running practices and also yoga. And it is also known for its street food stalls. From vada-pav to spicy chaat and bhelpuri, Girgaon Chowpatty has got everything that you should taste while in Mumbai.
4. Taraporewala Aquarium – It is the oldest fish aquarium in India and it lies along the Marine Drive. Taraporewala Aquarium has more than 400 species of fishes, which you can see from within a long glass tunnel. The display includes marine and freshwater fishes, turtles and snakes too. The aquarium also keeps corals from Lakshadweep and rare seashells. It is about 3 km away from Nariman Point.
5. Gateway of India – This magnificent stone arch is about 2 km from Nariman Point. Gateway of India stands facing the Arabian Sea, and it used to be the entry point to India. British built it to commemorate the first official visit of King George V and Queen Mary. Today, it is a popular tourist place in Mumbai and also, the boarding point for ferries and luxury boat tours around Mumbai.
How to Reach Nariman Point Mumbai?
Nariman Point is the business hub and you can board a train to Churchgate local station to reach this place. Then, you can take a BEST bus too or hail a cab from anywhere in Mumbai for Nariman Point.
And following are the various ways to reach Mumbai –
By Road – Mumbai is the commercial capital of India and enjoys strong road connectivity options from the nearby towns and distant cities. Regular buses ply from the neighbouring cities Pune and Nashik and also other places as far as Ahmedabad. Most buses stop at the Mumbai Central Bus Depot, which is about 6 km away from Nariman Point.
By Rail – Being a popular tourist and business destination in India, Mumbai has regular trains from many corners of India. Chhatrapati Shivaji Terminus (3 km away) and Mumbai Central (7 km away) are the main railway stations of Mumbai. Some long-distance trains also stop at one of the suburban stations.
By Air – Chhatrapati Shivaji International Airport has flights from major destinations around the world and in India. Regular flights from places like Ahmedabad, Delhi and Kolkata are available along with international tourist destinations viz. Bangkok, Dubai and Europe. Nariman Point to Mumbai airport distance is about 25 km and you can book a cab from top car rental companies in Mumbai to reach here.
Interesting facts about Nariman Point
Nariman Point in Mumbai has been developed on land reclaimed from the sea, and the cost was estimated to be ₹300,000 at that time. It's equivalent to about ₹11.8 crores today, in 2020.
The area has headquarters of many banks, international companies and also foreign consulates.
Nariman Point has been featured in Bollywood films like Munnabhai MBBS, Wake Up Sid and Talaash.
---
To enjoy Mumbai in its full glory, we at Mumbai Tourism, a division of Holidays DNA offer Mumbai Tour packages that include stay, cab and sightseeing. You can choose the package that suits you best according to your budget and duration. You are sure to have the best time of your life. Please fill out the Contact Us form for further details.
Location Map for Nariman Point Mumbai