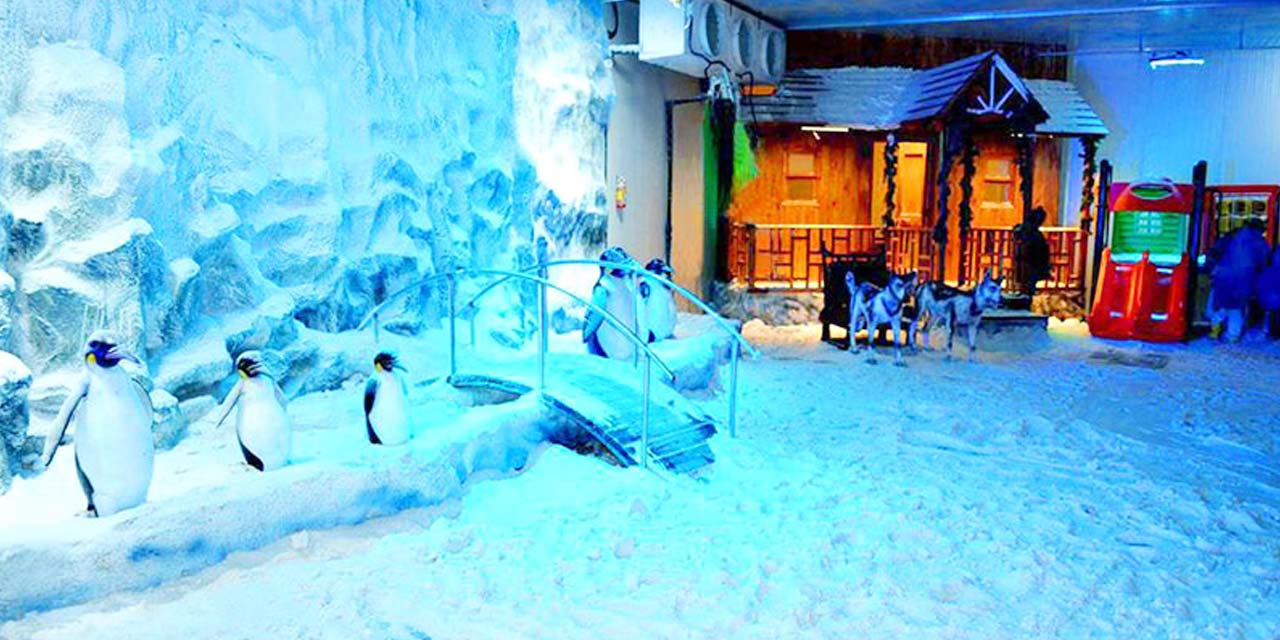 Snow World Mumbai Entry Fee
700 per person for Hour
[It includes all the Activities
(Ice Skating, Snow Fall/Dance, Ski Boarding, Ice Sliding & Types of Sledding),
Attractions (Snow Tunnel, Scenic Mountain,
Wooden Hut, Roman Culture wall,
Igloos & many more) and
the Attire (Jackets, Hoods, Gloves and Snow Boots)]
---
Snow World Mumbai Phone
Snow World Mumbai Timings
| Day | Timing |
| --- | --- |
| Monday | 11:00 am – 10:00 pm |
| Tuesday | 11:00 am – 10:00 pm |
| Wedesday | 11:00 am – 10:00 pm |
| Thursday | 11:00 am – 10:00 pm |
| Friday | 11:00 am – 10:00 pm |
| Saturday | 11:00 am – 10:00 pm |
| Sunday | 11:00 am – 10:00 pm |
Rating:

| 4/5 stars
Based on total 51 reviews
Snow World Mumbai Address: Lower Ground Level 58 - 61, Phoenix Market City, Kamani Junction Kurla (W), Between Atrium 2 & 6, 15, LBS Rd, Kamani, Jn, Mumbai, Maharashtra, 400070, India
---
Snow World in Mumbai is an indoor snow-themed park. It gives you the pleasure to enjoy winter and snowfall even when the outside is scorching hot. The temperature in Snow World drops to as low as -10 °C, and you have a plethora of snow adventures inside, including ice skating, snow sledging, and dancing in snowfall.
Whether you want to escape the heat of Mumbai, or practice skating and dancing moves in an ice-cold environment, Snow World is the place to be.
Where is Snow World Mumbai?
This remarkable indoor park is inside the Phoenix Market City Mall, in Kurla, Mumbai. And here, you can indulge in snow fights, click pictures with igloo and reindeers, and make snowmen with kids. Kids also have a dedicated play area in the company of Yowie – the yeti, and Frozo, Polka and other penguins.
After you are done with the adventures, you can head to Snow Cafe for some hot tea or coffee. The time spent in Snow World would be a lifetime memory.
Things to do at Snow World
1. Sliding down the icy mountain – Slide down the rubber tube covered with ice. The Ice Slide is surrounded by a forest setup and it's full of twists, turns and speeding slopes giving you the sensation of sliding through the slopes of an icy mountain.
2. Making snowballs and snowman – The Snow Play Area allows you to enjoy natural snow with family and friends. Have friendly snow fights, make giant snowballs or show your creative skills in building a snowman or snow castle or anything else you want to. The snow is all yours.
3. Dancing in snowfall – The snowfall is one activity many enjoy in Snow World in Mumbai Phoenix Mall. Snow guns create artificial snowfall, and you can enjoy sitting in a corner or dancing with your partner.
4. Snow sledging – Hop on a snow sledge while a friend, family member or your partner pulls it down the slope. Sit tight or lie on the stomach and enjoy the exciting ride on the snow.
5. Snowboarding – Snowboarding is a mix of skiing and boarding. And it can be a thrilling experience while you try to maintain balance with ski poles and try to move forward.
6. Ice skating – Whether you want to skate for leisure or practice, the rink is open for you. Get the blades and map the whole rink with your feet.
7. Clicking selfies with setups – Snow World Mumbai has numerous points of attractions where you can click photos and selfies. Suit up in jackets, gloves and boots, and get in the Snow Tunnel, Wooden Hut or the small igloos for the photo session. You can also have a photographer click your photo with the faux penguins – Frozo, Tip, Toe, Towie and Waddles.
8. Enjoying hot beverages – The Snow Cafe serves hot beverages like tea, coffee and soup. And a hot bowl of soup or a cup of coffee after a freezing session is a must.
Snow World Mumbai Timings and Entry Fees
Snow World in Mumbai is open throughout the year. It opens at 11 AM and closes by 10 PM. The visitors are allowed entry in batches. The activities are divided into eight sessions of one hour each, and the first session begins at 11 AM while the last session starts at 9 PM.
The ticket of Snow World Mumbai costs ₹700 per person for each session of one hour. The charge includes all the activities and attractions in this snow-themed park. Snow World Mumbai entry fees also include the rent for warm clothes – jackets, gloves and boots.
Image Gallery of Snow World Mumbai
Things to keep in mind while visiting Snow World
Snow is slippery; mind your footsteps.
Parka jackets, snow boots and gloves are provided.
Warm socks are available for purchase.
Tickets are valid for one session, which runs for an hour.
Snow World temperature drops to as low as -10° C; wear full trousers for your visit.
How to reach Snow World Mumbai Kurla?
Snow World is near the heart of Mumbai and it is accessible from all parts of the city. You can get a local train or bus to reach the place. Autos, taxis and private cabs, too, are available from all over Mumbai.
And here are the different ways to go to Mumbai –
By Road – A network of expressways and national highways connects Mumbai to all parts of India. And plenty of public and private buses are available from neighbouring towns and cities. The Mumbai Central bus stop is about 17 km away from Snow World. You can also drive a car to reach Mumbai.
By Rail – Mumbai, being the economic hub of India and a major tourist destination, has various express trains from all corners of the country. Most trains stop at Chhatrapati Shivaji Maharaj Terminus or Mumbai Central, both of which are about 20 km away. You'll also find many long-distance trains stopping at suburban stations instead of the main railway stations.
By Air – Chhatrapati Shivaji International Airport connects Mumbai to major cities around the world. Regular flights from many countries like Australia, Dubai and the US arrive here. And you can also get daily flights from many Indian cities to reach Mumbai. The airport is about 5 km from Snow World Mumbai Phoenix Mall.
FAQs about Snow World
---
Q. What is the age limit for Snow World?
A. People of all age groups are allowed at Snow World. Adults, senior citizens and kids above 2 years are charged ₹700 for entry. Infants and other kids below 2 years can get free entry to this park.
---
Q. Are pregnant women allowed in Snow World?
A. Snow is slippery by nature. So, pregnant ladies are advised to stay away from Snow World. Also, if you're feeling sick or cold, have allergies or heart problems, it is best to avoid taking part in the adventures.
---
Q. Does Snow Park provide all suitable gear to stay in minus degree temperature?
A. Snow World provides all the warm clothes – parka jackets, snow boots and gloves, required to stay and enjoy the freezing ambience. They also provide the accessories like ice skates and snowboards you'll need for the activities. But socks have to be carried or bought from the counter separately.
---
Q. How long can we stay in the snow?
A. Each session is one hour long. It will take about 15 minutes for you to get ready, and then you can go into the snow area.
---
Q. Is medical support available in Snow Park Mumbai?
A. First Aid kits are available in case of emergencies, or on request.
---
Enjoy snow in the city of Mumbai by visiting Snow World through our all-inclusive Mumbai Tour packages. We at Mumbai Tourism, a division of Holidays DNA make sure you have a great holiday experience in the city of dreams while visiting the popular tourist attractions of Mumbai. You can also hire a cab from top car rental companies in Mumbai for your mobility needs. Please fill the Contact Us form to know more.
Location Map for Snow World Mumbai