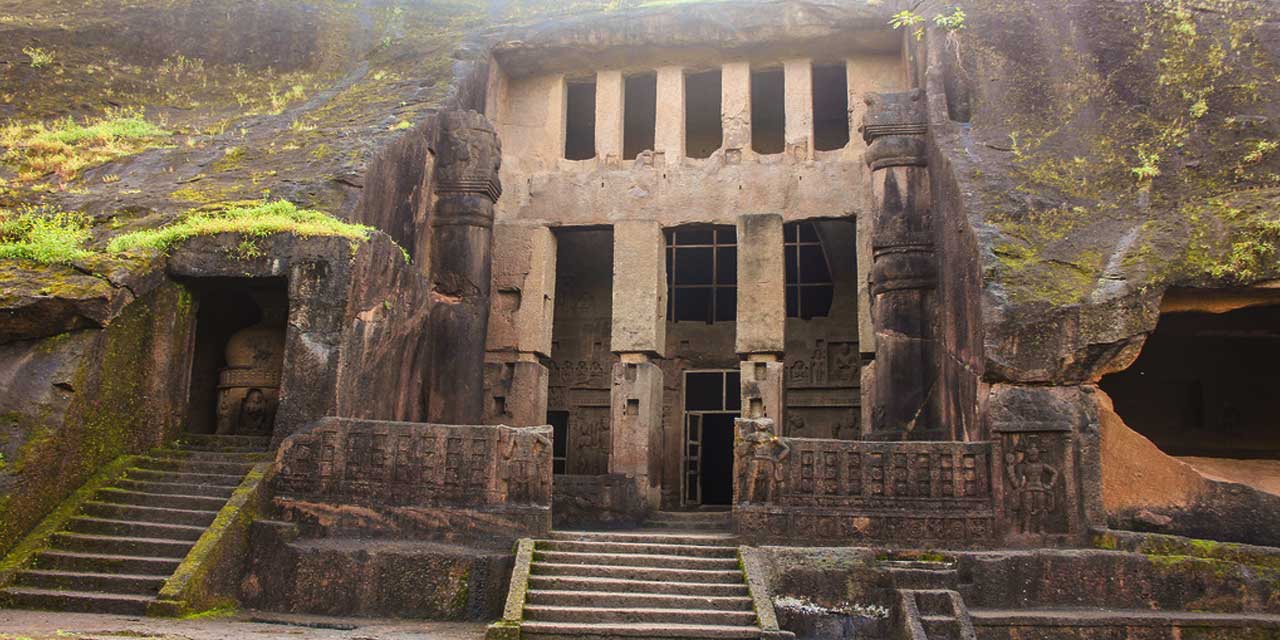 Kanheri Caves Mumbai Entry Fee
15 per person for Indians
200 per person for foreign citizens
---
Kanheri Caves Mumbai Phone
Kanheri Caves Mumbai Timings
| Day | Timing |
| --- | --- |
| Monday | Closed / Holiday |
| Tuesday | 7:30 am – 5:00 pm |
| Wedesday | 7:30 am – 5:00 pm |
| Thursday | 7:30 am – 5:00 pm |
| Friday | 7:30 am – 5:00 pm |
| Saturday | 7:30 am – 5:00 pm |
| Sunday | 7:30 am – 5:00 pm |
Rating:

| 4/5 stars
Based on total 48 reviews
Kanheri Caves Mumbai Address: Sanjay Gandhi National Park, Borivali East, Mumbai, Maharashtra, 400066, India
---
On the outskirts of Mumbai, away from the hustle and bustle of the city, lies this green and airy tourist spot – Kanheri Caves. This serene cave complex is situated on a hillside and you can access it through steps cut into the rocks.
Kanheri Caves complex was built over a long time. It is a collection of 109 caves, with the earliest ones dating back to 1st century BCE. Those are relatively plain in comparison to the caves built later.
The most recent caves are from 11th century CE. Most of them served as Buddhist viharas. Although the caves are carved out in several styles, one thing which remains constant is a stone plinth in each cave.
Kanheri Caves used to be a Buddhist monastery and a point for worship, study and meditation. It is located within the Sanjay Gandhi National Park and you will need to trek through lush green forests to reach the caves.
Apart from checking out the caves and the views nearby, you can also witness multiple paintings and statues of Buddha, some of which remain unfinished. Kanheri Caves also have numerous small streams and waterfalls. If you're looking for a tranquil place to get a view of the city's skyline, Kanheri Caves in Mumbai should be your choice.
Architecture of Kanheri Caves Mumbai
Kanheri Caves architecture isn't particularly elaborate. It's rather plain. But different caves have characteristics varied from each other. Cave 1 is an unfinished chaitya-griha. It has two storeys. Cave 2 is in the form of a large assembly hall. It consists of three stupas, and the walls are carved with sculptures of Buddha.
Cave 3 is the largest among the Kanheri Caves, and the most remarkable. A well-sculpted screen separates the courtyard from the front. This chaitya-griha also has tall pillars and a stupa in one end, apart from a large Buddha statue at the entrance. These three caves and others in the vicinity have been a part of a Buddhist monastery.
Most of the caves also had channels carved out to trap and store rainwater. The caves have numerous inscriptions in Brahmi and Devanagari, and some epigraphs in Pahlavi.
History of Kanheri Caves Mumbai
The word 'Kanheri' has been derived from Krishnagiri, a Sanskrit word that means "Black Mountain". This ancient monastery has been carved out of black basalt rock and has been a learning centre and pilgrimage site for Buddhists.
Much of the inscriptions are still undeciphered, but people believe that the first excavations started sometime around the 1st or 2nd century BCE. The large halls with stupas suggest that the caves were significant as Buddhist shrines and that the place played an important role in the propagation of Buddhism in India.
Image Gallery of Kanheri Caves Mumbai
Things to do at Kanheri Caves Mumbai
Trekking in and around the caves is the only activity available at Kanheri Caves.
The area has 109 caves and Kanheri Cave no 3 is the most elaborate among them. Long hall, carved columns and a tall statue of Buddha at the entrance marks this cave. The 16-feet high stupa towards the end of the cave is also one of the salient features of this cave. Cave 4 is among the oldest of all the caves and the next two – Cave 5 and Cave 6, are water cisterns.
Other caves of significance are the ones numbered 11, 34, 41, 67 and 90. Cave 11 used to be the Darbar Hall or Assembly Hall. A statue of Buddha is there in the centre. Cave 34 is notable for the paintings of Buddha on the ceilings, which remain unfinished though.
The Cave 41 then, is the home to eleven-headed bodhisattva Avalokitesvara that symbolises a gradual move towards enlightenment.Cave 67 has another statue of Avalokitesvara and has scenes from Jataka tales too. Cave 90 is the darkest cave there and is known to have the oldest preserved mandala (from 6th century CE).
At the Kanheri Caves, you can see many Buddhist sculptures and paintings. It was a famed learning centre during its prime and also served as the residence for Buddhist monks. Traders and passers-by also used the place as a stop-over.
The Kanheri Caves trekking is worth the time spent. Whether you're a beginner or a professional trekker, you'll find it rewarding. The view there, with greenery all around, is mesmerising. Numerous small waterfalls add to its charm. And you might also catch an occasional glimpse of animals, which reside in the periphery of Sanjay Gandhi National Park.
Entry Fee and Timings of Kanheri Caves Mumbai
The cave complex lies within the boundaries of Sanjay Gandhi National Park. It is open for tourists every day except on Mondays. Kanheri Caves entry timings are between 7.30 AM and 5 PM.
The entry fee for Kanheri Caves is Rs. 15 for Indians and Rs. 200 for foreign tourists.
Best Time to Visit Kanheri Caves Mumbai
Kanheri Caves are open all throughout the year, but you can explore it well only when the climate is cool. Therefore, the winter months, from November to February, are the best to explore this tourist spot. The weather is cool and the hiking trail is dry enough to provide you with a comfortable trekking experience around the caves.
You can also drop by a visit between July and September when monsoon rains keep the temperature of Mumbai low. The greenery around the area is at its best and the mini-waterfalls nearby run full with water. But the rocks get slippery too. Therefore, visiting Kanheri Caves in the rainy season might not be the best choice.
Time to Explore Kanheri Caves Mumbai
It will take you about 2-3 hours to check these bunch of Buddhist caves. But do have 2-3 hours more in hand if you want to hike to the Caves from the entrance of the national park. It will take you about an hour to reach Kanheri caves on foot, and another one hour to return.
Trekking enthusiasts can also opt for the trail upward from the caves. It takes you to Jambulmal, the highest point in Mumbai.
Places to visit near Kanheri Caves Mumbai
1. Sanjay Gandhi National Park – Kanheri Caves is a part of this park, which is a popular picnic spot and weekend getaway for the locals. A large variety of flora and fauna also attract tourists from around the world. The park is home to birds like Kingfisher and numerous types of butterflies.
Macaques, boars and antelopes are common sights, and you can see lions and leopards too, during the safari. Hundreds of migratory birds also visit the place.
Apart from safari, you can try cycling, trekking and boating here. Also, a toy train takes visitors around the important spots within the national park.
2. Global Vipassana Pagoda – The Vipassana Pagoda is a meditation dome, built as a tribute to Sayagyi U Ba Khin, a Vipassana teacher from Myanmar. The monument is in a shape similar to the Golden Pagoda in Yangon, Myanmar, and it is a place where people go for peace.
The Pagoda also consists of a museum and a library containing information about Gautam Buddha, his teachings and Vipassana.
Global Vipassana Pagoda is about 30 km away from Kanheri Caves, by road. You can instead go to Gorai Creek and take a ferry. It saves some travel time.
3. Shree Siddhivinayak Mandir – Siddhivinayak Mandir is a Hindu temple about 32 km away from Kanheri Caves. It is dedicated to Lord Ganesh and has six storeys with a golden dome on the top. The doors to the sanctum are made up of wood and have images of Lord Ganesh carved on it.
This famous tourist attraction is popular among elite persons. Many Bollywood actors and politicians visit this place to seek blessings. Within the temple complex, you will see a Hanuman temple too.
4. ISKCON Temple – ISKCON Temple is another renowned temple in Mumbai. It's a temple devoted to worship Radha Rasabihari and is also popular as Hare Rama Hare Krishna Temple. Gaura-Nitai, Sita-Ram and other idols are also there from whom people take blessings.
The temple is made of white marble and the walls are decorated with beautiful paintings. The complex has many halls for prayer and preaching, which priests use to impart lessons from Bhagwad Gita. You will also find a library and a restaurant there. ISKCON Temple is at a distance of around 23 km from Kanheri Caves.
5. Mount Mary Church – It is a Roman Catholic Church overlooking the Arabian Sea. The peaceful and tranquil environment of the church attracts people from all religions. It is dedicated to the Virgin Mary and is also known as the Basilica of Our Lady of the Mount. The church has an impressive architecture and has a resemblance to the Gothic style.
Every year, in September, a feast, along with a week-long fair, is organised in the Mount Mary Church. It is hosted on the occasion of Mother Mary's birthday. The church is located about 32 km away from Kanheri Caves.
6. Gateway of India – Gateway of India is an arch that was built to commemorate the official visit of King George V and Queen Mary to India. It is a favourite evening adda for the locals and also one of the popular tourist places to visit in Mumbai. The place acts as the hub for boat rides around the city and other islands nearby, including the Elephanta Island.
This iconic arch that represents Mumbai is at a distance of about 45 km from Kanheri.
7. Elephanta Caves – Elephanta Caves Island is a UNESCO World Heritage Site. The island is a one-hour ferry ride away from Gateway of India and consists of a beautiful collection of rock-cut cave temples. These are dedicated to Lord Shiva, and apart from visiting the temples, you can also check out the souvenirs in the stalls, to mark your Mumbai visit. You can also enjoy a toy train ride on the island.
How to Reach Kanheri Caves Mumbai?
Kanheri Caves are situated in the outskirts of Mumbai, within Sanjay Gandhi National Park. It is a popular tourist spot as well as a local favourite for quick getaways. Therefore, the caves of Kanheri are accessible through a network of BEST buses and local trains.
Borivali is the nearest local station to reach Kanheri Caves. You can also take a cab or go to Kanheri Caves by car from anywhere in Mumbai. Alternatively, you can opt for a private cab from top car rental companies in Mumbai for your Mumbai tour.
And here are the different ways you can opt for reaching Mumbai –
By Road – Mumbai is the entertainment capital of India and thus, is reachable through all the major cities of India. A network of public and private bus services connects Mumbai to all the nearby cities and towns like Pune (148 km), Aurangabad (370 km) and Nashik (168 km). Coaches from distant cities like Panaji (571 km) and Ahmedabad (525 km) are also available. Most of them stop at Mumbai Central Bus Depot, which is about 40 km away from Kanheri Caves.
By Rail – Mumbai is connected to all the corners of India through a network of the railway. Chhatrapati Shivaji Terminus (CSMT) and Mumbai Central (MMCT) are the main railway stations in the city, and both are at a distance of around 40 km. Some trains also stop at the suburban railway stations nearby. You can find daily trains from Bangalore, Ahmedabad, Hyderabad and many other cities to Mumbai.
By Air – Mumbai, the city of dreams, is connected to many travel destinations around the world. After all, it's considered the gateway to India. Chhatrapati Shivaji International Airport is about 22 km away from the caves, and domestic as well as international tourists can find a flight to reach here.
Things to keep in mind while visiting Kanheri Caves Mumbai
Now that you have plenty of information about Kanheri Caves, here are a few tips for a comfortable trip to these ancient caves –
Kanheri Caves in India is a holy place for Buddhists.
Visit the caves early in the morning if you want to avoid the crowd.
Take your hat and sunscreen, especially during the summer months.
Carry a bottle of water and some light snacks.
Wear comfortable shoes.
Beware of monkeys.
---
Mumbai Tourism, a part of Holidays DNA makes your Mumbai trip all the more enjoyable with its Mumbai Tour packages that are available at affordable rates. Please fill the Contact Us form for more details on various packages.
Location Map for Kanheri Caves Mumbai