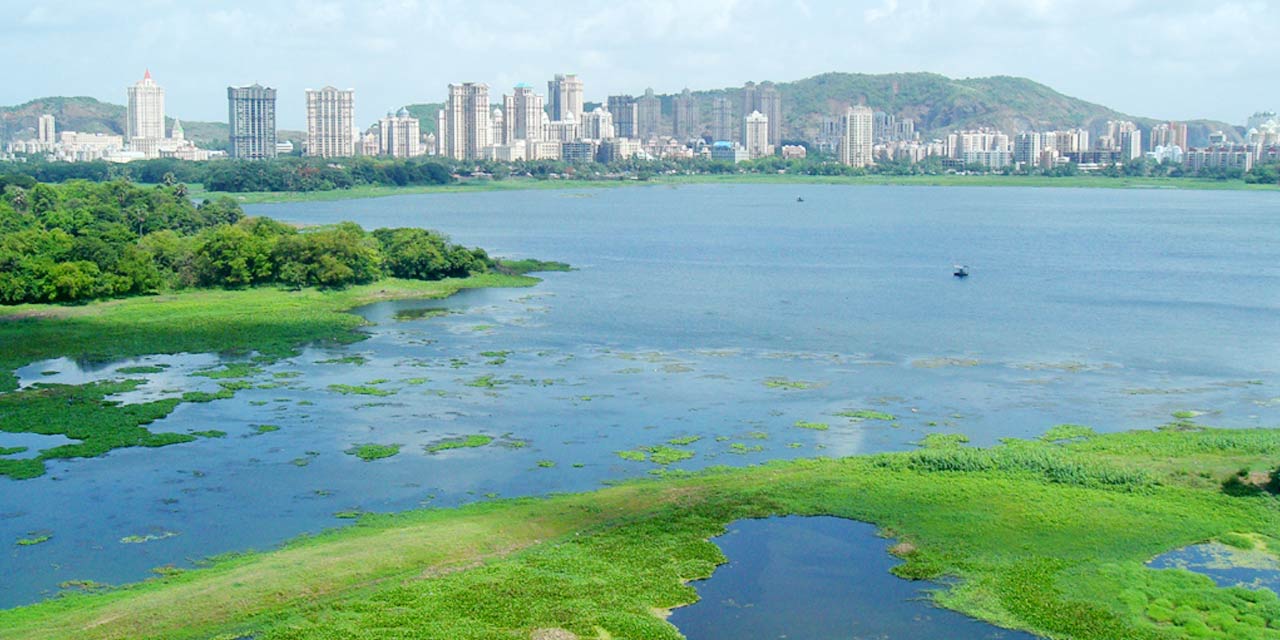 Powai Lake Mumbai Entry Fee
---
Powai Lake Mumbai Phone
N/A
Powai Lake Mumbai Timings
| Day | Timing |
| --- | --- |
| Monday | 12:00 am – 12:00 am |
| Tuesday | 12:00 am – 12:00 am |
| Wedesday | 12:00 am – 12:00 am |
| Thursday | 12:00 am – 12:00 am |
| Friday | 12:00 am – 12:00 am |
| Saturday | 12:00 am – 12:00 am |
| Sunday | 12:00 am – 12:00 am |
Rating:

| 4/5 stars
Based on total 52 reviews
Powai Lake Mumbai Address: Powai, Maharashtra, 400076, India
---
The ravishing Hiranandani township on one side, the luxury Renaissance Hotel on the other, and the expansive IIT Mumbai on yet another of the shore, that's how cherished Powai Lake in Mumbai is.
It is an artificial lake in Powai. The area, which was Powai valley earlier, had small villages near the banks of the lake. But today, Powai is one of the poshest neighbourhoods of Mumbai.
The Powai lake attracts many migratory birds. Falcons, kingfishers and ducks are regular visitors at the lake. The place is thus popular among bird enthusiasts and photographers who love to capture those colourful creatures.
Powai Lake has crocodiles and fishes too. But their sightings are a rare luxury.
Local people love the Powai Lake as a place to spend some quality evening near the waters and at the nearby garden. Watching the sunset here would be another memorable experience in Mumbai for you, and that's for sure.
History of Powai Lake
The lake formed as a result of two dams built on the Mithi River in 1891. The purpose was to create a reservoir for providing water supply in Mumbai. However, water quality degraded within a few years, and it was declared unfit for drinking.
Powai Lake then went under the control of Western India Fishing Association, to develop fish culture and angling activities. Maharashtra State Angling Association (MSAA), since 1936, takes care of the lake to clean and rejuvenate it.
The 1980 batch of IIT Mumbai also took initiative at restoring the natural beauty of the lake. Later, in 2002, Brihanmumbai Municipal Corporation (BMC) implemented the plan to revive and improve the lake.
Things to do at Powai Lake
1. Watching the birds and animals – The area surrounding the Powai Lake is full of greenery and flowery balsam bushes, which attracts many bees and butterflies. Many birds also pay a visit to this serene lake. Kingfishers, spot-billed ducks and doves are some of them. On some days, you can also spot other Powai Lake birds like storks, herons and falcons, among others. The lake also has many fishes and a few crocodiles.
Apart from soaking in the views at the lake, you can relax and enjoy the life of the city in the adjacent garden too.
2. Witnessing the sunset – Beaches and sea-facing promenades aren't the only places to experience the golden hues of the sky in Mumbai. You can do so at Powai Lake too. Buy some fried peanuts, toss some bhelpuri and enjoy the snacks while clicking photos of the setting sun. Check along the pavement for better vantage points.
3. Walking down the Nirvana Park – Nirvana Park is a charming park across the road from Powai Lake, within Hiranandani complex. Grass lawns, ponds and children playing by the slides are among the first things you'll notice as you enter. Wooden walkways, Asian style lanterns, and tiny flowers will catch your eyes too. Feel your tensions vanishing as you relax there watching the activities around or walk among the green environment.
The soothing aura of the Nirvana Park will keep you transfixed for hours. From tall trees to bushy shrubs, everything exists together alongside the tall residential towers in the complex.
Image Gallery of Powai Lake Mumbai
Powai Lake Mumbai Timings and Entry Fee
Powai Lake and Powai Garden, both are open throughout the day. Whether you want to get some cool fresh air in the morning or visit the place with your kids in the evening, it's allowed. You can even visit Powai Lake at night if you want to watch the twinkling lights from the buildings along its shore and around.
Entry to Powai Lake is free and you can spend as much time as you want recognising the birds or walking along the paved path. Take your camera along to capture the memories of your Powai Lake visit.
Best Time to visit Powai Lake
The temperature in Mumbai remains high during summer. Therefore, the best time to visit this lake is in winter, from November to February. The temperature is favourable during the rainy season too. However, in case of heavy rains, the lake gets flooded. So, it's best to avoid Powai Lake during rains.
Schedule your trip during a winter evening and watch the sun setting against Mumbai's skyline. Let the serenity of the place do its magic.
Time to explore Powai Lake
Nature lovers can spend hours at the Powai Lake picnic spot and the lake itself. One can also check out the Powai Dam upon visiting the place. But if you don't feel like doing so, have at least an hour to spend enjoying the Powai Lake view.
You can also go inside the Hiranandani township area to spend some time rejuvenating yourself at Nirvana Park. Hiranandani complex has many restaurants and shopping arenas too, for you to browse. So, plan accordingly.
Places to visit near Powai Lake
1. Mumbai Film City – Your visit to Mumbai won't be complete without visiting the Film City. Here you get a peek into the day-to-day life behind the scenes of Hindi film industry – Bollywood. You will find over 10 studios in the Film City complex and various other ready-to-shoot outdoor setups. Temples, playgrounds, and arrangements for shooting train sequence are all available here. Mumbai Film City is about 16 km away from Powai Lake.
You might also catch a live Hindi movie shoot during your visit. Movies in regional languages are also shot there.
2. Chhota Kashmir Park – Chhota Kashmir Park is a small but colourful garden on the way to Mumbai Film City. It is in Aarey Colony, about 9 km from Powai Lake. Lush green lawns, trees and flowery bushes make the park a popular picnic spot during the weekends. Local people come to this place with their friends and family to enjoy some time out together. People come with their kids too, in the evening. A small lake is also there to add beauty to this green space and remind people about the beauty of Kashmir valley.
3. Sanjay Gandhi National Park – This national park too is a popular picnic spot and a favourite place among the wildlife and nature lovers. It offers numerous activities like boating, cycling and nature treks. The greenery attracts many birds and butterflies to this park. It is at a distance of about 18 km from the lake. Sanjay Gandhi National Park also organises jungle safari in which you can explore the varied flora and fauna here. Deers, monkeys and lions are some animals you can see during your safari.
4. Kanheri Caves – The Kanheri Caves complex is a part of Sanjay Gandhi National Park. It is on a hillside, about 5 km away from the entrance of the national park. You can reach the place trekking through the greens and then climbing up and down a series of rock-cut steps. There are 109 caves in the complex and these served as Buddhist monasteries during their prime. The first caves date back to 1st century BCE, while the most recent developments happened around the 11th century CE. The caves have many statues and paintings of Buddha, some of which remain unfinished.
5. Juhu Beach – Juhu Beach is known for the views of the Arabian Sea, and it is also one of the busiest beaches in Mumbai and in India. Residents in the neighbourhood come here for meditation and early morning exercises, while other people in the locality visit the beach to take some stress off after a tiring day. It is about 14 km from Powai Lake.
You might also meet TV and movie celebrities at this beach. Many celebrities like Amitabh Bachchan, Shahrukh Khan and Ranbir Kapoor live in the neighbourhood. Juhu Beach is also among the popular shooting spots of the city.
6. Prithvi Theatre – For those who are interested in life in a theatre, a visit to the Prithvi Theatre is a must. Prithvi Theatre, overlooking the Juhu Beach, is one of the best theatres in Mumbai. It has been the launch pad for upcoming artists since the beginning. Many established Indian actors have performed here too, in their early days and later. It is a hub for theatre enthusiasts, and you can experience some shows every day. It also organises various workshops and programmes to promote regional culture.
7. ISKCON Temple – ISKCON Temple Mumbai is a Hindu temple and a branch of the international ISKCON organisation. The temple, also known as Radha Rasabihari Temple, is dedicated to Lord Krishna. Devotees come here to take blessings from Gaura-Nitai and Sita-Rama, Laxman and Hanuman, along with Sri Radha Rasabihari. The temple complex has an auditorium, a library and a restaurant too. You can also book the guest house if you want to stay for a long period and take part in the spiritual programs here. ISKCON Temple is 13 km from Powai Lake.
8. Versova Beach – Versova Beach is a small beach, separated by a creek from the famed Juhu Beach. It is about 13 km away from Powai Lake, and it is among the cleanest beaches in Mumbai. Swimming is prohibited because of the presence of strong currents, but the views of sunset have always been gorgeous. Photographers might also be enthusiastic to click fishermen and their fresh catches in the fish market. Versova is the home to the Koli fishing community of Mumbai.
How to Reach Mumbai Powai Lake?
Powai Lake is an upscale neighbourhood in Mumbai and has got several ways for you to reach there. Several bus stops are in the vicinity, only a few meters away from the lake. You can also board a Mumbai local train. Kanjurmarg station, about 3 km away, is the Powai Lake nearest railway station. Those looking for Mumbai metros, should get a train to Sakinaka metro station, about 5 km away.
Frequent autos and taxis from the railway stations and other places in Mumbai are available. You can also hire a private cab from top car rental companies in Mumbai to travel within the city comfortably. And here are the different ways to reach Mumbai –
By Road – Many public and private bus services connect Mumbai to the major cities and towns in Maharashtra and neighbouring states. Most long-distance buses stop at the Mumbai Central Depot, which is about 26 km away from Powai Lake.
By Rail – Railways are the lifeline of Mumbai. And the city enjoys good connectivity with all corners of the country. While some trains stop at the suburban railway stations, Chhatrapati Shivaji Terminus and Mumbai Central are the two railway terminals that serve the city. Both are at a distance of around 30 km from Powai Lake.
By Air – Chhatrapati Shivaji International Airport, at a distance of 10 km from Powai Lake, is the airport which connects Mumbai to destinations around the world. You can find regular flights from many countries including Australia, Singapore and UAE. Daily flights from many Indian cities also fly to Mumbai.
FAQs about Powai Lake
---
Q. How was Powai Lake formed? Is Powai Lake artificial?
A. Yes, it is a man-made lake built by the British for the purpose of supplying water to Mumbai. Powai Lake's story begins in 1891, when two dams were built on the Mithi River. The lake formed as a result of those two dams.
---
Q. Does Powai Lake supply water to Mumbai?
A. No. Within a few years of its inception, the water was declared unfit for drinking. Today Powai Lake water is used for gardening and various industrial purposes.
---
Q. What is the area covered by Powai Lake?
A. Powai Lake size is about 2.2 sq.km. The catchment area of the lake is around 6.6 sq.km.
---
Q. What is the depth of Powai Lake?
A. Powai Lake depth has reduced significantly because of pollution and lack of maintenance in its early years. At the time of its construction, the depth varied from 3 metre at its periphery to 12 metre at its deepest point.
---
Q. Does Powai Lake have crocodiles?
A. Yes, crocodiles have been spotted in the waters. BMC officials have reported their presence too. They've speculated the number to be at 40, but there hasn't been any official census.
---
Q. Can we boat in Powai Lake?
A. Boating in Powai Lake isn't operated any more.
---
Q. Is fishing allowed in Powai Lake?
A. Powai Lake has been extensively used for fishing over the years. But it isn't allowed now.
---
The city of Mumbai offers many tourist attractions and Mumbai Tourism, a division of Holidays DNA is more than happy to plan your visit just the way you want. We offer Mumbai Tour packages to make sure you experience everything that Mumbai offers in the best possible manner. Please fill the Contact Us for further details.
Location Map for Powai Lake Mumbai