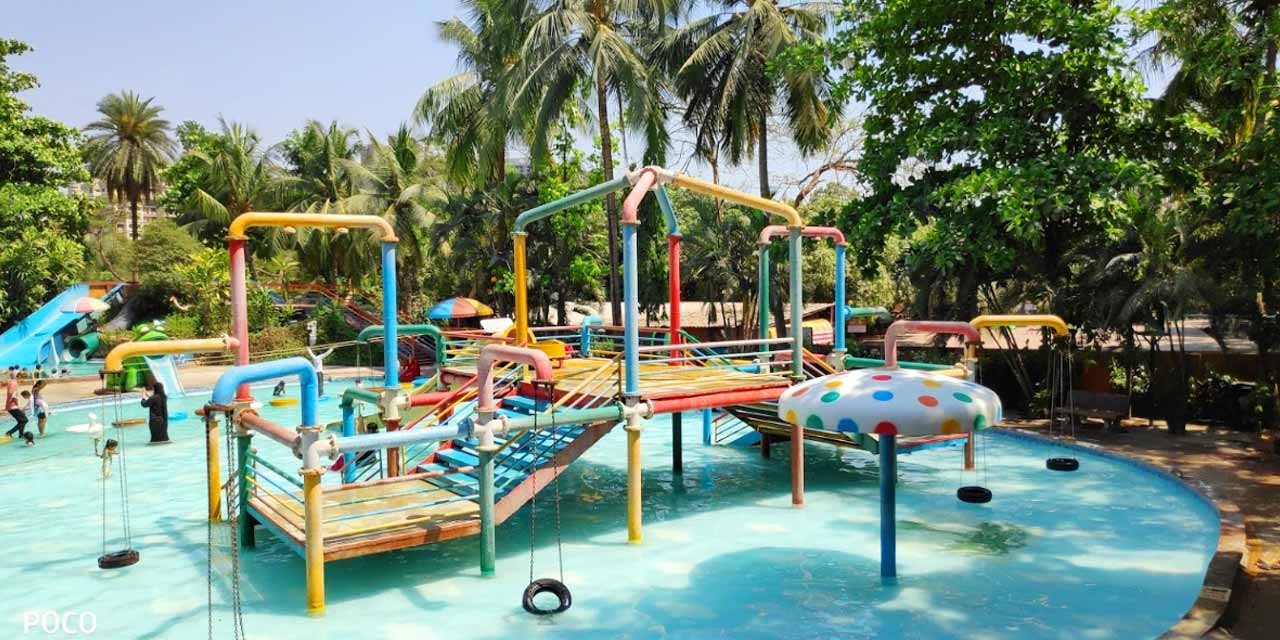 Tikuji-ni-Wadi Mumbai Entry Fee
Food is optional and chargeable. Outside food not allowed.
---
Tikuji-ni-Wadi Mumbai Phone
Tikuji-ni-Wadi Mumbai Timings
| Day | Timing |
| --- | --- |
| Monday | 9:00 am – 7:00 pm |
| Tuesday | 9:00 am – 7:00 pm |
| Wedesday | 9:00 am – 7:00 pm |
| Thursday | 9:00 am – 7:00 pm |
| Friday | 9:00 am – 7:00 pm |
| Saturday | 9:00 am – 7:00 pm |
| Sunday | 9:00 am – 7:00 pm |
Rating:

| 4/5 stars
Based on total 59 reviews
Tikuji-ni-Wadi Mumbai Address: Tikuji-ni-wadi Road Opp. Tata Power House Manpada, Chitalsar, Thane, Mumbai, Maharashtra, 400607, India
Tikuji-ni-Wadi Mumbai Mumbai Entry Timings
| Category | Timings |
| --- | --- |
| Resort | 9:00 am to 7:00 pm |
| Amusement Park | 11:00 am to 7:00 pm |
| Water Park | 10:00 am to 6:00 pm |
---
Tikuji-ni-wadi is a place for full family entertainment. Whether you want to indulge in water activities, enjoy a day out with kids, or take a weekend away from the city, Tikuji ni wadi fun resort is the place to be.
This resort, which is also an amusement park and a water park, is known for the greenery surrounding it. It is also popular for the views it offers, the fun rides and the adventure activities. From wave pools to water slides, and giant wheels to go-karting track, this place provides many opportunities for you to enjoy.
Tikuji ni wadi also has a mini dinosaur park, aquarium and a treetop restaurant among other places of interest.
Where is Tikuji ni wadi in Mumbai?
Tikuji ni wadi amusement and water park is in Thane, a few kilometres away from Mumbai. The place is set up in a lush green environment where you can have fun on the rides, feast on lip-smacking delicacies and rest in one of the cosy cottages.
You can even plan a party or celebrate an event in the serene and picture-perfect Tikuji ni wadi resort.
Things to do at Tikuji-ni-Wadi Thane
1. Trying amusement rides – Tikuji ni wadi offers many dry rides and activities within the premises. The park has rides like Dashing Car, Go Kart and Worm Coaster for full family fun. And you also have exclusive kid-friendly rides at Tikuji ni wadi amusement park. Climbing Car, Frog Ride and Pirate Boat are among them. Kids can also try fun games at the Play Station.
2. Playing water games – You can enjoy with your family in the splash pools and water slides of Tikuji ni wadi water park. The Wave Pool, Lazy River and kid-friendly rides are among the different activities available in the water play area. Toddlers and kids can have a fun-filled day with their parents at the water park. You will also find a cafe here.
3. Visiting Dinosaur World – Another attraction of Tikuji-ni-wadi is the small dinosaur park. It has life-sized animated structures of various pre-historic creatures like Spinosaurus, Tyrannosaurus Rex, Pteranodon and others.
4. Browsing Tikuji ni wadi aquarium – Tikuji ni wadi has a small aquarium too, where the entire family can watch fishes living in their natural habitat, and know more about them.
5. Eating at the treetop restaurant – Tikuji ni wadi has cafes and snack counters spread throughout the park. They serve vegetarian snacks and dishes from different cuisines. And you also get tea, coffee and soft drinks. The treetop restaurant there also hosts a buffet lunch.
6. Staying in a cottage – If you want to enjoy a Tikuji ni wadi night stay, you can book the air-conditioned cottages available within the resort complex.
Image Gallery of Tikuji-ni-Wadi Mumbai
Tikuji-ni-Wadi Thane Entry Fees and Timings
Tikuji ni wadi offers a few different entry packages.
For entry, Tikuji ni wadi charges are ₹950 per person. And this rate applies to anyone over 3 ft height. Kids, below 3ft, get free entry to Tikuji-ni-wadi. The entry fee also includes unlimited entry to some activities and rides in this amusement and water park. For other rides, you'll be charged with the displayed rate of those individual activities/rides.
Also, no complimentary food is included with the ₹950 package. You're free to buy as per your choice from the restaurants and snack counters. Only vegetarian dishes are available in this park complex.
Tikuji ni wadi entry fee with food is ₹1200 per person, which includes a buffet lunch at the treetop restaurant.
If you want to stay in a cottage overnight, Tikuji ni wadi stay rate is ₹4,200 for one cottage per couple. The cottage charge also includes entry to the amusement park and water park and access to some activities.
Tikuji ni wadi opening time is 9 AM, and it closes by 7 PM. The water park activities are open from 10 AM to 6 PM, and the amusement park rides are available between 11 AM and 7 PM.
This park is open throughout the year, and you can enjoy Tikuji ni wadi rides whether you visit on a weekend, a weekday or a holiday.
Best Time to visit Tikuji-ni-Wadi
It would be best to visit Tikuji ni wadi between November and February. Those are the winter months in Mumbai, and the temperature is lower than the other time of the year. Visit this park on the weekdays to avoid the rush and be there early to enjoy as many rides as you want.
Also, in February, Shivaratri festival is celebrated in this amusement park. And if you are there in Mumbai during those days, you must not miss it.
Time to explore Tikuji-ni-Wadi
You can spend about 2 hours at Tikuji ni wadi park. But, since it is in Thane, a little far from Mumbai, set aside a half-day for your visit.
You can even book a stay at Tikuji ni wadi itself if you want to stay for a night here.
Things to keep in mind while visiting Tikuji-ni-Wadi
Have your identity proof handy.
Follow the age restriction on the rides.
Keep all your valuables in the changing room lockers.
Wear synthetic/nylon clothes during the activities in the water park.
Apply sunscreen, preferably waterproof, when enjoying in the open.
Stay out of the water if you have water-borne allergies.
People with health problems should avoid adventure rides.
Swimming costumes are available for sale.
Food and drinks from the outside aren't permitted during the visit.
The resort doesn't have provisions for dinner; order from outside.
How to reach Tikuji-ni-Wadi Mumbai Thane?
Tikuji ni wadi is in Thane, about 30 km away from Mumbai city centre. Local trains are available at regular intervals. And you can get a bus, taxi or auto to Tikuji ni wadi from Thane station.
But it would be more convenient to book a private cab from top car rental companies in Mumbai to reach the amusement park. It will save you a lot of hassles, and you can get them from anywhere in Mumbai. And here are the different ways to go to Mumbai –
By Road – An array of national highways and expressways connects Mumbai to all parts of the country. And you will get a bus from many neighbouring towns and major cities. The Mumbai Central bus stop is about 40 km away from Tikuji ni wadi. You can also hire a cab to go to Mumbai, and visit Tikuji ni wadi and other sightseeing places of Mumbai.
By Rail – Regular express trains from all corners of the country are available to take you to Mumbai. Chhatrapati Shivaji Maharaj Terminus and Mumbai Central are the main railway stations, and they're around 40 km away from this amusement-cum-water park.
By Air – Mumbai is a prominent tourist destination, and it has flights from many parts of the world. You will find regular flights from southeast-Asian countries, European countries, the UK and others to Chhatrapati Shivaji International Airport. It is about 26 km away from Tikuji ni wadi. Daily flights from various cities within India are also available.
---
Whether you are visiting Mumbai for business or pleasure, Mumbai Tourism, a division of Holidays DNA is here to help you have a great holiday experience. With our easily customisable Mumbai Tour packages, you can have a memorable time exploring this happening city. Please fill the Contact Us form to know more about our offers.
Location Map for Tikuji-ni-Wadi Mumbai