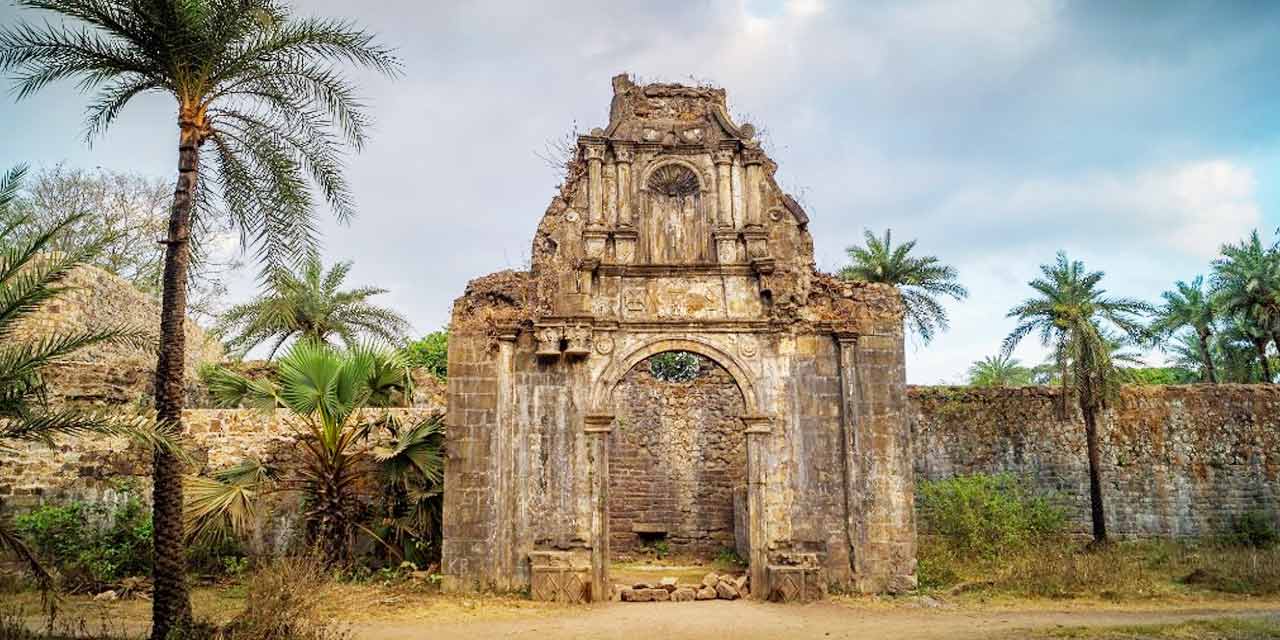 Fort Bassein / Vasai Fort Mumbai Entry Fee
---
Fort Bassein / Vasai Fort Mumbai Phone
Fort Bassein / Vasai Fort Mumbai Timings
| Day | Timing |
| --- | --- |
| Monday | 6:00 am – 6:00 pm |
| Tuesday | 6:00 am – 6:00 pm |
| Wedesday | 6:00 am – 6:00 pm |
| Thursday | 6:00 am – 6:00 pm |
| Friday | 6:00 am – 6:00 pm |
| Saturday | 6:00 am – 6:00 pm |
| Sunday | 6:00 am – 6:00 pm |
Rating:

| 4/5 stars
Based on total 58 reviews
Fort Bassein / Vasai Fort Mumbai Address: Killa Rd, Police Colony, Vasai West, Vasai, Maharashtra, 401201, India
---
Fort Bassein is a 500-year Portuguese Fort near Vasai-Virar, amidst a quaint landscape, protected by the sea from three sides. It was at its prime for two centuries under the Portuguese rule, and later, under the Marathas.
Unlike other forts built for the sole purpose of storing warfare materials and holding soldiers, Bassein Fort Vasai was a complete city. It had churches, hospitals, administrative blocks, and the Portuguese used it as their base to control the region in and around Mumbai. A fierce fleet protected the fort on the seaside and a strong wall on the land side made it impenetrable.
Vasai Fort Mumbai also used to be the official residence of the Portuguese governor whenever he came to visit the region.
Today, the fort is known as a spot for heritage walk and movie shoots, and to spend a day away from Mumbai. It is a landmark of national significance and it is being restored under the direction of the Archaeological Survey of India.
Vasai Fort pre-wedding photoshoots are also popular among couples. And nature lovers too, visit this fort.
Architecture of Vasai Fort
Much of Vasai Fort is in ruins, but the standing walls give away how the constructions were during those days. It is surrounded by sea on three sides. And through the main gate on the land side, you enter the courtyard.
Many arches have survived, and facades have been preserved. You can notice the carved stones. The three churches inside the complex, too, are recognizable. Their architecture is similar to the Portuguese churches of the 17th century.
Several watchtowers of Vasai Fort also have stood the test of time. And you can observe the surrounding Vasai village and the Vasai Creek from up there.
History of Bassein Fort Vasai
The work on Fort Bassein (or Fort Baçaim, in Portuguese) began around the 1530s. Bahadur Shah, Sultan of Gujarat, ruled the area during that time. He lost it in 1534, to the Portuguese. Portuguese governor – Nuno da Cunha, then started building the fort city, and Vasai Fort underwent further fortification.
Later, Chimaji Appa, brother of Peshwa Bajirao, and his Maratha army took control of Vasai Fort in the 18th century. But the rule was short-lived. The British attacked and won the fort from the Marathas soon after.
Things to do at Vasai Fort
1. Exploring history among the ruins – Vasai Fort restoration is ongoing, but the old day splendour probably would never be recreated. However, while making your way through the overgrown bushes, checking out the blocks wall by wall, you'll be taken back to its history. Dilapidated walls, damaged watchtowers and the expansive fields, everything, is a part of the story that includes the Portuguese, Marathas, and British. The adventurous souls should also check out Vasai Fort underground tunnel.
2. Finding solace in the church – Among the fortified walls in Vasai Fort of Virar, are the remnants of three churches – the Holy Name of Jesus Church, Saint Joseph's Church, and the Franciscan Church of Saint Anthony. Today, only the Holy Name of Jesus Church is being used for prayers, but you can also walk through the other two. Saint Joseph's Church used to be the tallest church, and the Franciscan Church of Saint Anthony has tombstones of 250 Portuguese nobles lining its floor.
3. Savouring the views of Mumbai's skyline – During your Vasai Fort trek, you can climb the steps in the watchtowers. The top welcomes you with magnificent views of the surrounding structures of Vasai Fort and Beach, and the skyline of Mumbai across Vasai Creek.
4. Clicking photographs of the landscape – Vasai Fort ruins have been used as a backdrop for many selfies and pre-wedding photoshoots. Also, apart from the majestic views of Mumbai across the coast, you'll come across many birds and scenic views of the beaches in the area. And you would love to capture them all.
5. Going for the heritage walk – Vasai Fort heritage walk is organised from time to time by the local groups in Vasai village. You can be a part of it and learn more about the architectural styles, inscriptions on the walls and other Vasai Fort secrets. You can also navigate through the streets of Vasai and witness the laid-back life in Vasai and other villages in the area.
Image Gallery of Fort Bassein / Vasai Fort Mumbai
Vasai Fort Timings and Entry Fee
Vasai Fort entry is free and it is open throughout the year. And you can visit it any time during the day. However, because of its secluded location, it is not advisable to go to Vasai Fort at night. So, the opening hours of Vasai Fort are between 6 AM and 6 PM.
Best Time to visit Vasai Fort
During the day, the heat from the sun will make your Vasai Fort tour unpleasant. Therefore, it is best to visit the fort in the morning hours as it opens, or in the evening hours before closing. Also, you should plan your visit to Vasai Fort between October and March. Mumbai enjoys winter during those months, and the temperature is cooler. So, you will be more comfortable in exploring Vasai Fort architecture and history.
Time to explore Vasai Fort
It will take you about 2-3 hours to get through all the Vasai Fort details. But, as the fort lies on the outskirts of Mumbai, it's better to have an entire day reserved for your tour. It will ensure that you have plenty of time to wander around the fort, as well as other important places in the nearby villages.
Things to keep in mind while visiting Bassein Fort Mumbai
Travel to the fort in a small group; it's in a remote location.
Watch out for snakes; they might reside among the shrubs.
Carry a pair of binoculars if you're interested in bird-watching.
Pack a torch; you might need it inside the tunnel.
Have some snacks and water with you.
Apply sunscreen lotion before and during your visit.
Put on a hat and sunglasses if required.
Wear comfortable shoes; you would've to walk a lot.
Do not scribble on the walls.
Do not litter.
Interesting facts about Fort Bassein/Vasai Fort
Full Portuguese name of Bassein Fort is "Fortaleza de São Sebastião de Baçaím", which means "Fort of St. Sebastian of Vasai" in English.
Several scenes of Bollywood movies like Aag, Josh and Khamoshi have been shot at Vasai Fort Mumbai.
"Hymn for the Weekend" by Coldplay was also shot here.
Places to visit near Vasai Fort in Mumbai
1. Vardhman Fantasy Amusement Park – This amusement park is on the way to Mumbai city from Vasai, about 35 km away from Vasai Fort. It has many rides and activities spread across themed zones like Wonders of the World, Texas Cowboy and Lake Venetia among others. Vardhman Fantasy Park also has a food court and cafes with indoor and outdoor seating arrangements. The park has got an auditorium too, and other open spaces for live events and parties.
2. Sanjay Gandhi National Park – At about 40 km from Fort Bassein, Sanjay Gandhi National Park is the only national park in the world known to be present within a city's premises. It is home to different species of mammals, birds, reptiles, and hundreds of plant varieties. Local people come here for cycling, trekking and overnight camping among the greens. Away from the chaos of the city, the environment inside is peaceful.
3. Kanheri Caves – Kanheri Caves complex is a part of the Sanjay Gandhi National Park. It is a collection of 109 caves on a hillside. The earliest ones, devoid of any fine art date back to the 1st century BCE. And the most recent caves are from the 11th century CE. Kanheri Caves served as Buddhist viharas where monks used to worship, study, and meditate. The caves contain different paintings and statues of Buddha.
4. Mumbai Film City – About 7 km ahead of Sanjay Gandhi National Park and Kanheri Caves, lies the iconic landmark of Mumbai, the film city. And it is a must-visit place. Within its premises, Mumbai Film City houses 16 indoor studios and 42 outdoor shooting locations. From courts and hospitals to helipads and entire building complexes, you can witness many pre-built locations. Numerous movies and TV shows are shot here, and if you're lucky, you will stumble upon your favourite celebrities too.
5. Tikuji-ni-Wadi – It is a water park in the Thane district near Mumbai. The park has numerous fun-filled water rides and a wave pool to enjoy a day out with friends and family. Surrounded by shady trees, Tikuji-ni-Wadi also has a go-kart arena, arcade zone and other places for entertainment. It is about 45 km away from Vasai Fort and if you feel like staying here, you can book a cottage within the park.
How to reach Vasai Fort?
You can reach Vasai Fort by road or by a local train. Vasai Road railway station is about 10 km away from the fort. From the station, you can get an auto rickshaw or bus for Vasai Fort. You can also book a cab from top car rental companies in Mumbai to reach Vasai Fort from anywhere in Mumbai.
And now, here are the different ways to reach Mumbai –
By Road – Many standard and luxury buses run between the nearby towns and Mumbai. Whether you're in Pune (150 km) or Nashik (170 km), or a distant city like Ahmedabad (520 km), you'll get a bus for Mumbai. Most buses stop at Mumbai Central Bus Depot, which is about 73 km away from Vasai Fort.
By Rail – Being the financial hub of the country, Mumbai has nationwide railway connectivity. Regular express trains run from the metropolitan cities and other towns of India. Chhatrapati Shivaji Maharaj Terminus and Mumbai Central are the two railway stations where most trains stop. Both are about 75 km away from the fort. Some long-distance trains stop at the suburban railway stations too.
By Air – Chhatrapati Shivaji International Airport connects Mumbai to different parts of the world. You will get flights from international destinations like the US, Bangkok, and Australia among many others. Flights from many Indian towns arrive at the airport too. It is about 54 km from the fort.
---
Mumbai offers diverse sightseeing options for every kind of tourist and to plan your holiday according to your interests, we at Mumbai Tourism, a division of Holidays DNA have designed Mumbai Tour packages. These packages include a tour of popular places to visit in Mumbai which can be easily customisable based on your preferences. Whether you are planning to visit Mumbai for a day, 2 or for a week, we make sure you have a great time in the city. For further details, please fill the Contact Us form and we will get back to you.
Location Map for Fort Bassein / Vasai Fort Mumbai