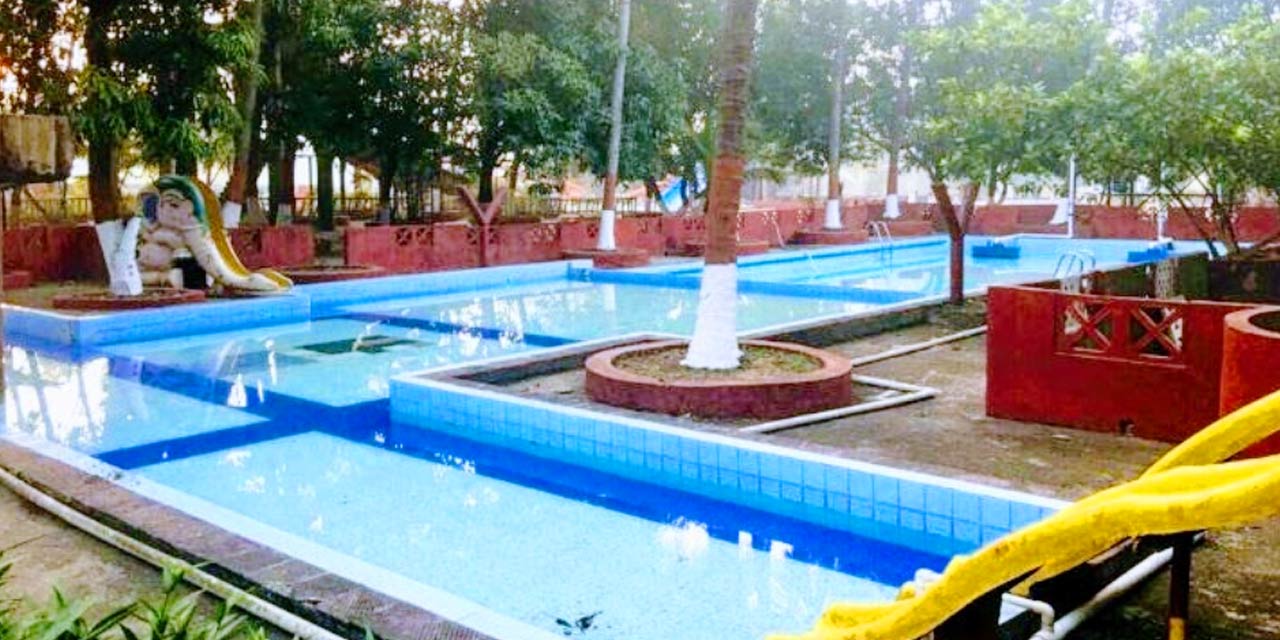 Ammu Water Park Mumbai Entry Fee
499 per person for Adults
350 per person for Children
---
Ammu Water Park Mumbai Phone
Ammu Water Park Mumbai Timings
| Day | Timing |
| --- | --- |
| Monday | 9:45 am – 4:45 pm |
| Tuesday | 9:45 am – 4:45 pm |
| Wedesday | 9:45 am – 4:45 pm |
| Thursday | 9:45 am – 4:45 pm |
| Friday | 9:45 am – 4:45 pm |
| Saturday | 9:45 am – 4:45 pm |
| Sunday | 9:45 am – 4:45 pm |
Rating:

| 4/5 stars
Based on total 44 reviews
Ammu Water Park Mumbai Address: Apti Road, Off Kalyan Murbad Road District Thane, Vaholi, Maharashtra, 421301, India
---
Ammu Water Park in Kalyan is a small but fun place to beat the heat of Mumbai. Located near the banks of Ulhas River, in a serene location, it is away from the crowded city life.
The place has a large swimming pool, a wave pool and numerous water slides among other activities. You can spend your day in the pool, enjoy the water rides or stroll around in the lush green surroundings. A rain dance floor, space for outdoor games and various amusement rides for kids are also available at Ammu Water Park.
And you get complimentary meals too, with your entry to the water park.
Whether you want to have a fun time with friends, enjoy a day with kids or get an undisturbed weekend with your partner, check out Ammu Water Park Mumbai. The park also provides accommodation facilities if you wish to stay overnight with friends or family members.
Things to do at Ammu Water Park Mumbai
1. Getting on the water rides – Ammu Water Park and Resort has multiple amusing water slides for both adults and kids. Get on them, let your fears go, and slide down into the pool.
2. Floating leisurely in the pool – If you don't want to play on the slides, you can swim around or enjoy a sunbath while lying in the pool. The water park has a large swimming pool and a wave pool for you to have a full day to cool yourself down.
3. Dancing in the rain – Ammu Water Park has a rain dance platform too. There you can get drenched in the rain while shaking legs on the foot-tapping music being played around.
4. Having fun in the kids' zone – The water park also comes with a play area for kids. It has a merry-go-round and other enjoyable rides like Mini Space Shuttle and the Jumbo Jet. You can enjoy various indoor and outdoor games too, at Ammu Water Park with your kids.
5. Riding the mini train – The mini-train in the water park takes you on a tour around the resort. The mini-train ride will help you explore the areas in and around the park.
6. Enjoying complimentary buffet – Ammu Water Park ticket price also includes complimentary meals for the day. So, along with the water activities and amusement rides, you can check out the delicious dishes offered in the park. The water park serves breakfast, lunch and the evening tea while you spend your day there.
Ammu Water Park Entry Fees and Timings
Ammu Water Park entry fees with food are ₹499 per person for adults and ₹350 per person for children. The entry ticket allows access to the water park, kids' zone and other activities available within Ammu Water Park and Resort. And you also get to enjoy the buffet breakfast, the buffet lunch and the evening tea and snacks.
Ammu Water Park opens at 9.45 AM and remains open to visitors until 4.45 PM. It is open on all days of the week. So, whether you want to visit during the weekend or on a holiday, you're free to do so.
Best Time to visit Ammu Water Park Mumbai
This water park is open all round the year, and you can visit it on any day you want. However, it would be best to visit it during the winter months, between November and February.
During winter, the temperature of the city is more comfortable for your tour. So, you can spend as much time as you want in the water park slides and other activities in the park. Also, try to plan your visit during the weekdays to avoid any rush. You'll thus be able to enjoy the activities without any disturbance.
Image Gallery of Ammu Water Park Mumbai
Time to explore Ammu Water Park
You can spend around 1-2 hours at Ammu Water Park. However, set aside a half-day for your visit to the water park if you're in the Mumbai city centre. The place is on the outskirts of Mumbai. And depending on the location of your hotel, you might need a few hours to reach the place.
How to reach Ammu Water Park?
Ammu Water Park is in Vaholi village, near Kalyan, Thane. It is set up near the banks of Ulhas River, about 50 km away from Mumbai. Kalyan railway station is the nearest railway station. The station is about 15 km away from Ammu Water Park, and you can get a train from Mumbai to reach there. Then, you can hire autos or taxis for the water park.
However, the best way to go to the water park is to hire a cab from top car rental companies in Mumbai. You will be able to reach the water park without any discomfort and enjoy the rest of the day at leisure.
And now, here are the various ways for you to go to Mumbai –
By Road – Mumbai has strong road connectivity with all parts of the country. An array of public and private buses run from the major cities and towns around. You can get a bus from Pune, Aurangabad and all other nearby towns. Long-distance luxury buses from Ahmedabad, Bangalore and Panaji are also available.
Most buses stop at Mumbai Central Bus Depot, about 70 km away from Ammu Water Park. You can also rent a cab or drive your car to Mumbai.
By Rail – Mumbai is a prominent tourist destination in India. A plethora of express trains connect it to all the corners of India. Whether you want to reach Mumbai from north, south or places in the far-east of the country, you'll find connecting trains.
Chhatrapati Shivaji Maharaj Terminus and Mumbai Central are the major railway stations in Mumbai. And both are about 70 km away from the water park.
By Air – Chhatrapati Shivaji International Airport, about 60 km away from Ammu Water Park connects Mumbai to locations around the globe. You can get flights from many countries, including those in Europe, the middle-east or South-east Asia. Mumbai also has flights from cities all over India.
---
One of the most happening cities in India popular for its amazing nightlife, Mumbai is frequently visited by tourists around the world. To explore the city in the best possible manner, we at Mumbai Tourism, a division of Holidays DNA have designed Mumbai Tour packages that are easy on your pocket. You can explore the sightseeing places of Mumbai in the comfort of a private cab in a hassle free manner. Please fill the Contact Us form to know more about the various packages.
Location Map for Ammu Water Park Mumbai