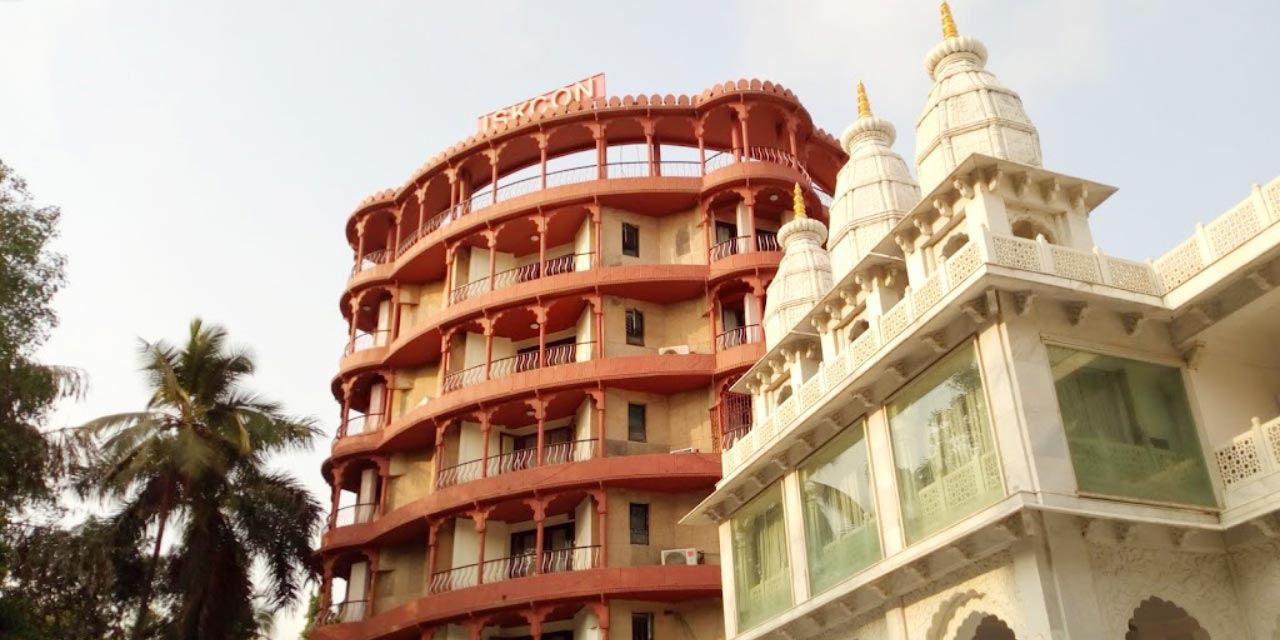 ISKCON Temple Mumbai Entry Fee
---
ISKCON Temple Mumbai Phone
ISKCON Temple Mumbai Timings
Day
Timing
Monday
4:30 am – 1:00 pm
4:30 pm – 9:00 pm
Tuesday
4:30 am – 1:00 pm
4:30 pm – 9:00 pm
Wedesday
4:30 am – 1:00 pm
4:30 pm – 9:00 pm
Thursday
4:30 am – 1:00 pm
4:30 pm – 9:00 pm
Friday
4:30 am – 1:00 pm
4:30 pm – 9:00 pm
Saturday
4:30 am – 1:00 pm
4:30 pm – 9:00 pm
Sunday
4:30 am – 1:00 pm
4:30 pm – 9:00 pm
Rating:

| 4/5 stars
Based on total 54 reviews
ISKCON Temple Mumbai Address: Sri Sri Radha Rasabihari Temple, Hare Krishna Land, Juhu Church Road, Juhu, Chand Society, MHADA Colony, Juhu, Mumbai, Maharashtra, 400049, India
---
The magnificent ISKCON Temple located in Juhu, Mumbai was built in the 1970s under the guidance of Swami Prabhupada, the founder of the International Society of Krishna Consciousness (ISKCON). The aim of building this shrine was to spread the consciousness of Lord Krishna. It is among the finest of the 40 ISKCON temples in the country and one of the top tourist attractions of Mumbai.
ISKCON Temple premise sprawls over an area of 4 acres, consisting of a restaurant, library, guesthouse, bakery and halls in the Heaven of Earth complex, besides the main shrine. The temple houses the idols of Lord Krishna and Radha; Lord Rama, Sita, Lakshmana and Hanuman; and Lord Gaur Nitai.
This splendid temple is also known by the name of 'Radha Rasabihariji Temple' and 'Hare Rama Hare Krishna Temple'. It is an ideal place to pray, meditate and acquire the great knowledge of spiritualism. Another wonderful offering of this shrine is its special courses on Vedic education, Srimad Bhagavatam, Bhagavad Gita, Yoga and stress management.
Though the temple is thronged by thousands of devotees throughout the year from far and wide, the highest footfall is seen on 'Janmashtami', the birth day of Lord Krishna. On this day, the shrine celebrates the birthday of Shri Krishna with great joy and fervor. Besides this, other special occasions like Jagannath Rath Yatra, Radhastami, Ramnavami and Govardhan Puja are celebrated in the temple with grand festivities.
History of ISKCON Temple, Mumbai
In the early 1970s, Juhu was not what it is today; it was somewhat a secluded area and building a temple here was something none could imagine, but Swami Prabhupada did, and with much difficulty acquired the 4 acres of land (now called Hare Krishna Land) to build the temple. He himself had installed the idols of the deities at the temple.
On 14th January 1978, ISKCON Juhu was opened to the public and ever since has become an important place of worship for the devotees of Lord Krishna.
Architecture of Mumbai ISKCON Temple
Made of white marble, the temple of ISKCON in Mumbai looks absolutely stunning even from a distance and its beautifully inscribed entrance simply adds to its charm. The main building, comprising three floors, has a typical Hindu-temple architecture with a spire (Shikhara) at the top, measuring almost a hundred feet high.
The temple premise is quite spacious and can accommodate large number of devotees at any given time. The inside walls of the temples feature several remarkable murals, depicting the famous scenes from the epic of Mahabharata.
Image Gallery of ISKCON Temple Mumbai
Things to do at Mumbai ISKCON Temple
The Heaven on Earth complex is an integral part of the Juhu ISKCON Temple, with it featuring a library, multipurpose halls, restaurant, bakery, spiritual boutique, guesthouse, a Center for Vedic education and the most important one – the Prabhupada Quarters.
1. Prabhupada Quarters – These are the quarters where Swami Prabhupada used to reside, whenever he was in Mumbai. He interacted with important personalities of the city and his disciples in these quarters, and this is the place where he translated Srimad Bhagavatam.
Today, these quarters house memorabilia of Swami Prabhupada, including his Dictaphone, Vyasasana and palanquin, which are open for the public to witness. Every Wednesday, lectures of Swami Prabhupada on Srimad Bhagavatam are conducted in these quarters at 8 am.
2. Center of Vedic Education – The Center offer different specialized courses on Yoga, stress management, teachings of Srimad Bhagavatam and Bhagavad Gita, and Vedic education.
3. Library – The spacious library of ISKCON Mumbai has a huge collection of books on spirituality. It also features a multimedia section, where people can listen to recorded bhajans and lectures. Membership of this library is free.
4. Govinda's Restaurant – It is a pure vegetarian restaurant that offers breakfast, lunch buffet, evening snacks and dinner buffet. The restaurant has a capacity of 275 guests, and it serves delicacies from Indian, Italian, Thai, Mexican and Chinese cuisines. An interesting fact about this restaurant is that every meal served to its guests is first served to Lord Krishna.
The banquet hall of the restaurant is used for organizing conferences, private functions and marriages.
5. Govinda's Bakery – The bakery offers mouth-watering and lip-smacking cupcakes, pastries, stuffed burgers, noodles, pizzas, donuts, cakes, etc.
6. Spiritual Boutique – This boutique has books, DVDs and VCDs related to spiritualism in its stock, besides paintings of Lord Krishna, traditional wear and puja items.
7. Guesthouse – The Guesthouse in the complex features 76 well-furnished, spacious AC and non AC rooms. Room service is available round the clock, and for local sightseeing, special arrangements are made. There is a cybercafé in the lobby of the Guesthouse as well.
ISKCON Temple Mumbai rooms booking should be done well in advance to avoid any last minute rush.
8. Multipurpose Halls – The complex has several halls, which can be booked on rent basis for conferences, weddings, anniversaries or birthday celebrations. Halls namely Mandapam, Shankha and Gauranga are air conditioned, with the first having a capacity to accommodate 500 to 700 people while the rest two having a capacity of 100 each.
Vrindavan Hall is non air conditioned and has a capacity of 300 to 400 people. The open terrace of the complex is also used for conducting functions, with it having a capacity to accommodate 1000 to 1500 people.
Every day, special programs – seminars, lectures and workshops – are conducted in the temple premises on educational, spiritual and cultural enlightenment, which can be attended while on a visit here.
ISKCON Temple Mumbai Timings and Entry Fee
The temple opens its doors for devotees as early as 4.30 am - the time when the day's activities at the holy place begin with a splendid Mangala Arati. Throughout the day, the temple follows a schedule for darshan, pujas, aratis and discourse. The temple remains closed between 1 pm and 4.30 pm. The final act of each day at ISKCON Mumbai is Shayana Arati, which is scheduled at 8.30 pm.
Prabhupada Quarters can be visited between 5.30 pm and 8.30 pm
Library can be accessed on all days of the week, from 11 am to 2 pm and 5 pm to 8 pm
There is no entry fee to pay a visit at this famous ISKCON Temple Mumbai Juhu.
Places to Visit near ISKCON Mumbai
1. Juhu Beach – Located close to ISKCON Temple in Juhu, Juhu Beach is one of the top tourist attractions of the city. This beach, which is situated on the shores of the Arabian Sea, stretches up to Versova.
The food court at Juhu Beach is famous for its offerings like Bhelpuri, Sevpuri, Pani Puri, Pav Bhaji, etc. Locals and tourists love to spend time at the beach, witnessing the setting sun and enjoying the views of the skyscrapers of Mumbai.
The Juhu Beach is also the place where annual Ganesh Chaturthi celebrations take place with grand processions and immersion of the idols of Lord Ganesha.
2. Mukteshwar Temple – The Mukteshwar Temple, devoted to Lord Shiva, is a 400 year old shrine located opposite of ISKCON Juhu. This 7 storey temple has different temples dedicated to the major Hindu deities.
The peaceful ambiance of the temple attracts hundreds of devotees every day. It is one of its kind temples in Maharashtra, where Gods and Goddesses of Sanatan dharma, are worshipped at one place.
How to Reach ISKCON Temple Mumbai
Located in Juhu, the ISKCON Temple can be easily reached from the airport, railway station and different parts of the city.
Reaching ISKCON Temple from Airport: The distance between ISKCON Temple Mumbai and Chhatrapati Shivaji International Airport and ISKCON Juhu is about 6 km. Prepaid cabs and taxis are easily available from the airport to the temple, and it takes about 25 minutes to cover this distance. The Mumbai domestic airport is also a short distance from here.
One can also opt for a private cab from car rental companies in Mumbai and travel within the city in a hassle free manner.
Reaching ISKCON Juhu from Railway Station: Mumbai Central Railway Station is approximately 25 km (1 hour 17 minutes) and Chhatrapati Shivaji Terminus (1 hour) is approximately 22 km away from ISKCON Mumbai. While the nearest local train stations in Juhu are Andheri West and Vile Parle West. Taxis and auto rickshaws ply regularly from these stations to Juhu.
Reaching ISKCON Juhu by Bus: The nearest bus depot to the temple is the JVPD bus depot about 1 km away. Tourists can board buses from different parts of the city to reach this bus depot.
Things to Keep in Mind while Visiting ISKCON Temple at Mumbai
It is advisable to dress conservatively inside the temple premises
Car parking facility is available inside the complex
ISKCON Temple room booking needs to book at least 40 days in advance
First time visitors can take guidance at the Campus Preaching booth, which an information desk to help visitors with their queries related to the temple program and facilities. The desk also offers spiritual talks and counseling on several societal issues to public.
ISKCON Temple Mumbai Address
ISKCON,
Sri Sri Radha Rasabihari Temple,
Hare Krishna Land,
Juhu, Mumbai - 400049
---
Mumbai Tourism, a division of Holidays DNA makes your visit to Mumbai a relaxed and fun filled holiday experience with its Mumbai Tour packages that offer a peek into all the famous sightseeing places of Mumbai at budget friendly prices.Please fill the Contact Us form for further queries and we will be happy to assist you in having a best time in Mumbai.
Location Map for ISKCON Temple Mumbai