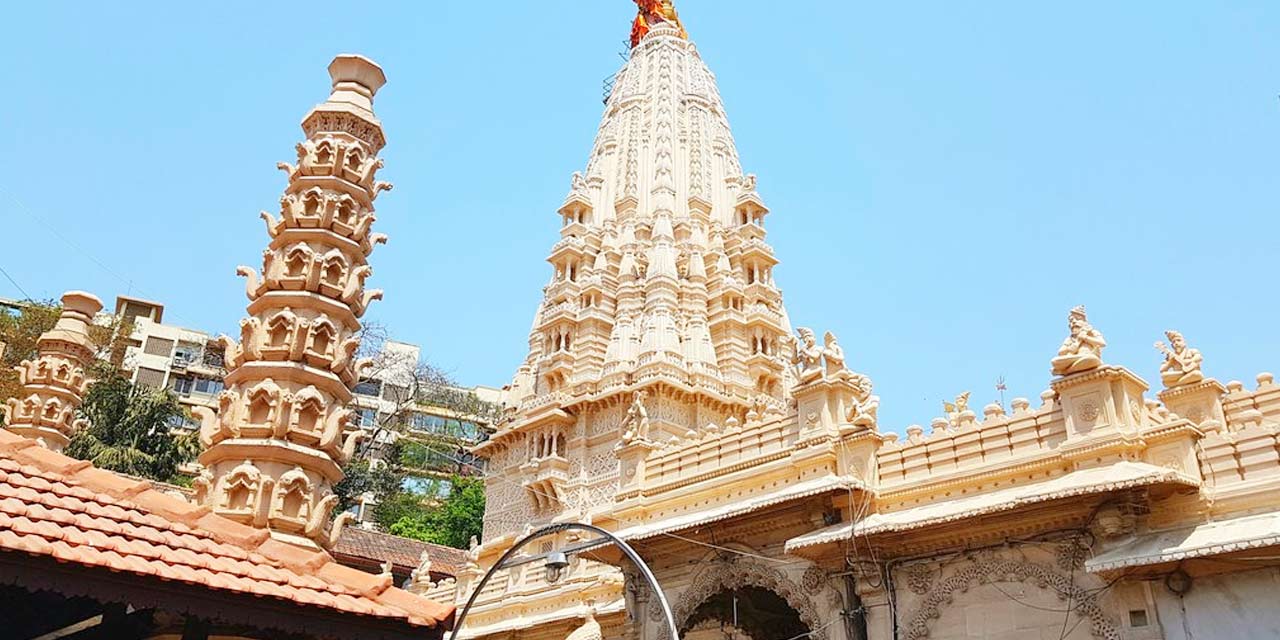 Babulnath Temple Mumbai Entry Fee
---
Babulnath Temple Mumbai Phone
Babulnath Temple Mumbai Timings
| Day | Timing |
| --- | --- |
| Monday | 5:00 am – 8:59 pm |
| Tuesday | 5:00 am – 8:59 pm |
| Wedesday | 5:00 am – 8:59 pm |
| Thursday | 5:00 am – 8:59 pm |
| Friday | 5:00 am – 8:59 pm |
| Saturday | 5:00 am – 8:59 pm |
| Sunday | 5:00 am – 8:59 pm |
Rating:

| 4/5 stars
Based on total 50 reviews
Babulnath Temple Mumbai Address: 16, Babulnath Road, Charni Road Near, Chowpatty, Maharashtra, 400004, India
---
Mumbai is the home to cultural, historical and architectural legacy, in the form of many ancient temples, and Babulnath Shiva Temple is among the oldest of those.
Where is Babulnath Temple in Mumbai? It is built on a hillock near the Malabar Hill area and has an interesting story and an extensive history behind its construction. The temple was constructed less than 200 years ago, but the roots go back to the 12th century.
Babulnath Temple has a special place among the devotees of Shiva, and during Mahashivaratri festival, the joy and excitement during the celebration are worth watching. People worship Lord Shiva and Goddess Parvati with full fervour on this day.
On other days too, local people visit this place for its serenity and spirituality.
History of Babulnath Temple Mumbai
A legend about Babulnath Temple is popular from about 300 years ago.
Back then, the area used to be a pastoral land owned by a rich man named Pandurang. And a boy called Babul looked after his cows.
One evening, a cow didn't give any milk. So, Babul started keeping an eye on that cow in the fields. He found that it poured all the milk at a particular place in the evening. After following her for a few days, Babul reported this strange behaviour to Pandurang.
Pandurang too followed the cow and then ordered digging at that place. A large Shivalinga surfaced as a result. And it is what we see as the Babulnath Temple Shivalinga today. Along with it, the idols of Lord Ganesha, Lord Hanuman and Goddess Parvati were also found during the excavation.
The temple, today, stands at the same place.
Babulnath Temple history, though, dates back to around the 12th century. A Hindu king, Bhimdev, built a Shiva temple at that time. Muslim invaders destroyed it later, and the idols got buried in the earth. Pandurang and Babul found those during their excavation, and a temple was built during the 1780s.
The members of the Parsi community resisted its construction as the land was near to one of their dakhma (or Tower of Silence). The matter was taken to the court and during the 1800s, judgement was passed in the favour of Hindus.
A Gujarati merchant built the present temple in the year 1890. At that time, Babulnath Temple tower (gopuram) was the tallest structure in Mumbai. However, lightning damaged it afterwards.
Architecture of Babulnath Temple
Babulnath Temple architecture, with its beautifully carved pillars, resembles the architectural style of Hindu temples. The walls of the temple are intricately carved from limestone, the designs of which delight a lot of tourists. The pillars and ceilings are decorated with stories and figurines from the Hindu mythology.
Also, the marble flooring has been brought down from Rajasthan, which enhances the aesthetics of this temple.
Image Gallery of Babulnath Temple Mumbai
Things to do at Babulnath Temple
Devotees from different parts of the world come to Babulnath Temple in Mumbai to offer flowers and milk to Shiva and have their prayers answered. You can do so too.
There are 110 steps to cover to reach the main temple shrine, which houses the Shivalinga. You can also take the lift instead. Once you're up there, you'll find yourself in a serene space away from the chaos.
Babulnath Temple also has other shrines, to house the deities found during the excavation.
So, buy a basket of offerings from one of the shops outside the temple and ask for blessings from the idols present at Babulnath Temple. Also, don't miss to attend the special prayers performed by the temple priests three times a day.
Babulnath Temple Timings and Entry Fee
Babulnath Temple opening time is 5 AM, and it closes by 8.59 PM every day. The entry is free for everyone. But if you want to use the lift service, you've to pay ₹1 for it.
If you're interested in watching the special pooja and live aarti, Babulnath Temple darshan timings are from 5.45 AM to 7 AM, 11 AM to 12 PM and 4.45 PM to 6 PM. During the morning and noon pooja, priests also offer a platter of fruits and other food to the lord. The food for the evening is offered at around 8 PM.
Best Time to Visit Babulnath Temple
The best time to visit the temple would be in the months between November to March when the temperature of Mumbai is pleasant. The humidity is low and it would be less troublesome to climb up those 110 stairs.
In February, on the occasion of Mahashivaratri, devotees come in groups to celebrate and get blessings of Lord Shiva and Goddess Parvati. On other days, try scheduling your visit during one of the Babulnath Temple pooja sessions, to see live aarti and worshipping of the deities.
Time to Explore Babulnath Temple Mumbai
You can spend around 1 hour in the serene Babulnath Temple complex. Offer some milk and fruits, listen to the prayers and get the blessings of the lord.
Things to keep in mind while visiting Babulnath Temple
Dress respectfully, preferably in an attire worn by the Hindus.
Keep an eye on your belongings when there's a crowd.
Take the lift if you've elderly people with you.
Places to visit near Babulnath Shiva Temple
1. Mani Bhavan – Mani Bhavan is a historical building, a few hundred metres away from Babulnath Temple. It is dedicated to Mahatma Gandhi. This two-storey building served as his home during his stay in Mumbai from 1917 to 1934. And he also initiated many political movements from here. Today, Mani Bhavan acts as a museum and it has a library, along with a photo gallery of Gandhiji's childhood and clips from the press. You can also visit the room where he used to stay.
2. Kamala Nehru Park – About 2 km from Babulnath Temple, is this recreational ground spread across 4 acres. It is a favourite among the kids, who love to play at the Boot House and many other points among the green lawns. Kamala Nehru Park is popular among the tourists too, to get a panoramic view of the city. The park also provides a spectacular view of Girgaum Chowpatty and Marine Drive at night.
3. Girgaum Chowpatty – Girgaum Chowpatty is a beach popular as a shooting spot for Hindi movies and TV shows. People come here for their daily strolls and yoga sessions too. Residents of the neighbourhood also prefer to visit this beach in the evening with friends and family. Apart from the views of the sunset, you can watch the acts of street artists and enjoy a range of fast food and spicy street food of Mumbai. This beach is 2 km away from Babulnath Temple.
4. Malabar Hill – Malabar Hill is a hillock and luxurious residential neighbourhood of Mumbai, at a distance of about 3 km from Babulnath Temple. And it also has several tourist spots. A Jain Temple, Banganga water tank and the Hanging Gardens are some of the places which you can visit in Malabar Hill. The area has the official residences of Chief Minister and Governor of Maharashtra too. Raj Bhavan – the Governor's residence is open to tourists during selected hours of the day.
5. Marine Drive – Marine Drive, a 3 km long C-shaped boulevard, is a must-visit tourist attraction in Mumbai. The place offers a view of the Arabian Sea and is a favourite spot for the local people to hang out with their friends. Marine Drive is a part of the buzzing nightlife of Mumbai. And it is also nicknamed "Queen's Necklace" because of the bird's-eye view of the display of lights at night resembling a necklace. It is situated at a distance of 3 km from Babulnath Temple.
How to reach Babulnath Temple Mumbai?
Babulnath Temple is easily accessible from all corners of Mumbai. You can take taxis, autos or public buses to reach the place. You also have the option to board a local train to the temple. Grant Road is the nearest railway station.
You can also hire a cab from top car rental companies in Mumbai to take you to Babulnath Temple and other tourist spots of Mumbai. And here are the different ways to reach Mumbai –
By Road – Mumbai is connected to major cities of India through national highways. And a robust network of public and private buses run between Mumbai and nearby cities. Long-distance luxury coaches are also available. Most of them stop at Mumbai Central Bus Depot, about 4 km away from the temple.
By Rail – Chhatrapati Shivaji Maharaj Terminus and Mumbai Central are the two main railway stations which connect Mumbai to other parts of India. Regular trains are available from the metropolitan cities as well as other small towns. Both the stations are at a distance of 4 km from Babulnath Temple.
By Air – Chhatrapati Shivaji International Airport, about 22 km away, has regular flights from many airports. You will find daily flights from many important tourist destinations and business hubs in the country and abroad.
---
Mumbai is a bustling city with so much to see and do. We at Mumbai Tourism, a division of Holidays DNA are more than happy to help you plan your Mumbai tour just the way you want. We offer Mumbai Tour packages that are designed as per the customer's preferences and we make sure you enjoy this beautiful destination without breaking the bank. So, what are you waiting for? Please fill the Contact Us form as we will revert back to you at the earliest.
Location Map for Babulnath Temple Mumbai